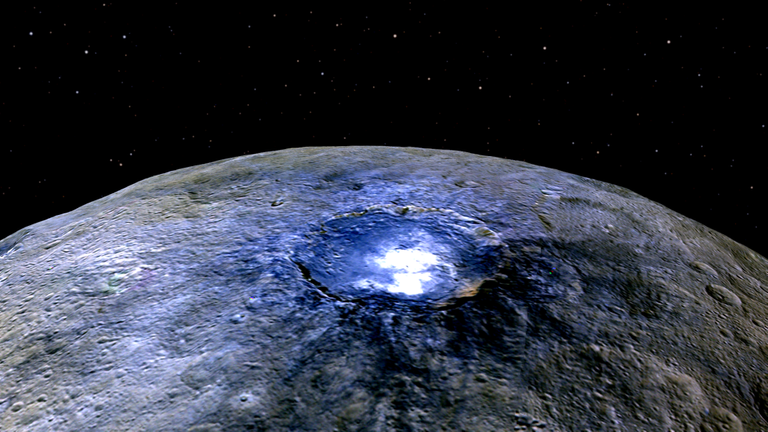 Souce
It was discovered that the bright spots on Ceres are actually huge saline deposits, which eye comes from a huge underground water reservoir.
Se descubrió que los puntos brillantes de Ceres son en realidad enormes depósitos salinos, que ojo provienen de un enorme depósito de agua subterráneo.
Souce
Ceres is the smallest of the dwarf planets, but it has a very special characteristic as it is also the largest known asteroid and the only dwarf planet in the inner solar system, its mass is estimated to be one third of the total mass of the belt. of asteroids, being the only object in said belt that has enough gravity to have a spherical shape.
Ceres es el más pequeño de los planetas enanos, pero cuenta con una característica muy especial pues es también el asteroide más grande conocido y el único planeta enano en el sistema solar interior, se estima que su masa es un tercio de la masa total del cinturón de asteroides, siendo el único objeto de dicho cinturón que tiene la suficiente gravedad como para tener forma esférica.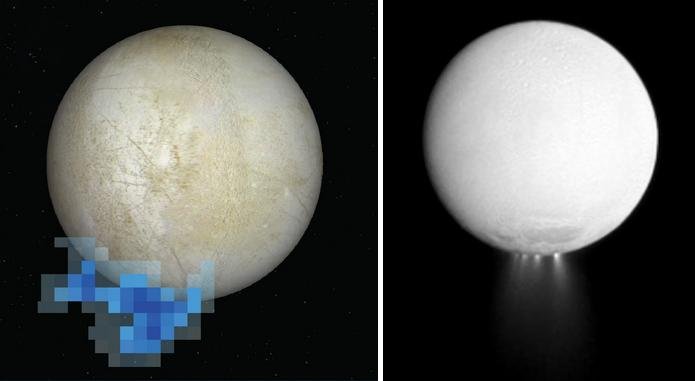 Souce
The fact is that this mysterious world was recently visited by the Dawn probe that discovered some intriguing bright spots on its surface, made of a compound called sodium carbonate or as we call it in the soda earth, until last month we did not know where it had come from But the latest data sent by the probe before it died, have given us the answer to large amounts of salt water that leaked to the surface of the dwarf planet from an underground deposit about 40 kilometers deep and hundreds of kilometers wide, something that ladies and gentlemen he is going to do is to the category of oceanic world, since it occupies next to the moons of Enceladus and Europa, as they beings it is now a competitor in harboring extraterrestrial life, although in the case of Ceres we are not clear if the ocean It is still liquid, because to keep warm it would need asteroid impacts, very common in the early stages of the solar system, but we do not know if they continue to be or enough today, in any case and in a way similar to that of Mars if there could be frozen remains of the hypothetical life that at the time could thrive.
El caso es que este misterioso mundo fue visitado recientemente por la sonda Dawn que descubrió unas intrigantes manchas brillantes en su superficie, hechas de un compuesto llamado carbonato de sodio o como la llamamos en la tierra sosa, hasta el mes pasado desconocíamos de donde había salido pero los últimos datos que envió la sonda antes de morir, nos han dado la respuesta a grandes cantidades de agua salada se filtraron hasta la superficie del planeta enano desde un depósito subterráneo de unos 40 kilómetros de profundidad y cientos de kilómetros de ancho algo que señoras y señores l va a hacer es a la categoría de mundo oceánico, puesto que ocupa junto a las lunas de Encélado y Europa, como ellos seres es ahora un competidor en albergar vida extraterrestre, aunque en el caso de Ceres no tenemos claro si el océano sigue líquido, pues para mantener el calor necesitaría de impactos de asteroides, muy comunes en las primeras etapas del sistema solar, pero que no sabemos si siguen siendo los suficientes hoy en día, en cualquier caso y de una forma similar a la de Marte si podría haber restos congelados de la hipotética vida que en su momento sí pudo prosperar.
study source / fuente del estudio
---
My mission is to spread science as much as possible, so that ignorance and ignorance do not lead us to self-destruction.
Mi misión es divulgar la ciencia lo más que se pueda, para que la ignorancia y el desconocimiento no nos lleven a la autodestrucción.
---
---
Thank you for visiting my blog. If you like posts about
#science
,
#planet
,
#politics
,
#rights
#crypto
,
#traveling
and discovering secrets and beauties of the
#universe
, feel free to Follow me as these are the topics I write about the most. Have a wonderful day and stay on this great platform :) :)
Gracias por visitar mi blog. Si te gustan las publicaciones sobre
#ciencia
,
#planeta
,
#politica
,
#derechos
#crypto
,
#traveling
y descubriendo secretos y bellezas del
#universo
, siéntete libre de seguirme, ya que estos son los temas sobre los que más escribo. ¡Tenga un día maravilloso y siga en esta gran plataforma :) :)