The mysterious object that visits us. (EN - CAST) El misterioso objeto que nos visita.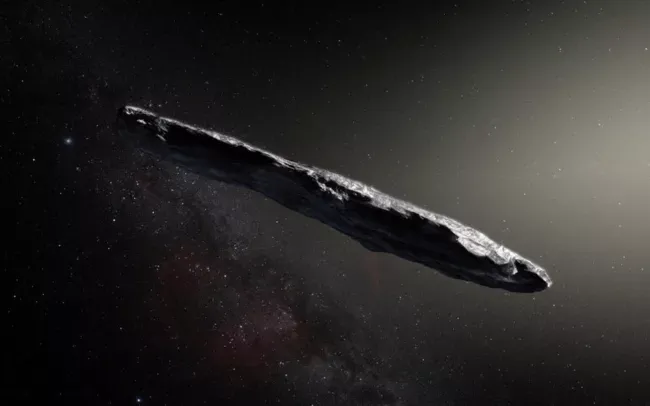 Souce
The mystery continues with Oumuamua the first interstellar visitor who registered humanity and it is that apparently the most accepted theory so far could not be true.
It is that the quite solid hypothesis that explained the Oumuamua formation where in short, it was said that it was a planet in an information system that had orbited its star too close and deformed in the process and was catapulted into interstellar space.
Continúa el misterio con Oumuamua el primer visitante interestelar que registró a la humanidad y es que al parecer la teoría más aceptada hasta ahora podría no ser cierta.
Es que la hipótesis bastante sólida que explicaba la formación Oumuamua donde en resumidas cuentas, se decía que era un planeta en de un sistema información que había orbitado demasiado cerca su estrella y deformándose en el proceso y viéndose catapultado hacia el espacio interestelar.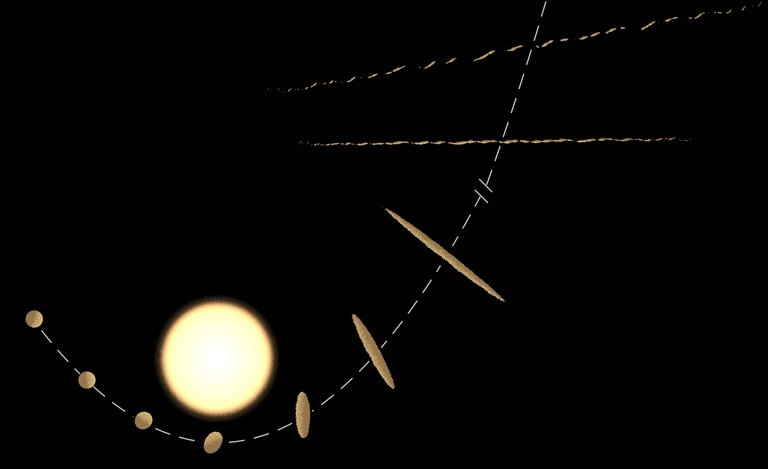 Souce
But science tries to find flaws in even the most solid theory and this is what this new study has done, in which it has calculated the amount of hydrogen that the object should have inside to have been able to accelerate so much once it passed close to the sun and as long as it could have lasted since the formation of Oumuamua, enduring the erosion of the cosmic wind and the interstellar void.
Pero la ciencia trata de intentar buscar fallas incluso a la teoría más sólida y esto es lo que ha hecho este nuevo estudio, en el se ha calculado la cantidad de hidrógeno que el objeto debería tener en su interior para haber podido acelerar tanto una vez pasó cerca del sol y el tiempo que éste podría haber perdurado desde la formación de Oumuamua, aguantando la erosión del viento cósmico y el vacío interestelar.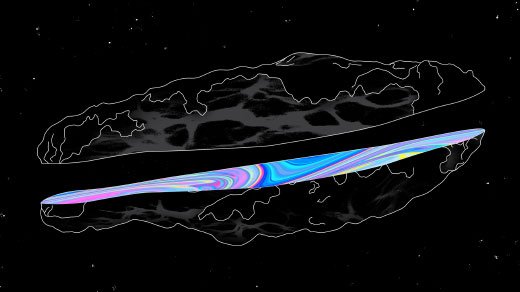 Souce
The conclusion is that the previous theory would be true only in the case that the object was less than 40 million years old, given that in case of being older it would have run out of hydrogen gas, 40 million years may seem like a long time but if We take into account how vast space is, we conclude that many of the possible origins of Oumuamua are too far away to even consider and we realize that the probability that an interstellar object so young and with these characteristics has come to our system is very rare.
La conclusión es que la teoría anterior sería cierta sólo en el caso de que el objeto tuviera menos de 40 millones de años, dado que en caso de ser más longevo se habría quedado sin gas hidrógeno, 40 millones de años puede parecer mucho tiempo pero si tenemos en cuenta en lo vasto que es el espacio llegamos a la conclusión de que muchos de los posibles orígenes de Oumuamua están demasiado lejos como para siquiera considerarlos y nos damos cuenta de que la probabilidad de que un objeto interestelar tan joven y con estas características haya llegado a nuestro sistema es muy rara.
---
study source / fuente del estudio
Thank you for visiting my blog. If you like posts about
#science
,
#planet
,
#politics
,
#rights
#crypto
,
#traveling
and discovering secrets and beauties of the
#universe
, feel free to Follow me as these are the topics I write about the most. Have a wonderful day and stay on this great platform :) :)
Gracias por visitar mi blog. Si te gustan las publicaciones sobre
#ciencia
,
#planeta
,
#politica
,
#derechos
#crypto
,
#traveling
y descubriendo secretos y bellezas del
#universo
, siéntete libre de seguirme, ya que estos son los temas sobre los que más escribo. ¡Tenga un día maravilloso y siga en esta gran plataforma :) :)