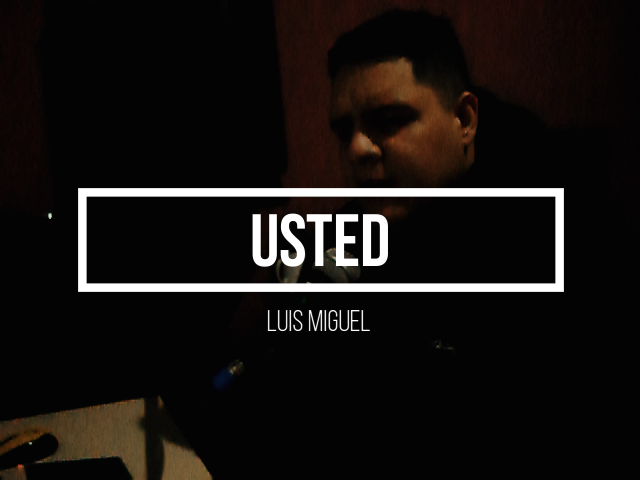 Hola mis amigos
Hello my friends
En esta oportunidad estoy grabando un cover de uno de los artistas mas geniales de mexico, y tuene por nombre Luis Miguel. Su increible registro vocal, su color de voz, y su manera de interpretar es unica, es algo inigualable este es uno de los cantantes ha tenido una carrella llena de exitos.
This time I'm recording a cover of one of the coolest artists in mexico, and his name is Luis Miguel.
great artists of mexico, and his name is Luis Miguel. His incredible vocal
his vocal range, his voice color, and his way of interpreting is unique, it's something unmatchable.
this is one of the singers who has had a career full of success.
Yo dejo que escuchemos esta hermosa cancion que es popularizada por
luis miguel pero la compuso Jose Antonio Zorrilla Martinez, increible
mexicano compositor icono de ese pais.
I let us listen to this beautiful song which is popularized by
luis miguel but it was composed by Jose Antonio Zorrilla Martinez, an incredible Mexican
Mexican composer icon of that country.
Gracias por escucharme.
Thank you for listening.
LETRA/LYRICS
Usted es la culpable
De todas mis angustias y todos mis quebrantos
Usted llenó mi vida
De dulces inquietudes y amargos desencantos
Su amor es como un grito
Que llevo aquí en mi alma y aquí en mi corazón
Y soy aunque no quiera
Esclavo de sus ojos, juguete de su amor
No juegue con mis penas, ni con mis sentimientos
Que es lo único que tengo
Usted es mi esperanza, mi última esperanza
Comprenda de una vez
Usted me desespera
Me mata, me enloquece
Y hasta la vida diera por vencer el miedo
De besarla a usted
Su amor es como un grito
Que llevo aquí en mi alma y aquí en mi corazón
Y soy aunque no quiera
Esclavo de sus ojos, juguete de su amor
No juegue con mis penas, ni con mis sentimientos
Que es lo único que tengo
Usted es mi esperanza, mi última esperanza
Comprenda de una vez
Usted me desespera
Me mata, me enloquece
Y hasta la vida diera por vencer el miedo
De besarla a usted
Usted me desespera
Me mata, me enloquece
Y hasta la vida diera por vencer el miedo
De besarla a usted