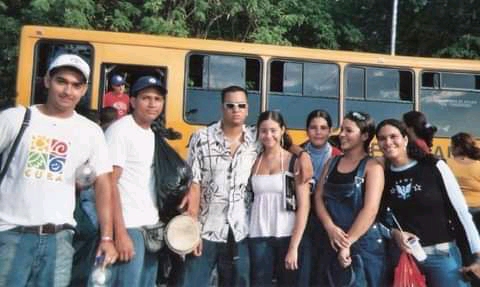 Mi unicornio Azul, Roberys la de la esquina, vasito en mano, sonrisa hermosa, mi amiga
     Dedicado a mi eterna amiga de la universidad y hermana que me regaló Dios y la vida Roberys Valdiviezo. Afortunadamente, aunque no nos vemos al menos tengo mi unicornio eternamente en mi corazón.
---
      To my eternal friend from college and sister who gave me God and life Roberys Valdiviezo. Fortunately, although we don't see each other, at least I have my unicorn eternally in my heart.

...

     Entiendo que la canción Unicornio está dedicada a alguien o algo especial. Unos dicen que el poeta lo dedicó a Roque Dalton amigo guerrillero y en otra ocasión, el autor plantea que fue inspirado por la música.
---
      Understand that the Unicorn song is dedicated to someone or something special. Some say that the poet was dedicated by Roque Dalton, a guerrilla friend, and on another occasion, the author states that he was inspired by music.

...

     En lo personal, esta canción va para todas aquellas personas que sienten que han perdido ese ser especial, esa razón de vivir, la musa, ese ideal... Siempre estará en su corazón si tan sólo ustedes aún lo sienten y recuerdan. Del Poeta de la Trova Silvio Rodriguez cantautor y trovador cubano que pese a su ideología revolucionaria ha logrado, a través de su pluma, atraer fans de distintas ideologías políticas Esta es mi humilde interpretación... Unicornio Azul, disfrútenla.
---
     I Personally, this song goes to all those people who feel that they have lost that special being, that reason for living, the muse, that ideal ... It will always be in your heart if so only you still feel and remember it. From the Poet of the Trova Silvio Rodriguez, Cuban singer-songwriter and troubadour who, despite his revolutionary ideology, has managed, through his pen, to attract fans of different political ideologies. This is my humble interpretation ... Blue Unicorn, enjoy it.

...

Quiero saludar y agradecer al Profesor @danieldedosd2 por la iniciativa. Bendiciones para él y sus dones musicales.
---
I want to greet and thank Professor @danieldedosd2 for the initiative. Blessings to him and his musical gifts.

...

---

...