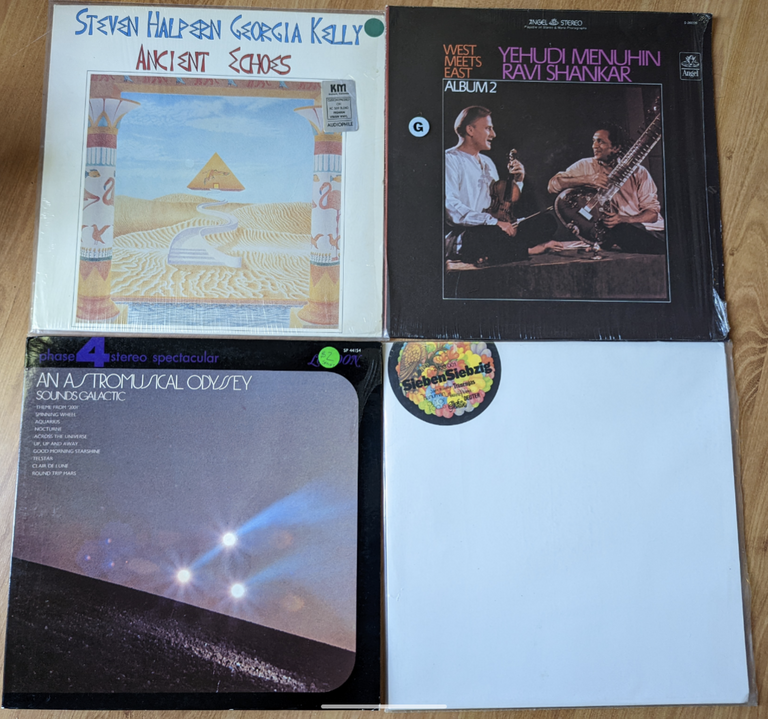 Today I share with you some recent vinyl acquisitions, all clocking in from the late 60s to late 70s, a nice mix of classical, world with some rock and new age. A little something for everyone, as I like to say. Won't you spend some time journeying with me through my musical train ride? 🚂
Sounds Galactic ‎
"An Astromusical Odyssey"
1971

Here is a cool "space age," synth-laden jazzy easy listening record for you, arranged by John Keating. It has some particularly cool cover versions, such as '2001' and 'Across the Universe.' meticulous production mixed with cutting edge contemporary synthesizer sounds effects and a variety of hit songs create a surely fascinating listening experience. Here is a link to the full release, which showing was nice enough to upload in it's entirety.
Various Artists
"Sieben Siebzig"
1971

This one is a German compilation on there Kuckuck label that I stumbled upon from 1971. The artists on those one are ones that I have mostly never heard of, save Deuter. It's kind of a combination of kraut rock\prog with some folk and experimentation to keep you on your toes during this very interesting place and time of musical history.
Steven Halpern and Georgia Kelly
"Another Echoes"
1978

This is a late 70s new age record, consisting of the famous Steven Halpern playing flute and keyboards with Georgia Kelly on the harp. Forget all your troubles and relax to this one.
Ravi Shankar & Yehudi Menuhin
"West Meets East 2"
1967

Famed Indian sitar player teams up with some famous violinist Baron dude, jamming the Strativarius violin, considered to be one of the best in the world. Menuhin also had famous musician and artist sisters, but his son would earn his fame for all the wrong reasons.
Here is a bonus clip of Ravi Shankar & Yehudi Menuhin: