---
Greetings friends of this beautiful community! Today I'm here again to share some of my music. This time I am accompanied by two of my sisters and my son to perform a midley of Roberto Livi's songs "Para Toda la Vida" and "No Valió la Pena".
The song "No Valió la Pena" was the third single from José José's album Mujeriego released in 1995 and the song "Para toda la Vida" was released as the first single from the album of the same name by Rocío Durcal in 1999. I hope you like our version.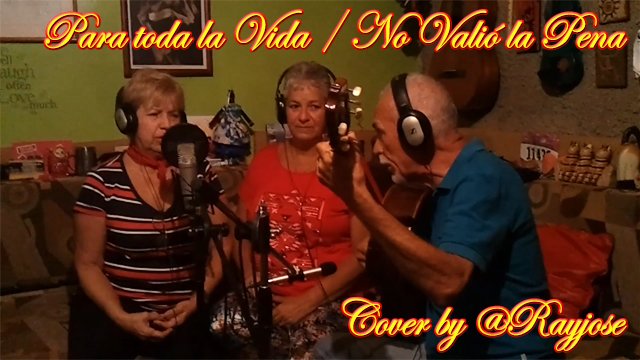 ¡Saludos amigos de esta linda comunidad! Hoy me encuentro nuevamente por acá para compartir un poco de mi música. En esta oportunidad me encuentro acompañado de dos de mis hermanas y mi hijo para interpretar un midley de Roberto Livi de las canciones "Para Toda la Vida" y "No valió la Pena".
La canción No Valió la Pena fue el tercer sencillo del disco Mujeriego de José José lanzado en el año 1995 y el tema Para toda la Vida fue lanzada como primer sencillo del álbum homónimo de Rocío Durcal en el año 1999. Espero que les guste nuestra versión.

Para Toda la Vida
El amor, que yo siento por ti
Es algo diferente
No se da porque si nada mas
Por eso hoy vengo a verte
En la vida se puede vivir
Y llegar a morir
Sin haberlo encontrado
Yo no quiero perder
Lo que puedo perder
Si no estás a mi lado
Hay amores, que nos quitan el sueño
Hay amores, que nos roban la vida
Hay amores, que nos matan de penas
Son amores, que jamás se te olvidan
Y hay amores, como el que yo te ofrezco
Que es tan grande, que no tiene medida
Este amor, que nació al conocerte
Para toda la vida
Source / Fuente
No valió la Pena
Ya lo ves
No valió la pena
Enojarnos tanto
Maltratarnos
Y decirnos cosas
Que jamás pensamos
El amor no es así
Y yo debo advertirte
Que tomemos cuidado
Si seguimos peleando
Cualquier día de estos
Se nos va la mano
El amor no merece castigo
Al amor es preciso mimarlo
Si no quieres que un día se seque
Tienes que regarlo
El amor todo puede arreglarlo
Y lo nuestro es amor de verdad
Dame un beso, abrázame fuerte
Y no hay más que hablar
Source / Fuente
For a lifetime
The love, that I feel for you
Is something different
It doesn't happen just because
That's why today I come to see you
In life you can live
And die
Without having found it
I don't want to lose
What I can lose
If you're not by my side
There are loves, that take away our sleep
There are loves, that rob us of our life
There are loves, that kill us with sorrow
There are loves, that you will never forget
And there are loves, like the one I offer you
That is so great, that it has no measure
This love, that was born when I met you
For a lifetime
It wasn't worth it
You see
It wasn't worth it
To make us so angry
To mistreat us and telling us things
That we never thought
Love is not like that
And I must warn you
That we should be careful
If we keep fighting
Any day now
We'll get out of hand
Love does not deserve punishment
Love must be pampered
If you don't want it to dry up one day
You have to water it
Love can fix everything
And what we have is real love
Give me a kiss, hold me tight
And there's nothing more to talk about

---
▶️ 3Speak