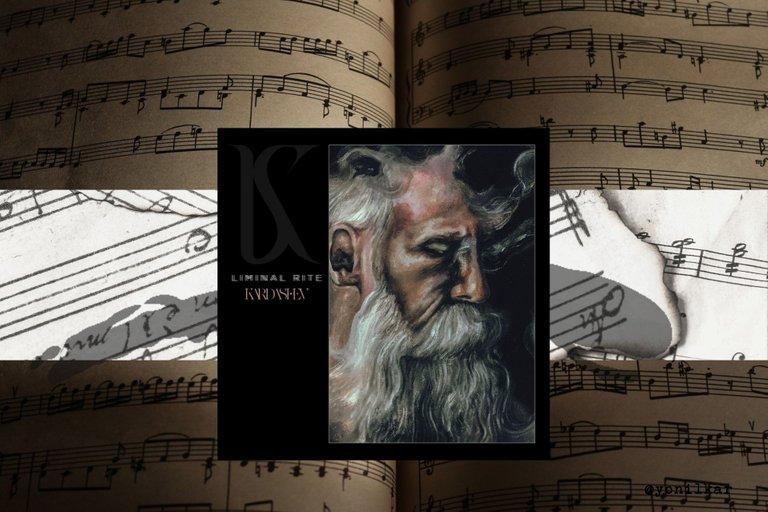 En la música metal existen variedades de géneros y muestras artísticas que van más allá de lo que suele ser una banda, en otros casos se le puede llamar a esto una experiencia que incluso va más allá de solo escuchar música, pues se convierte en una experiencia totalmente fuera de todo lo común y sé entiende en una experimentación que cambia la percepción de la música con otra esencia.
In metal music there are varieties of genres and artistic samples that go beyond what is usually a band, in other cases this can be called an experience that even goes beyond just listening to music, as it becomes an experience totally out of the ordinary and is understood in an experimentation that changes the perception of music with another essence.
Kardashev es una banda de metal atmosférico que ha llevado a otro nivel el conocimiento de esta, pues a mí me ha llegado mucho más que únicamente una muestra artística ya que sus letras y su música no son nada parecido a lo que se suele ver en el death metal de esta categoría.
Kardashev is an atmospheric metal band that has taken to another level the knowledge of this one, as to me it has reached much more than just an artistic sample as their lyrics and music are nothing like what is usually seen in death metal of this category.
Escucha mientras lee
Hoy les traigo las más recientes producciones de esta excelente banda y la opinión de este álbum que a mí parecer tiene una esencia única en lo que conocemos como música.
Today I bring you the most recent productions of this excellent band and the opinion of this album that in my opinion has a unique essence in what we know as music.
Esta historia espectral nos lleva a muchas dimensiones de sonidos además de la introducción de voces entrelazadas que se compenetran unas a otras.
This spectral story takes us to many dimensions of sounds besides the introduction of intertwined voices that interpenetrate each other.
Esas canciones según todo mi criterio ya que no tome un poco personal para hacer algo totalmente nuevo me hace entender que la música son procesos inclusos que pueden cambiar nuestra vida como dije anteriormente estaban de una experiencia más que simplemente música no son una banda ultramega famosa y creo que la esencia que ellos transmiten va más allá de simplemente tocar, pues el valor y el amor con qué hacen las canciones se ha denotar muchísimo en el trabajo discográfico que se presenta.
These songs according to all my criteria since I did not take a little personal to do something totally new makes me understand that music are even processes that can change our lives as I said before were of an experience more than just music they are not an ultra mega famous band and I believe that the essence that they transmit goes beyond just playing because the value and love with which they make the songs has been denoted a lot in the discographic work that is presented.
Musicalmente hablando a mi parecer este disco más allá de la música incluso pues tiene un origen a mezcladas vocales bastante inusuales los coros y la introducción de otros instrumentos muy inusuales para ese tipo de género me hace entender que la música es simplemente un lenguaje a transmitir.
Musically speaking, in my opinion, this album, beyond the music itself, has a very unusual vocal mixes, choirs and the introduction of other very unusual instruments for this type of genre, makes me understand that music is simply a language to be transmitted.
Esa música que te dice algo a pesar de ser en un idioma y un lenguaje totalmente nuevo para uno, pues a veces las palabras no necesitan ser entendidas, simplemente necesitan estar allí.
That music that tells you something even though it is in a language and a language that is totally new to you, because sometimes the words don't need to be understood, they just need to be there.
Nuestro ser comprende que hacer las cosas va más allá de simplemente nuestro propio ser, pues una canción puede llegar a todos los lugares recónditos y aun así ser la pasión de algunas personas es una experiencia es lo que estaban transmite no es el hecho de que algo se haga comercial o muchas personas les gustan, pues los justos varían dependiendo de cada ser, sino que este tipo de música conlleva una filosofía de vida mucho más extensa de lo que uno comprende ya que la comprensión de la misma va ligada a cómo la vida nuestra es conllevada.
Our being understands that doing things goes beyond simply our own being, because a song can reach all the hidden places and still be the passion of some people is an experience is what they were transmitting is not the fact that something becomes commercial or many people like them, because the just vary depending on each being, but that this type of music carries a philosophy of life much more extensive than what one understands because the understanding of it is linked to how our life is carried.
Los riffs de guitarra las melodías sinfónicas qué de cierto modo haciendo en un trasfondo más que va más allá de lo que se puede entender lo que calificó yo a este algo, pues está bastante completo y comunidad de producción muy bien logrado.
The guitar riffs the symphonic melodies what in a way making in a more background that goes beyond what can be understood what I qualified this something as it is quite complete and very well achieved production community.
Support me on Brave Browser:
https://brave.com/yon705
Splinterlands. Collect, trade, battle.
https://splinterlands.com?ref=yonilkar
Join LBRY a no censored video platform :
https://lbry.tv/$/invite/14FGMZCeJkLqwBpTAagQ5b4wcPCXhiLC
https://twitter.com/Yonilkar777