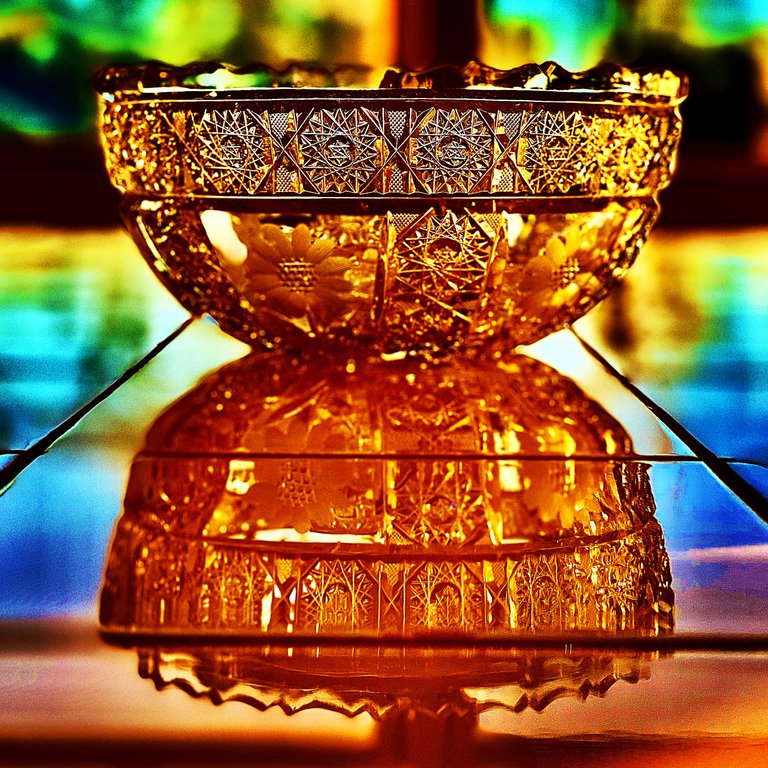 It' Sunday Morning ..
And the morning sun just began rising up above the horizon. As it passes the dark, dew laden horizon, and inch's its way into the sky, the light is bright, crisp, and warming my face. We had a cold front move through last night and the temperatures are a lot cooler today than they were yesterday. Yesterday we were in the 80s and today we are in the 60s (Fahrenheit).
I really enjoy this early morning sun for two reasons; one it improves my mood and secondly it makes for great photos. You can get some long shadow photos, high contrast shots, and like I'll show you today, some filtered light photography. More simply stated, I'll try capturing the beauty of the light as it passes through an object and enhances the details of the piece.
---
Picking A Subject To Photograph ..
If you're going to capture photographs such as this, then choosing the right object for your subject makes a huge difference. Obviously if it was something very solid it would create more of a silhouette rather than create a filtered light affect. If the item is too thin and without texture, then the images may be too bright and washed out.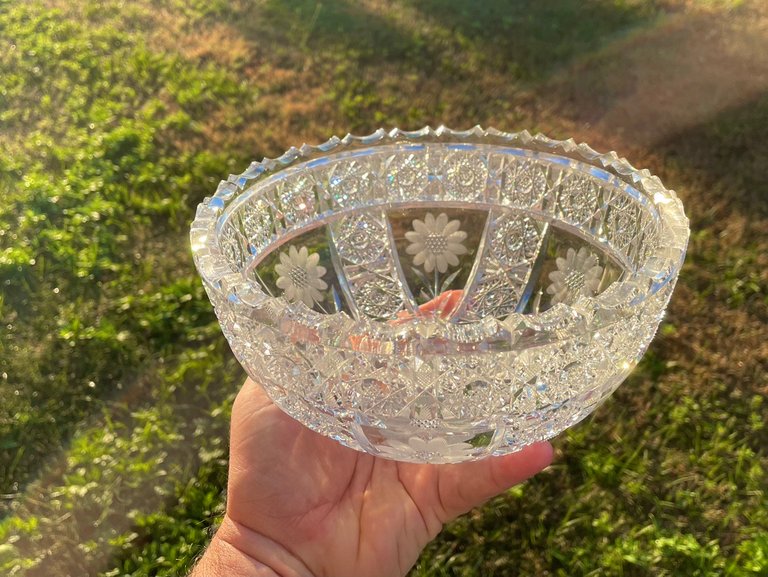 I decided to pick a subject that was close to my heart and a subject that gave both texture, definition and allowed the sun light to pass through it. My wife and I inherited this crystal, cut glass bowl from a dear friend of ours who passed away several years ago.
It's absolutely amazing in my eyes and quietly reminds me of her every time the sun dances off it's highly reflective surface. I love how it captures the light and reflects it in all directions sort of like a beautifully cut diamond. What a beauty and I'm going to use it today for the subject of my photos.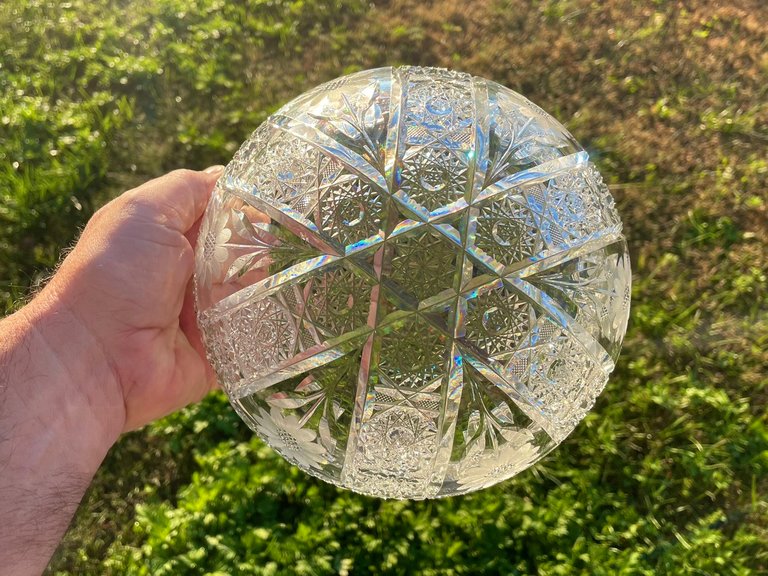 ---
The Location ..
I decided to take it outside and see what sort of shots I could get. I wanted to hold the object up in front of the sun to allow the light to penetrate the glass. I got a ton of great pictures and could've kept shooting all day if I wanted to. I'll share a couple of them with you today.
By just turning the bowl this way or that, up and down, sideways and so on so forth, while changing my camera angle in position, the pictures kept changing in perspective.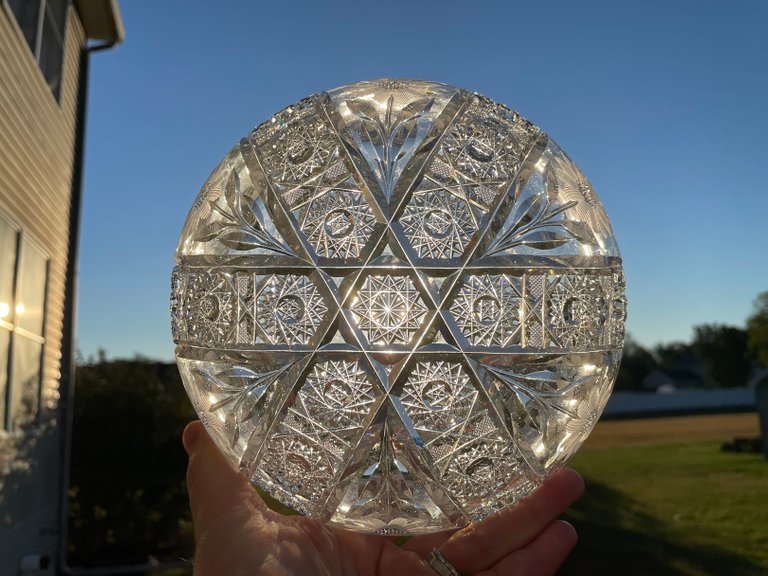 I took colored shots as well as black and white frames. I was able to get some abstract perspectives in there too. Some of these pictures I adjusted and edited to create a certain look, while others are pretty much natural except for a couple of minor adjustments like cropping.
---
The Photography..
Without further delay, let's take a look at some of the shots. I tried my best to get creative with some of these photos.
Just an FYI.. I compressed most of these photos so that it wouldn't take so long to load on this post, so the quality may be slightly diminished.
---
Sometimes I can capture a nice crisp edge with a slightly blurry foreground. In this case the 'Depth Of Field' is very tight creating a thin horizontal plane of focus. The bright blue sky and the bright warm light is reflecting some nice color into that glass.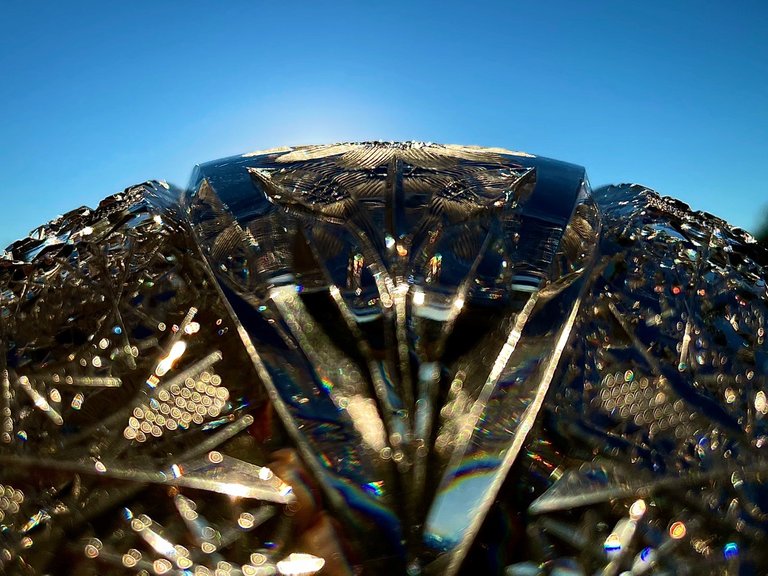 ---
I can not ignore those interesting flowers cut into the glass. They really create some nice detail. I could have taken a hundred photos of just the flowers, from different angles. The shot remained relatively colorless except for the band above the flower, which decided to reflect most of the color spectrum into rainbow like patterns.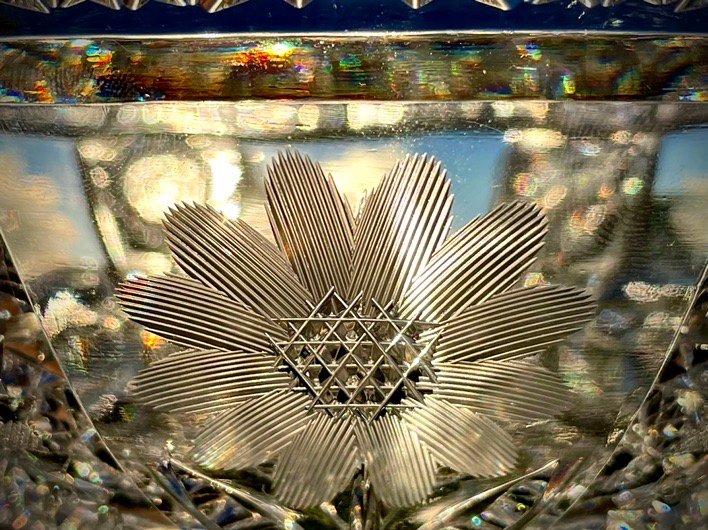 ---
Another shot trying to capture the flower and crisp edges. I shot it through the other side of the crystal, so the shot is a bit blurry for that reason. If I was able to capture the flower in focus, it would have made for a great photo.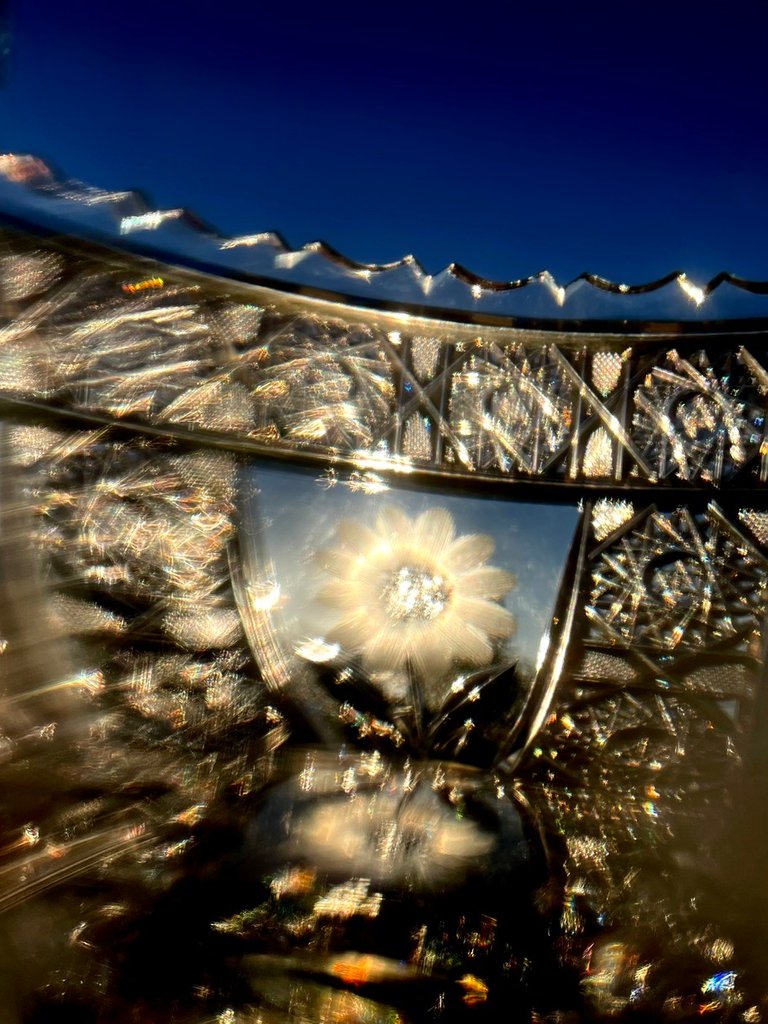 ---
I included this one because of the way the flower at the center bottom came out. Again, if I could work on this shot a little, it could be a winner. I really like how the flower is reflecting the light and the background turned much darker.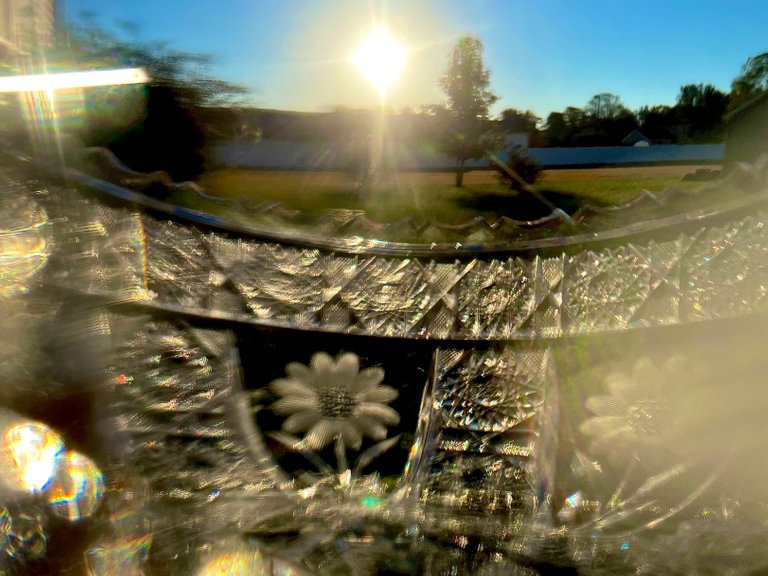 ---
Here are a few black and white, geometric pattern shots. These types of patterns and stark contrast elements, make for awesome B&W photography.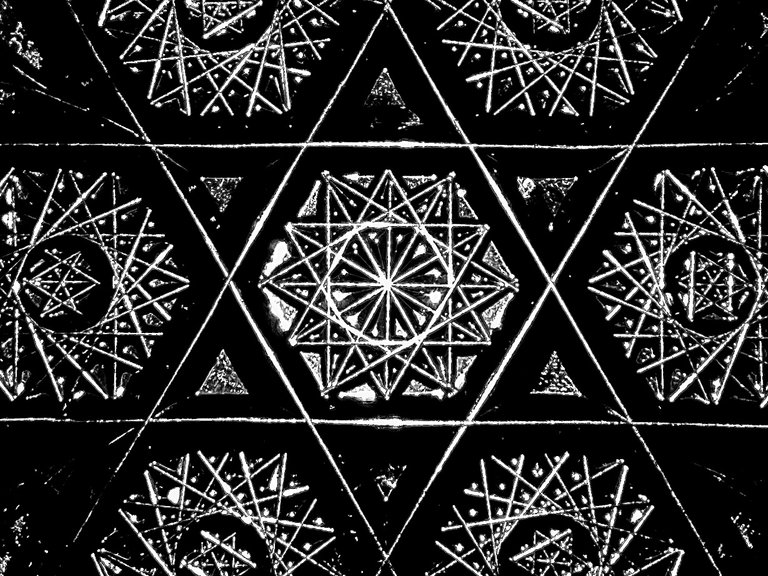 ---
All kinds of stuff going on in this black and white shot. It may even be a little too busy by incorporating most of the textural elements into one shot.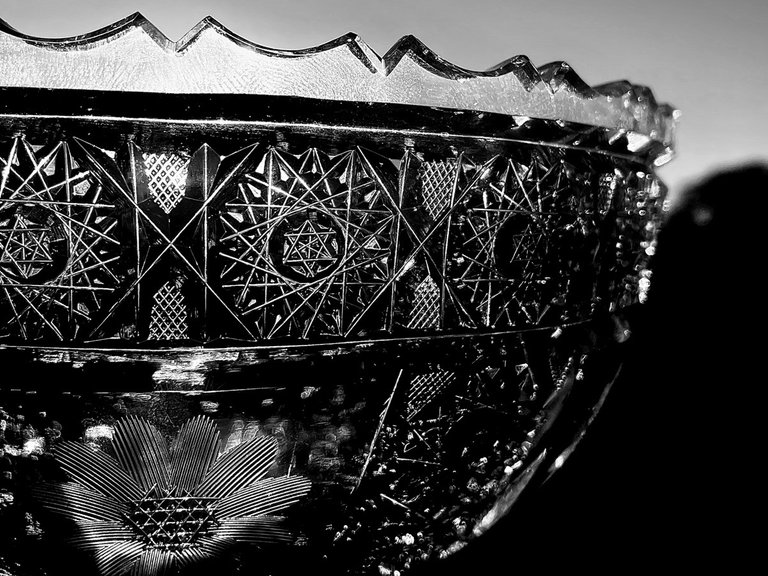 ---
The Abstract Marco Shots ..
And now some super close-ups of those details, creating a very abstract photo composition. The light and dark areas are very contrasting, especially with the black and whites.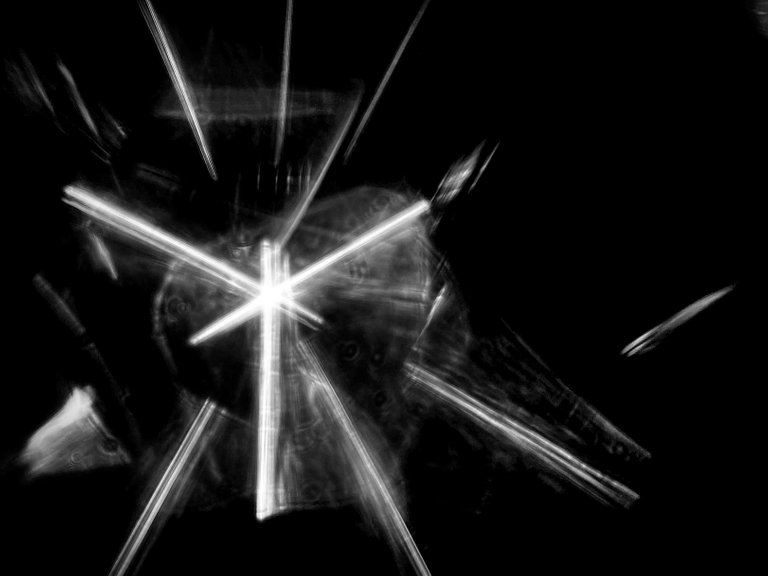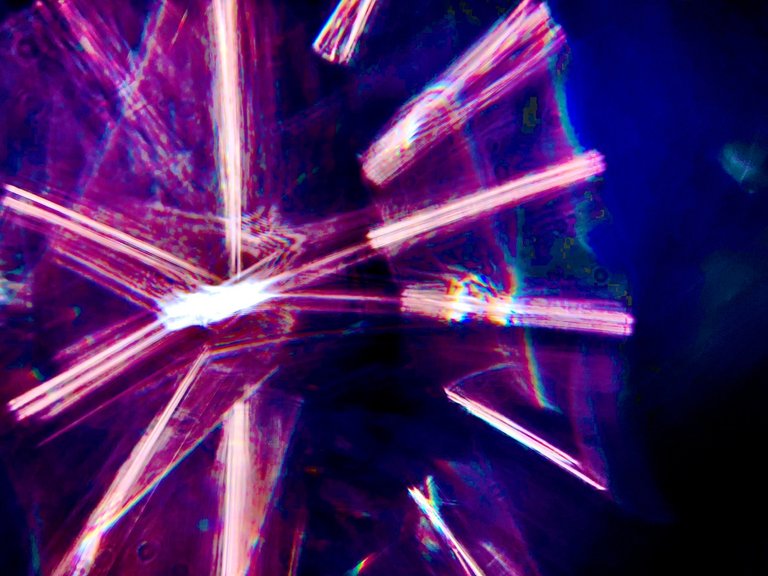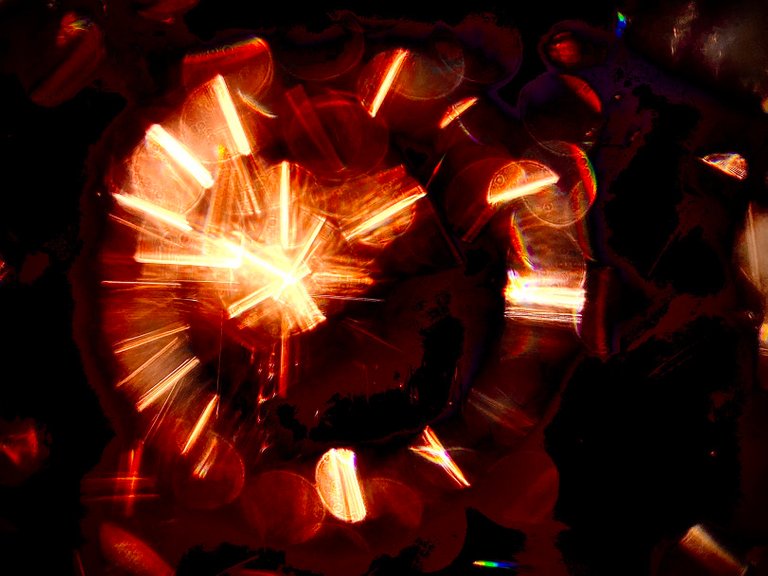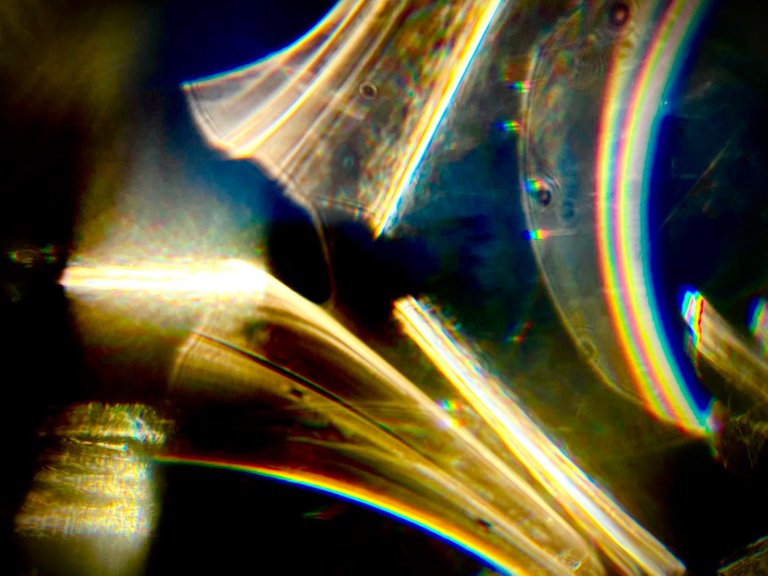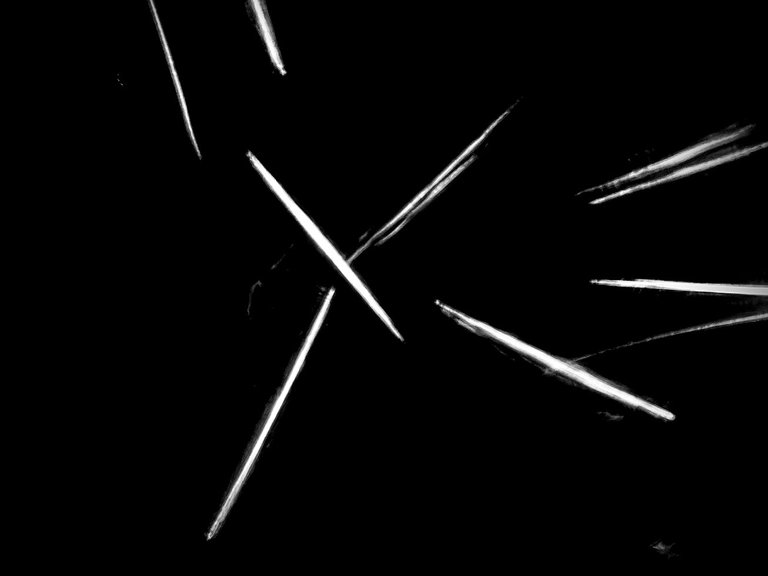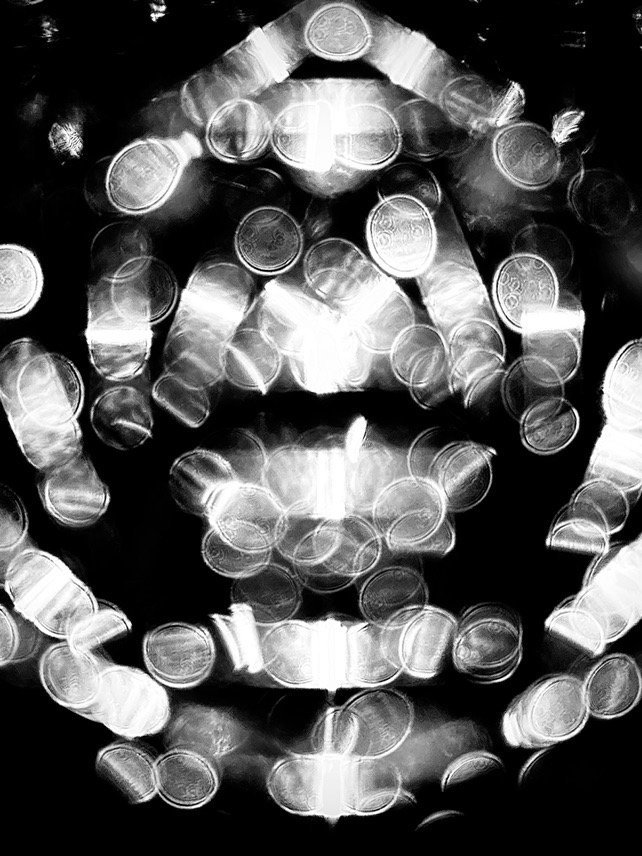 ---
This photo below, may be one of my favorites. I gravitate towards black and whites for some reason, but that aside, there is just something about it that appeals to me. I think it reminds me of a pocket watch or clock. If I look at it closely, I can see a circle like pattern just off set to the left with a dial like shape at the center of it. I even see hands and hour marks. Okay, you should know by now that my mind works in weird ways, and obviously that includes photo interpretation.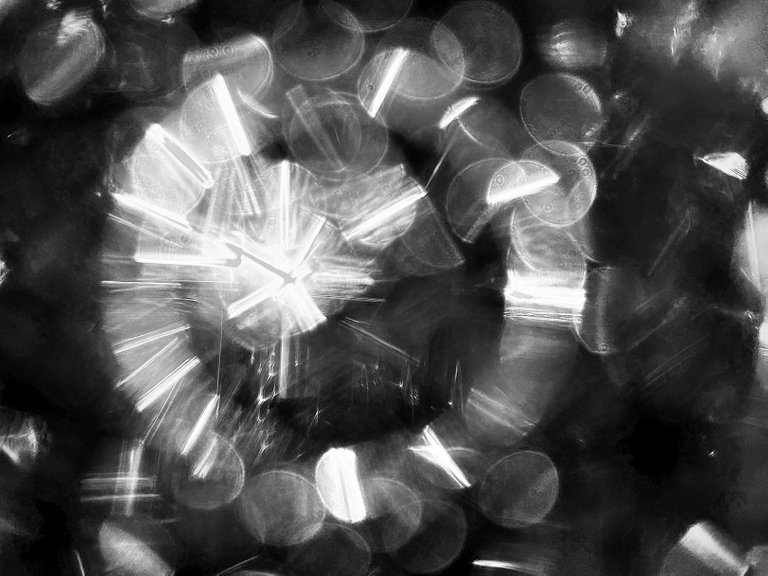 ---
In Conclusion of My Ramble About Today's Photography ..
I can't stress enough that if you're a photographer looking to spice things up in the creativity department, you want to step outside of the lines and think outside the box on occasion. It's fun and you
never know what you're going to create when you do.
Change your angle and change your perspective. You'll be happy you did!
You never know, there may be one or two that are NFT worthy. We'll have to see about that. I see several people starting to turn some of their more abstract artistic photos into NFT's. That's a whole other subject for a whole other post. What's your experience with creating NFTs out of your artistic photography?


Thank you for swinging by my blog and checking out the post. Have a great day!

All words, pictures and art pieces are the sole property of B D Miller Gallery, unless otherwise noted and credited, and are not to be reproduced or copied without the prior written consent of B D Miller Gallery.


The Orchid Lovers Community!
Love Orchids? Consider joining our community. We look forward to seeing you there!!!
A place for people who Love Orchids!