Come with me to discover the magic of San Marino!! The third-smallest country in Europe!!
---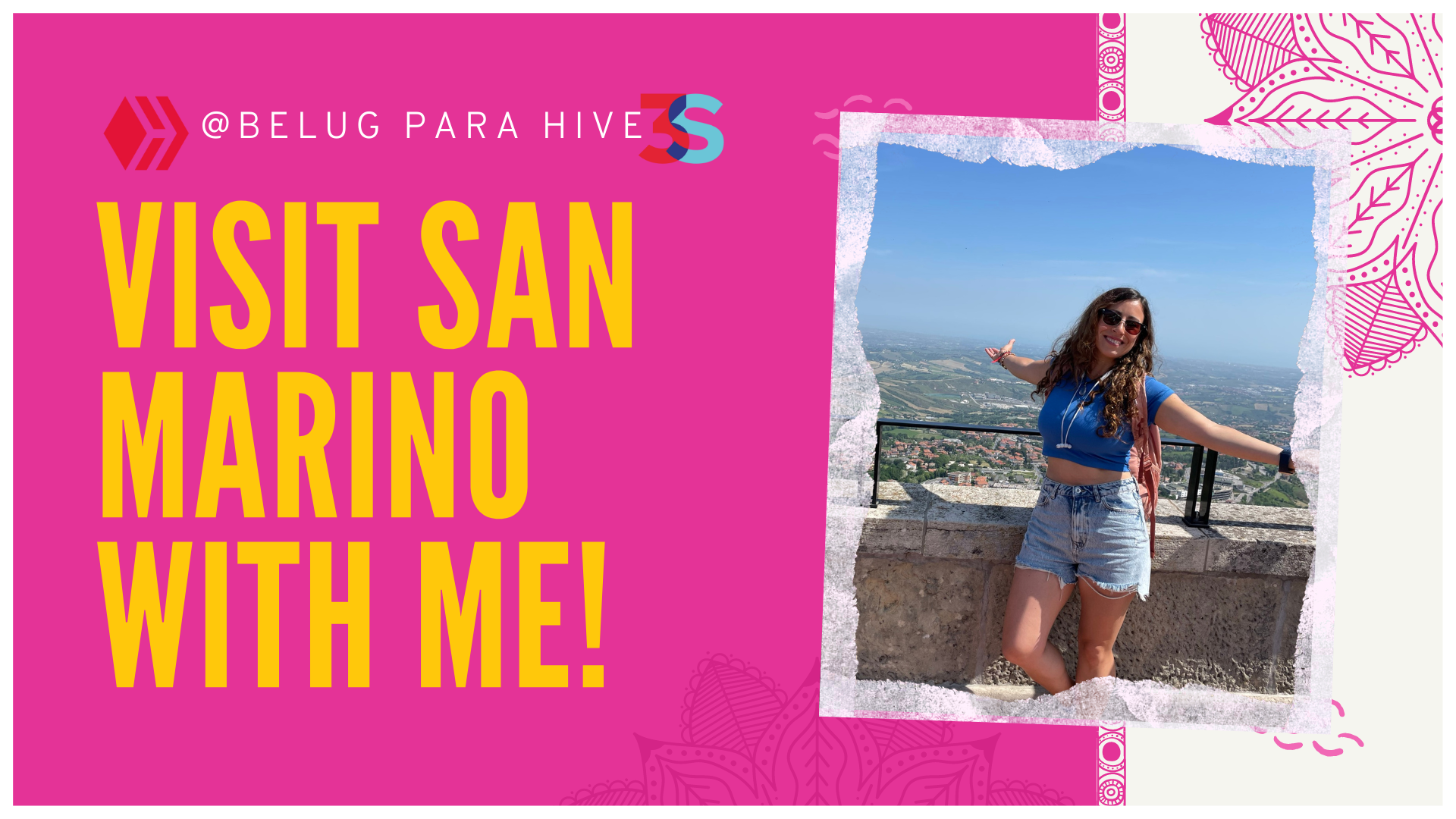 ---
---
Hello my dear friends of Hive! It is a pleasure to be with you once again!!!
Today's post is about a walk I did some Sundays ago and it's about my visit to a country that is very close to where I was staying in Italy, and it's about: San Marino! That's right ladies and gentlemen, it is a tiny country, and it is located in Italy.
The fact that it is nestled in Italy means that its entire surface is surrounded by another country.
So that day, I woke up, got ready, had breakfast as fast as I could, and rushed to the train station bound for Rimini.
As soon as I arrived in this city, I ran again to find the bus stop that would take me to San Marino. On the way (about 100 meters), I came across one of the famous Italian tobacco shops where they sell tickets for all the buses, and I bought my round-trip ticket to this country for a total of 10 euros (very good price for a day trip!).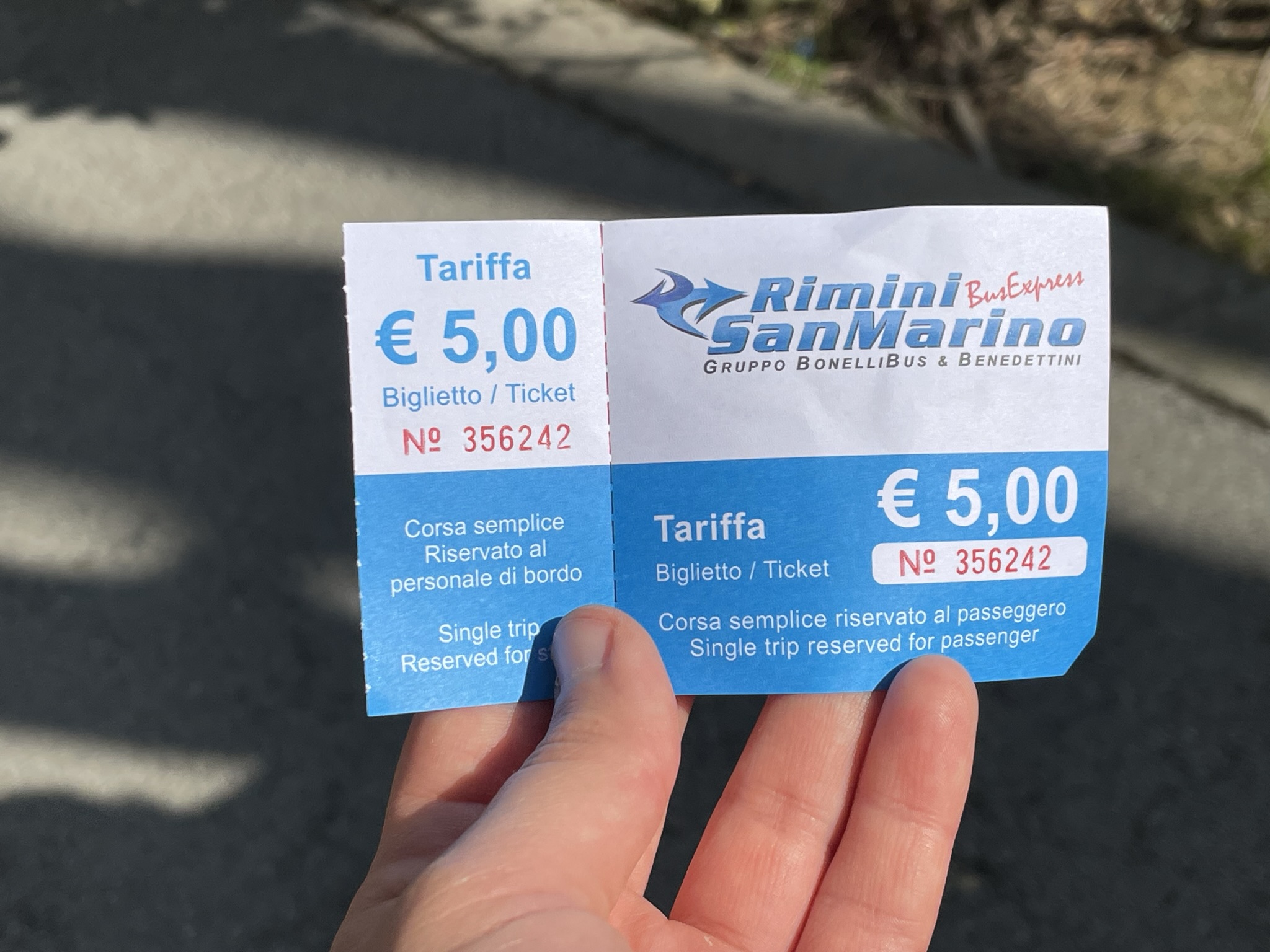 So in about 45 minutes, I was already in San Marino, ready to climb that famous mountain.
Pictures from the bus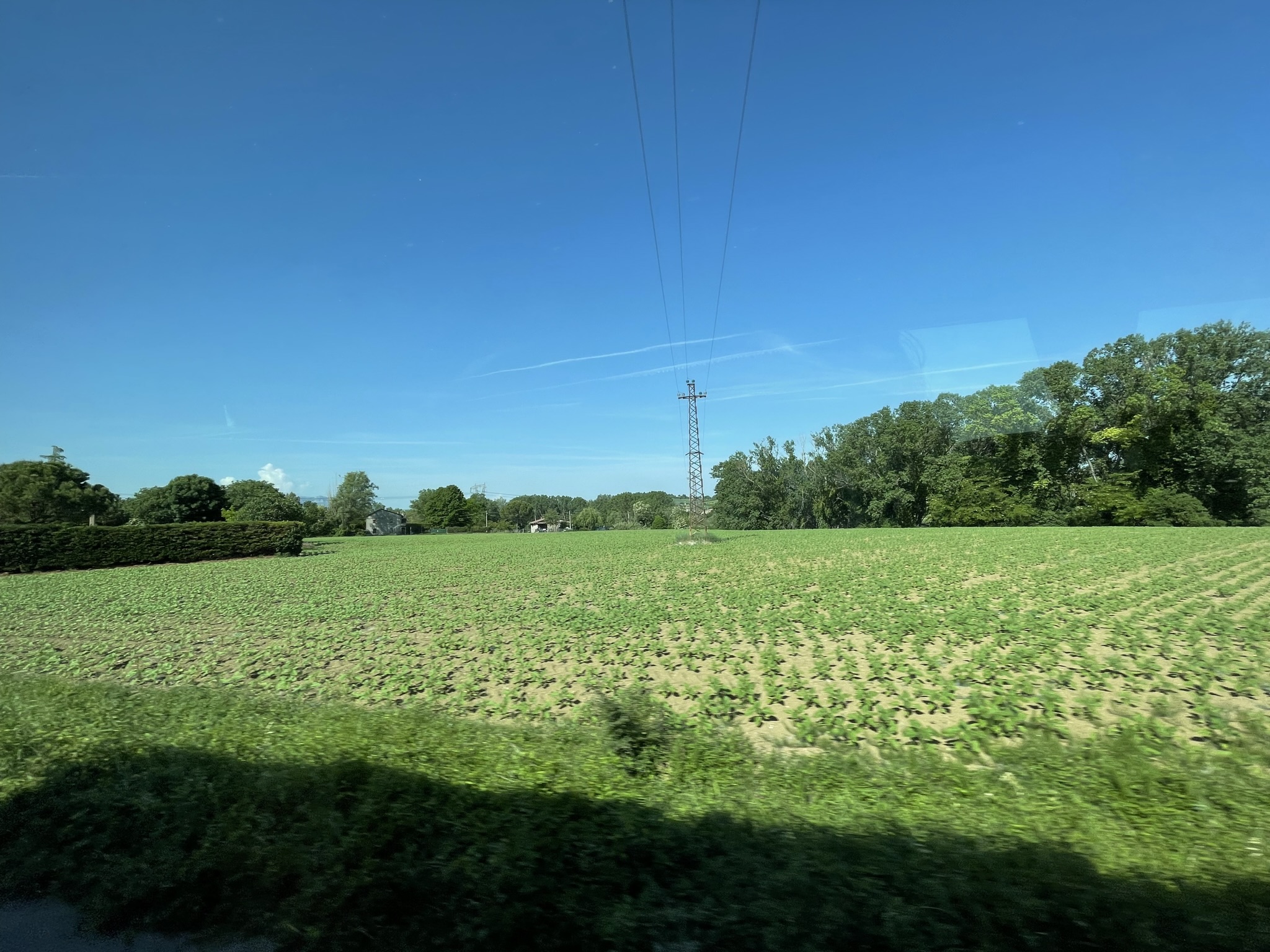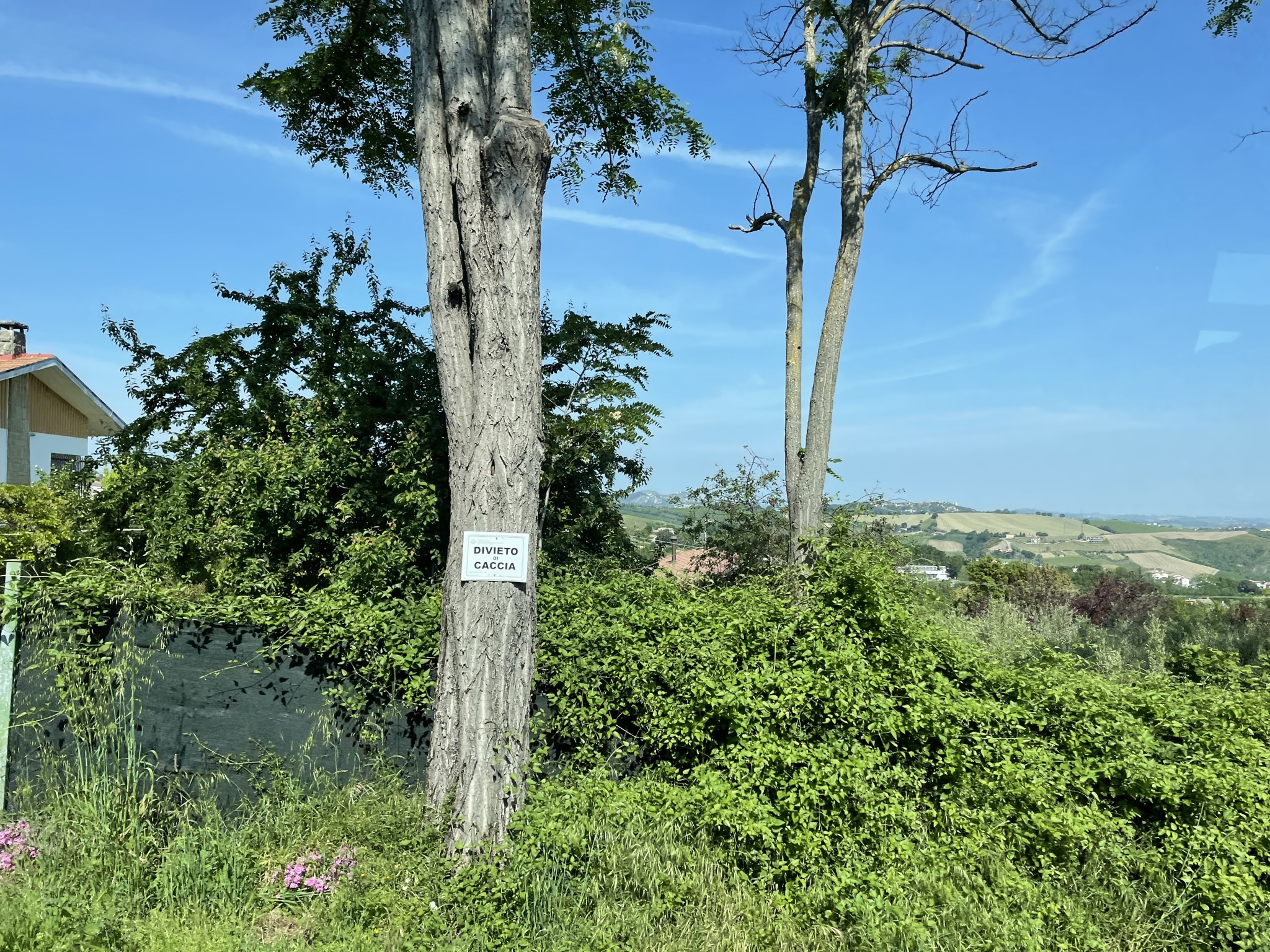 Once in San Marino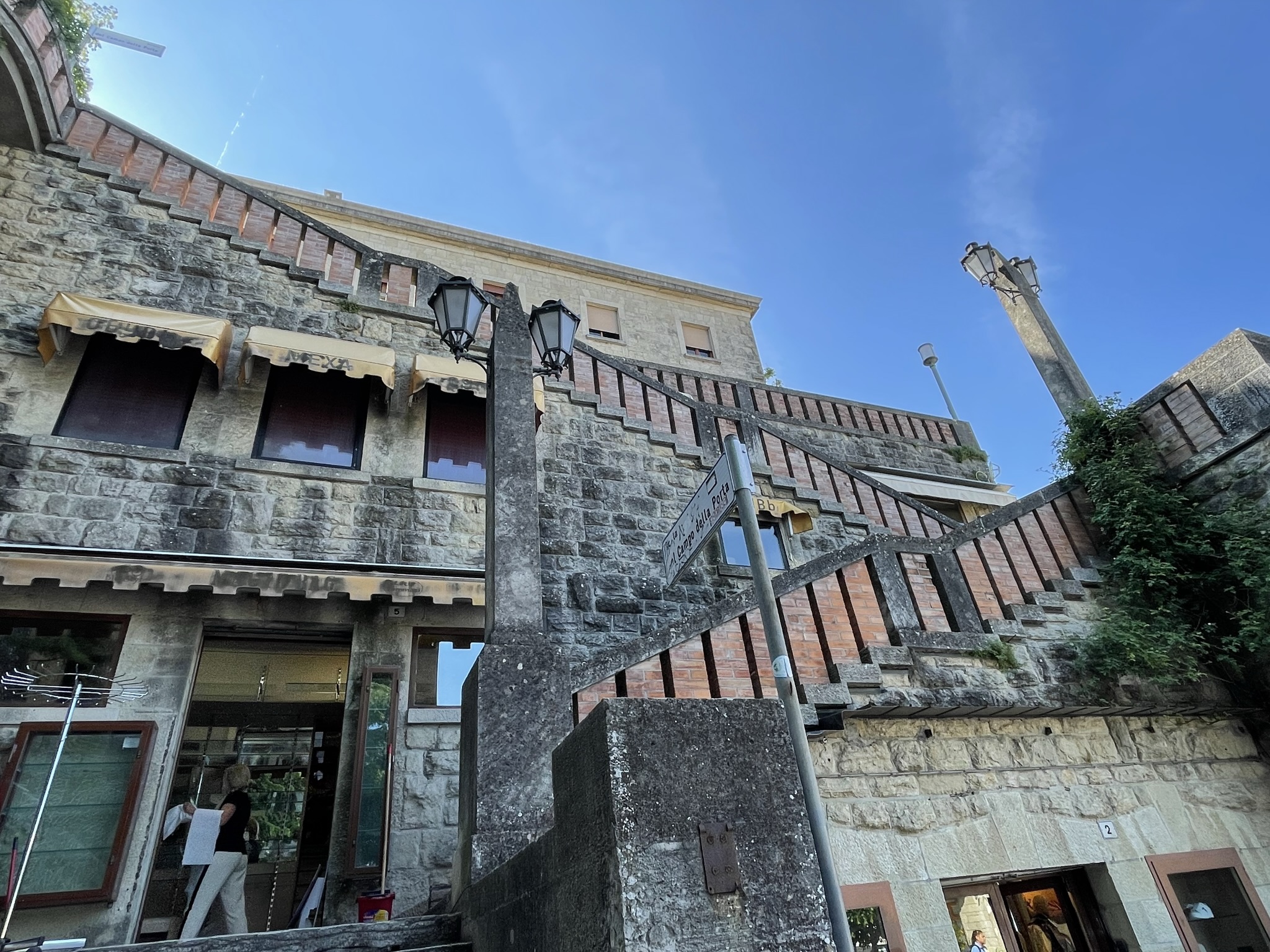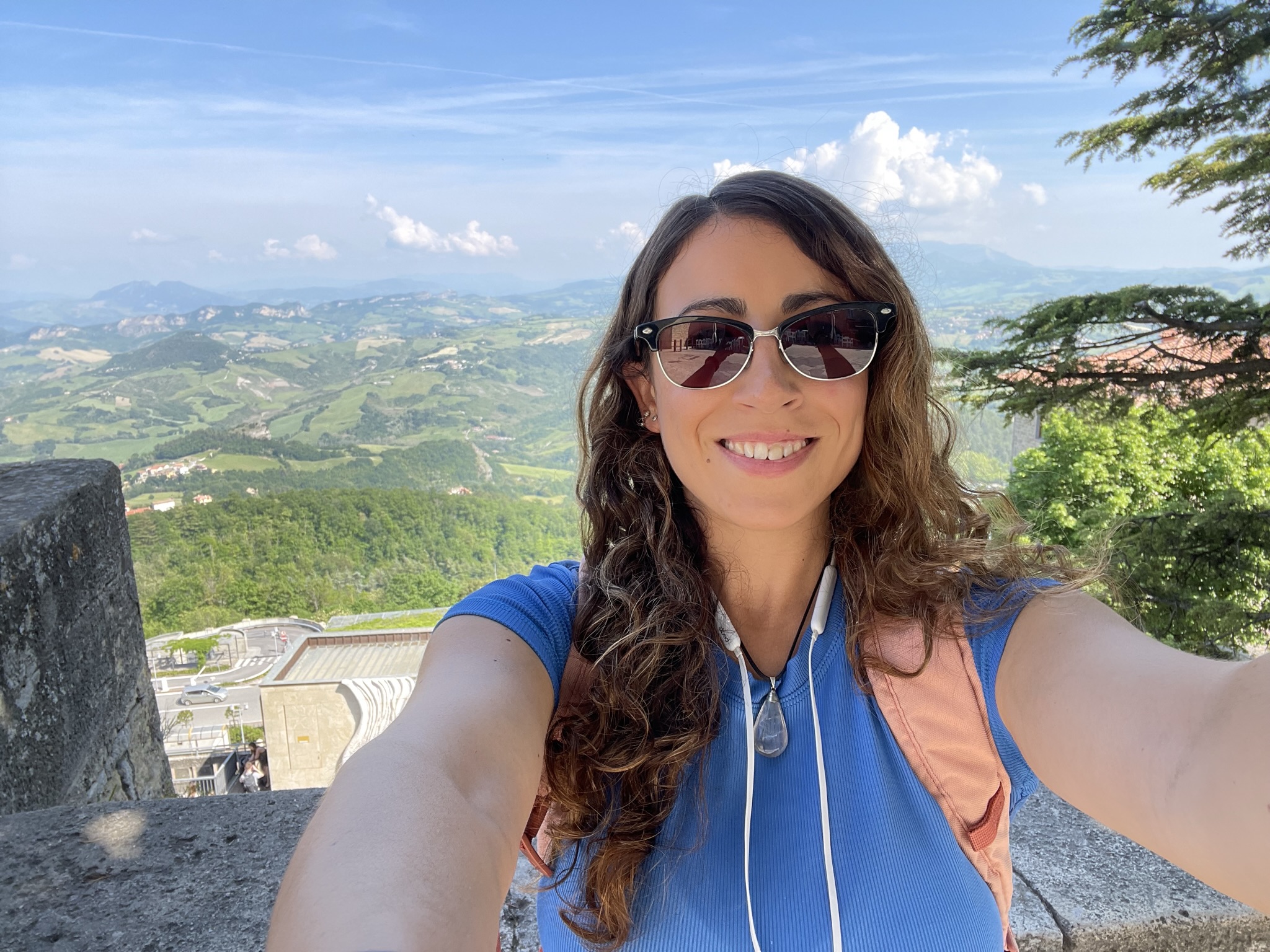 It turns out that this country, with its 61 square km, is positioned in third place for the category of the smallest countries in Europe; and thus we make clear its smallness since only Italy has 302,073 square km and Europe with 10.53 million square km.
About to start the walk to the mount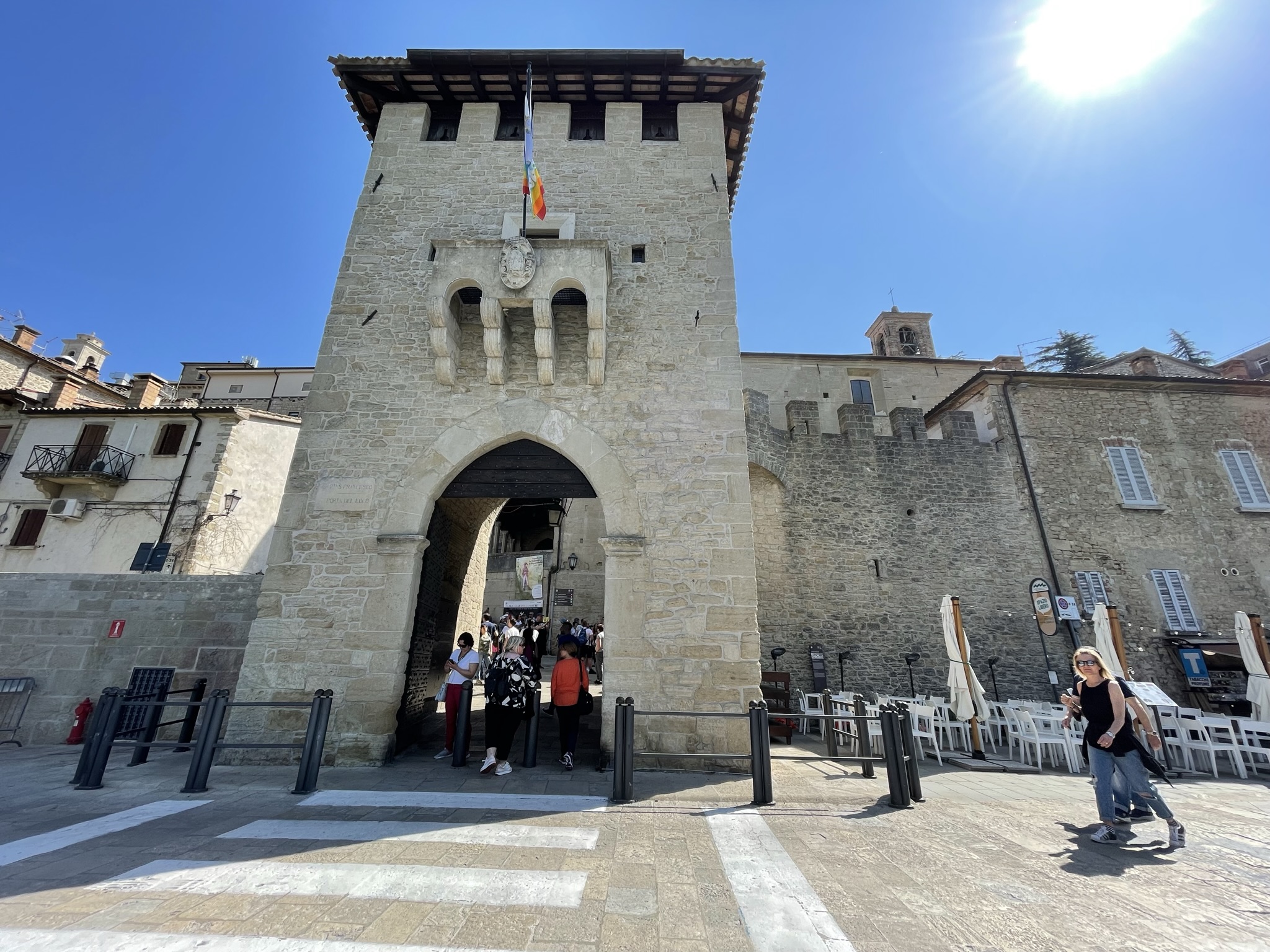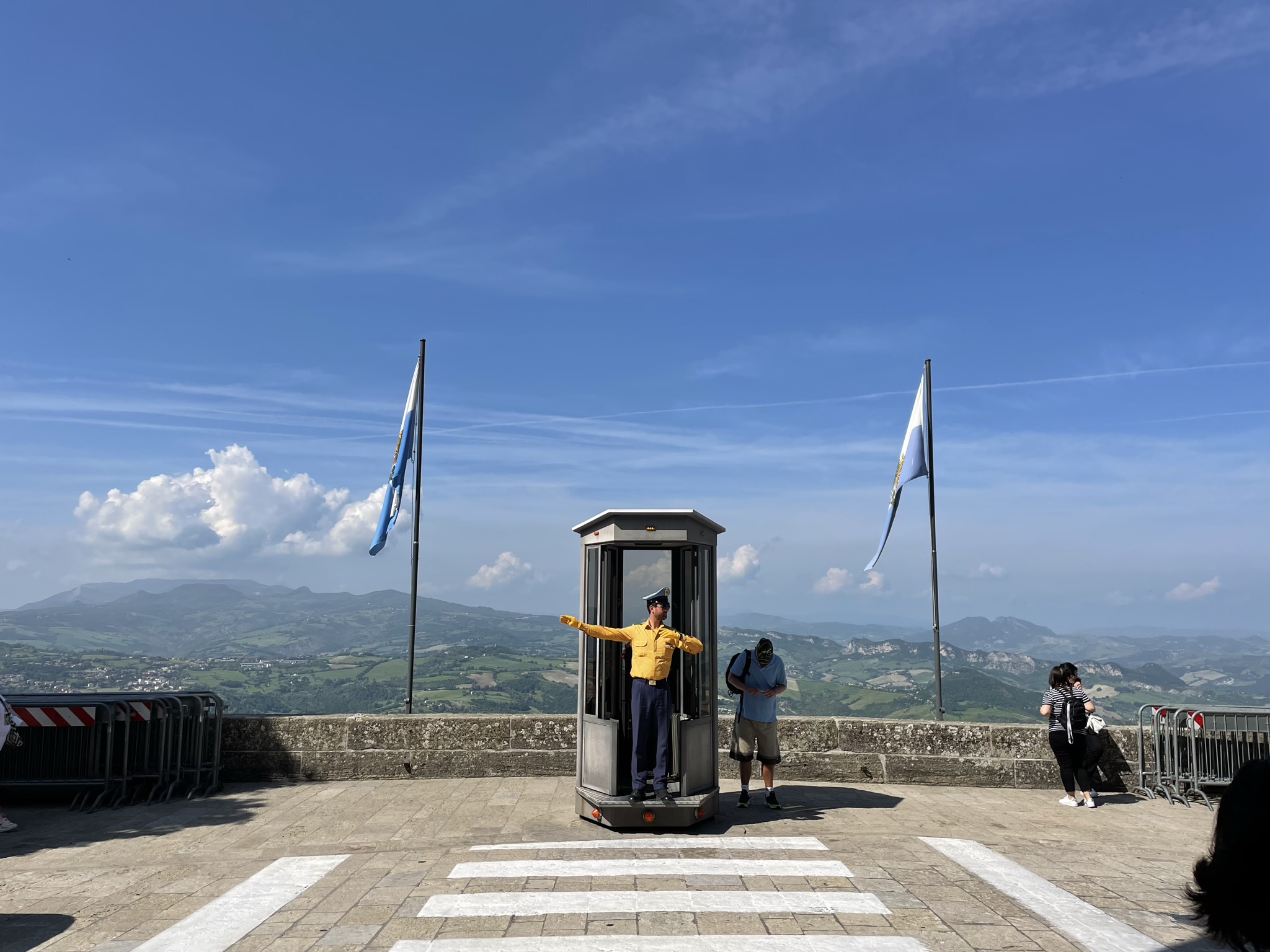 But it turns out that despite its size, it has a very long name (Serenissima Repubblica di San Marino) and is, according to the BBC, the only republic in the world with two heads of state. It would even, according to the same source, be the oldest republic in the world.
With regard to "those who call the shots" in San Marino, these two heads of state are renewed only every 6 months! Yes, that's right, every very short period they have to change them. And after the end of the Second World War, modifications were introduced to this type of government, but I will not go into that.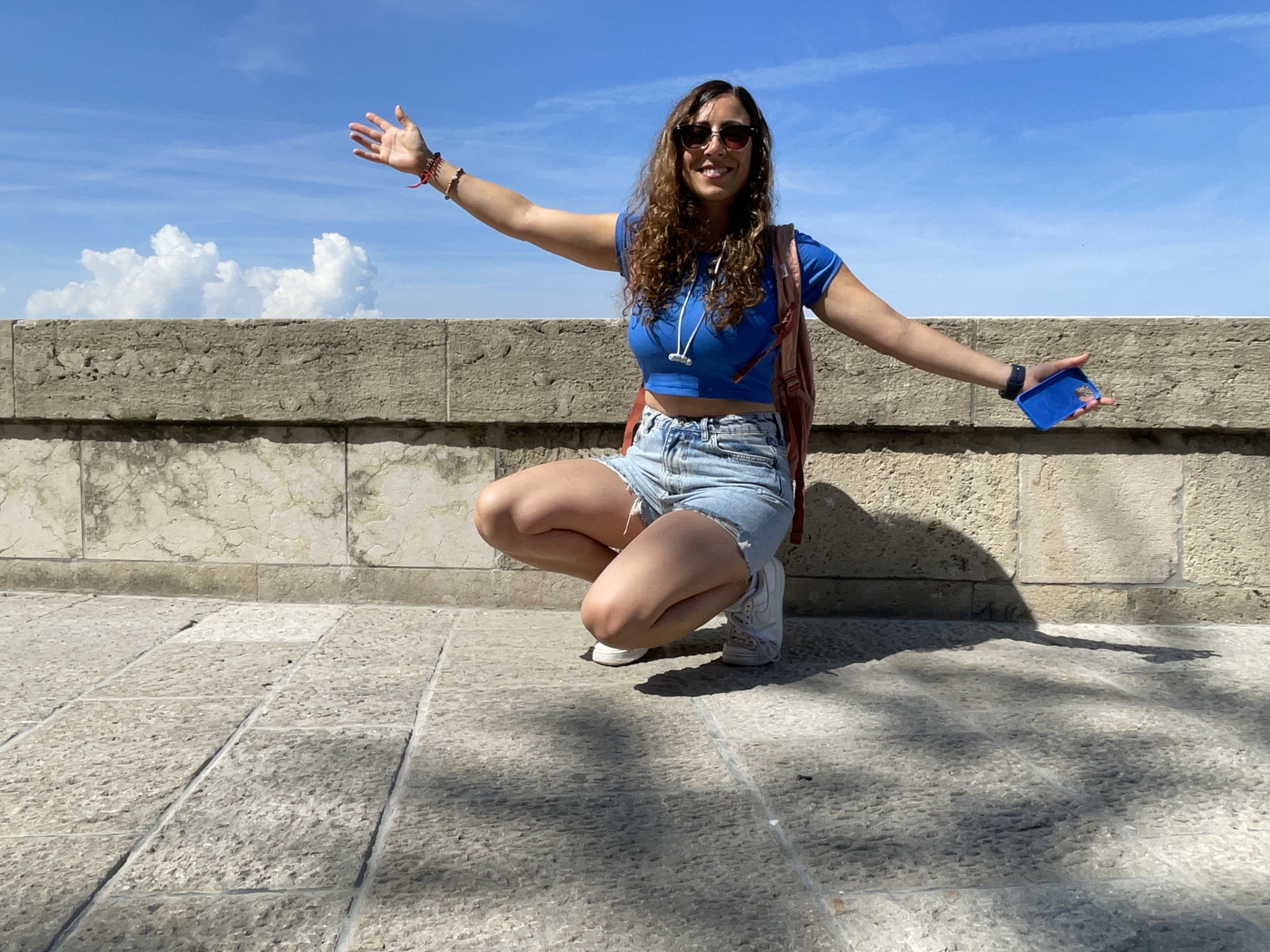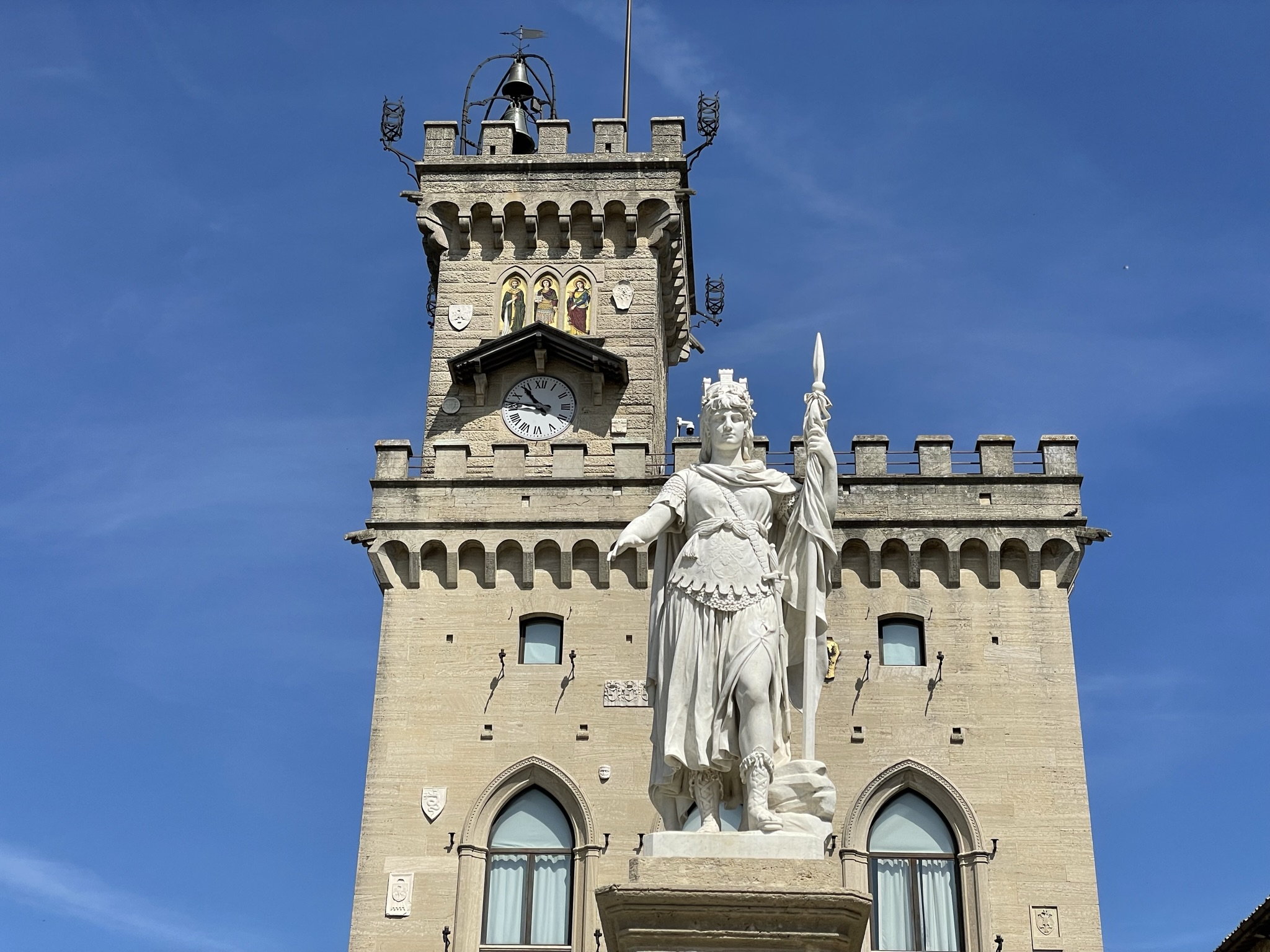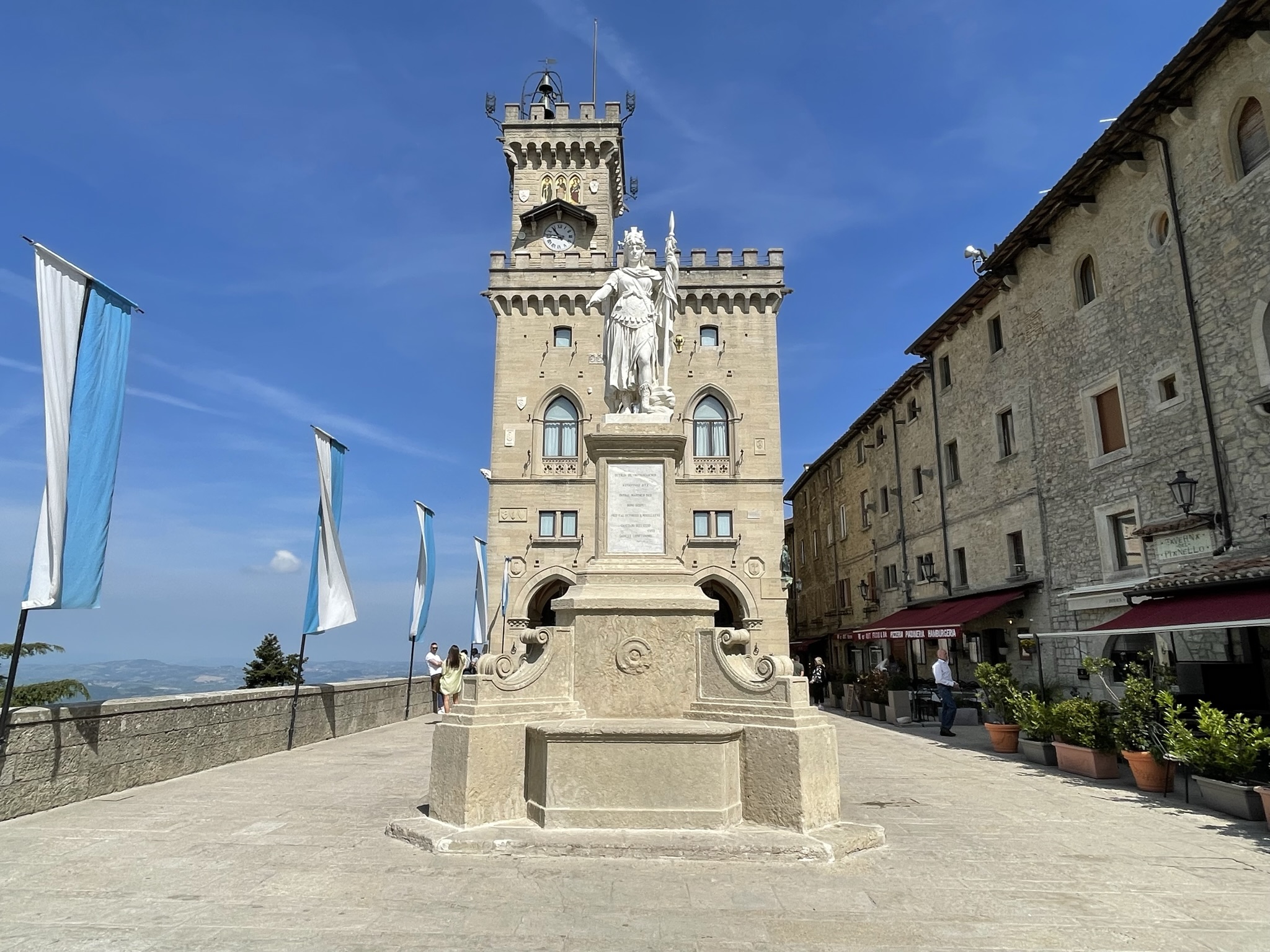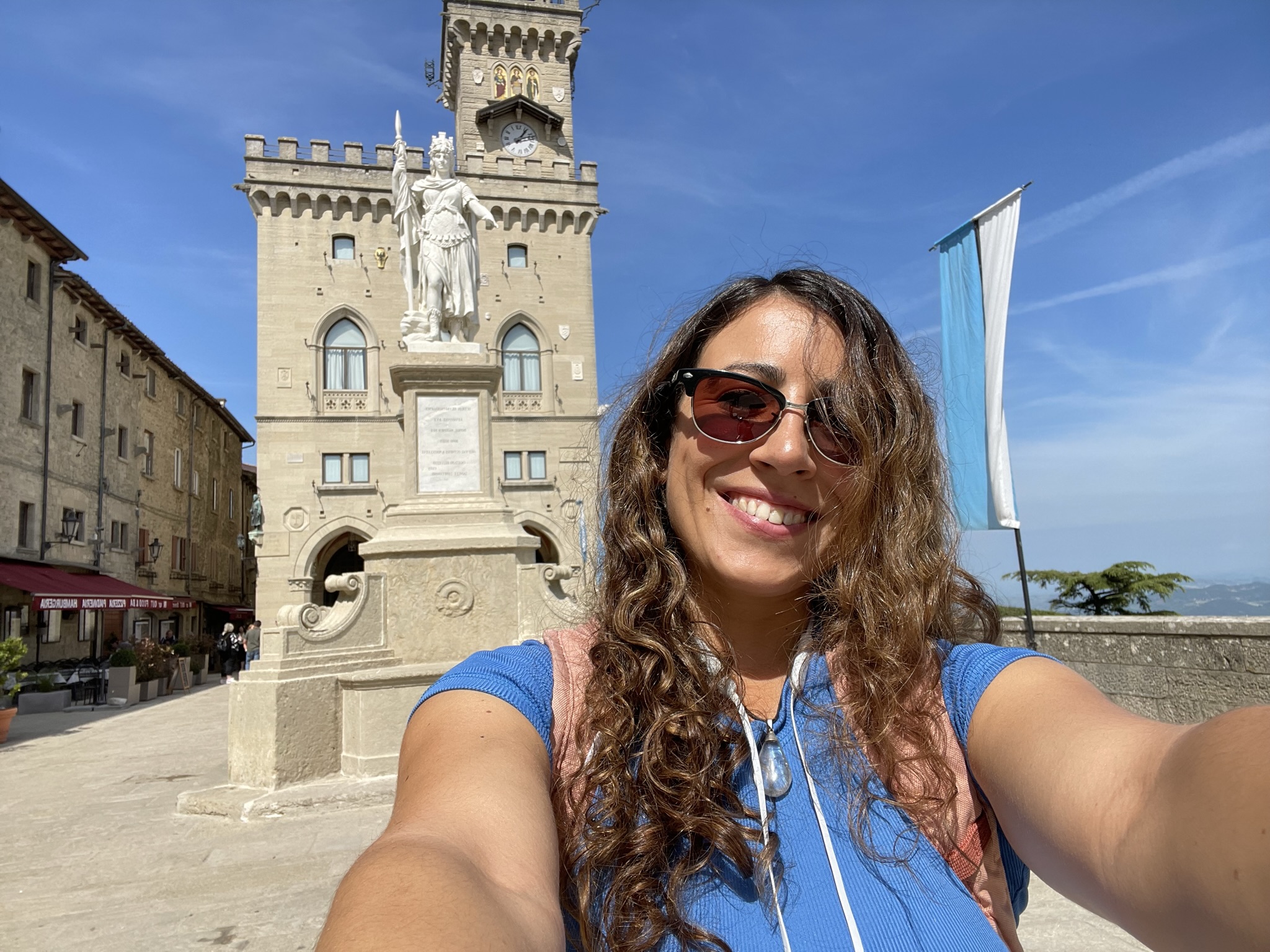 Judging by my visit to that land, I dare to say that San Marino practically lives from tourism, not only because people go there and have access to restaurants and attractions, but also because there are a lot of shops selling silver and gold items, and even designer perfumes, at lower prices than in neighboring Italy.
As for the language, they also speak Italian.
Its landscapes are beautiful, and since it is immersed in the Apennine chain, as you go up, you will see the slopes of that mountain, with the picturesque houses and a green that can only be seen in Italian land (I know, it is not Italy, but the landscape is quite similar in this sense of green and mountain).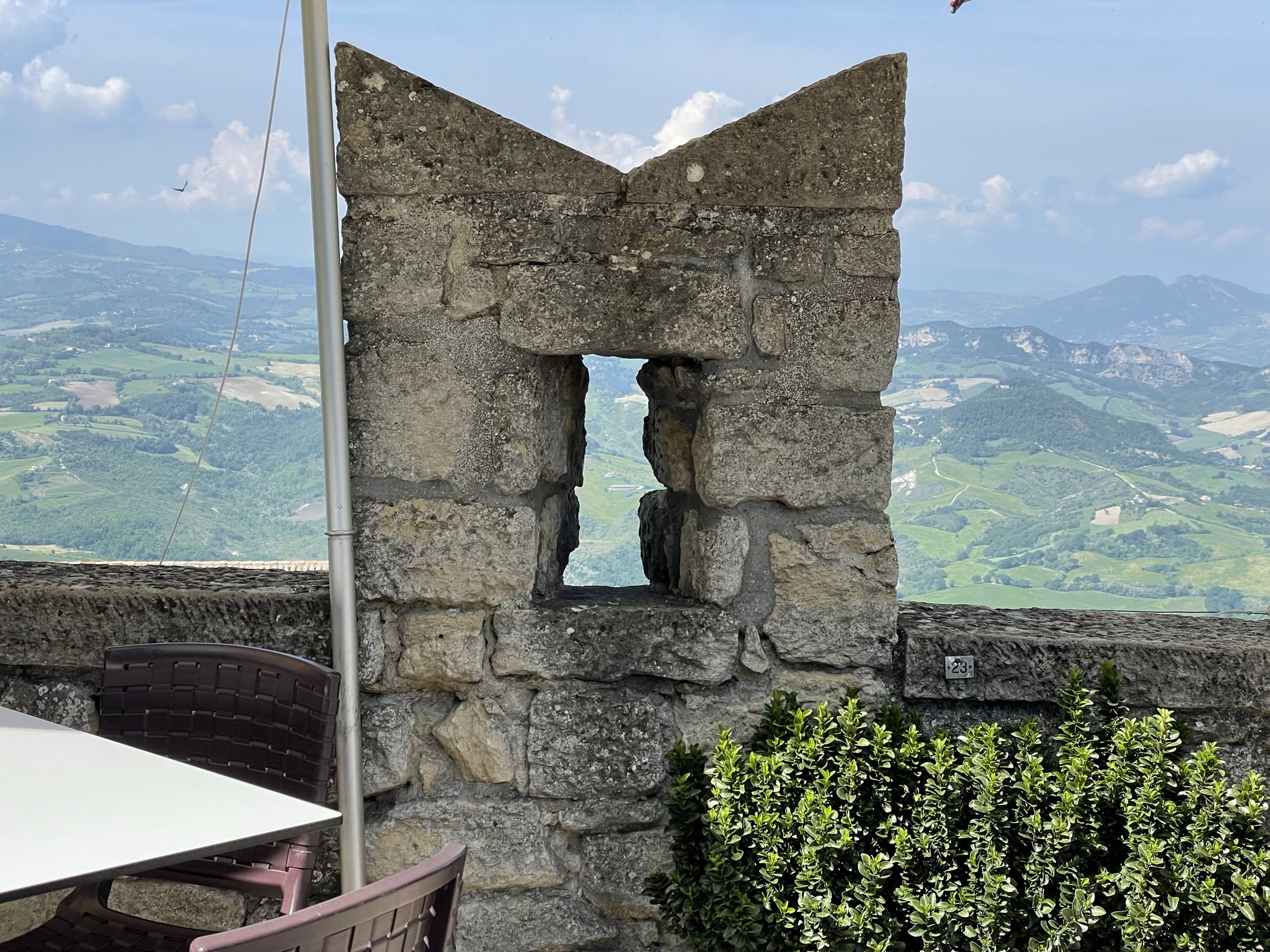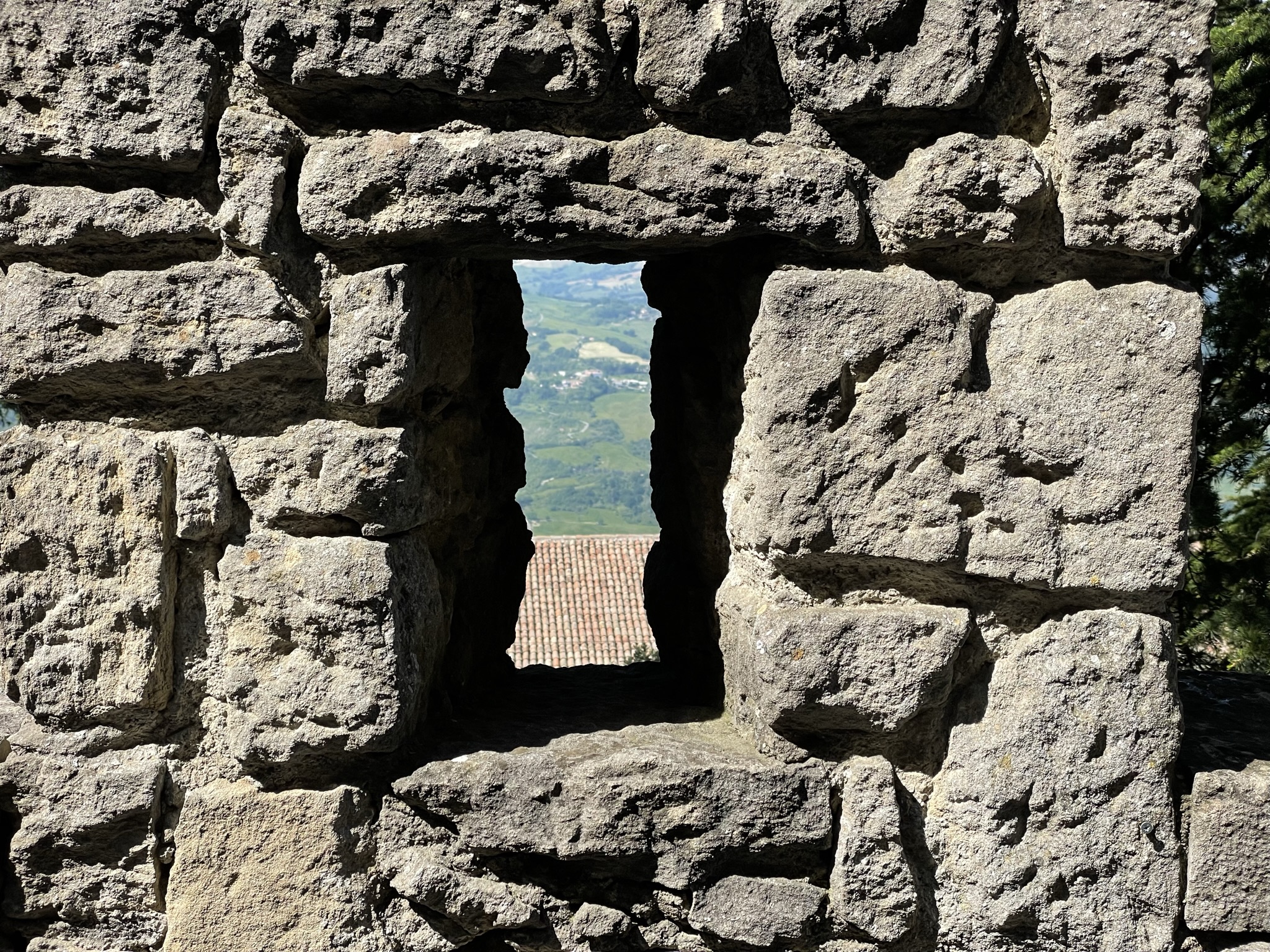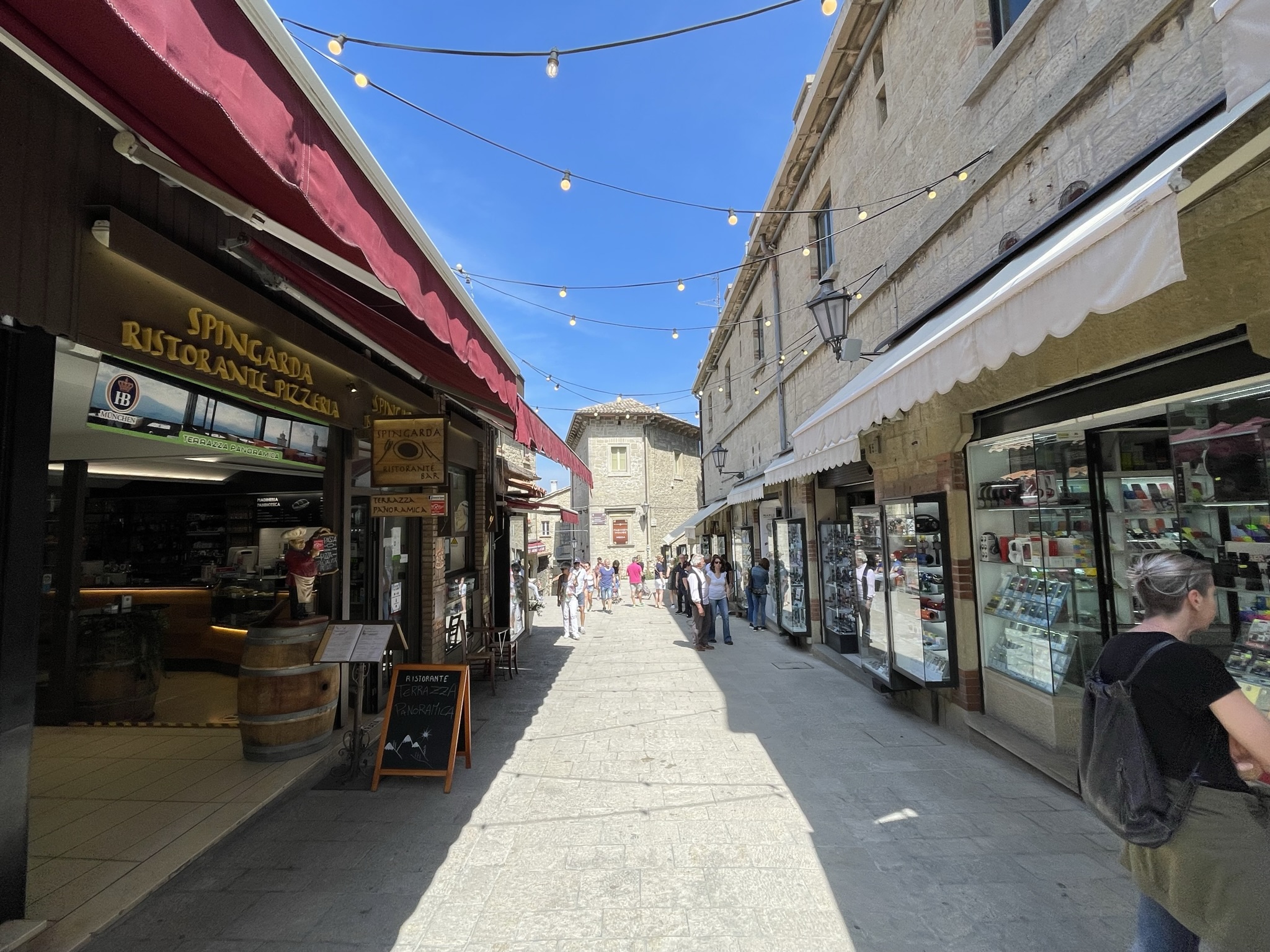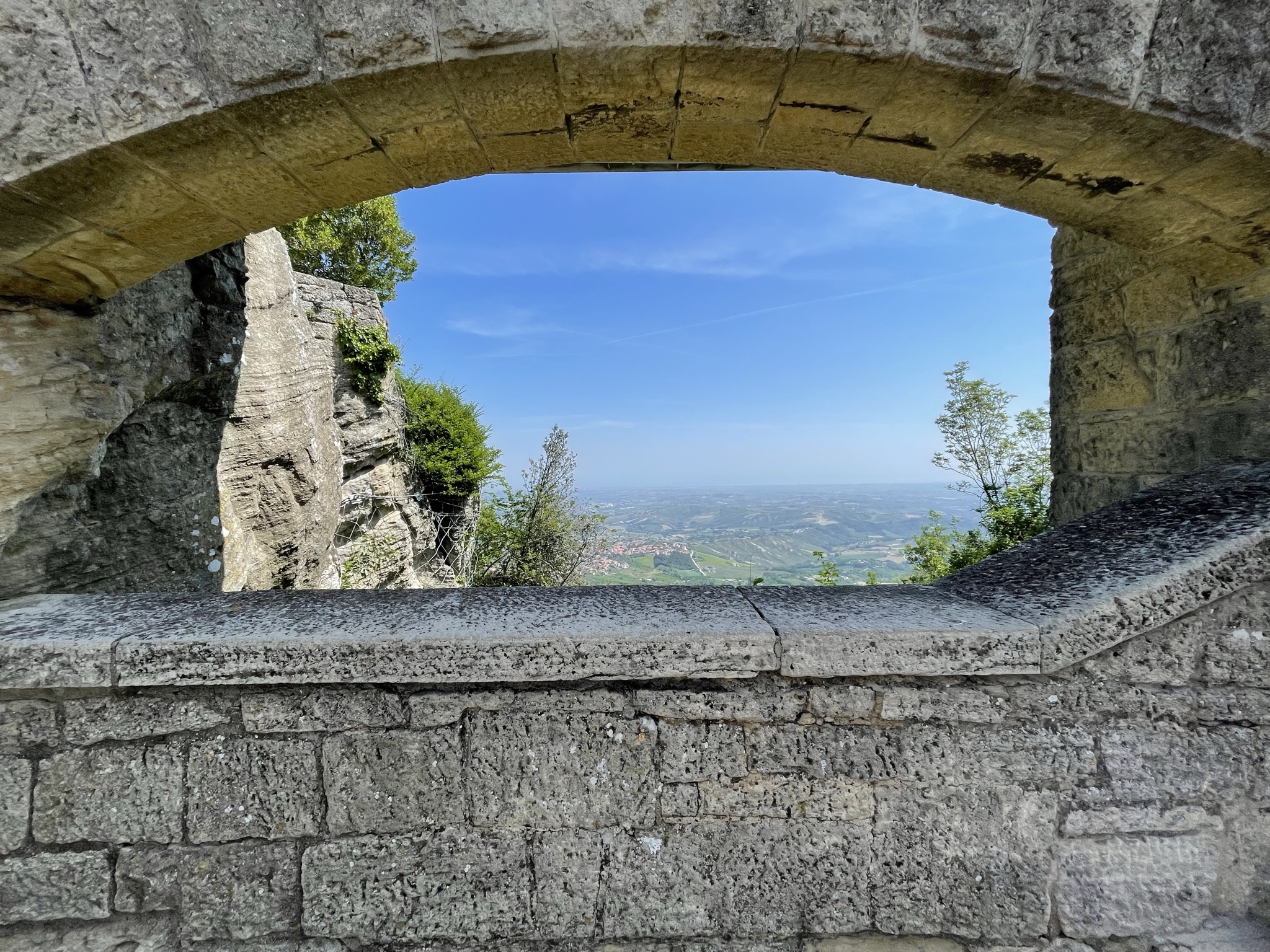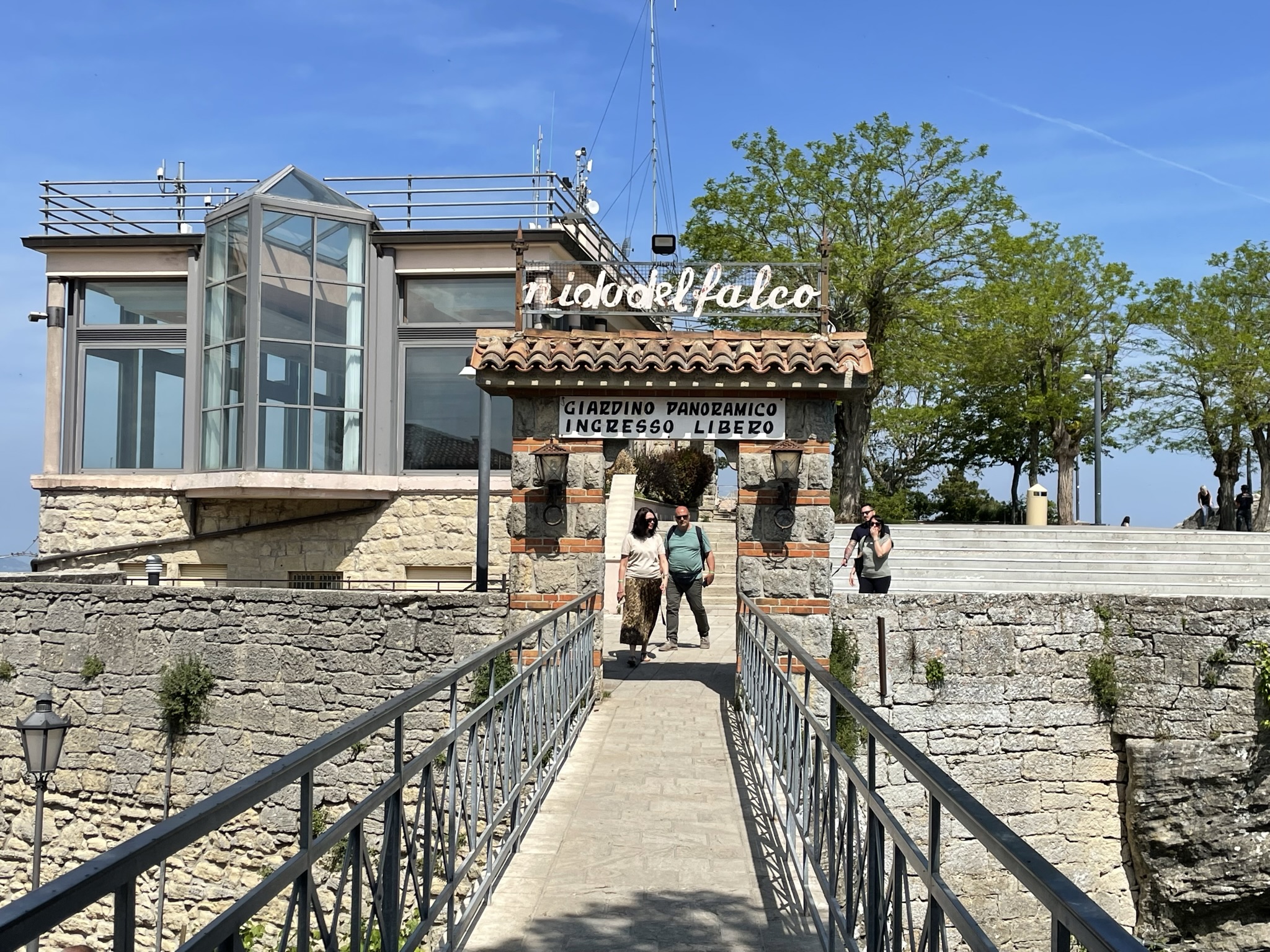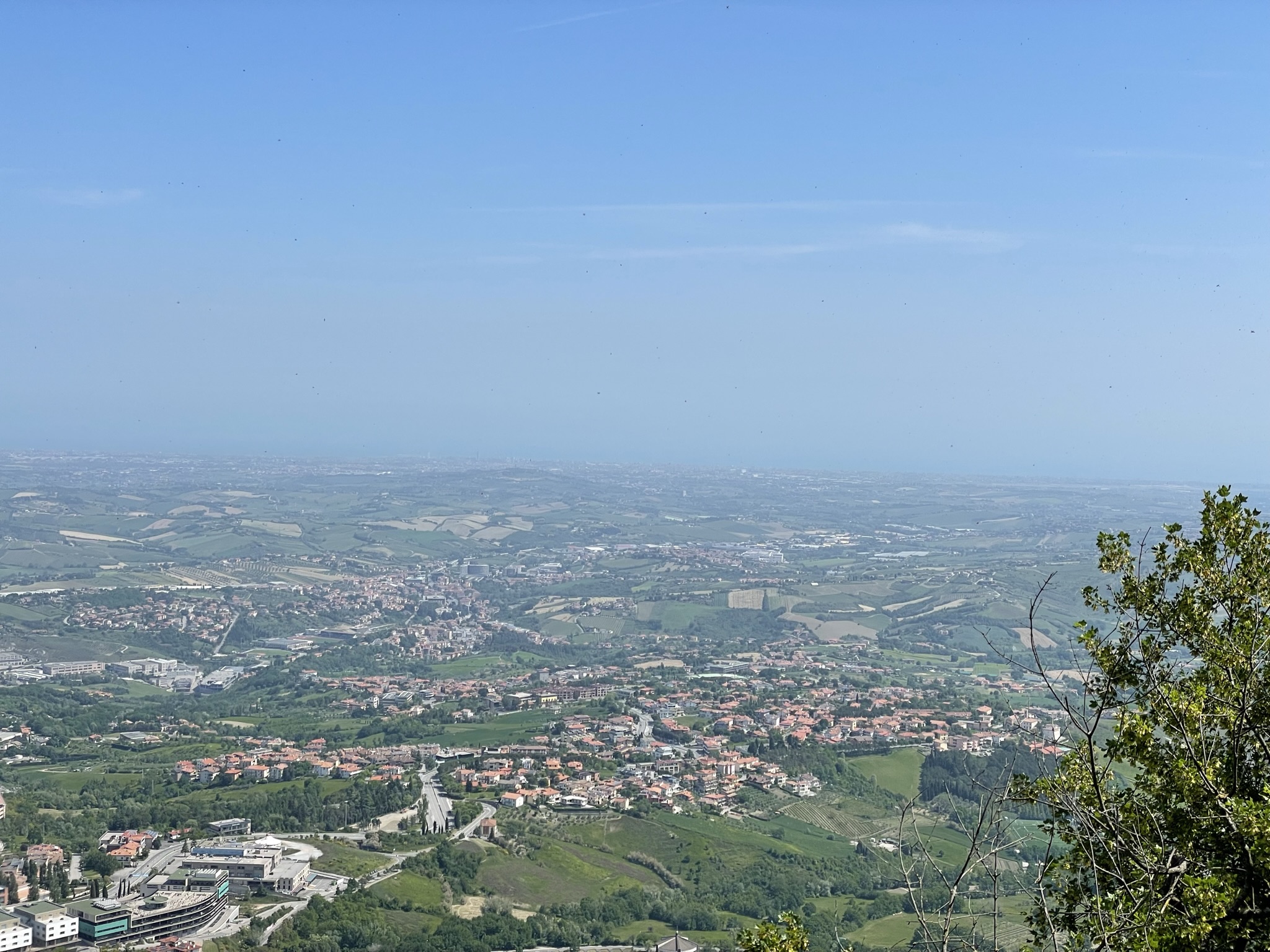 A typical thing to do when visiting this place, is to climb Mount Titano, which is where the famous castle that bears the same name of the country is located.
Its sculptures, as you go up, are exquisite! Delicate and clearly very well preserved, they cause whoever is walking by to stop and look.
Some beautiful pieces in the middle of the way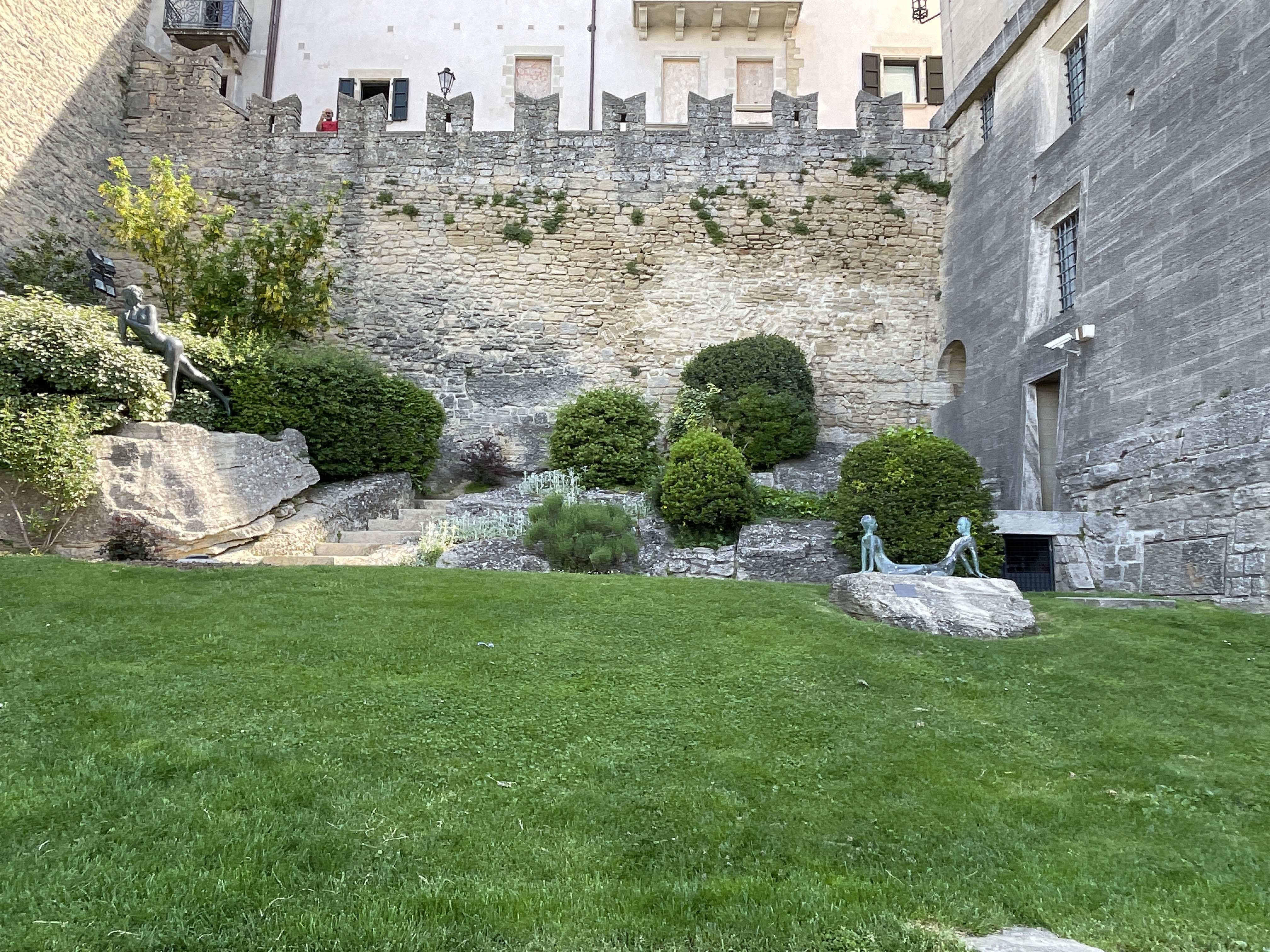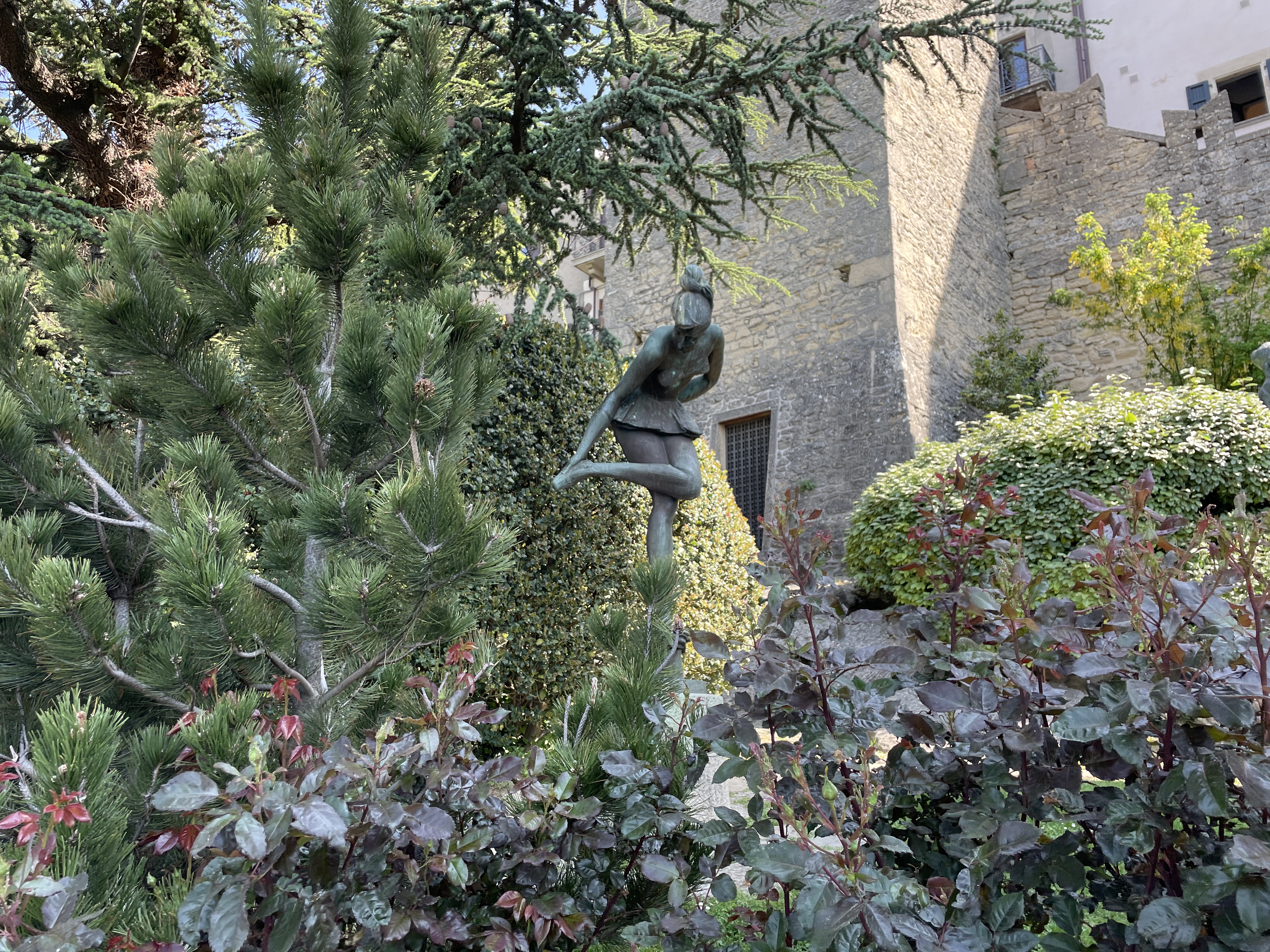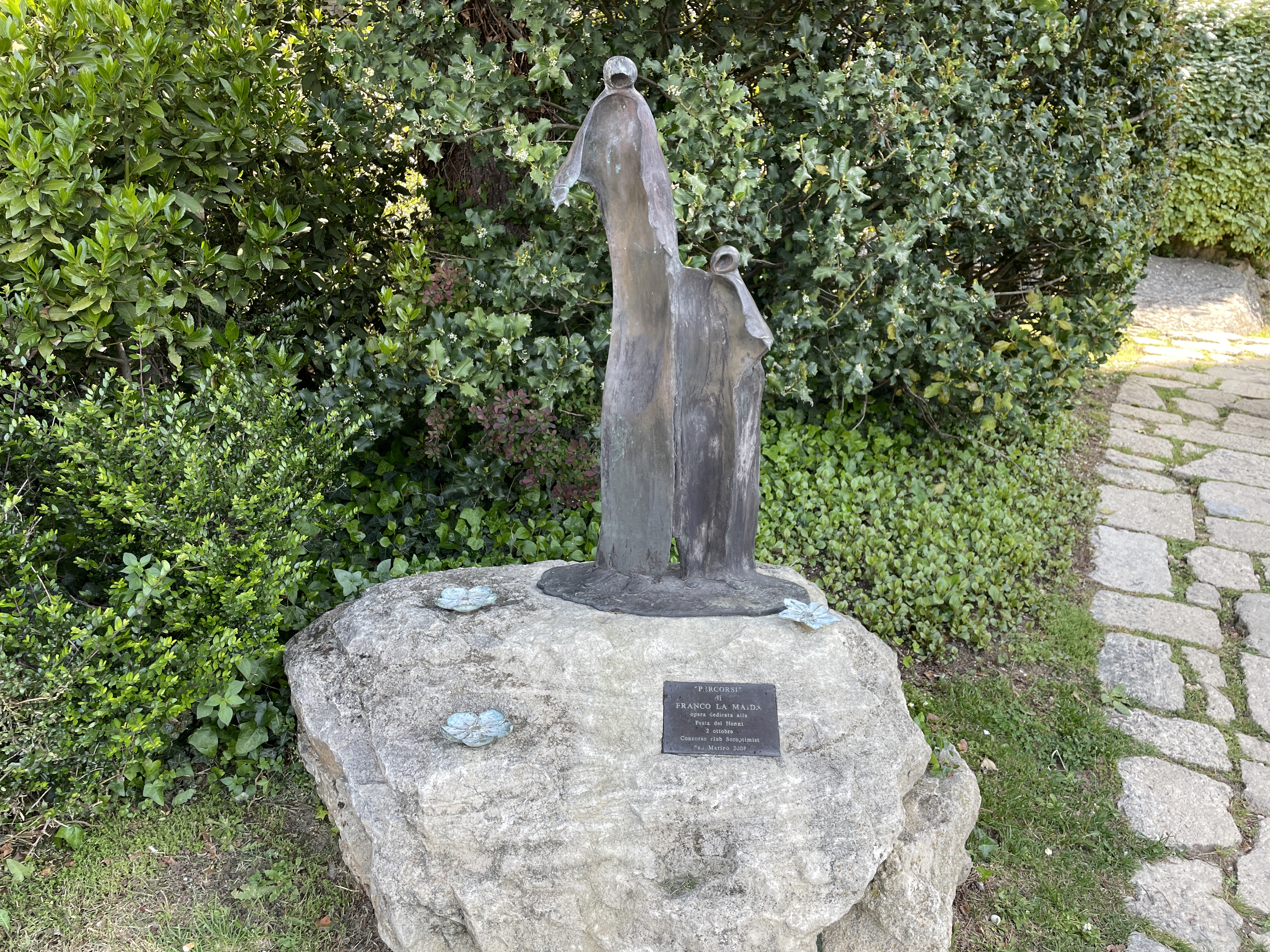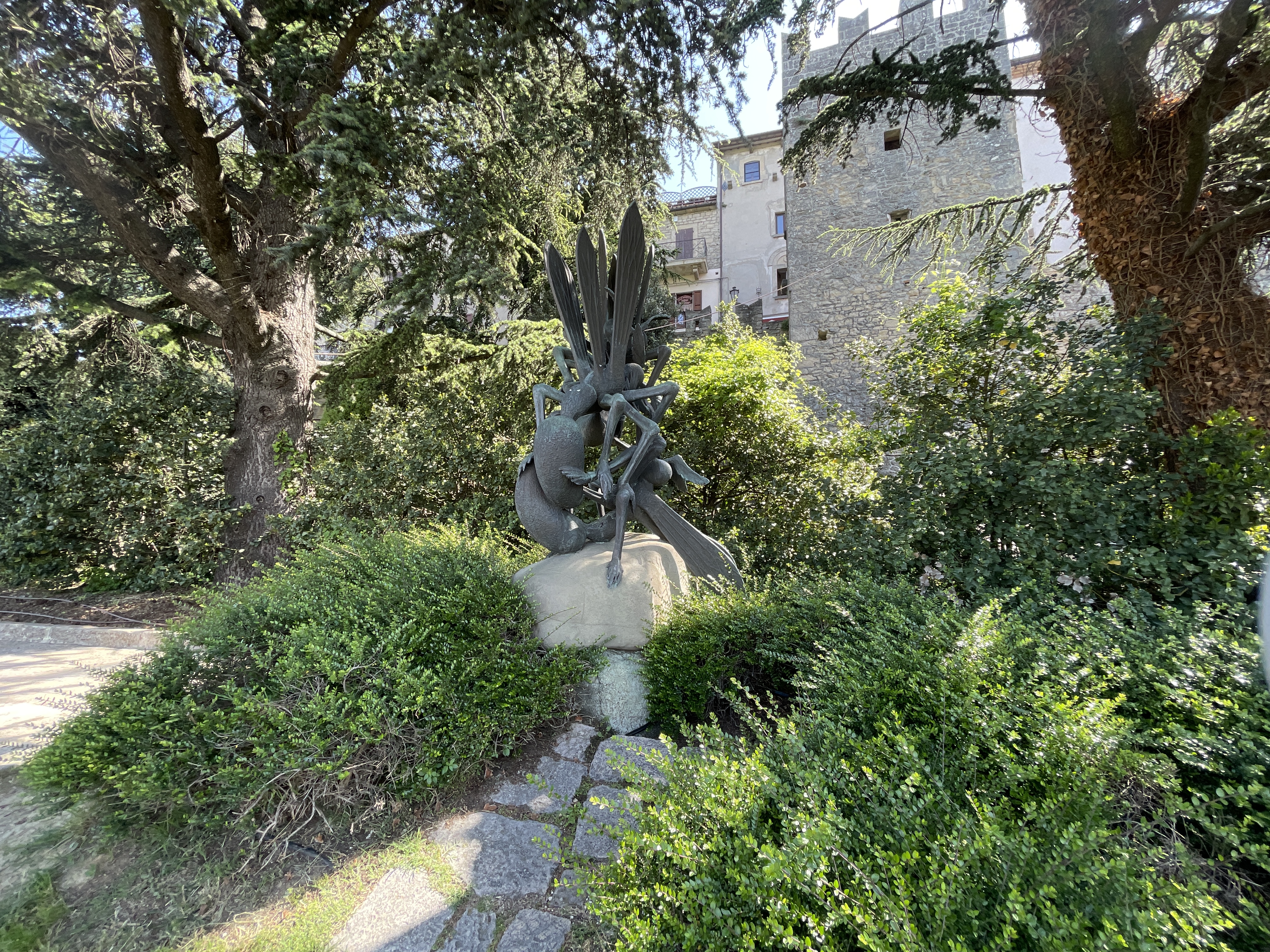 More statues close to the end of the path in the mount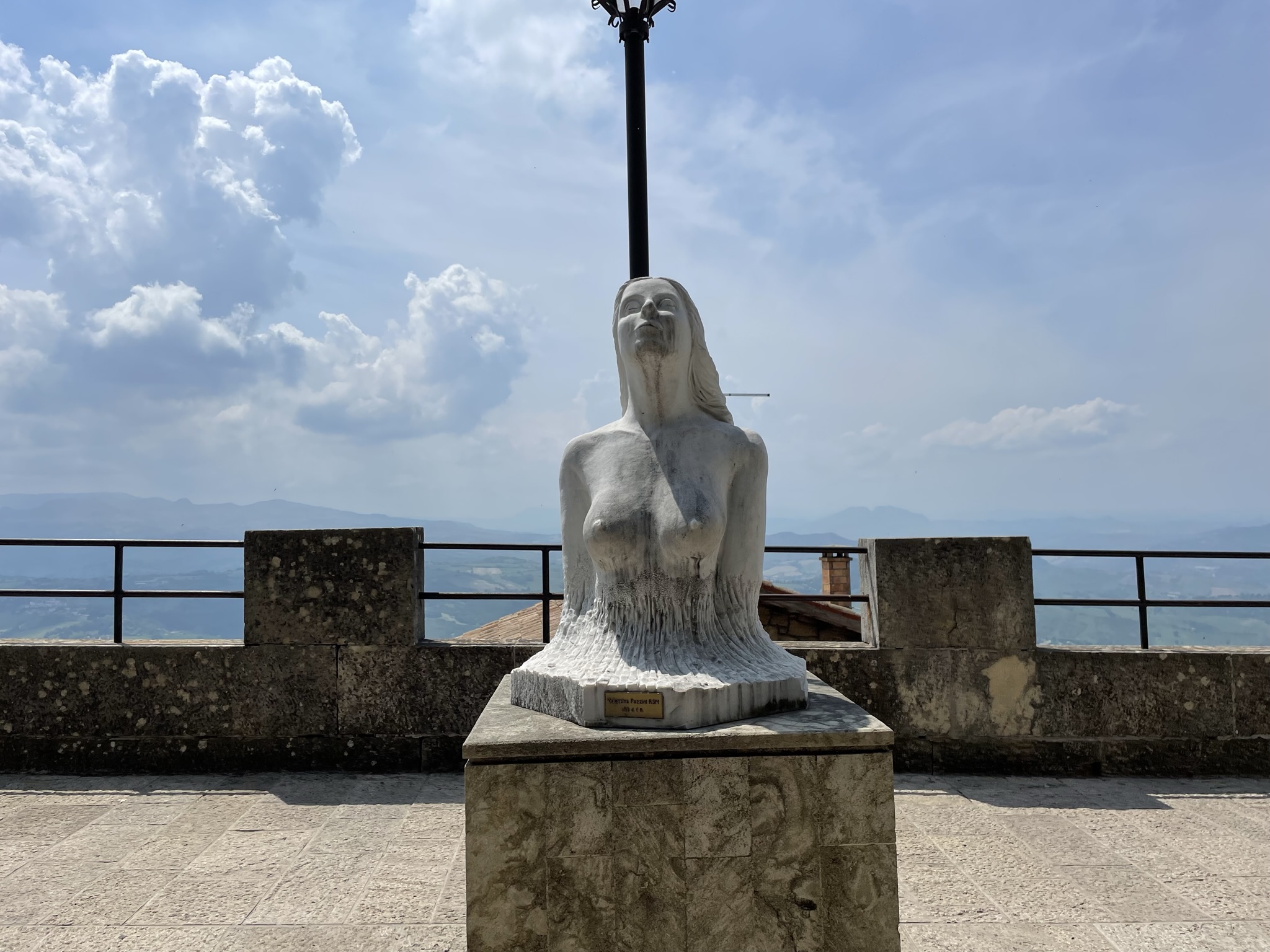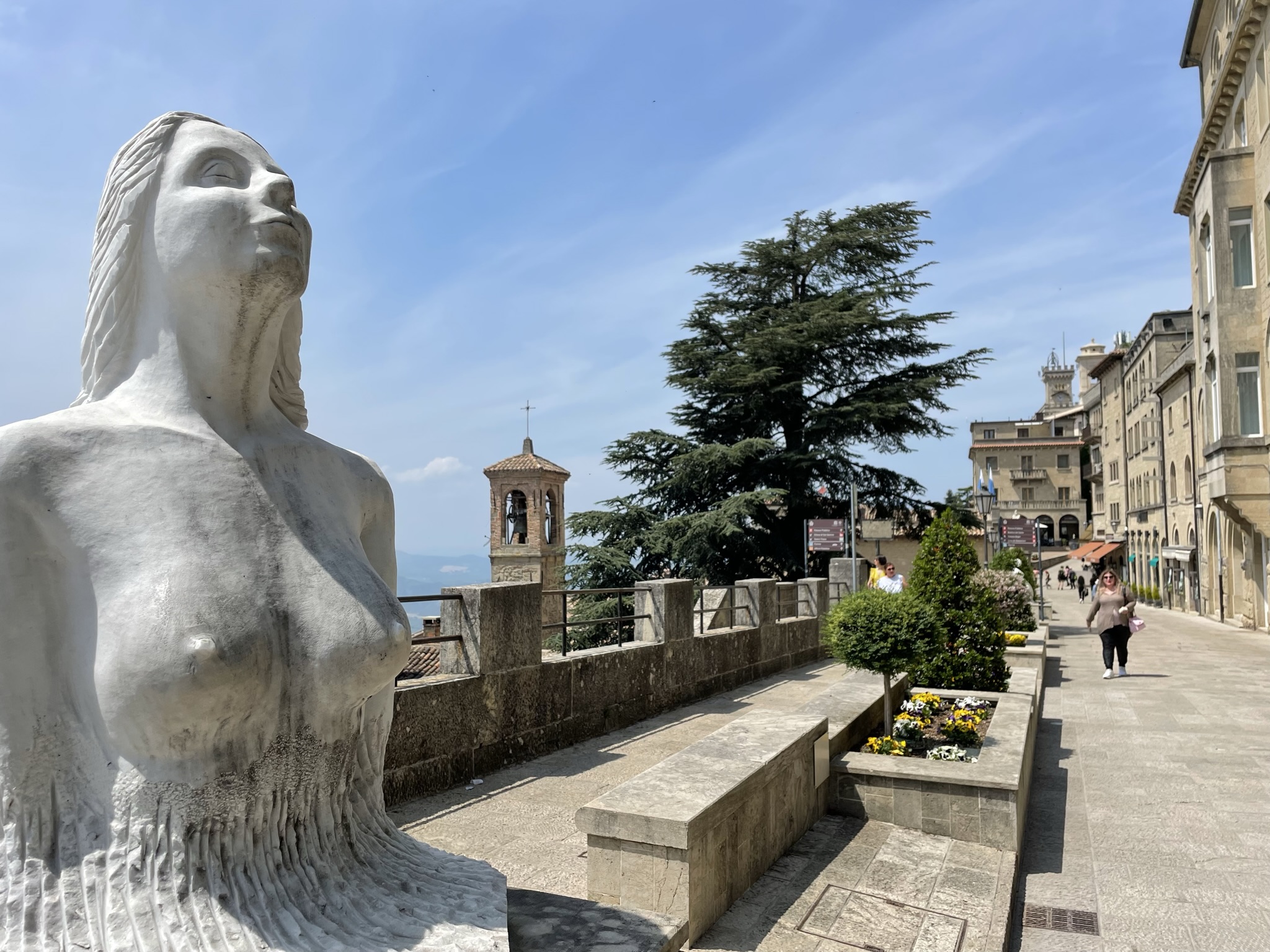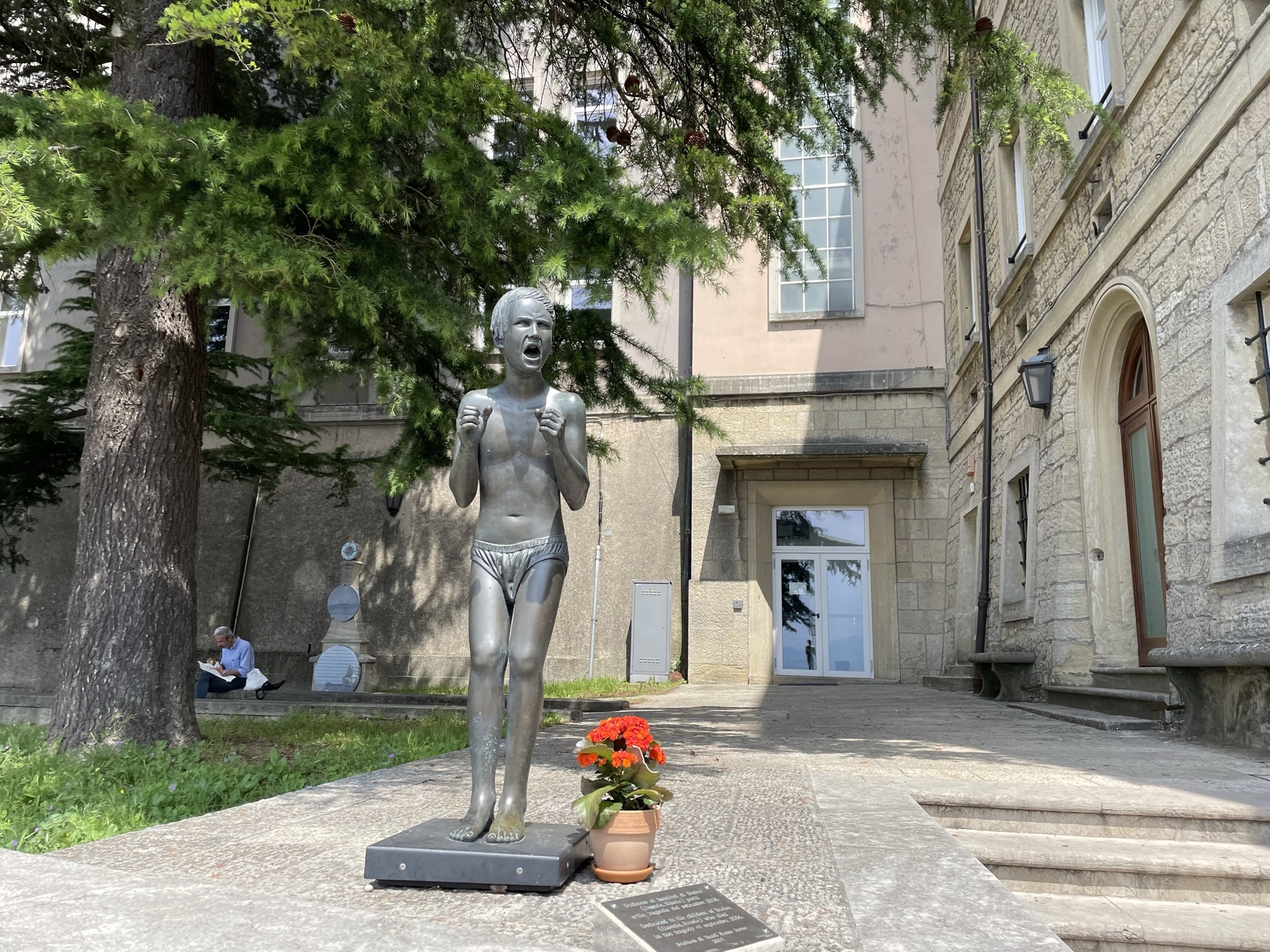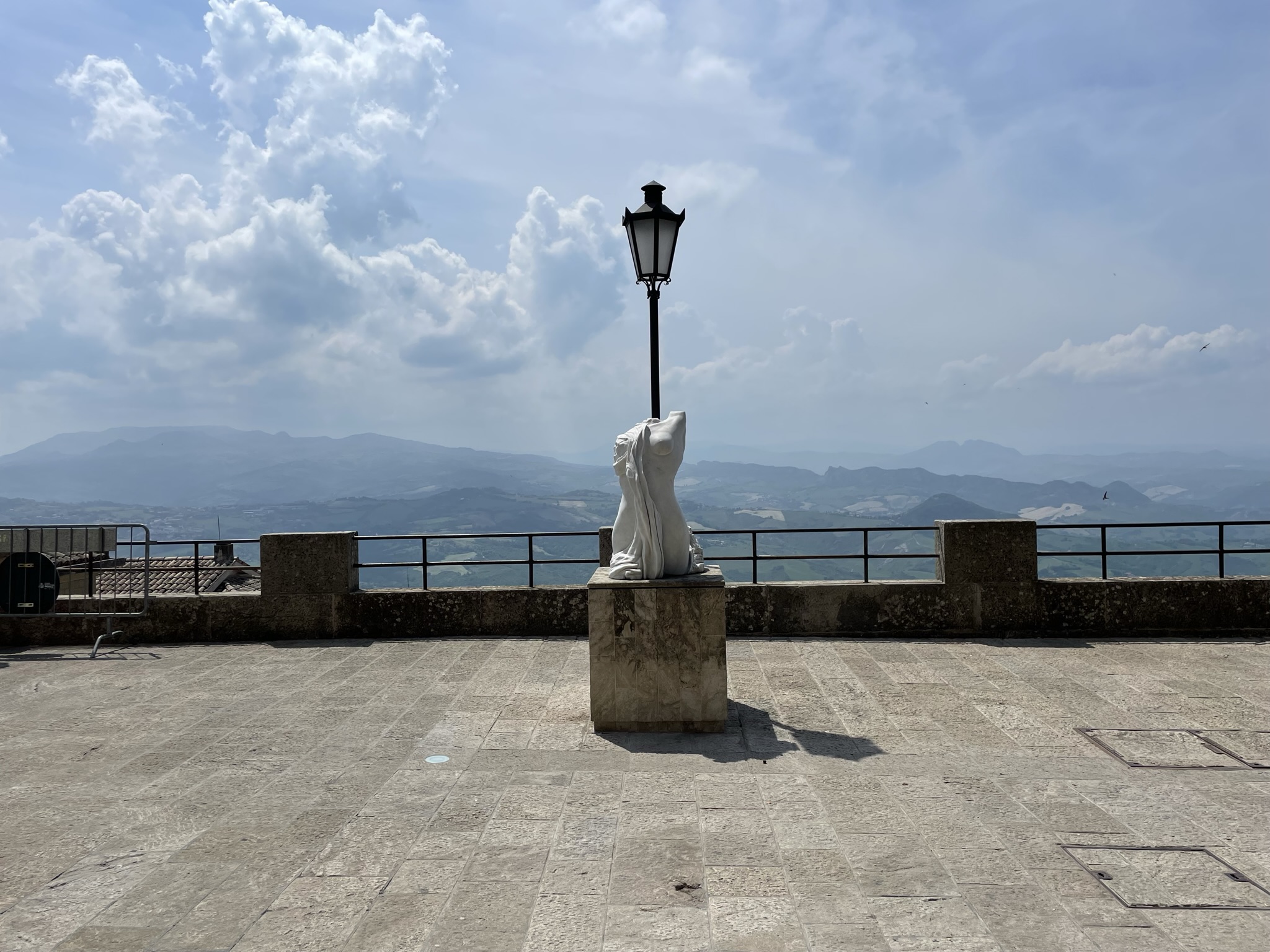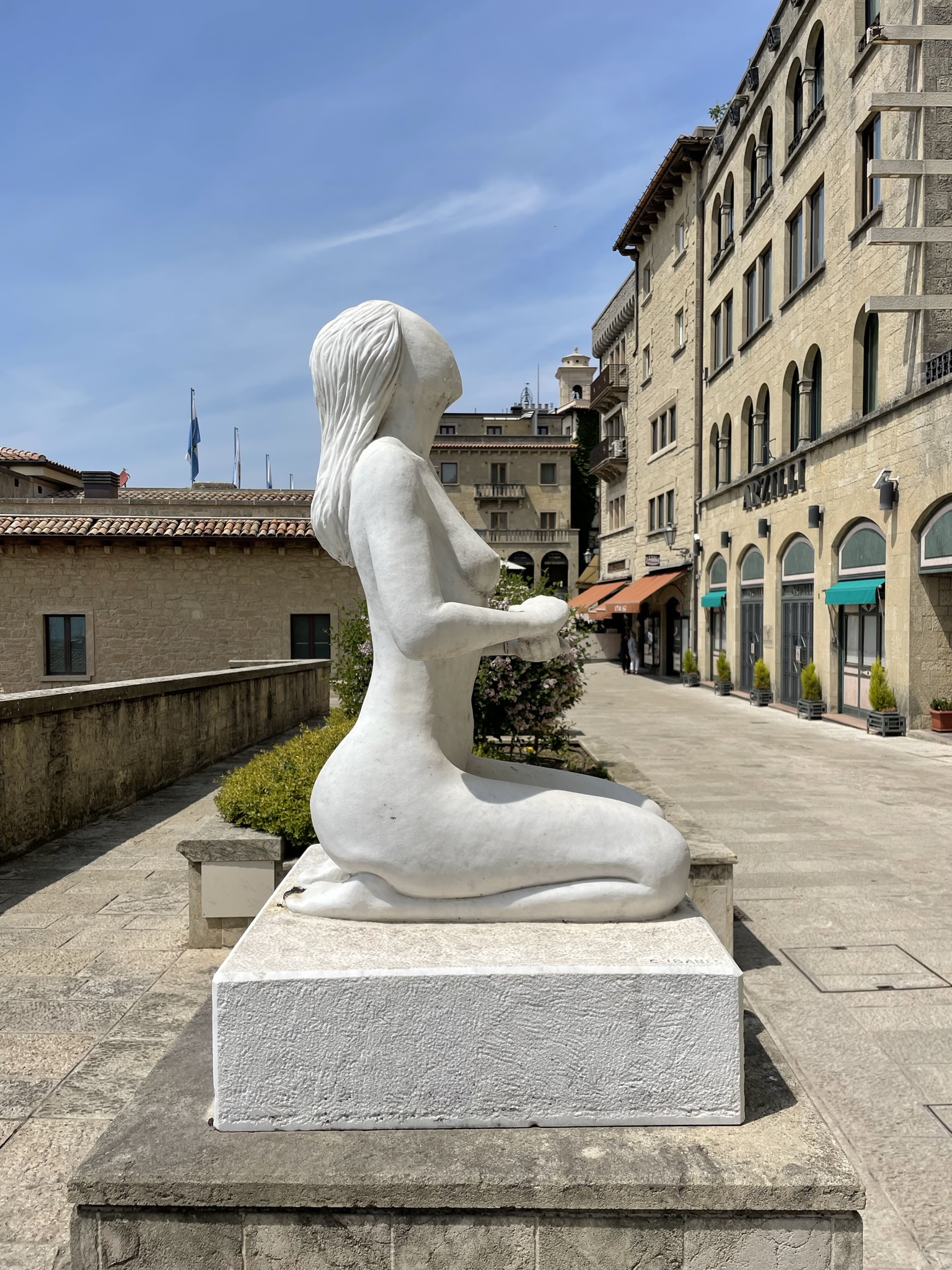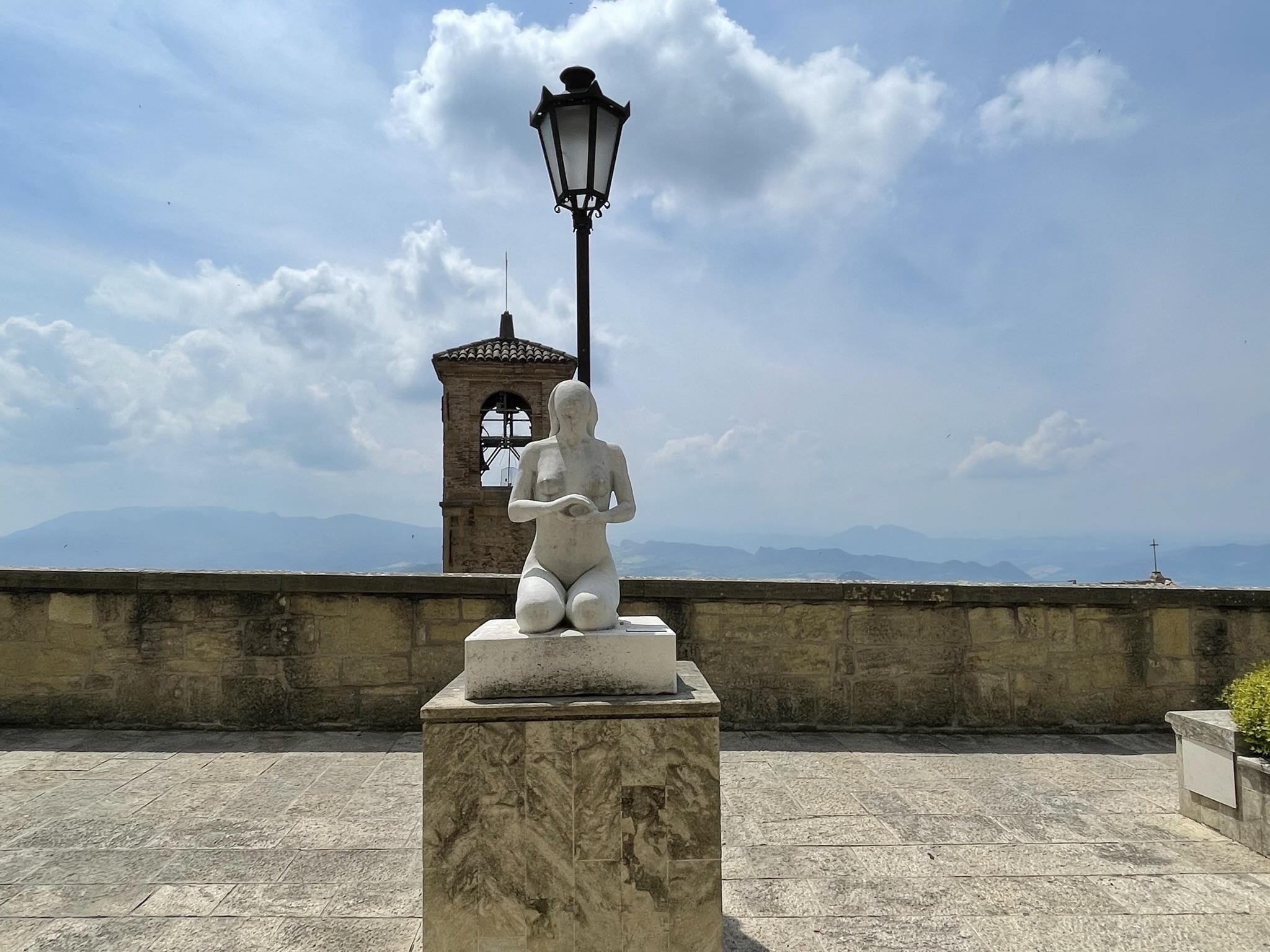 Its tiny streets in the apparent one-way road, make you get lost almost playfully and without realizing it, because something caught your attention and then you went down that narrow passageway that was supposed to end there, but in truth, it is a very narrow passageway.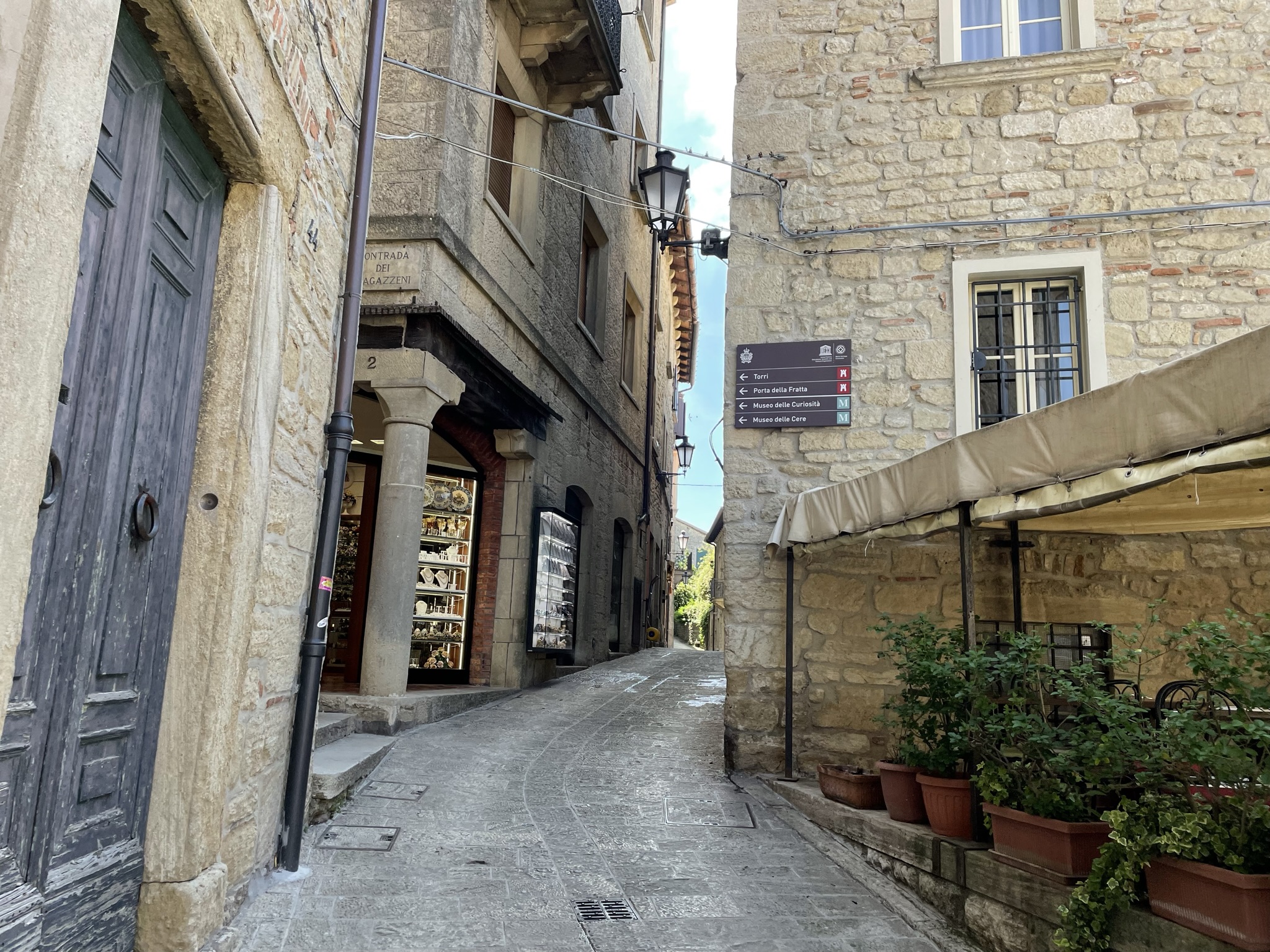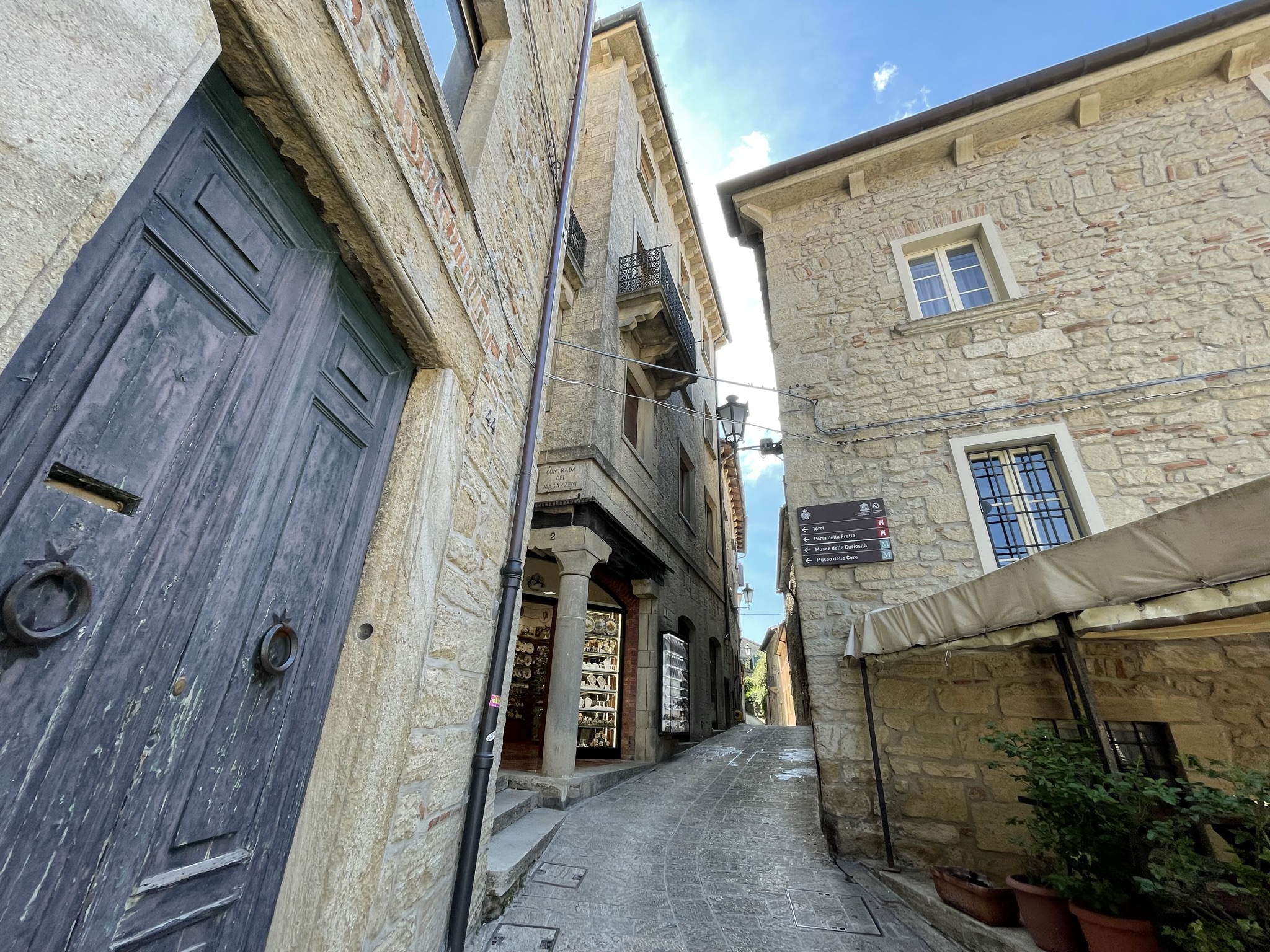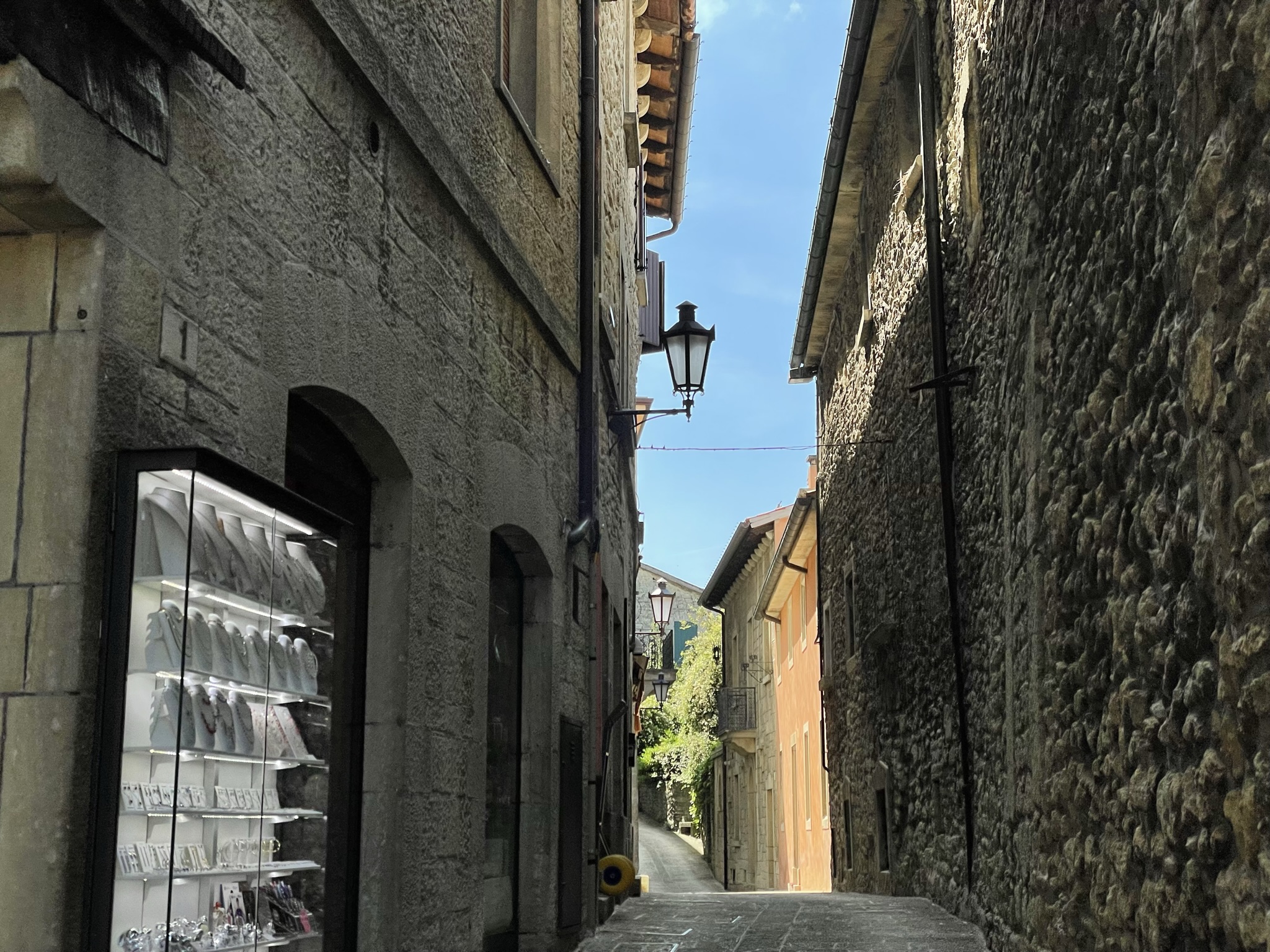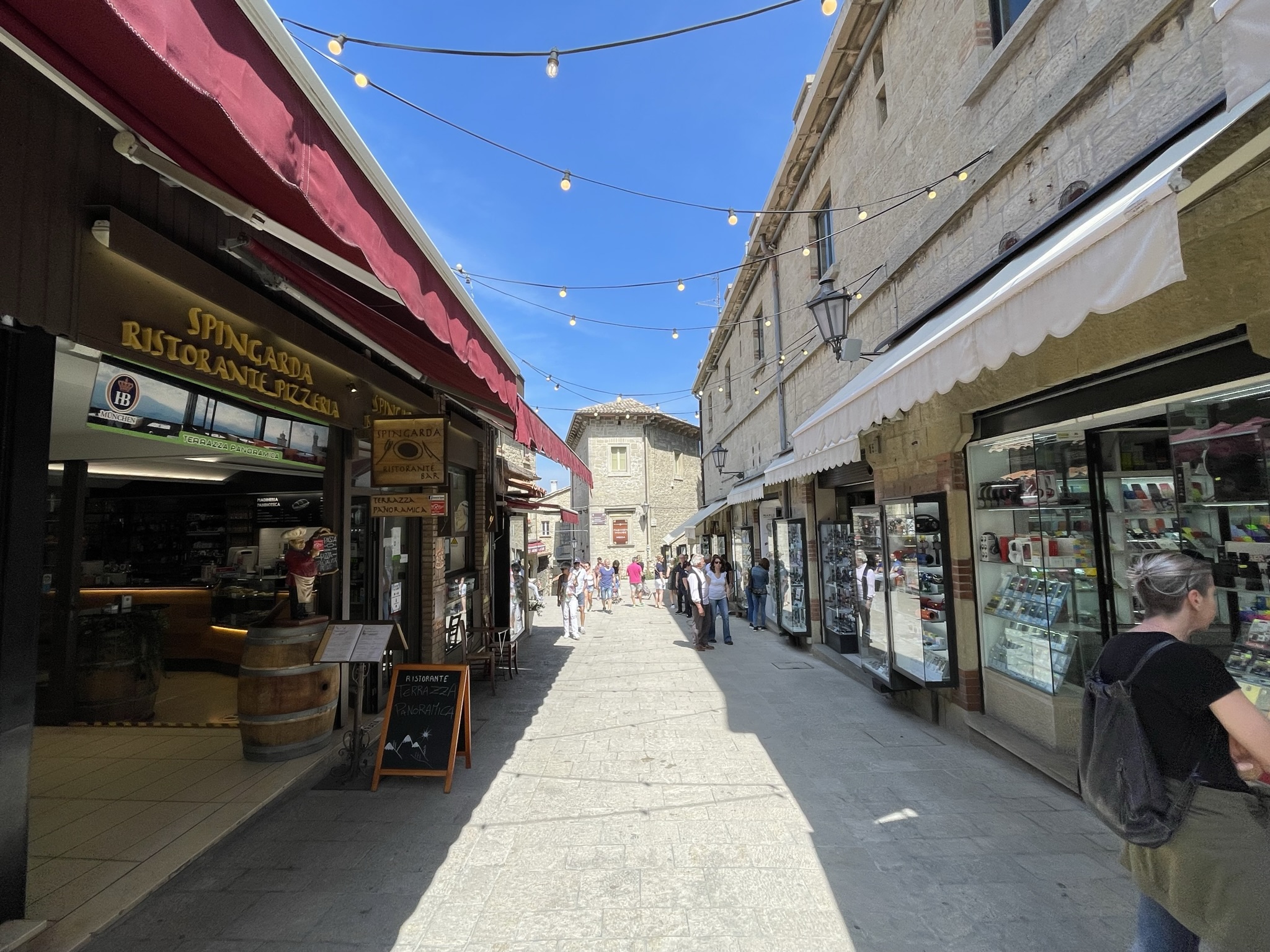 And another very interesting fact is that despite being so small, it houses extremely strange things! For example, it has a Museum of Torture, a Museum of Vampires, and they sell weapons in several places in the sector.
Museum of torture
I just went to the door...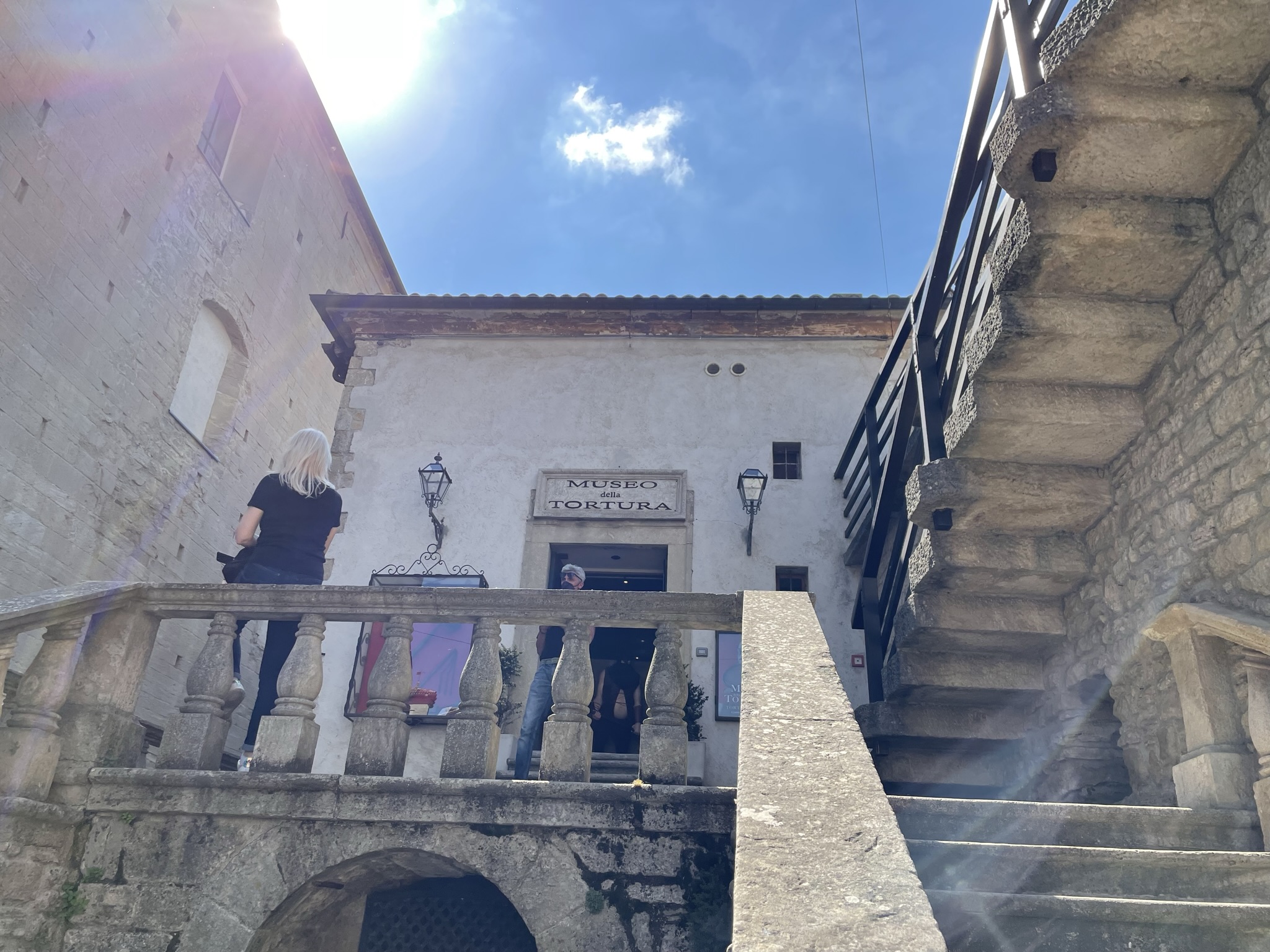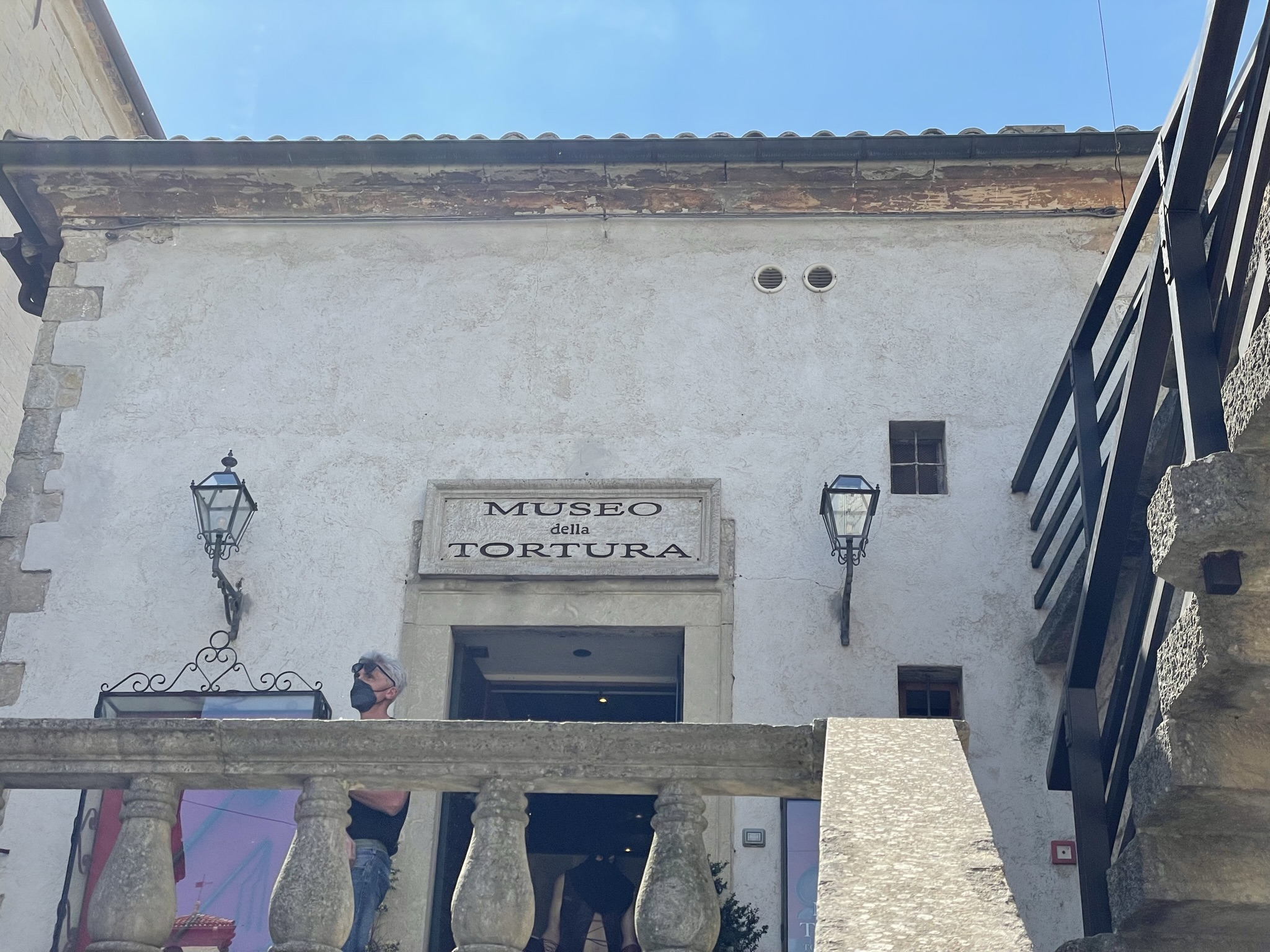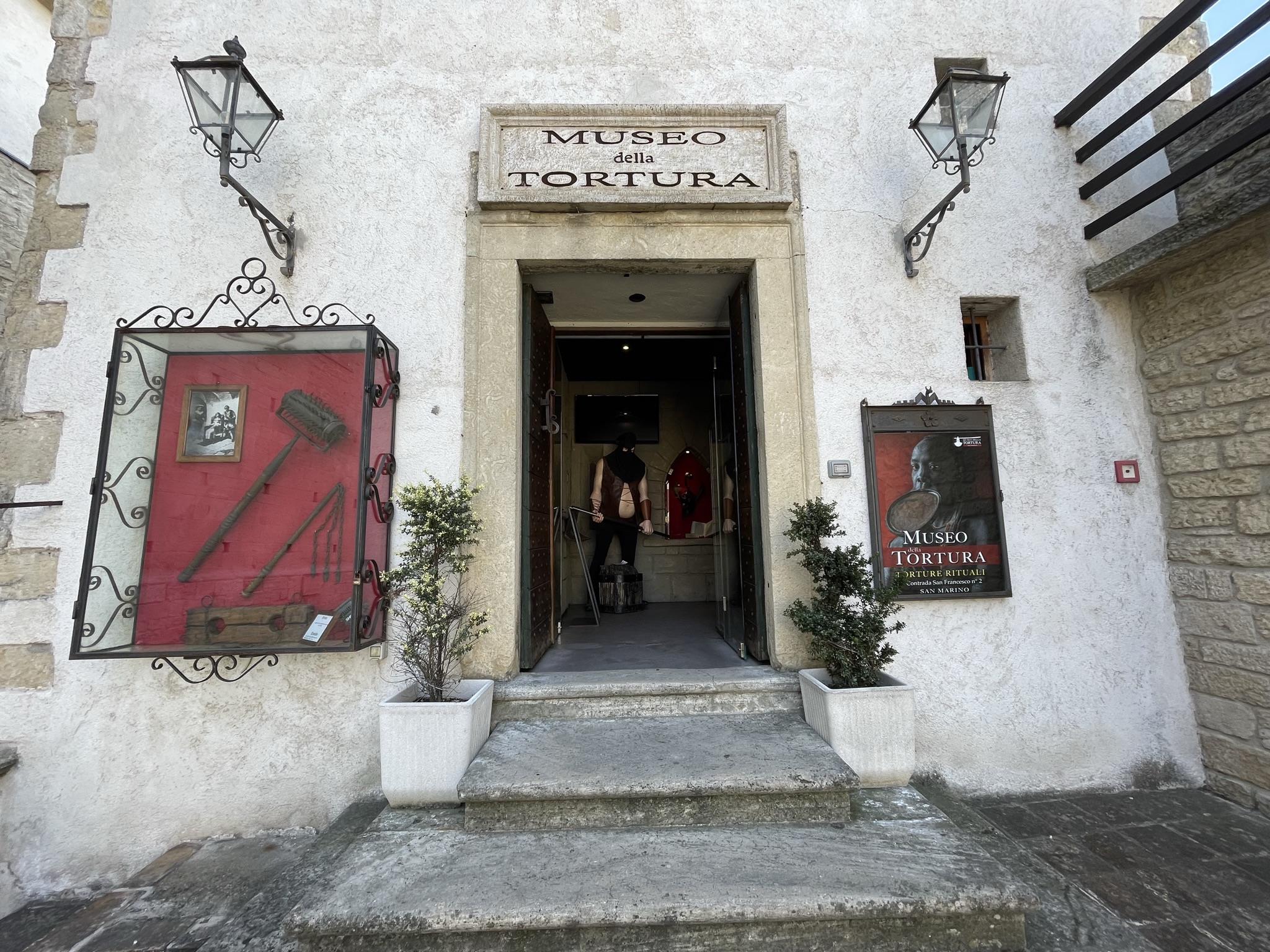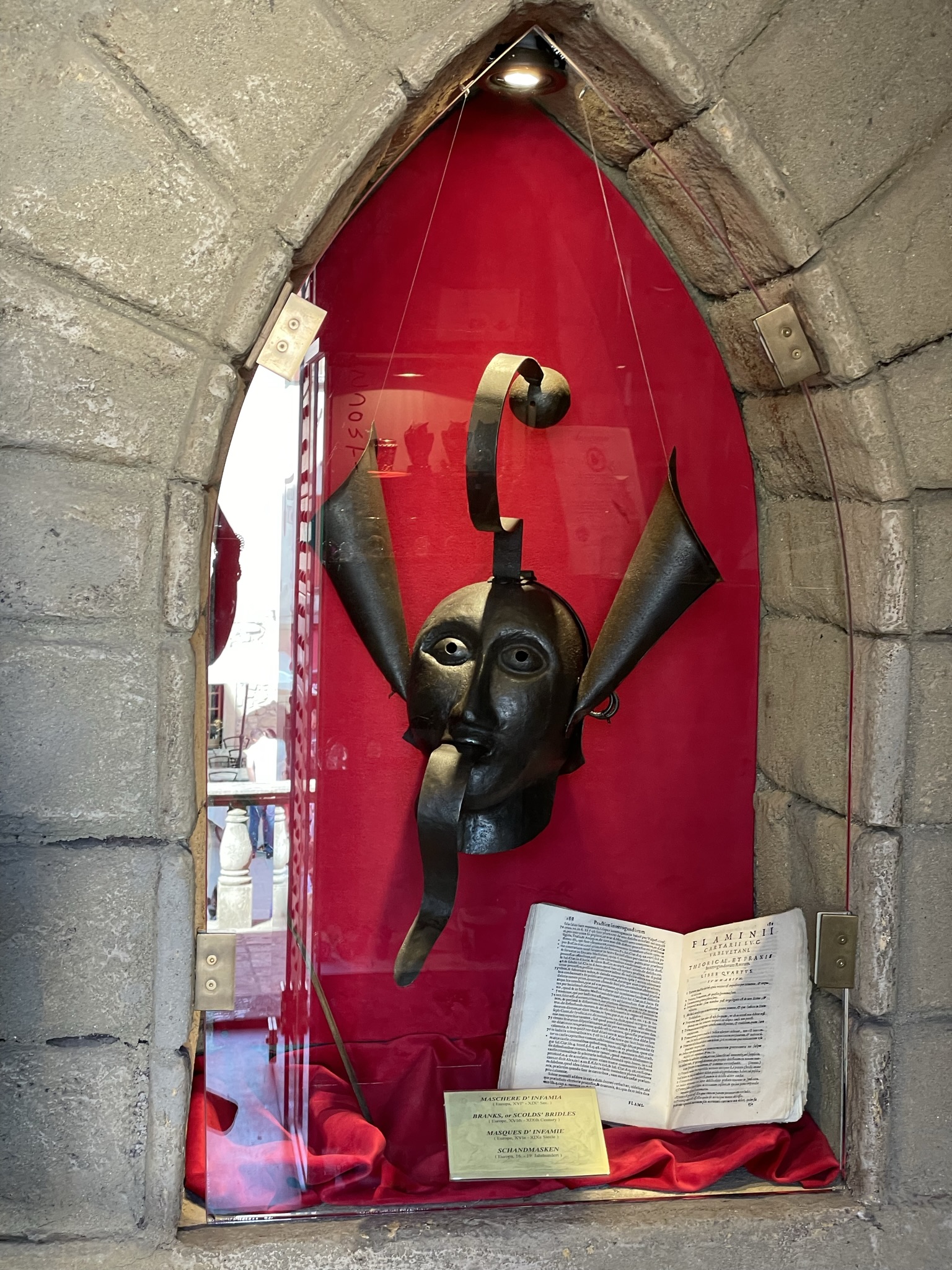 View from the museum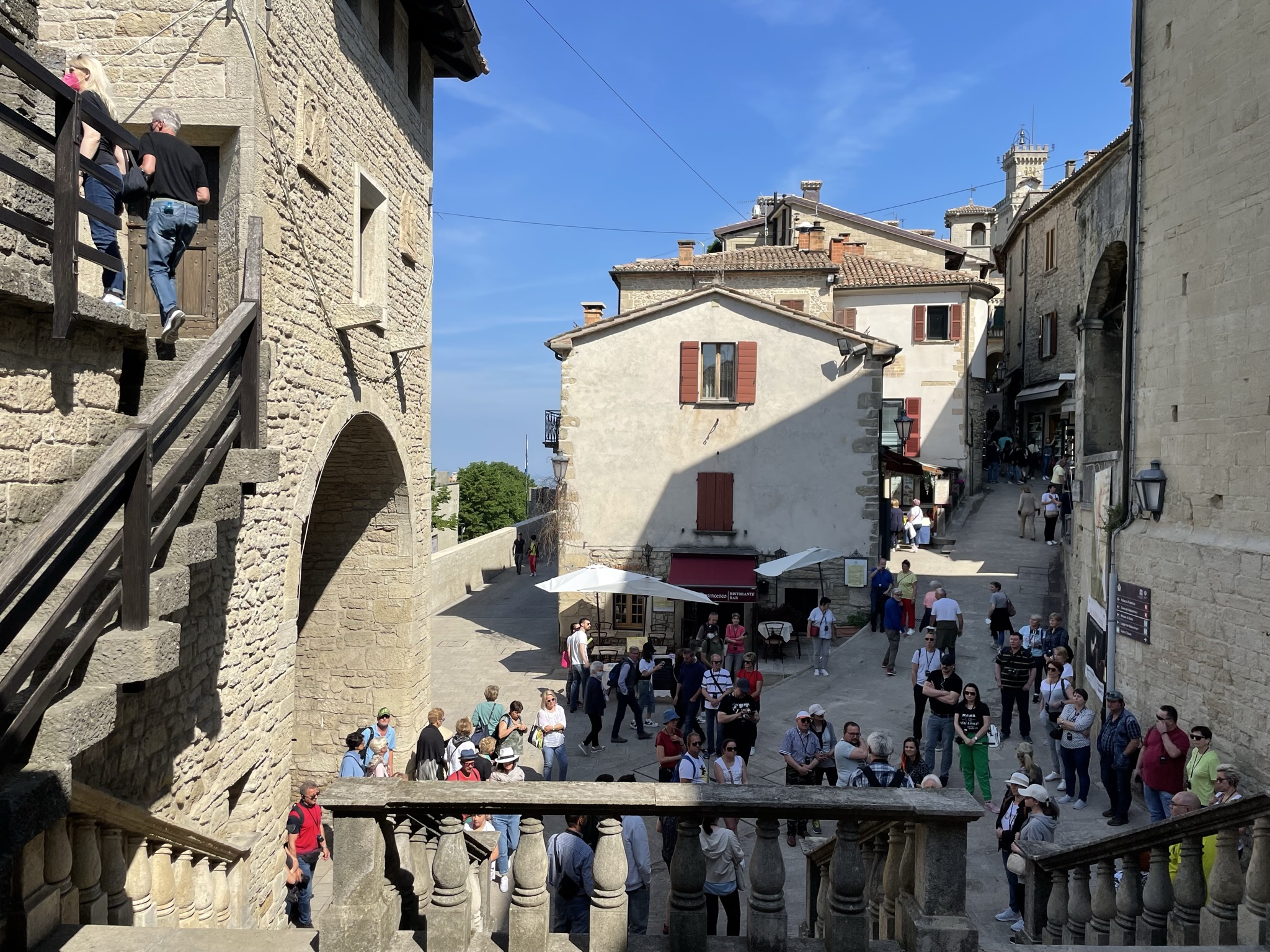 Museum of vampires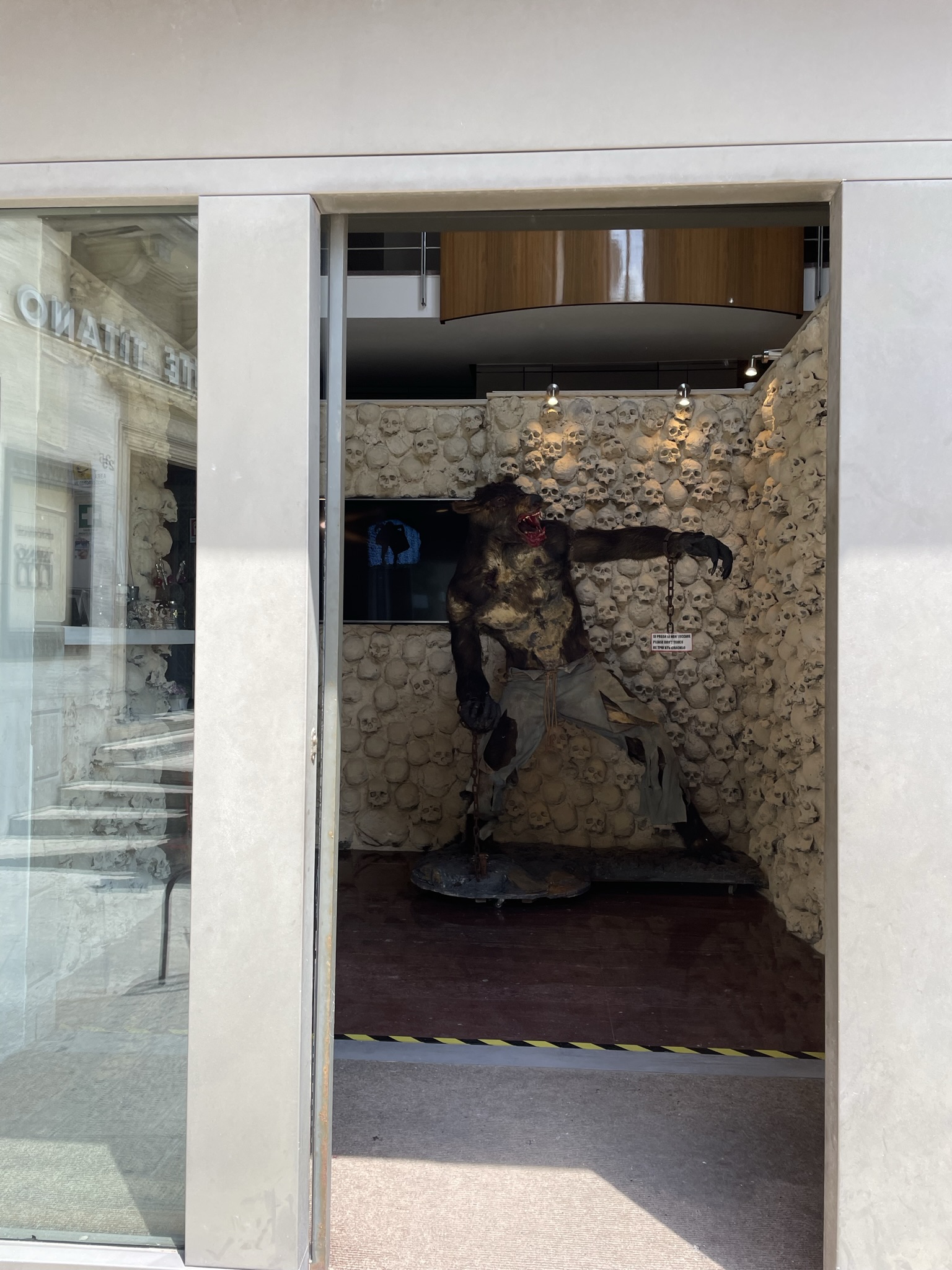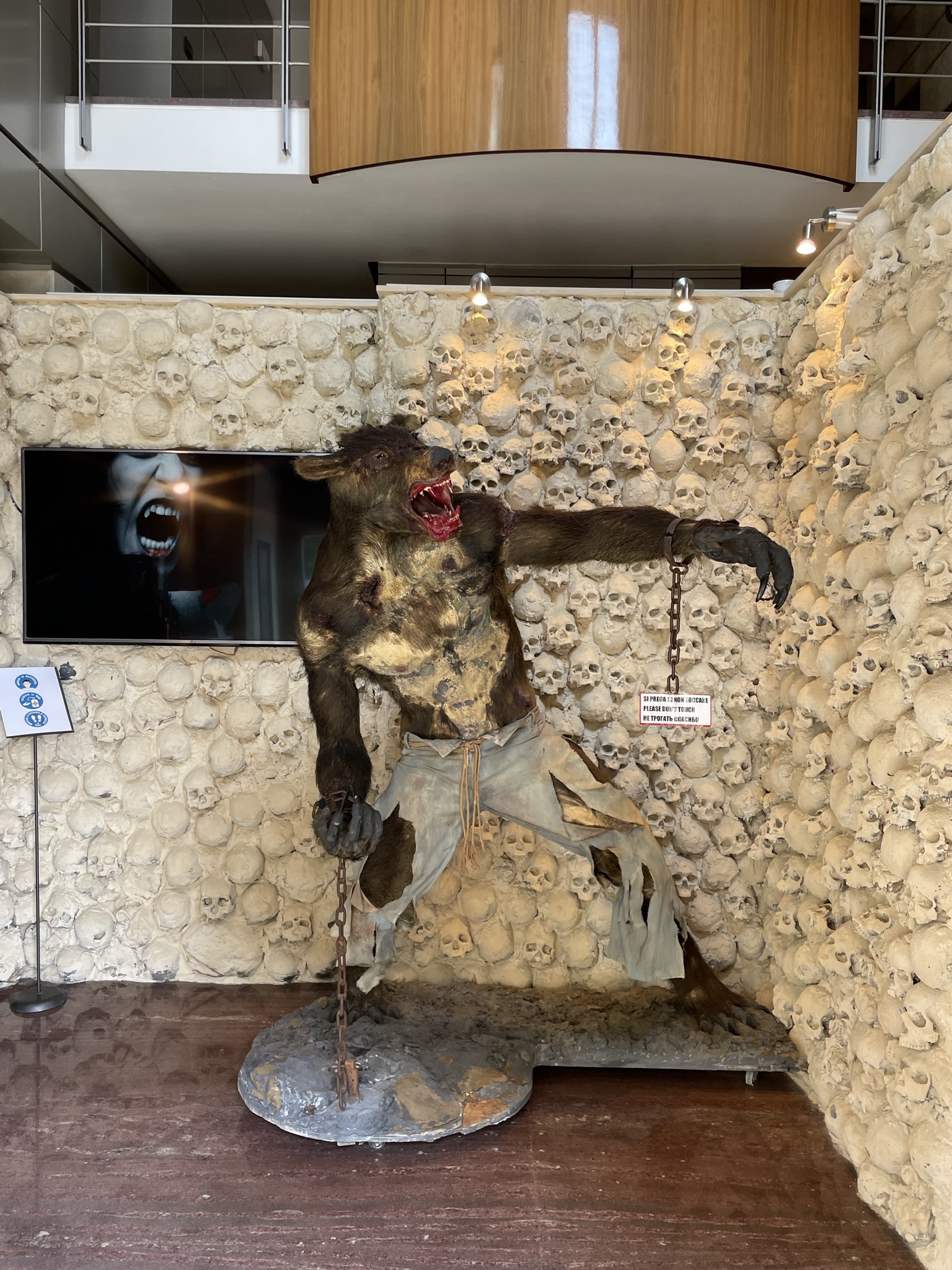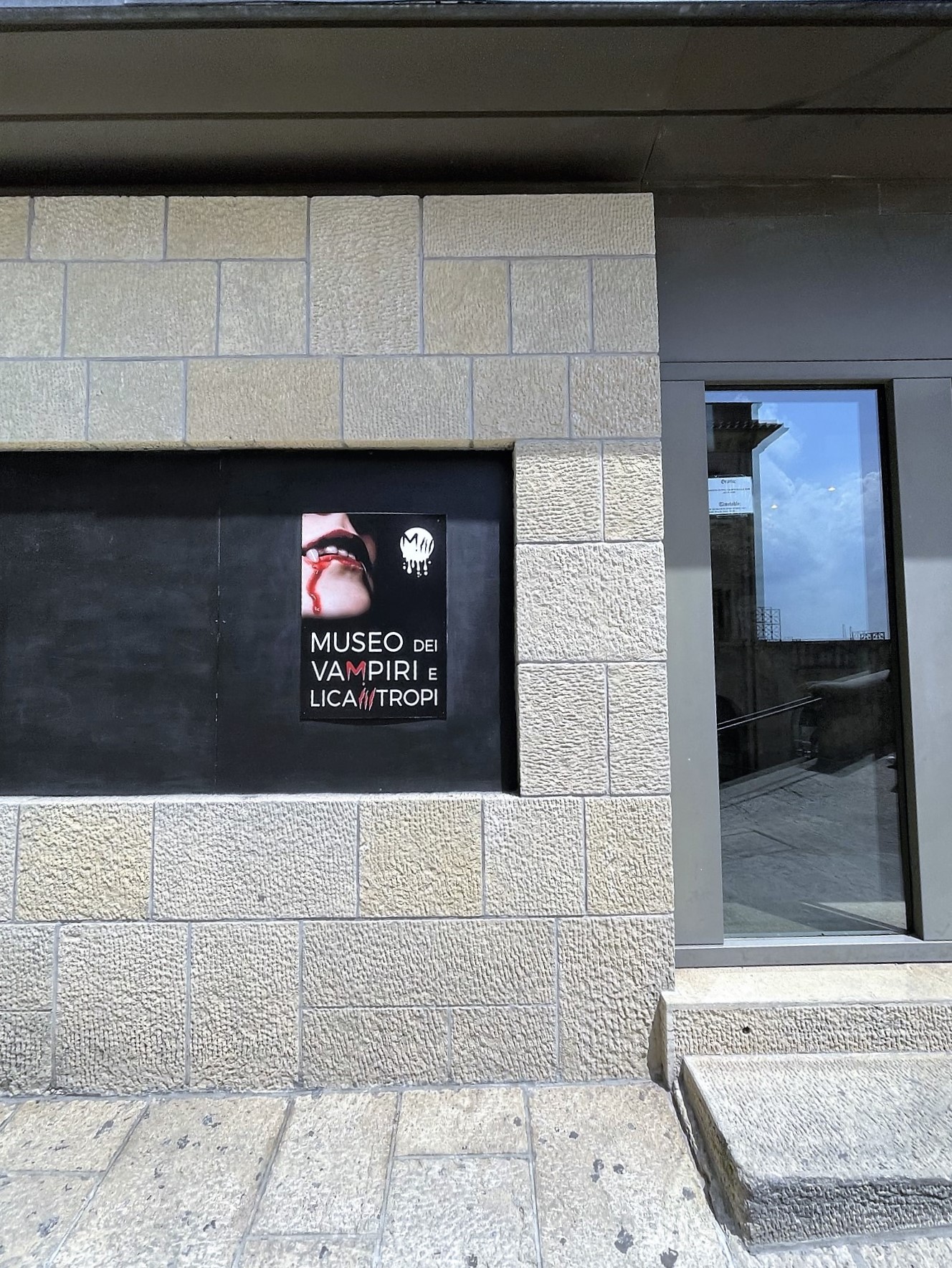 Despite this, and probably contrasting with this violent and gloomy theme, it offers a beautiful nature, where you can see colored butterflies happily fly from flower to flower, trees and shrubs everywhere, and a sun lighting up the entire landscape.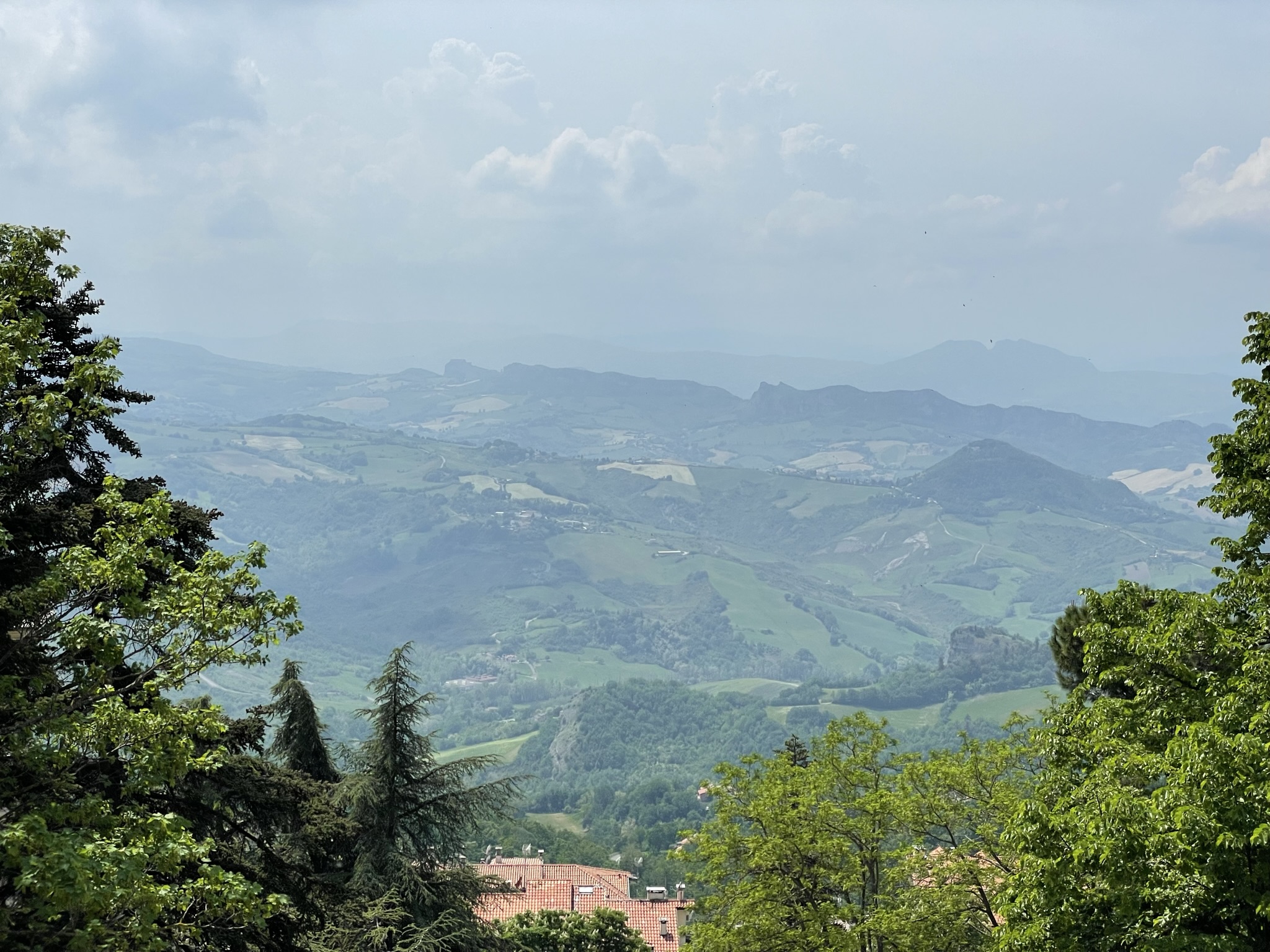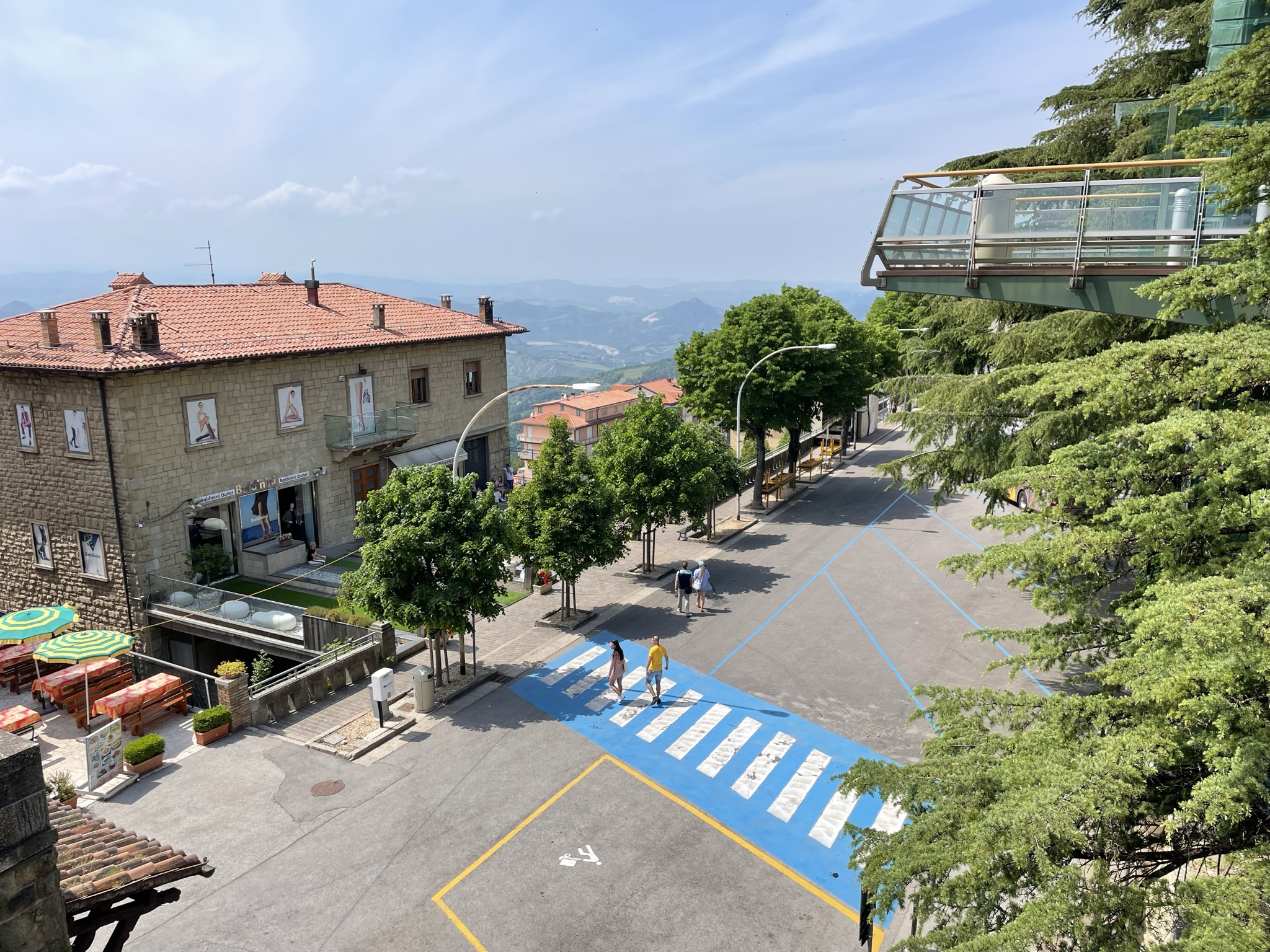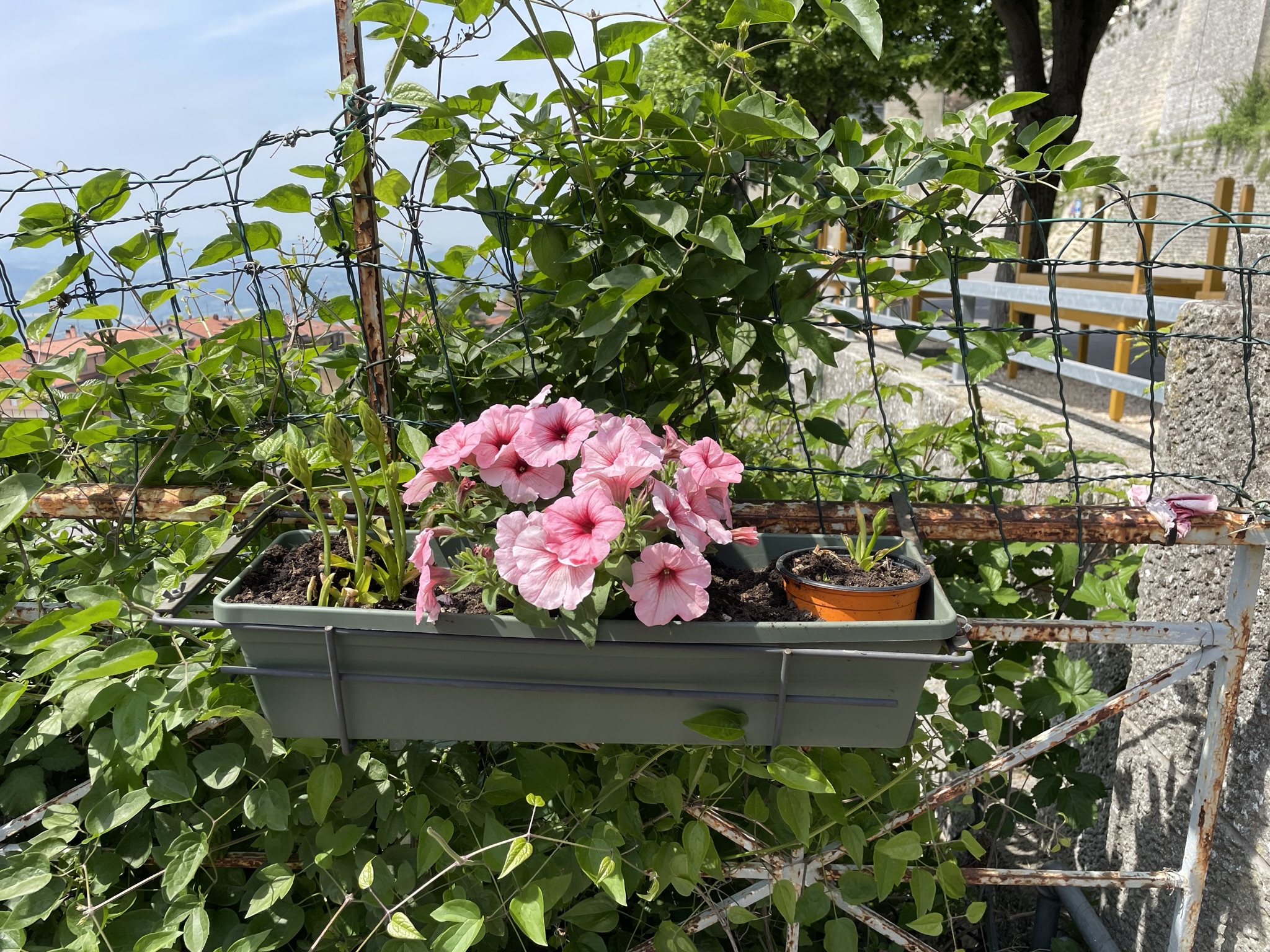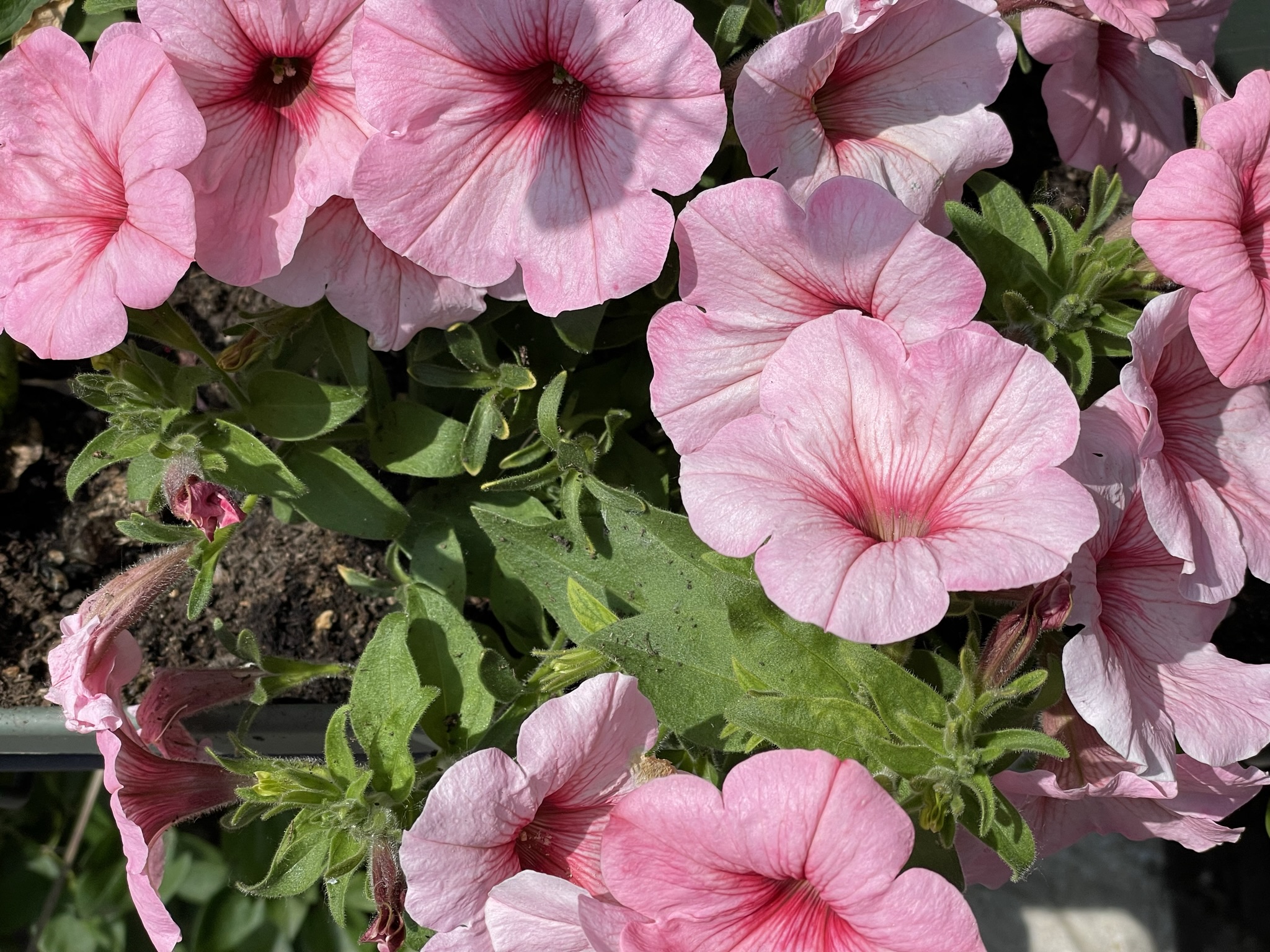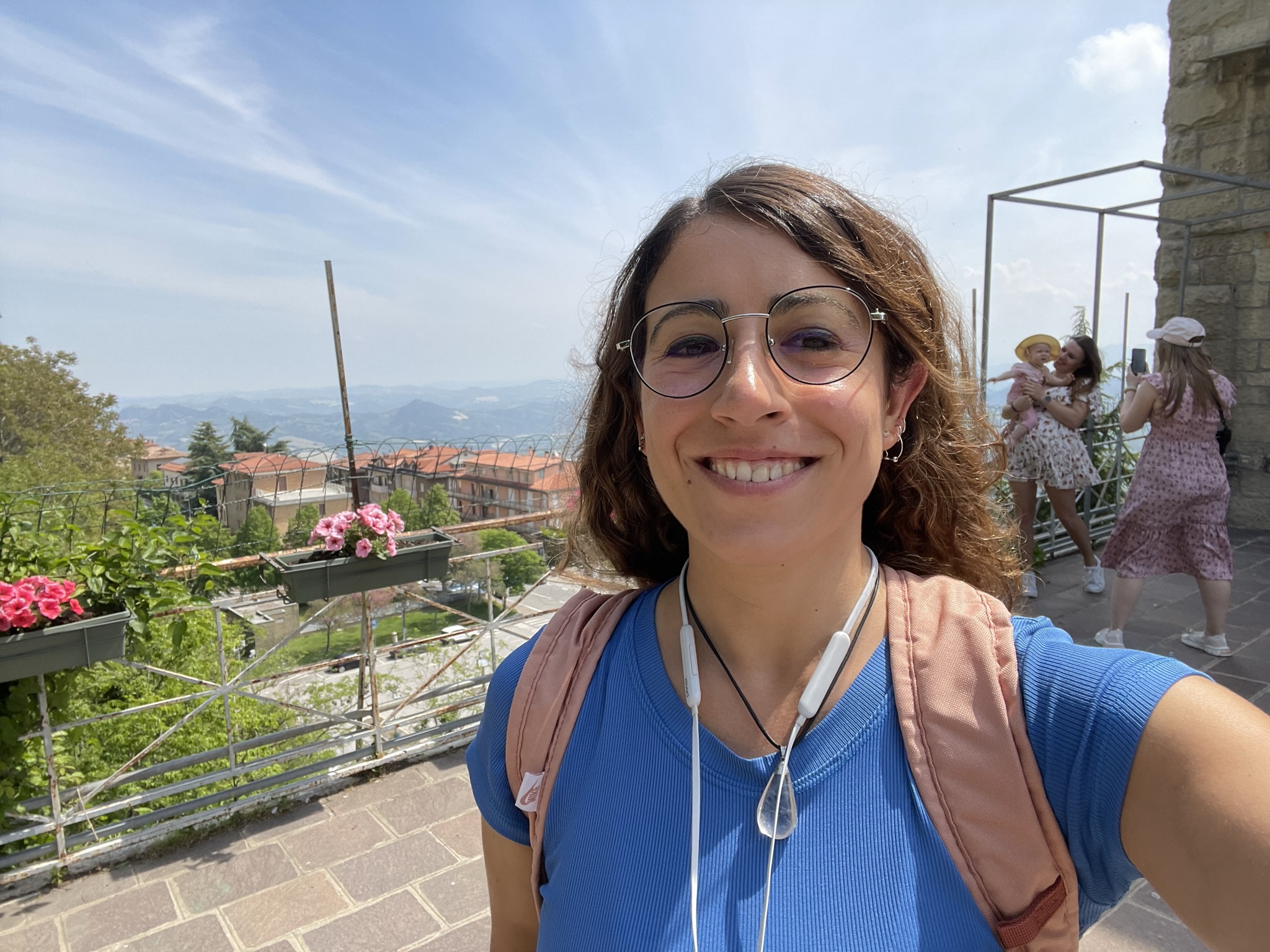 The only thing I didn't like very much was that in places where there were few people, literally clouds of small insects formed that had no respect for the human presence and landed on you, on your face, in your mouth. , in the ears. For my taste, that is a lot, since the further away you can be from any type of insects, the better.
---
---
Friends, I will leave the photos of the two towers for a future publication. It's not that I don't want to upload them now, it's that this post will become excessively long and full of images, plus the video, and I know that it will lose value and material since no one will look at 300 images in a single post.
So soon I will be sharing more about San Marino. Let's remember that it was a day trip to a country! So yes, there is a lot to see!

---
Good friends! I hope you liked this post!
---
Thank you very much for being here!!
*** Greetings with love! ***
---

---
Español
---
Ven conmigo a descubrir la magia de San Marino!! El tercer país más pequeño de Europa!!
---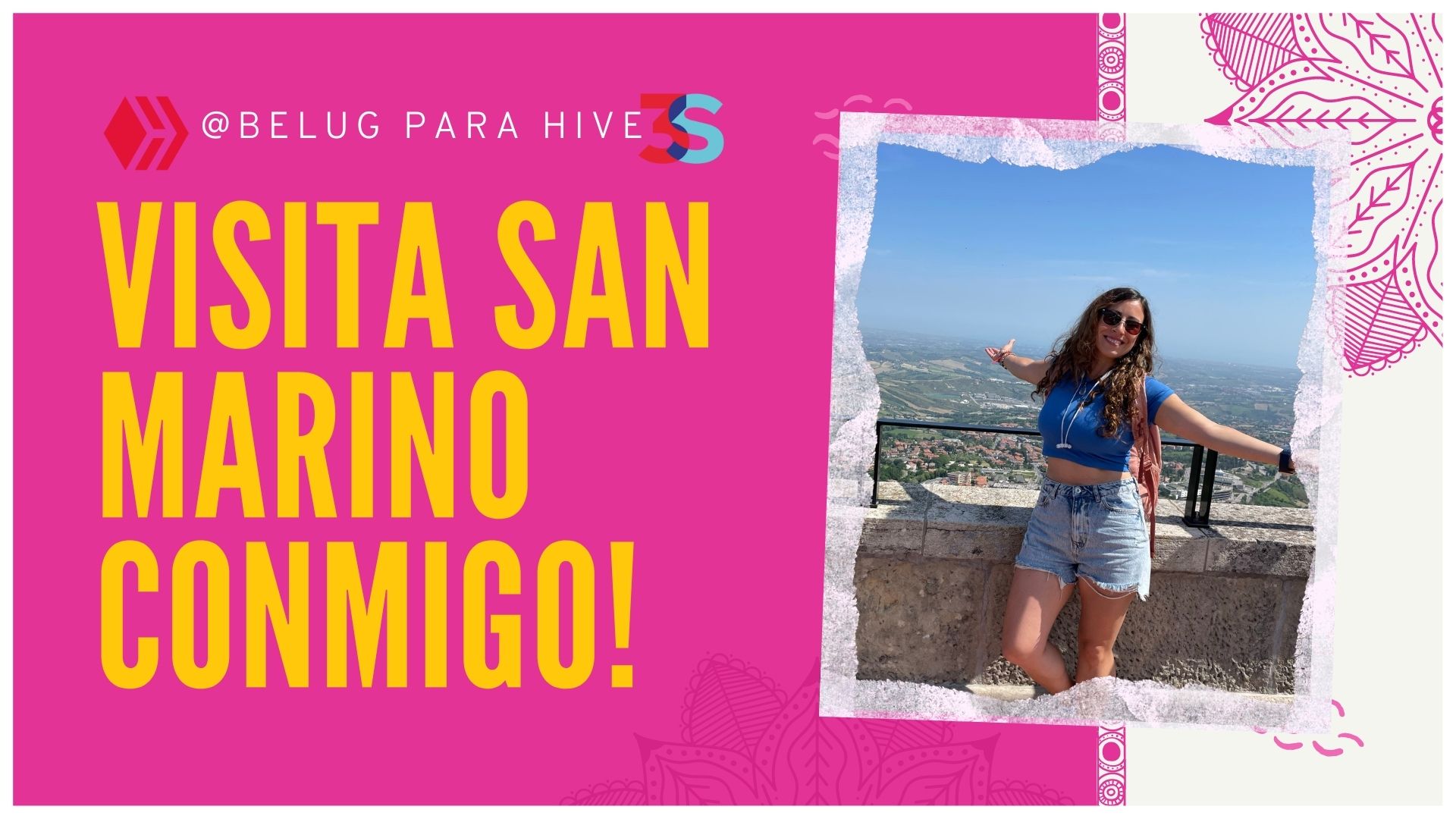 ---
Hola mis queridos amigos de Hive!! Es un placer estar con ustedes una vez más!!
La publicación de hoy es sobre un paseo que hice algunos domingos atrás y se trata de mi visita a un país que está muy cerquita del lugar en donde me estaba quedando en Italia, y se trata de: San Marino! Así es señoras y señores, es un país ínfimo, y está enclavado en Italia.
Que esté enclavado, significa que la totalidad de su superficie, está rodeada por otro país.
Así que aquel día, me desperté, me preparé, desayuné lo más rápido que pude, y salí corriendo a la estación de tren con destino a Rímini.
Ni bien llegué a esta ciudad, corrí nuevamente para encontrar la parada del bus que me llevaría a San Marino. De camino (100 metros aproximadamente), me topé con una de las famosas tabaquerías italianas en donde venden los tickets para todos los buses, y compré mi pasaje de ida y vuelta a este país por un total de 10 euros (muy buen precio para tratarse de un viaje por el día!)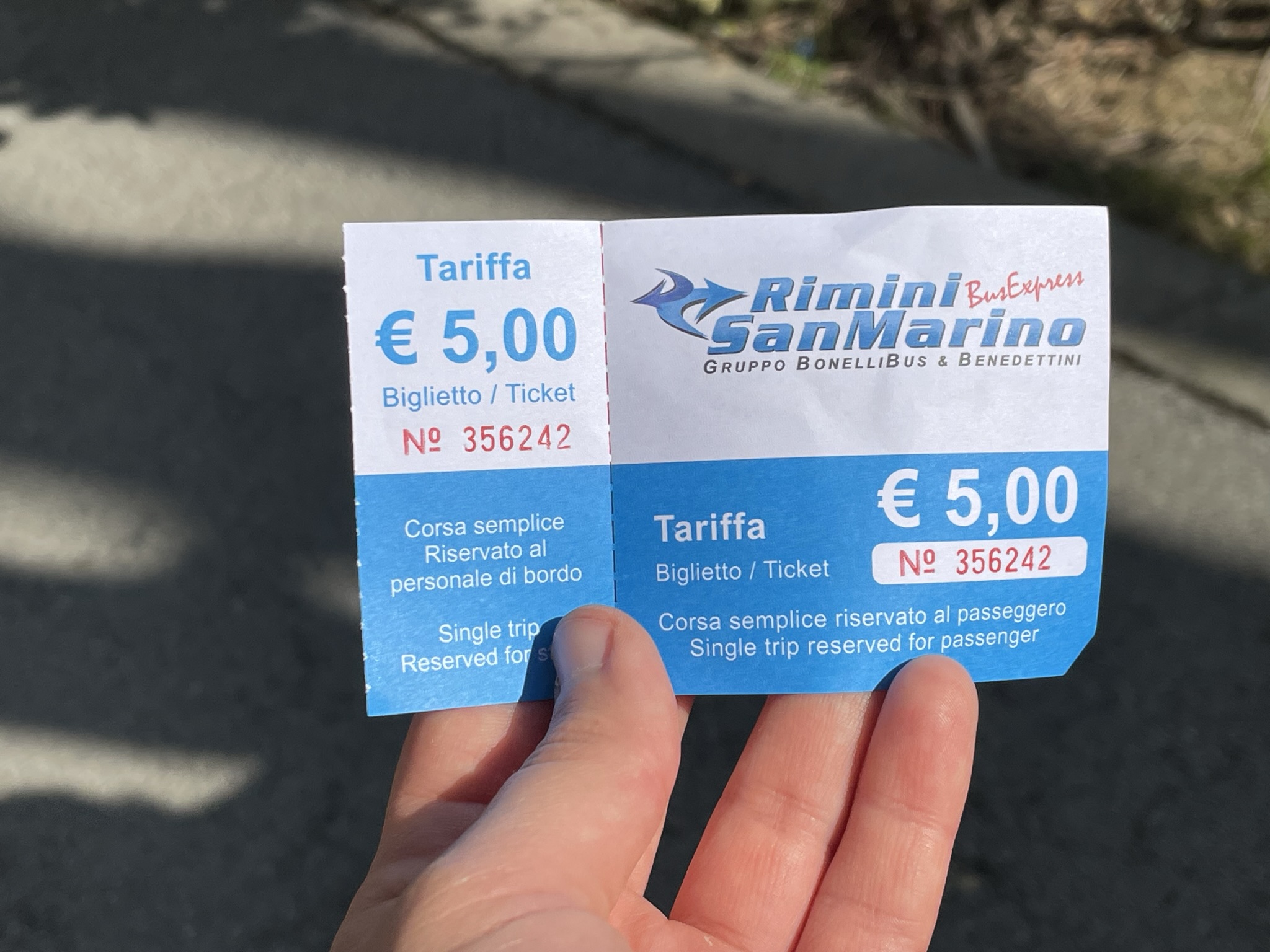 Así que en alrededor de 45 minutos, ya estaba yo en San Marino, dispuesta a subir aquel famoso monte.
Fotos desde el bus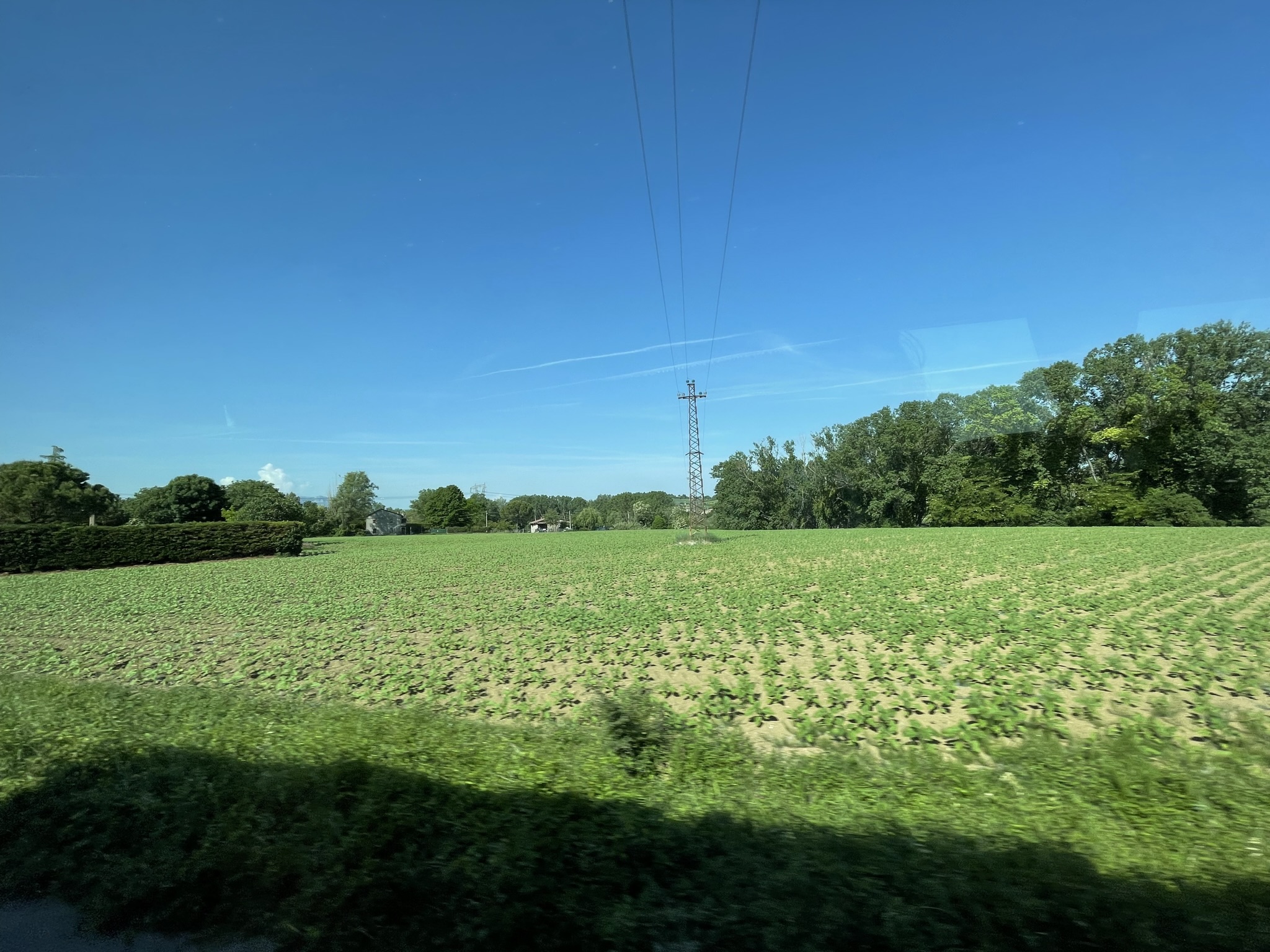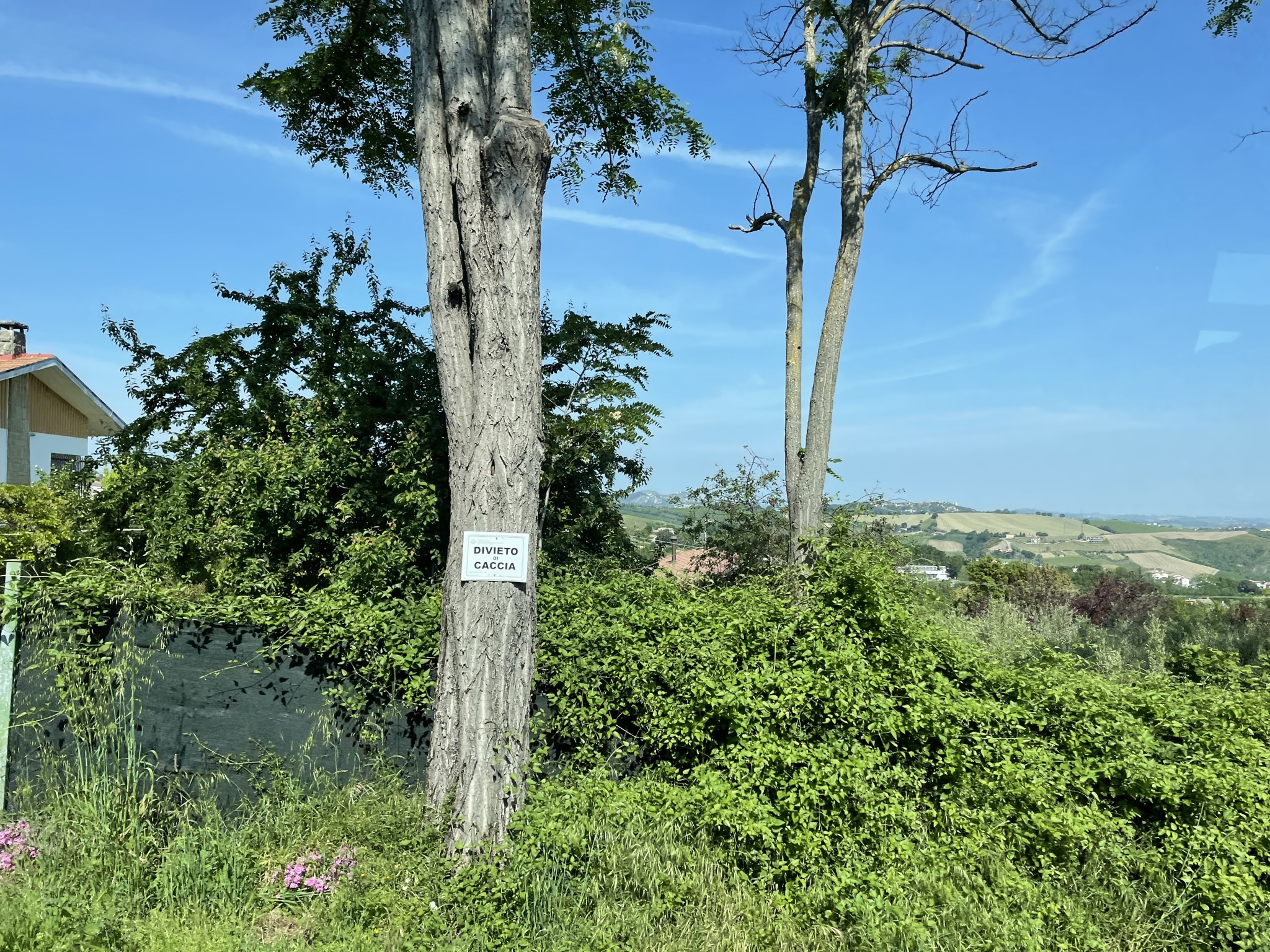 Ya en San Marino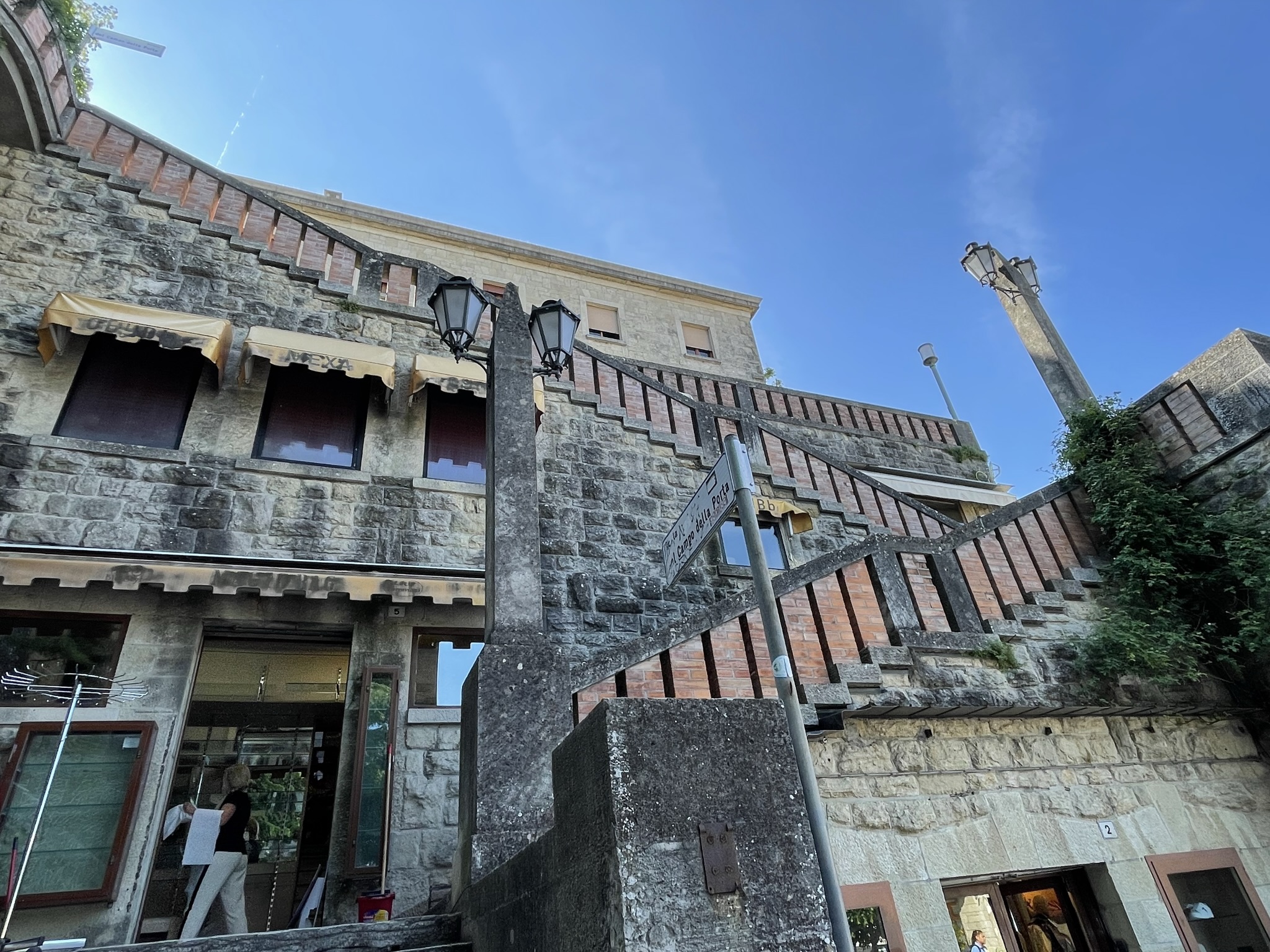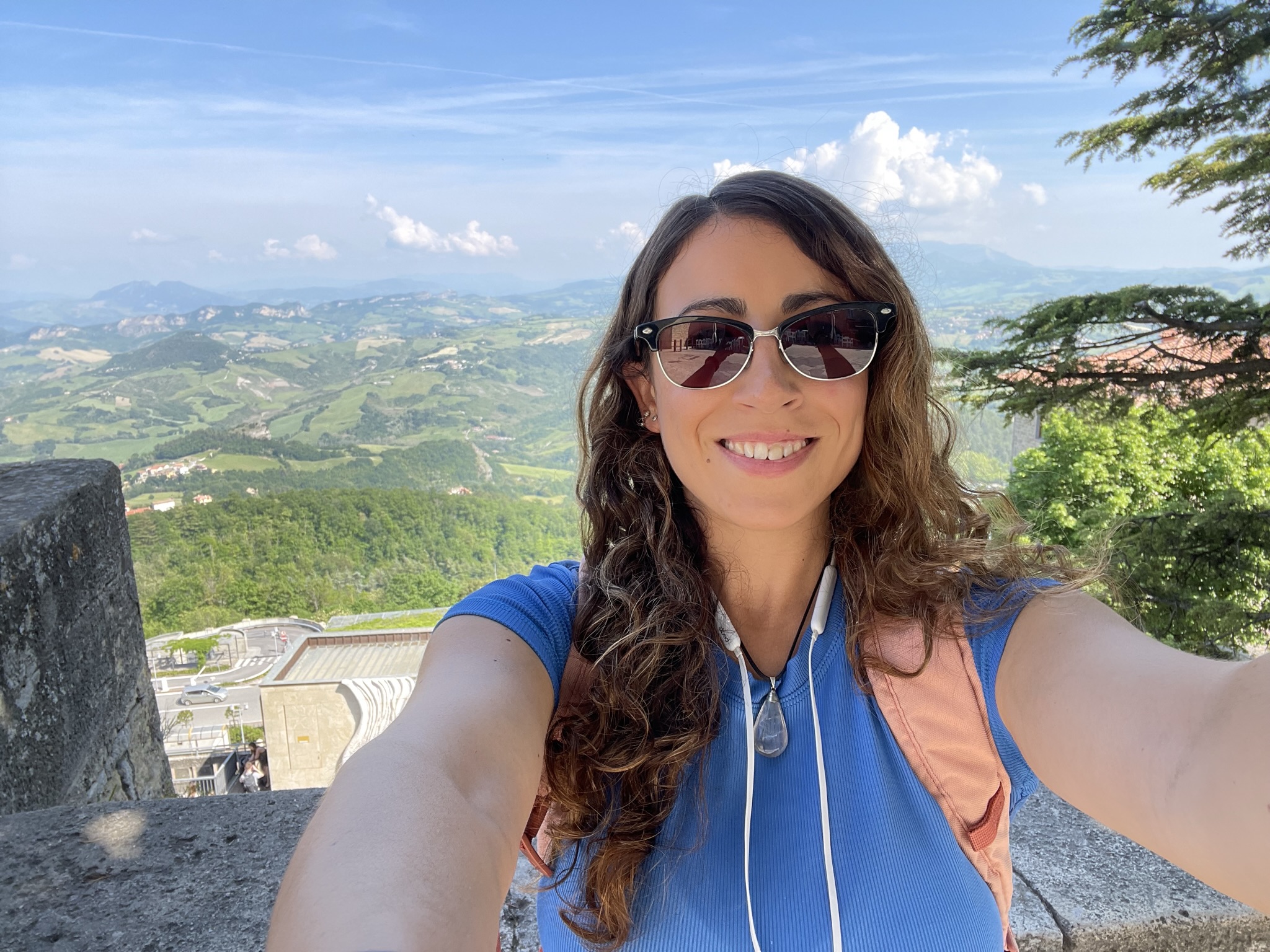 Resulta que este país, con sus 61 km cuadrados, se posiciona en el tercer puesto para la categoría de los países más pequeños de Europa; y de este modo dejamos en claro su pequeñez, ya que sólo Italia cuenta con 302,073 km cuadrados y Europa con 10.53 millones km cuadrados.
Por empezar mi caminata al monte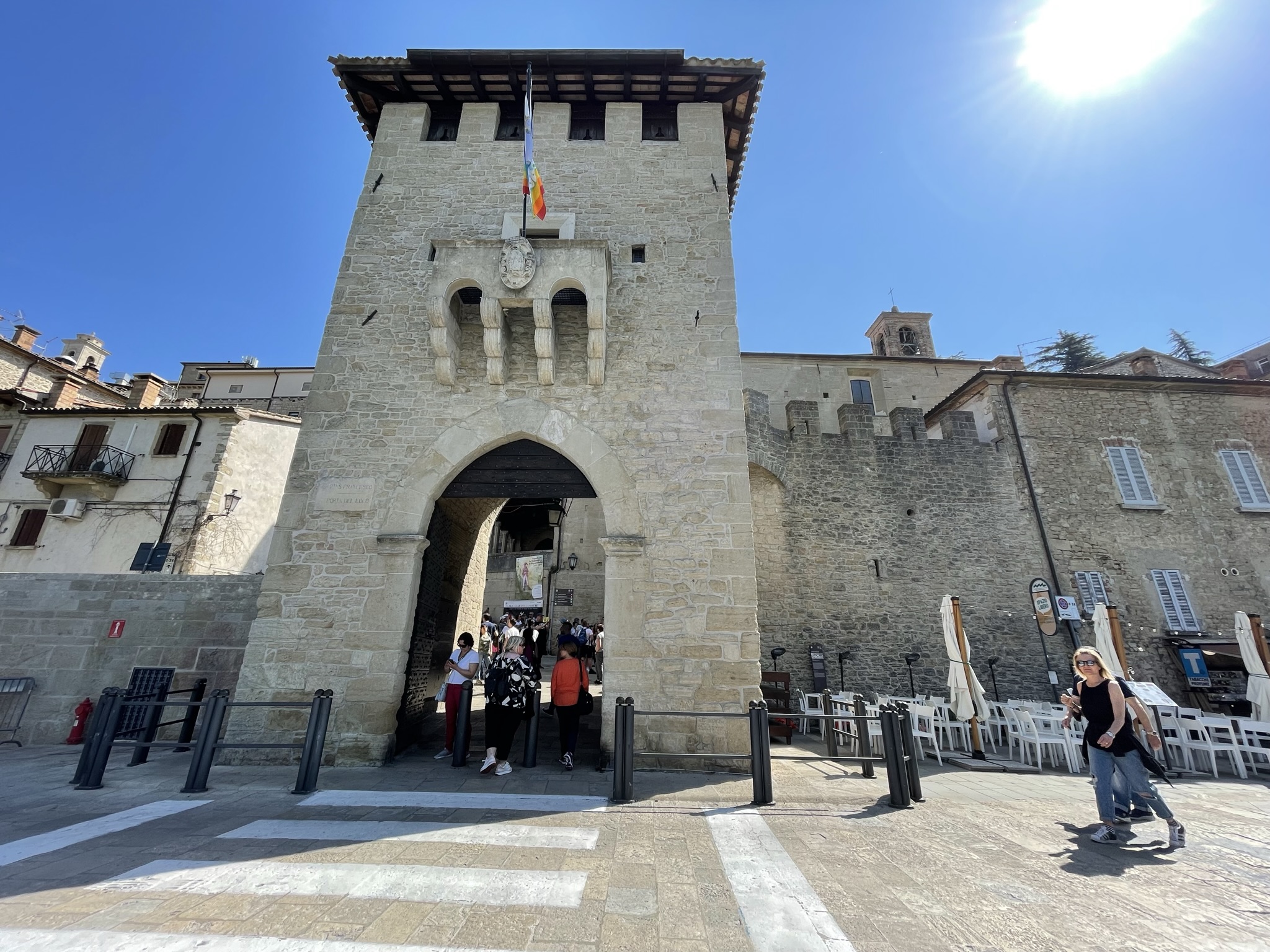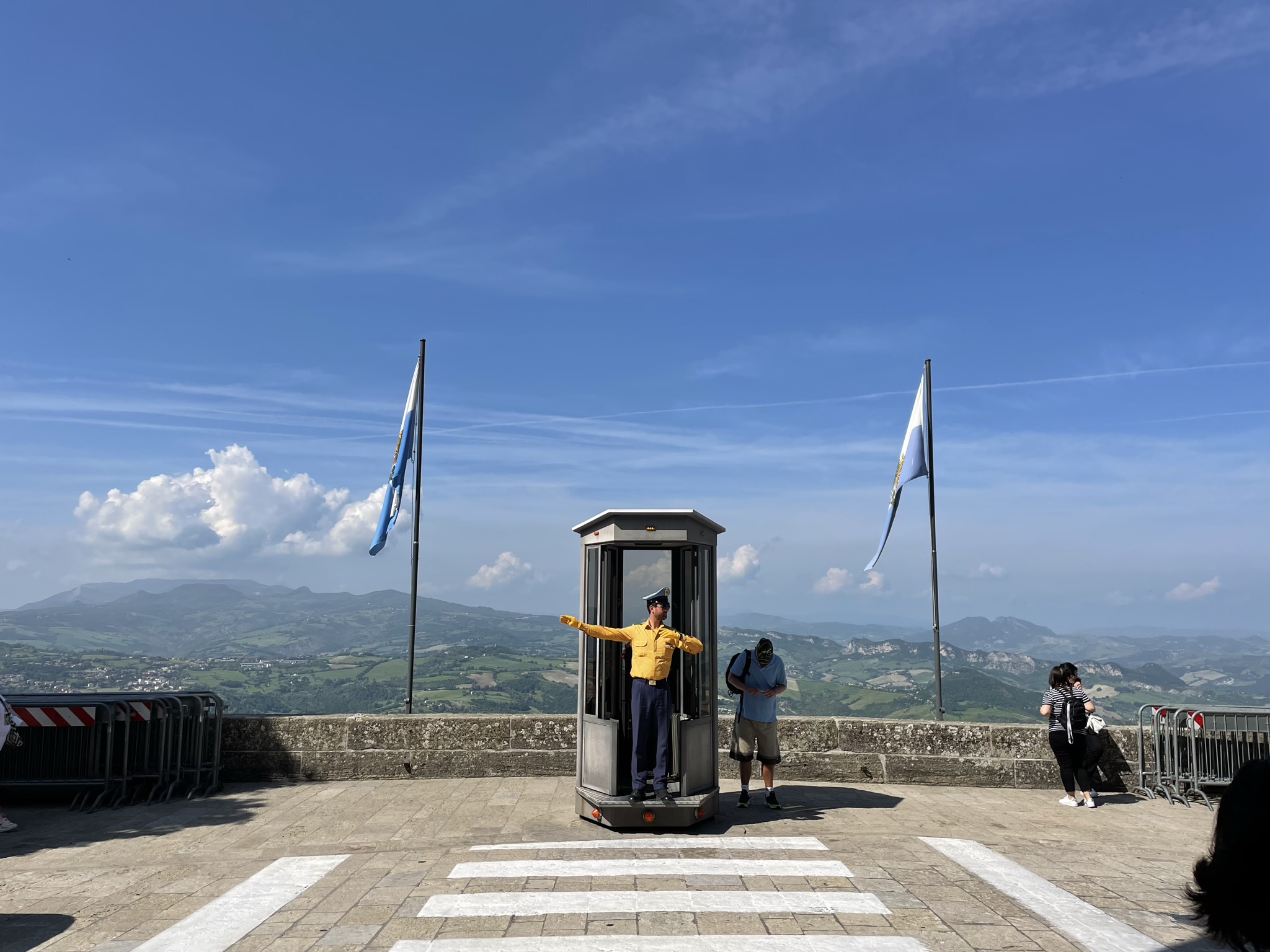 Pero resulta que a pesar de su tamaño, lleva un nombre muy largo (Serenísima República de San Marino) y es, según la BBC, la única república del mundo con dos jefes de Estado. Incluso, según esta misma fuente, sería la república más antigua del mundo.
Con respecto a "quienes llevan la batuta" en San Marino, estos dos jefes de estado se renuevan tan sólo cada 6 meses! Sí, así es, cada un período muy breve tienen que cambiarlos. Y después de finalizada la Segunda Guerra Mundial, se introdujeron modificaciones en este tipo de gobierno, pero no me adentraré en ello.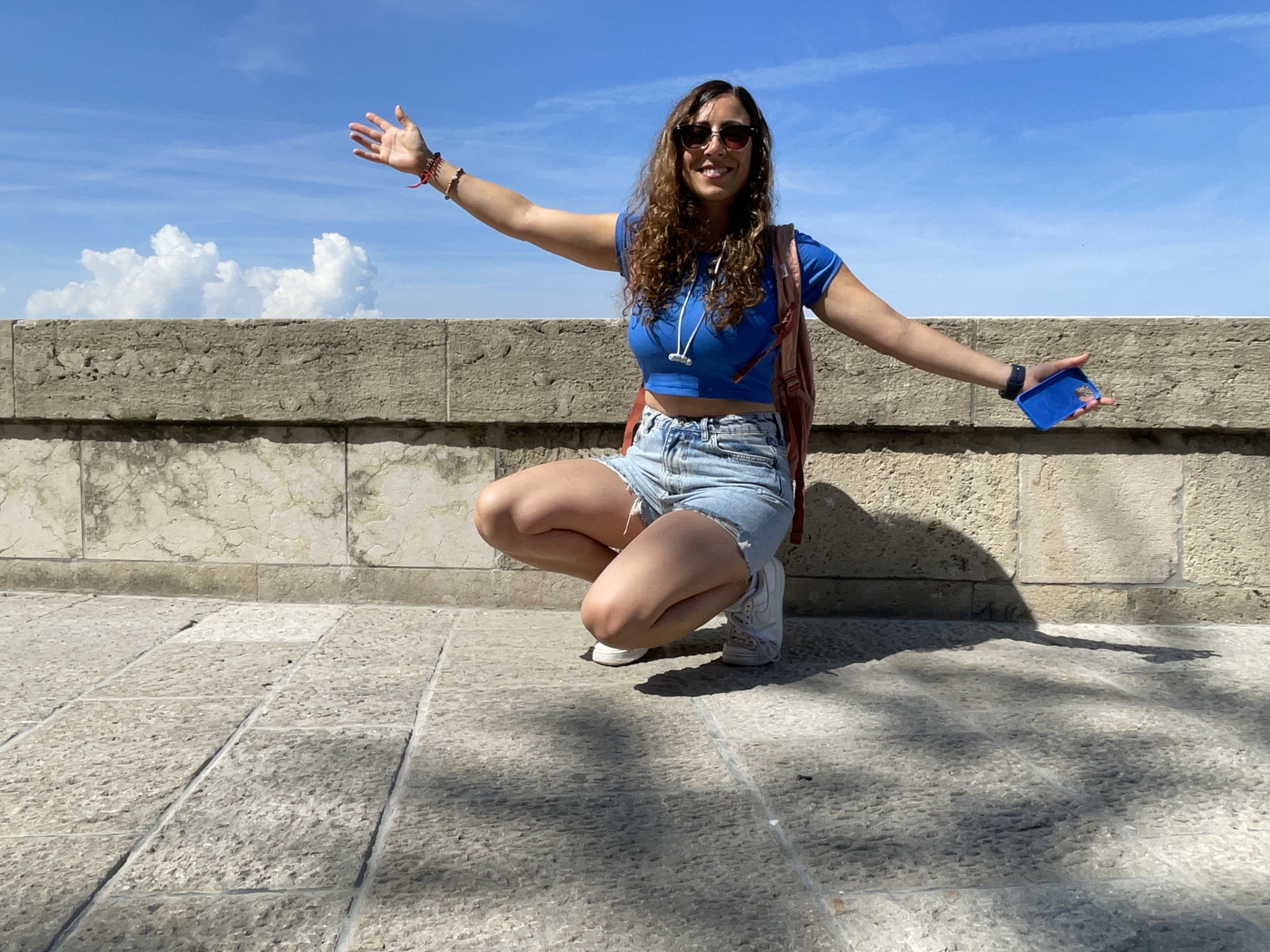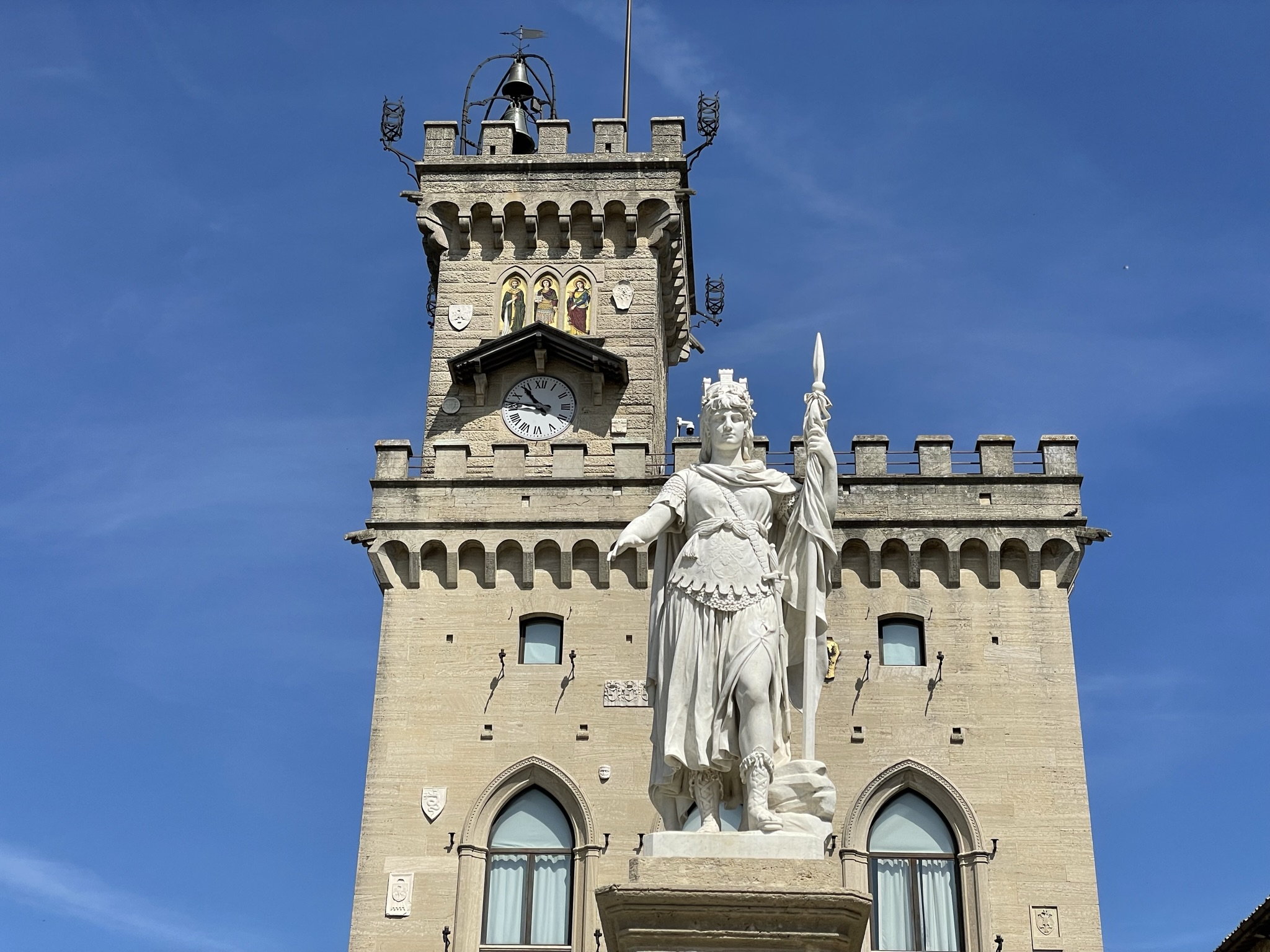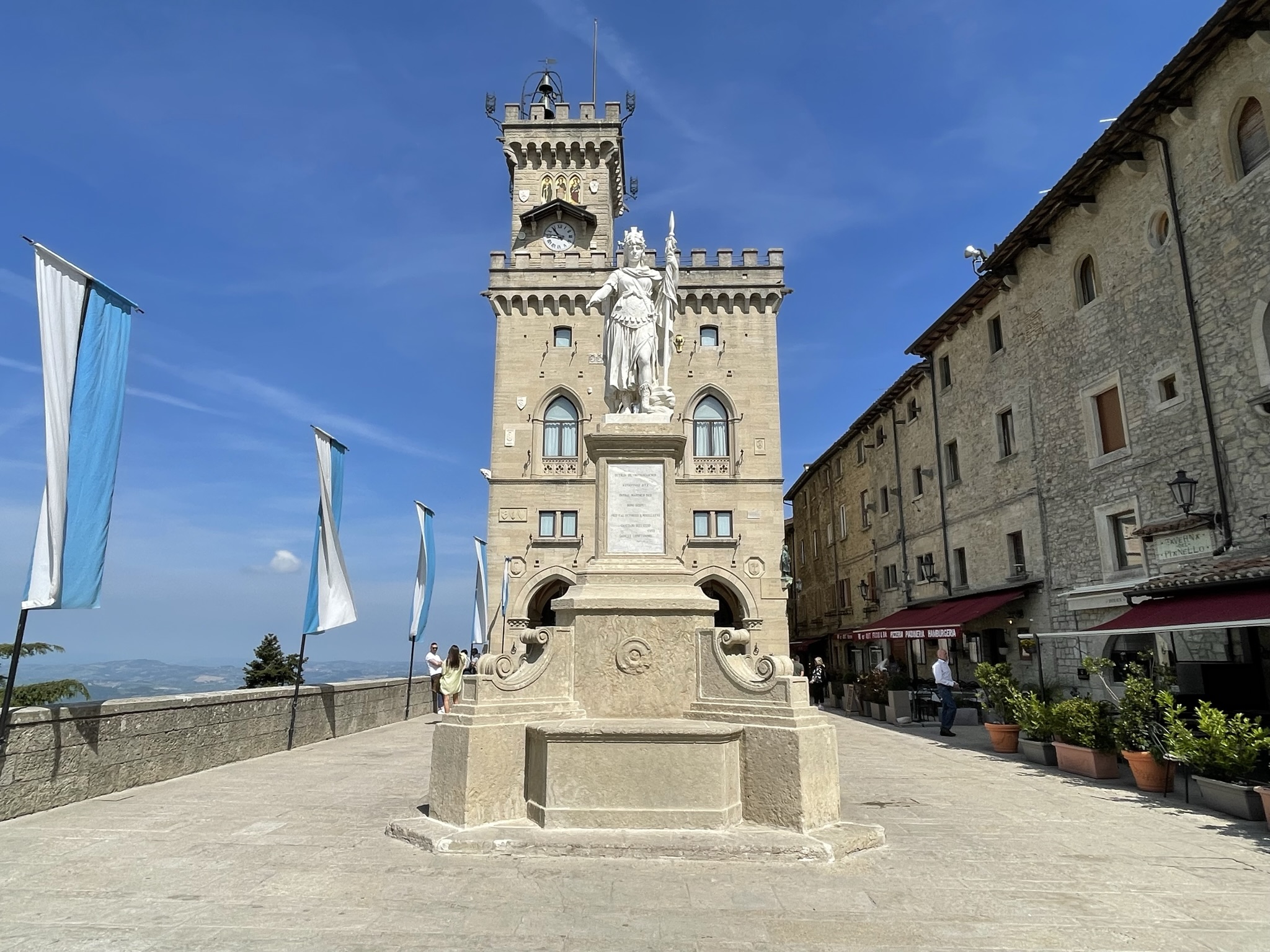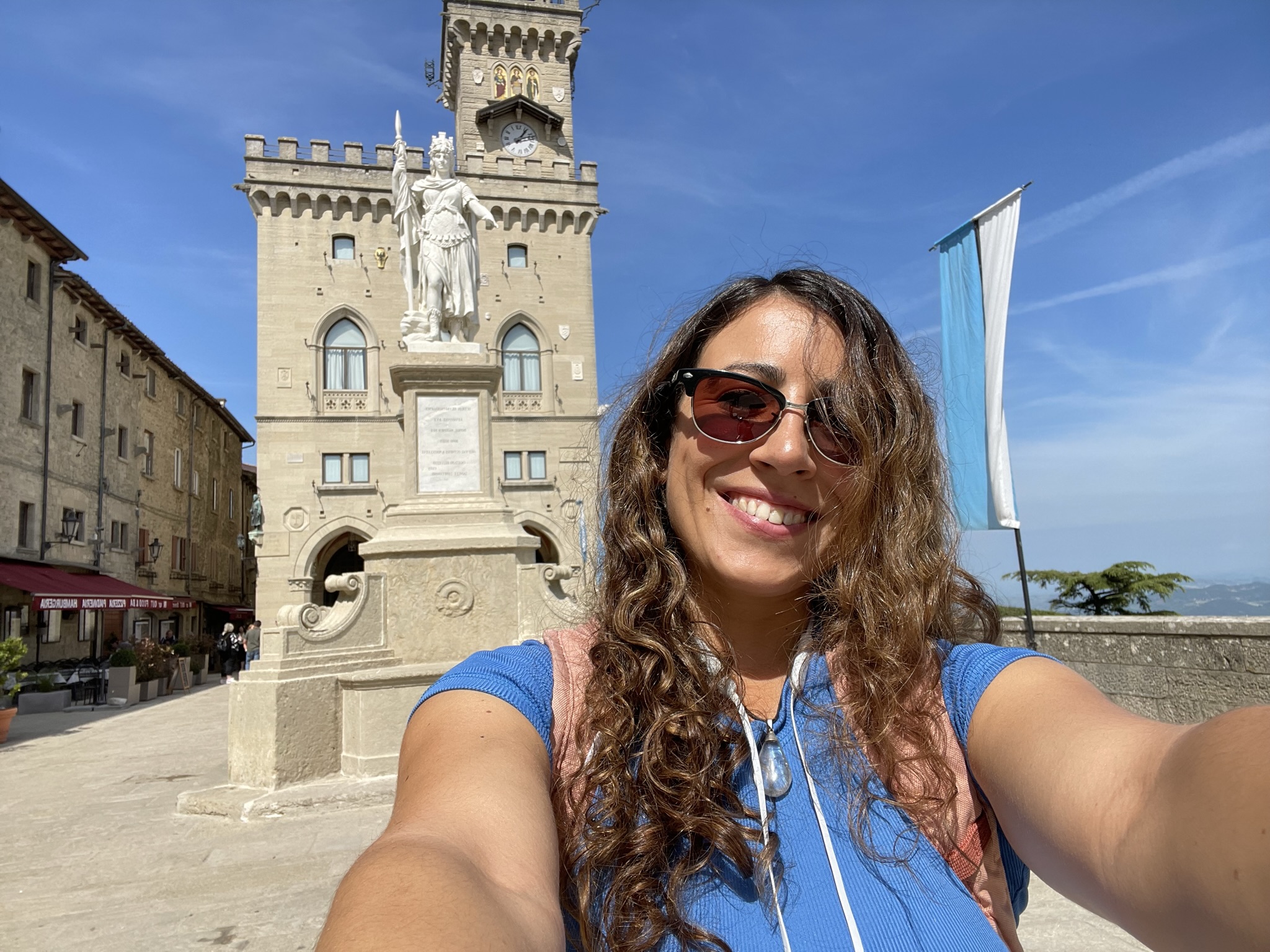 A juzgar por mi visita a aquella tierra, me animo a decir que San Marino vive prácticamente del turismo, pero no solo porque las personas que van a este lugar y acceden a restaurantes y atracciones, sino también porque allí hay una gran cantidad de locales que venden elementos de plata y oro, e incluso perfumes de diseñador, a precios más bajos que en su vecina Italia.
En cuanto al idioma, hablan igualmente italiano.
Sus paisajes son bellísimos, y dado que está inmersa en la cadena de Los Apeninos, a medida que se sube, se va viendo la falda de aquel monte, con las pintorescas casitas y un verde que sólo puede apreciarse en tierra italiana (lo sé, no es Italia, pero el paisaje es bastante similar en este sentido del verde y a montaña).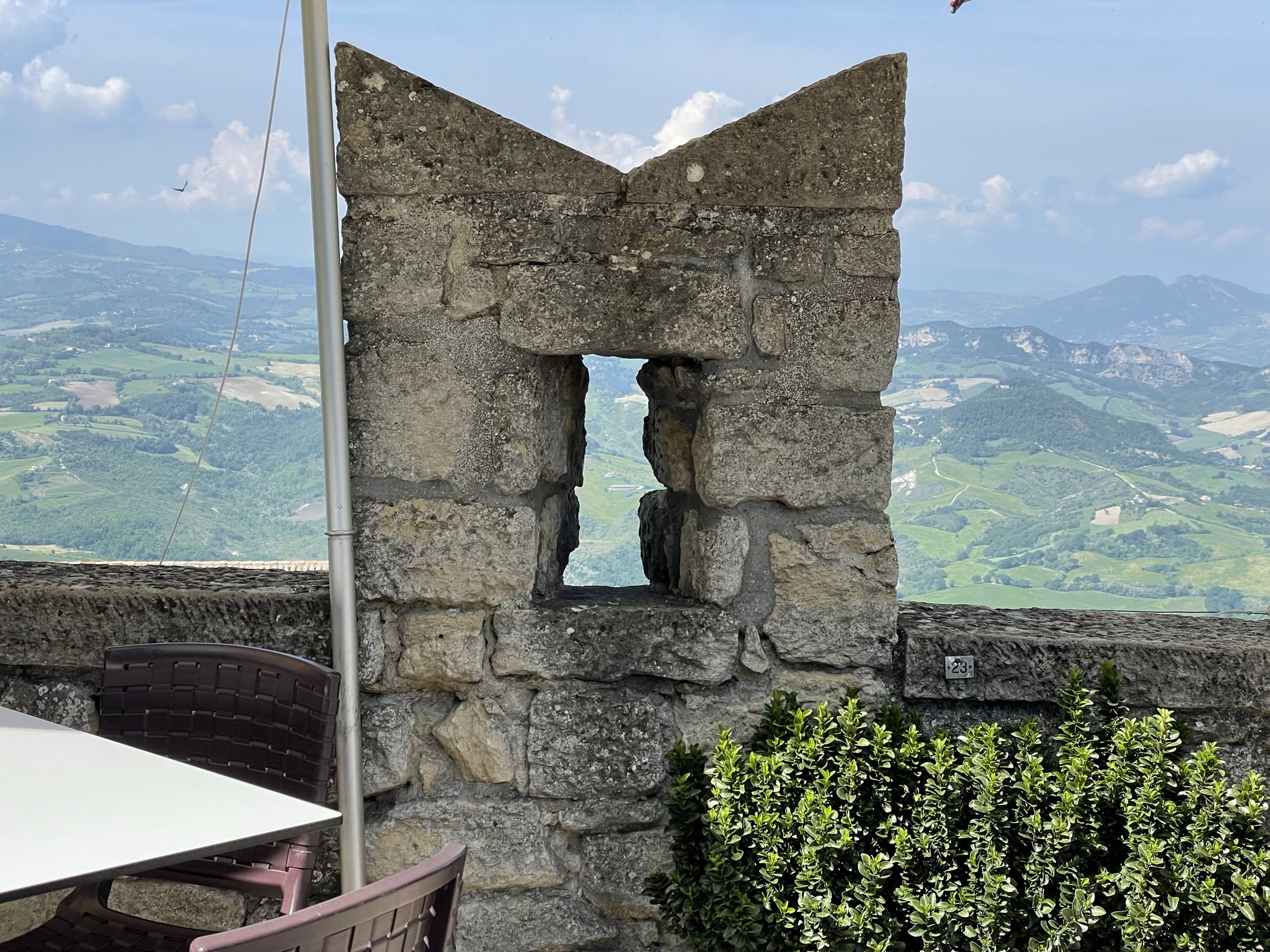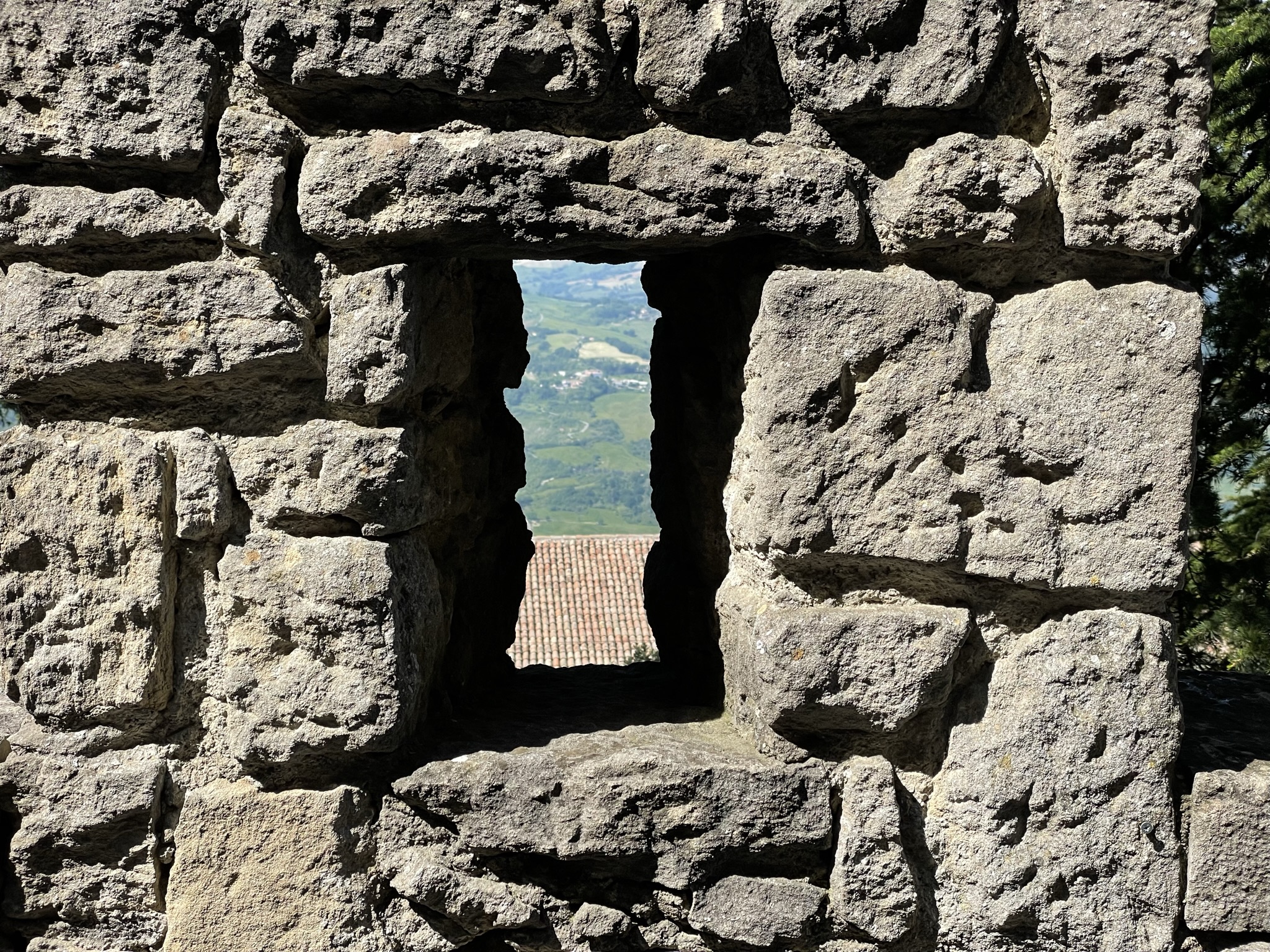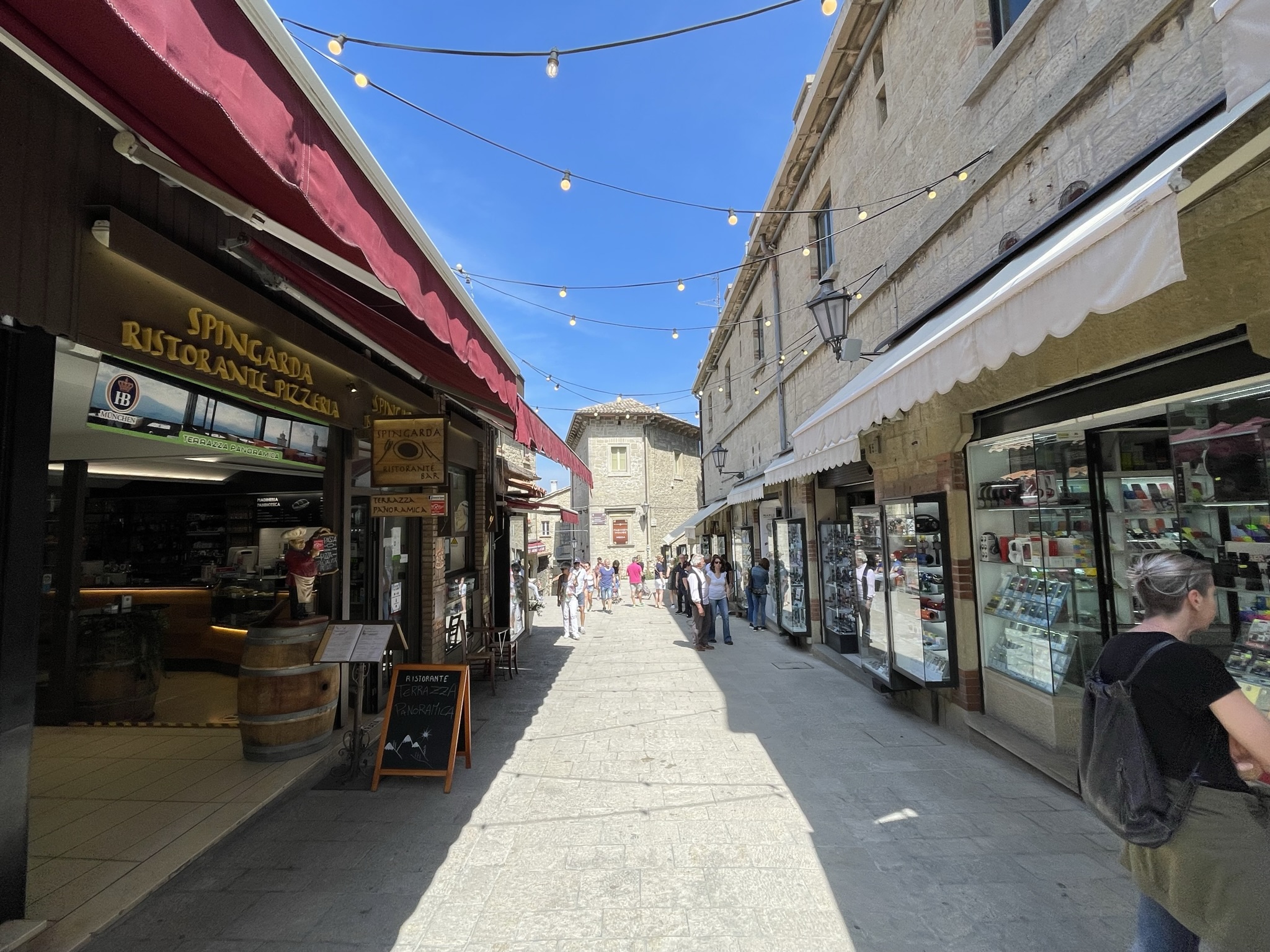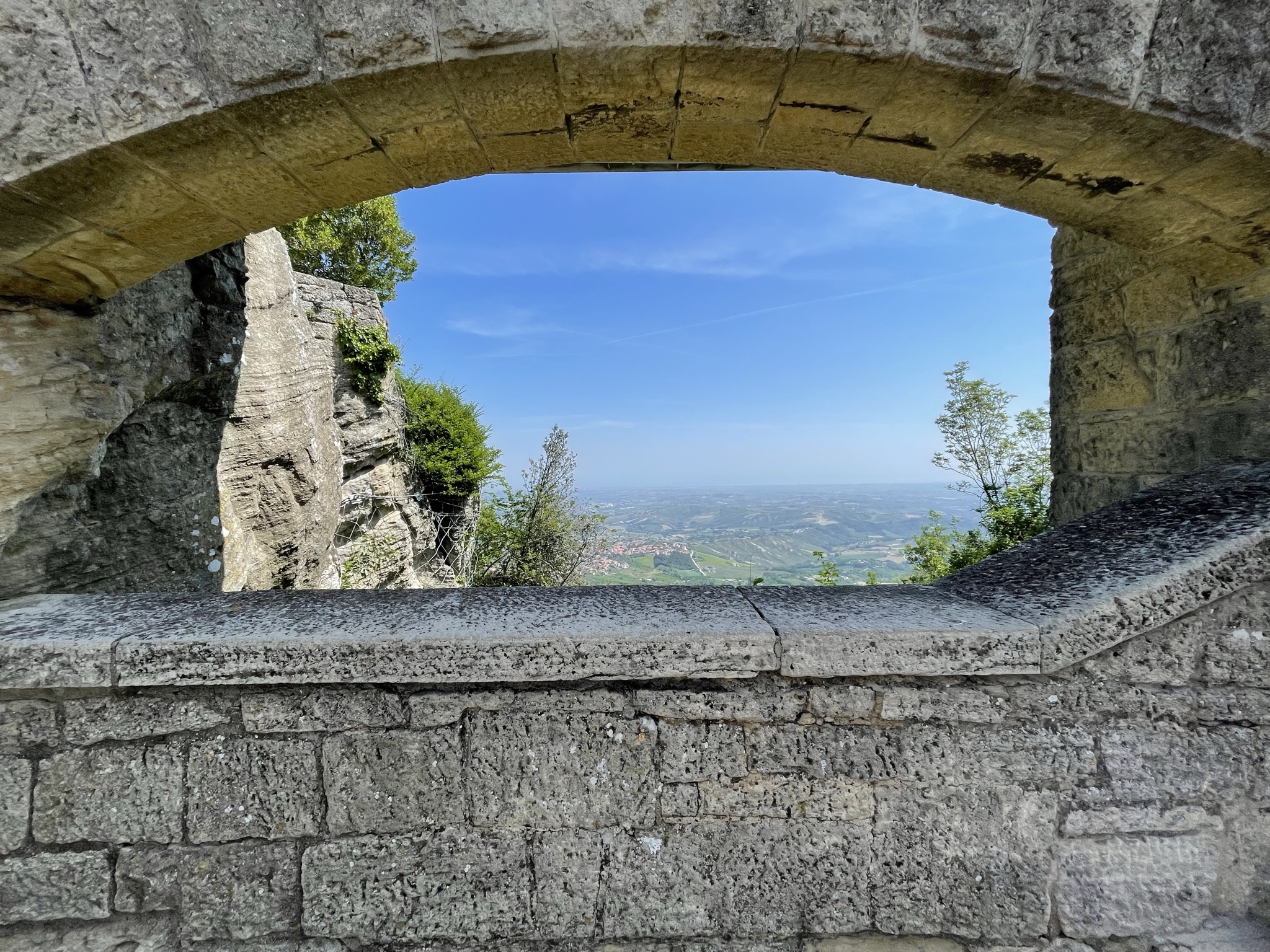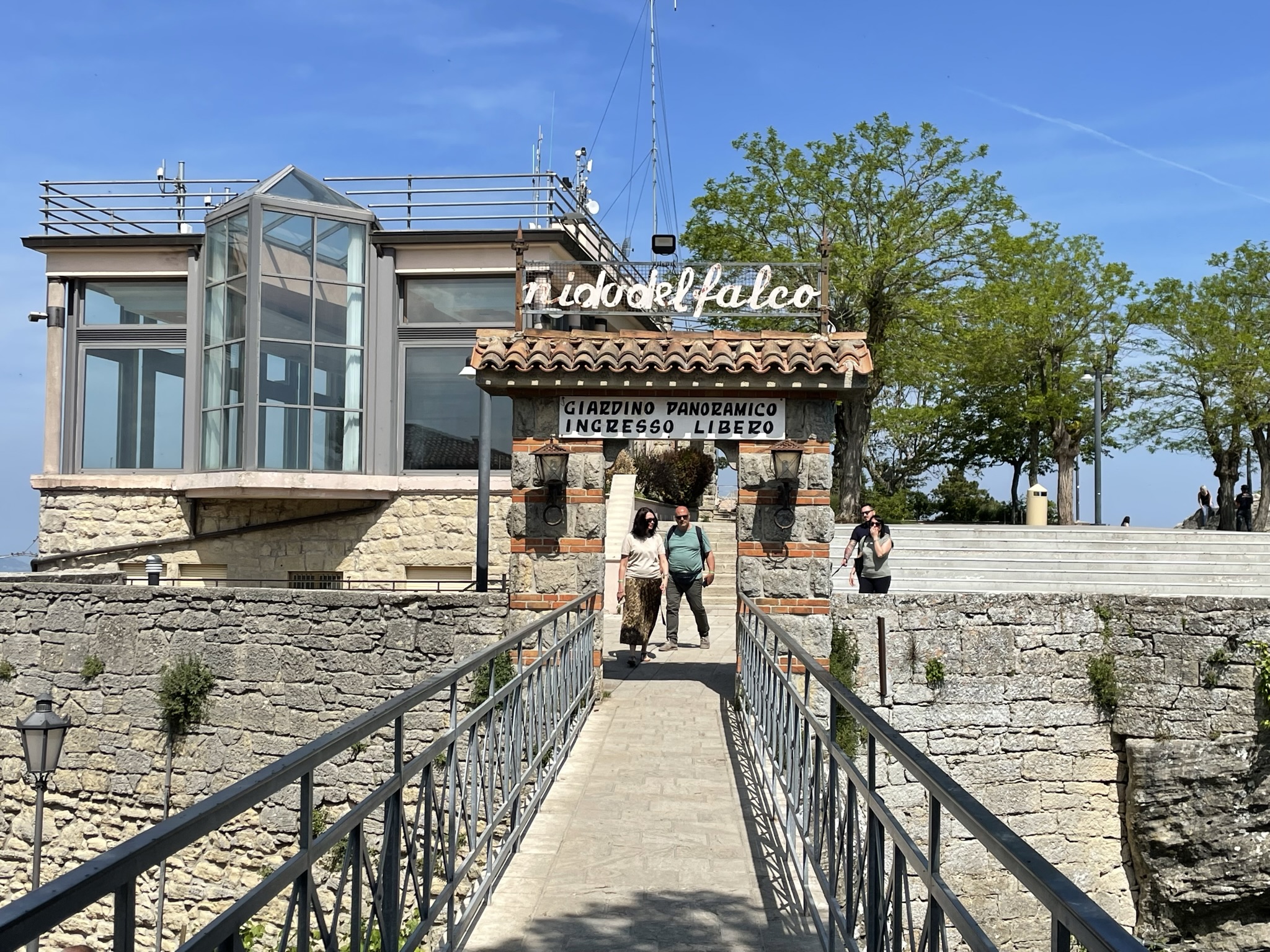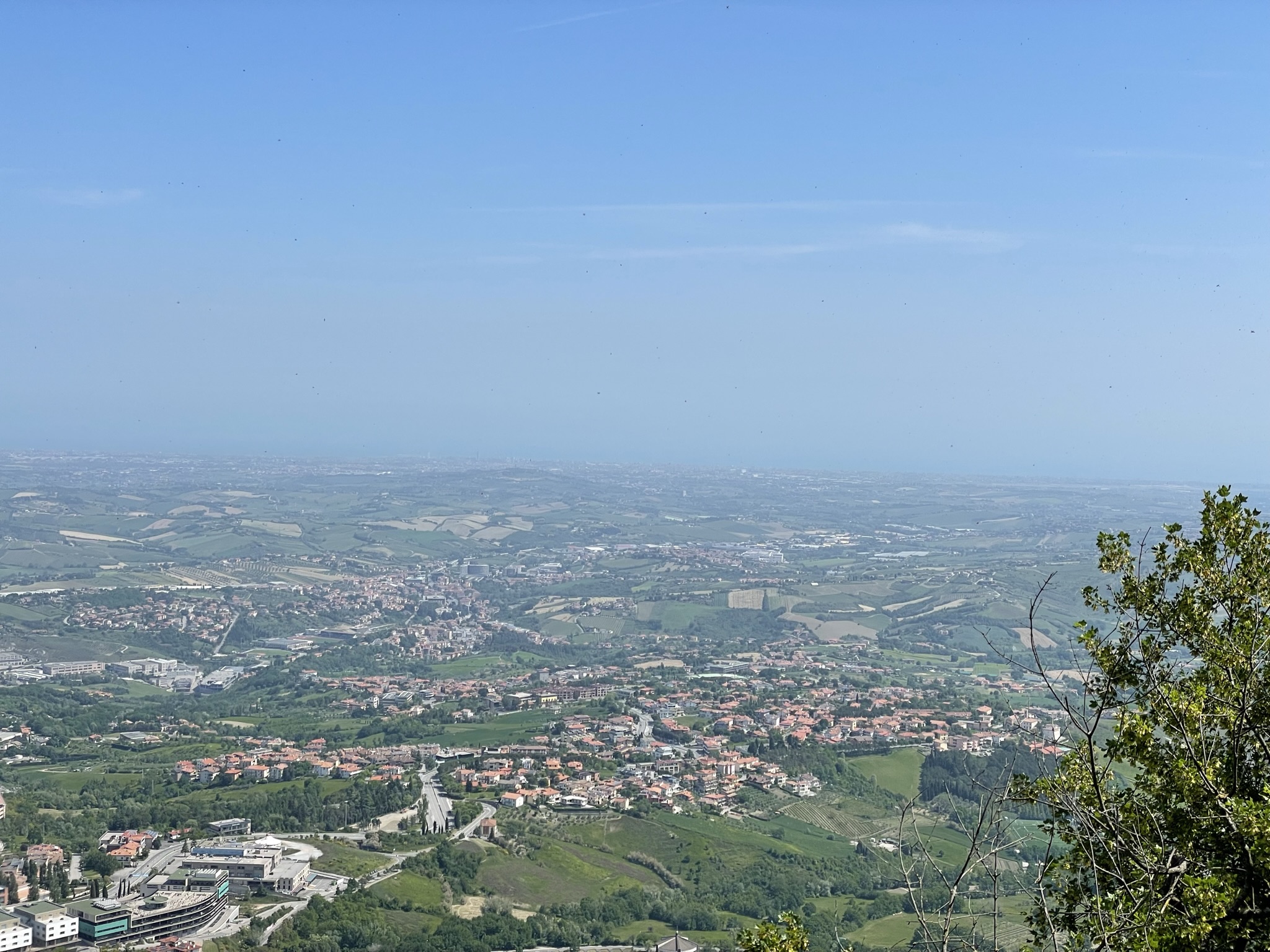 Algo típico que hacer al visitar este lugar, es subir el Monte Titano, que es donde se encuentra el famoso castillo que lleva el mismo nombre del país.
Sus esculturas, a medida que se va ascendiendo, son exquisitas! Delicadas, blancas en su totalidad y claramente muy bien conservadas, provocan que quien sea que esté caminando se detenga a observar.
Algunas hermosas obras en la mitad del camino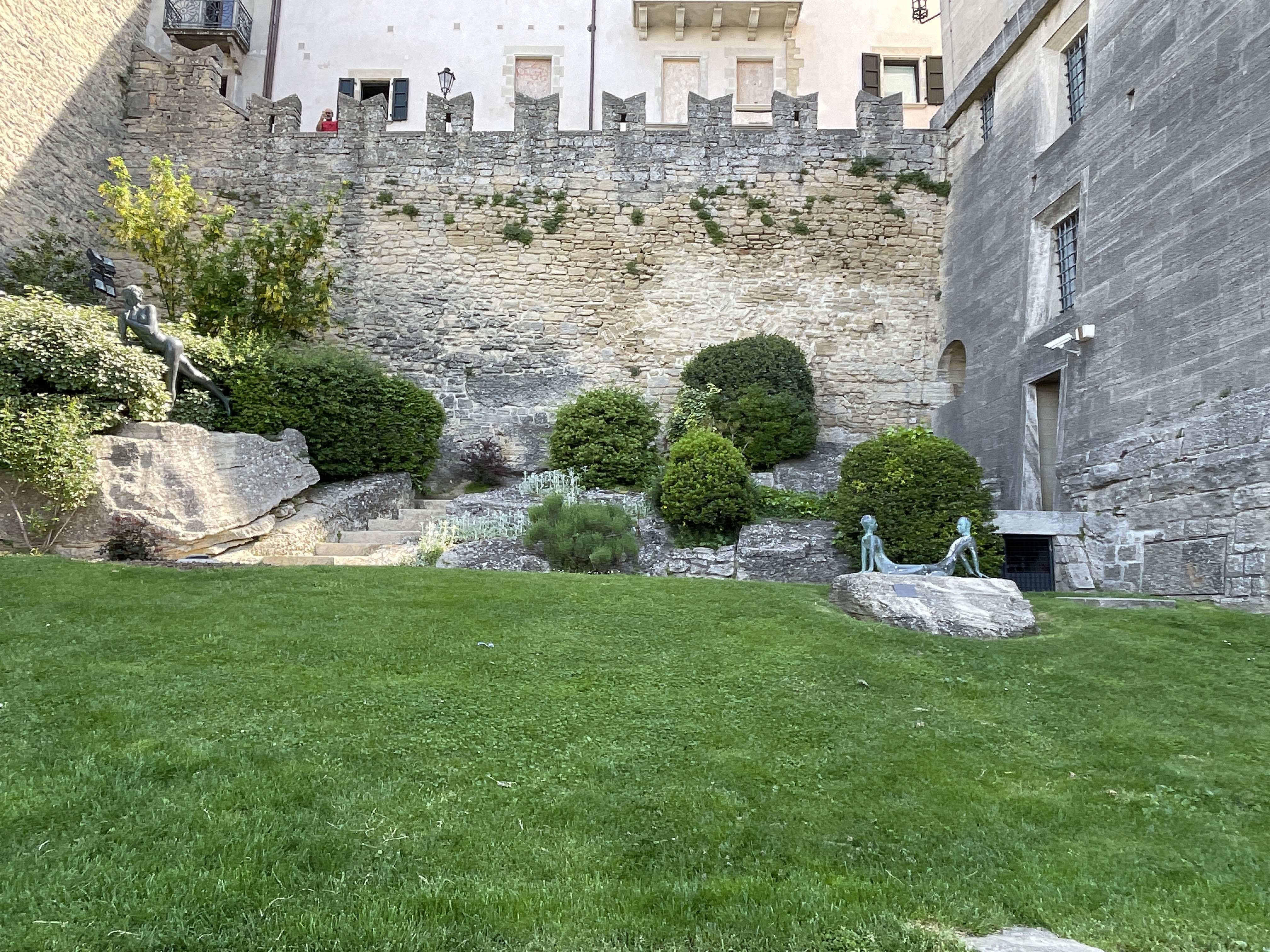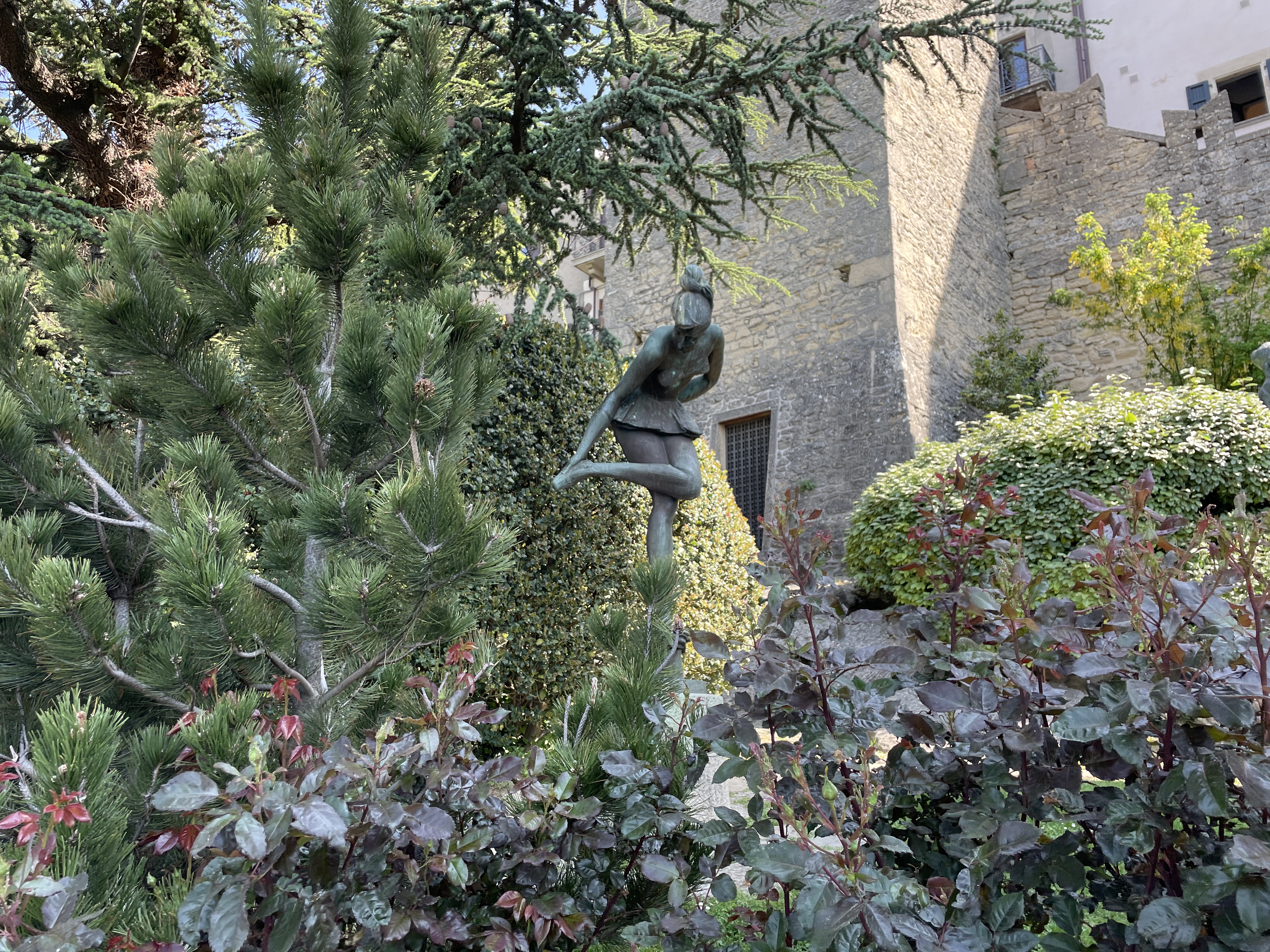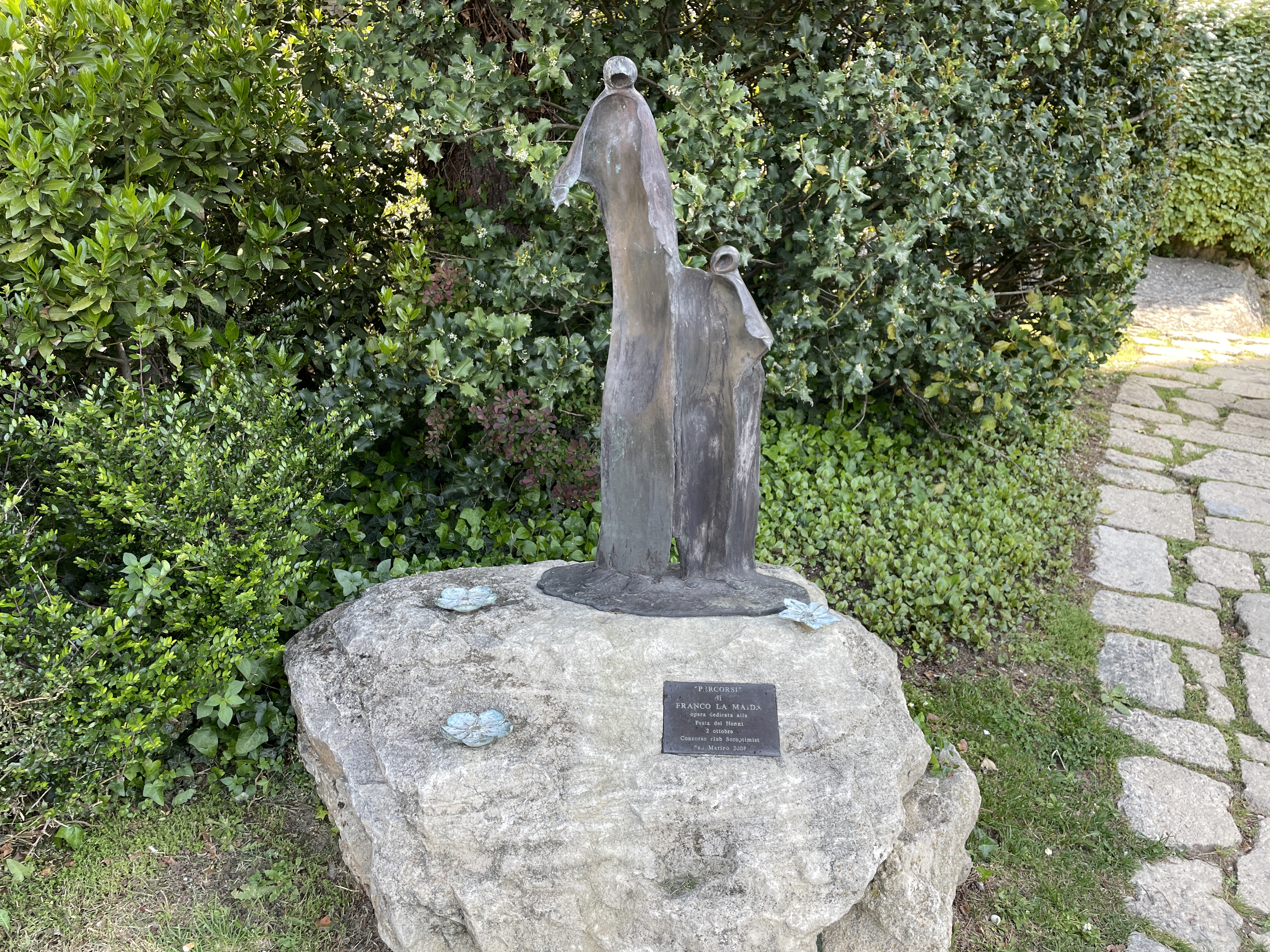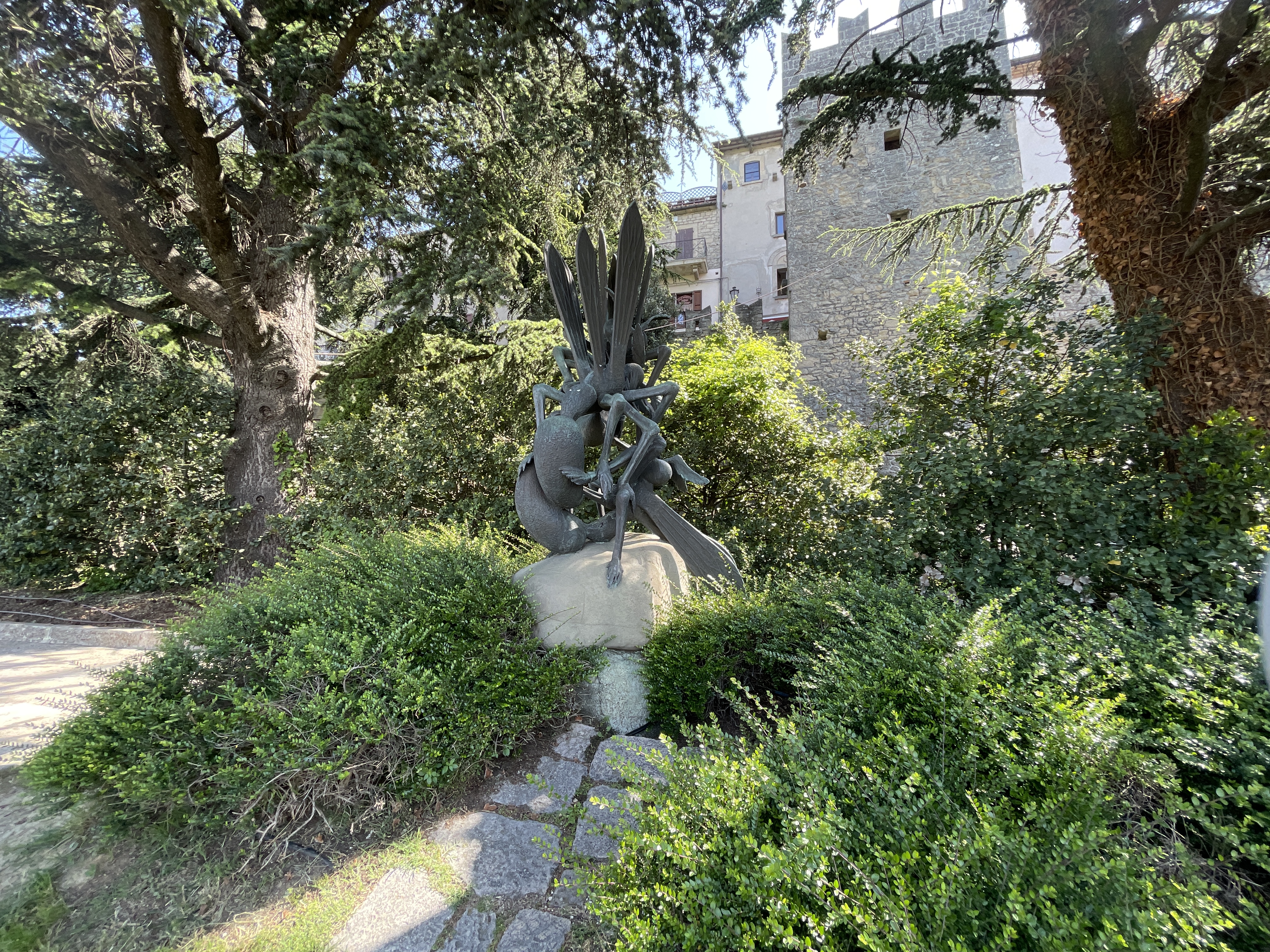 Más estatuas cerca del final del camino del monte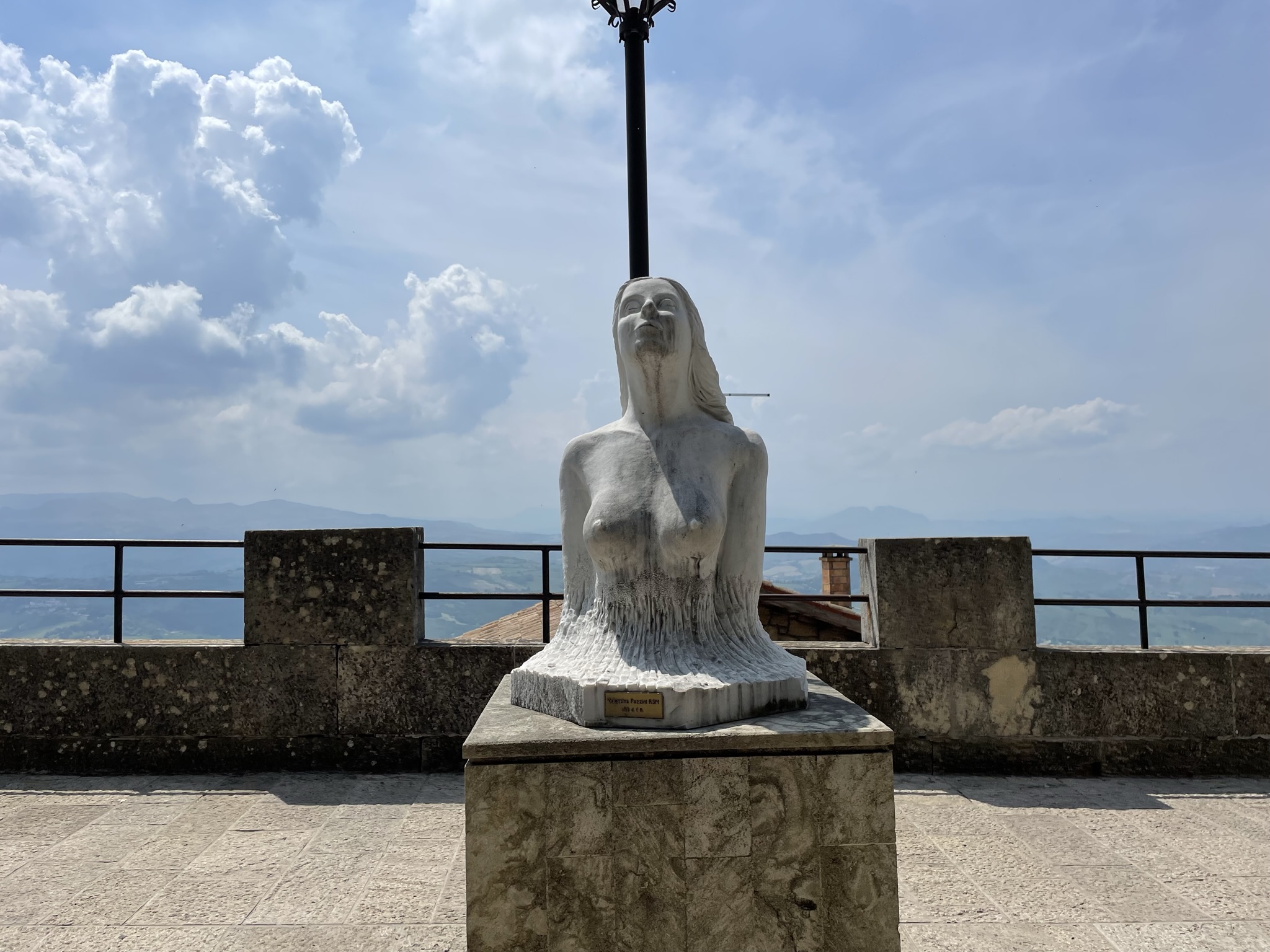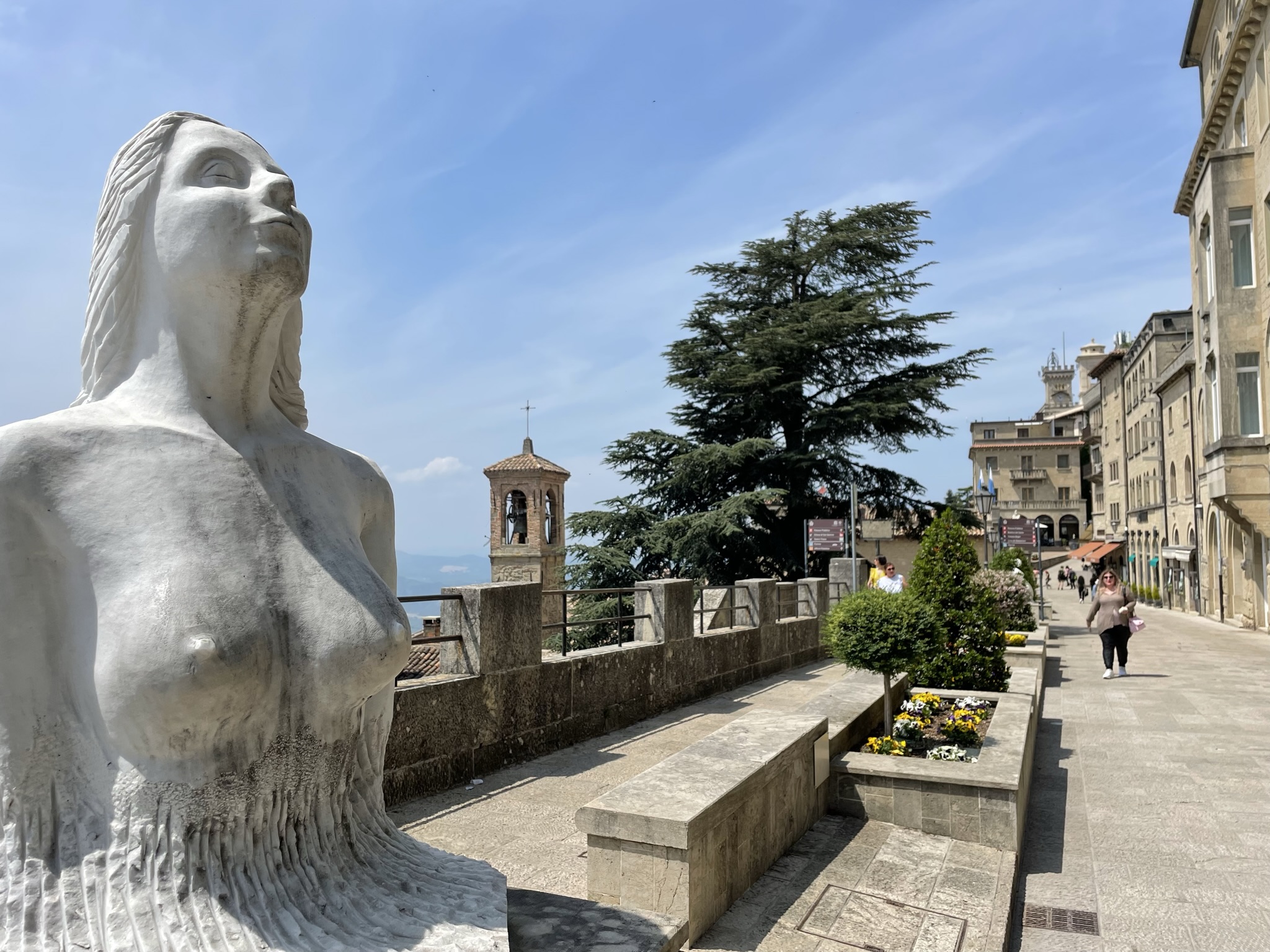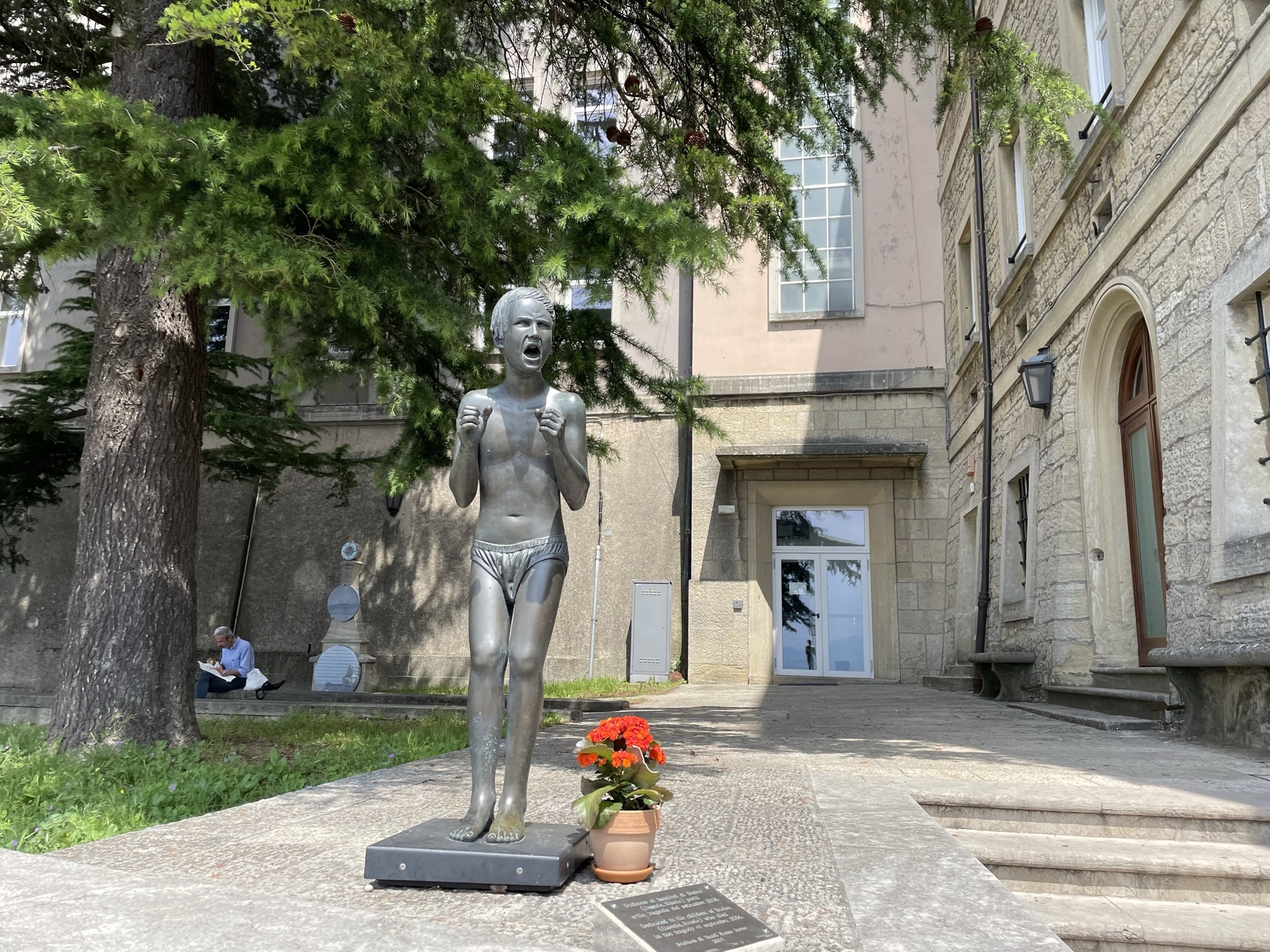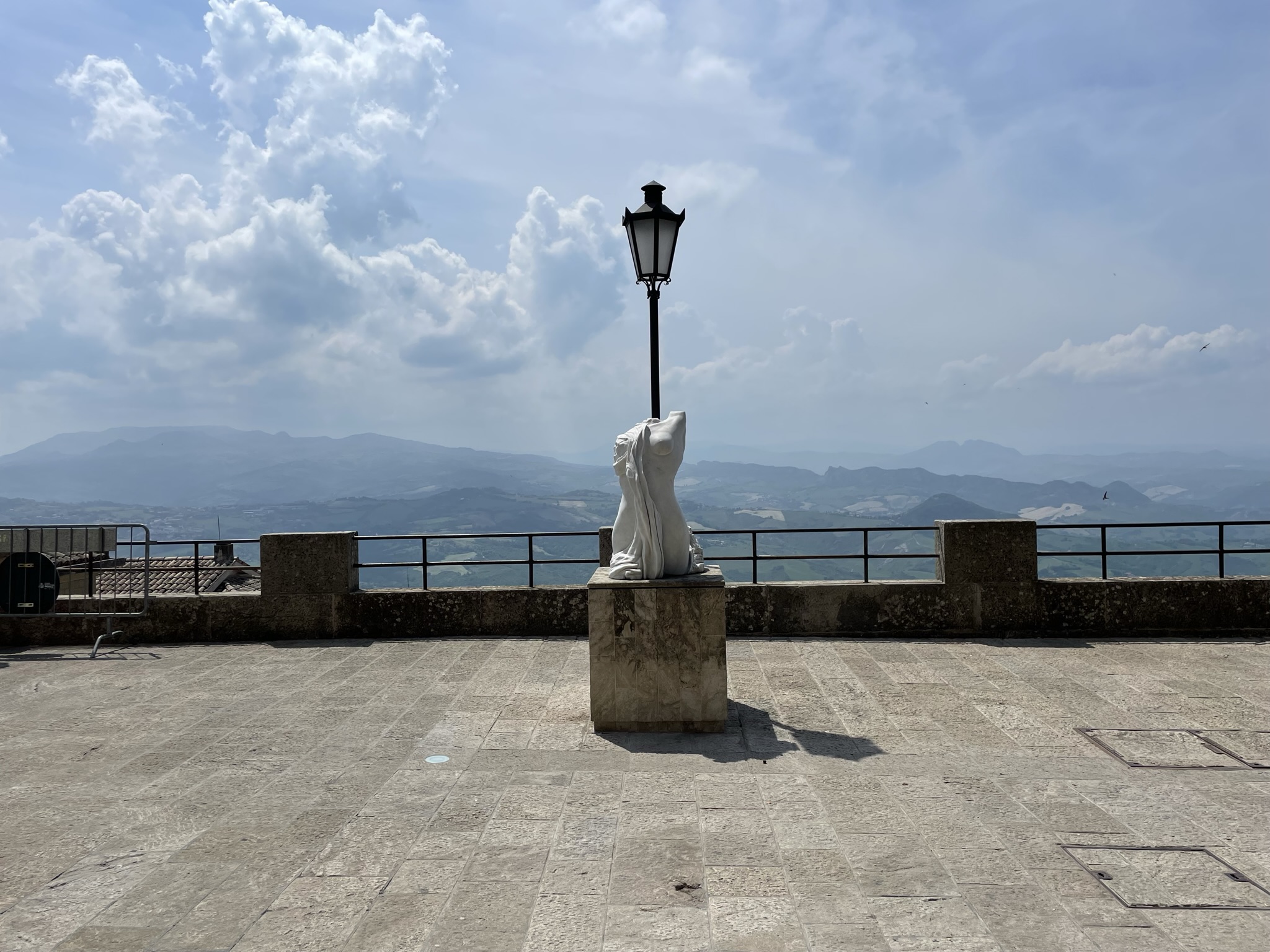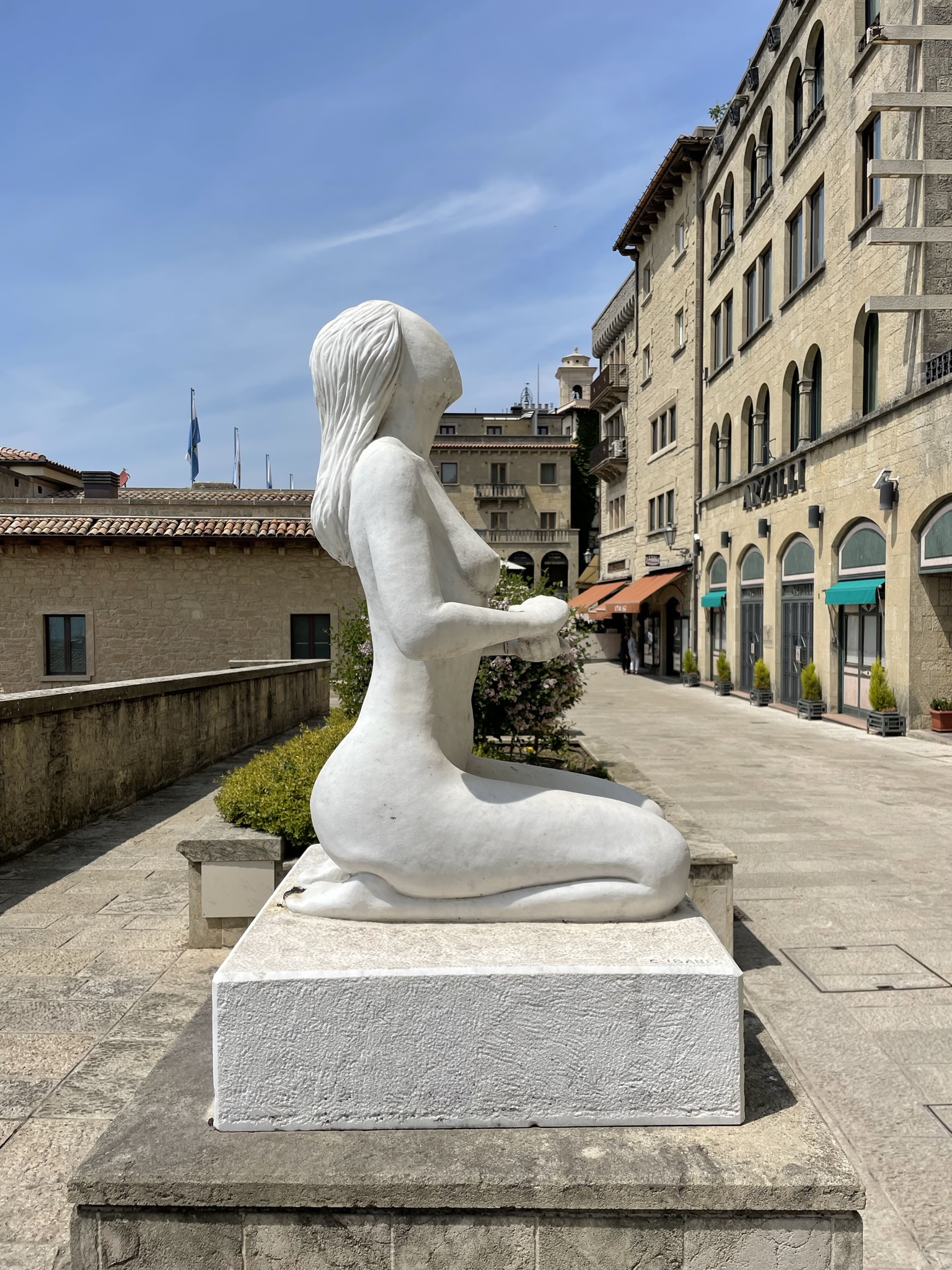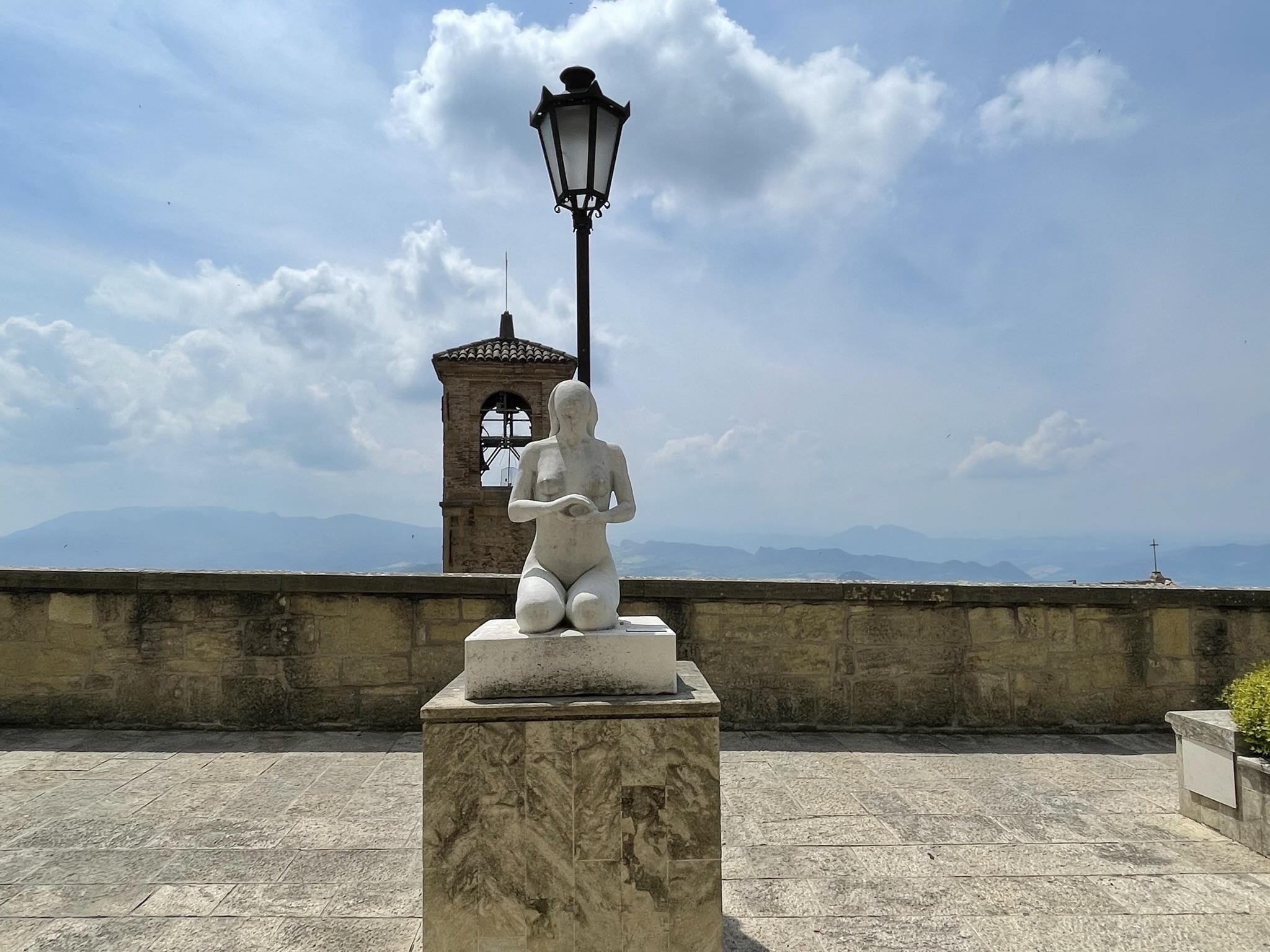 Sus callecitas ínfimas en el aparente camino de una sola mano, hacen que te pierdas casi jugando y sin darte cuenta, porque alguna cosa te llamó la atención y entonces te fuiste por ese estrecho pasadizo que arecía terminar allí, pero que en verdad era otra forma de seguir adelante. Pero no importa, es tan pequeño, que o bien puedes seguir o volver para retomar tu camino.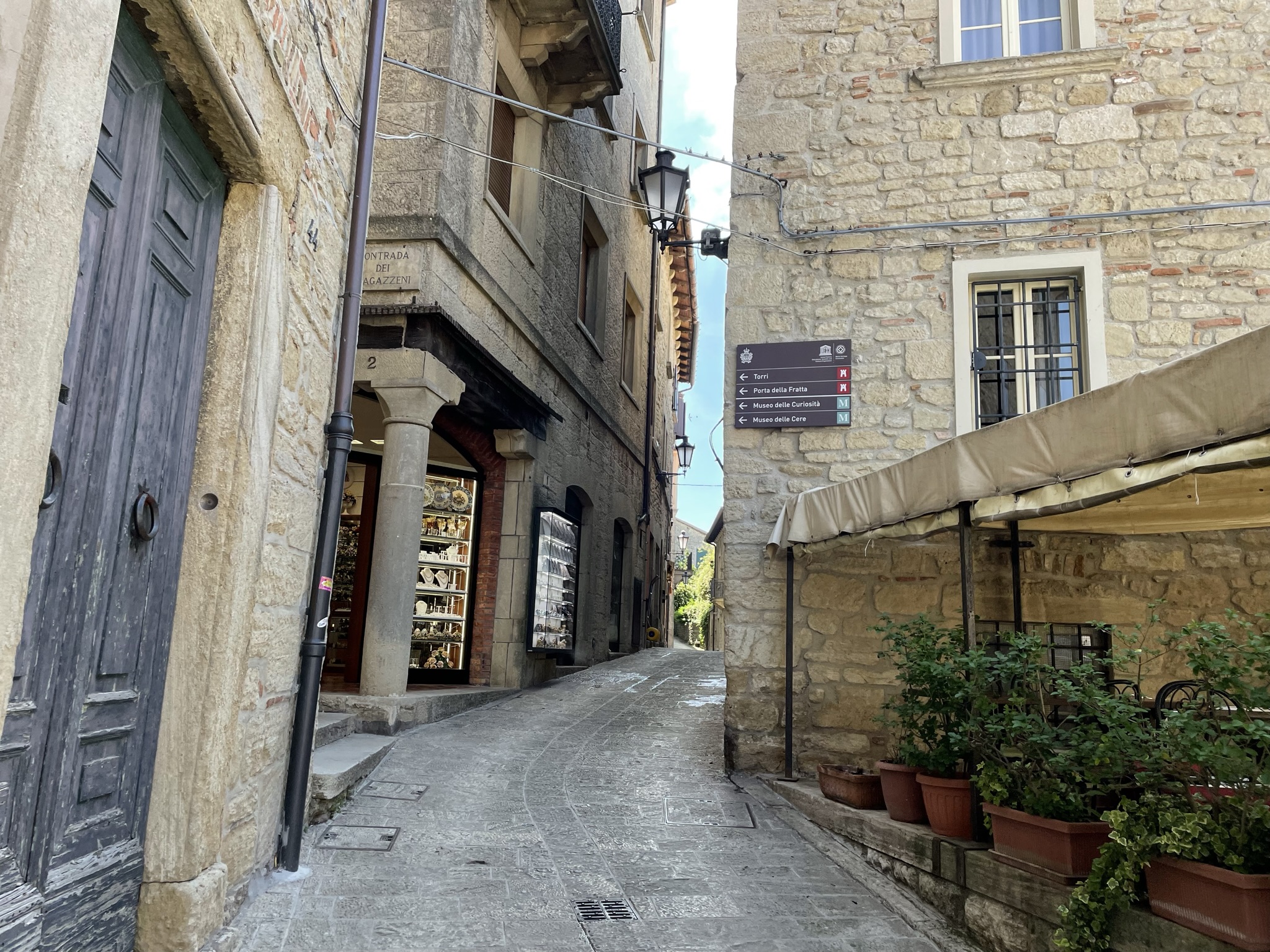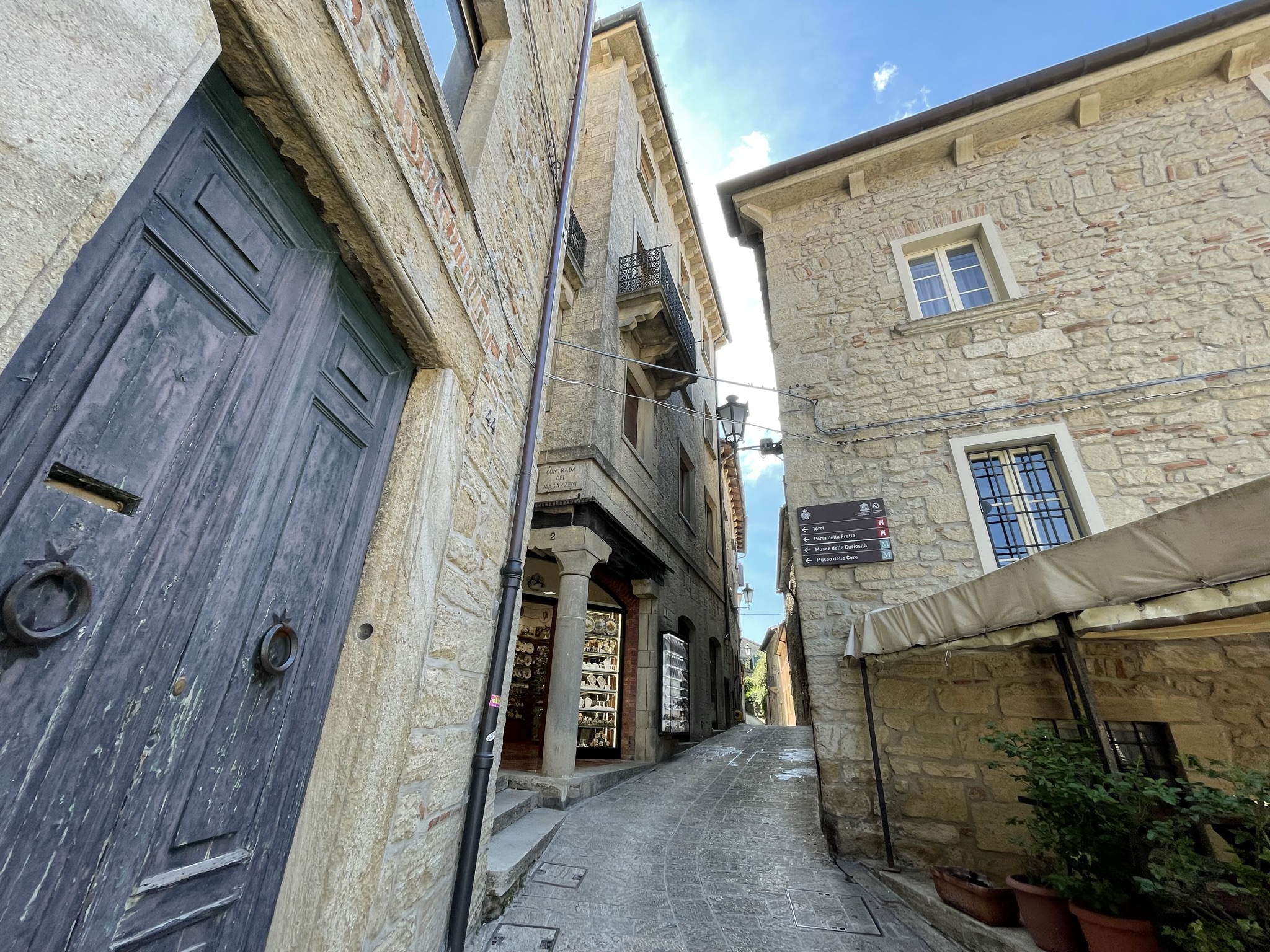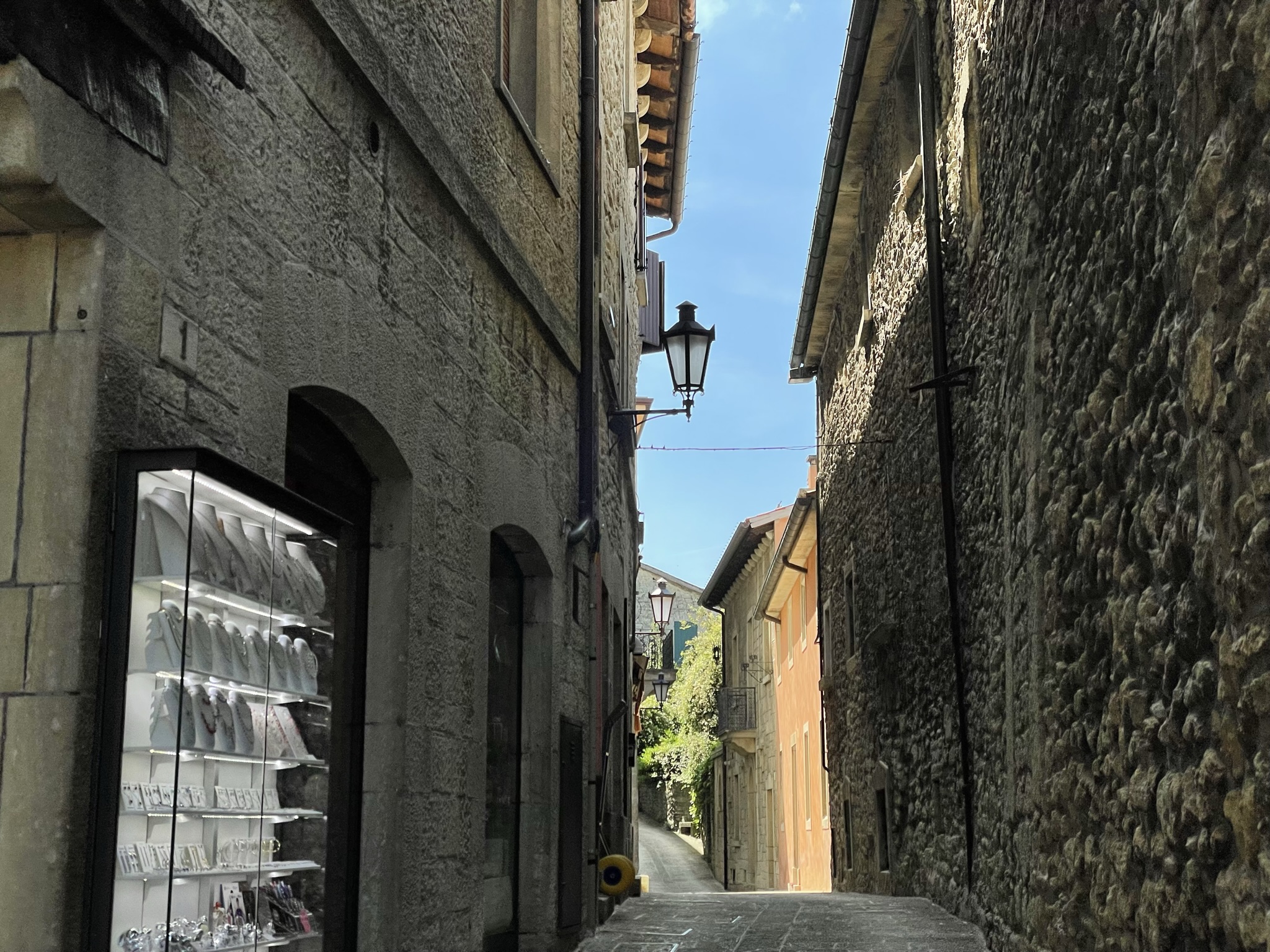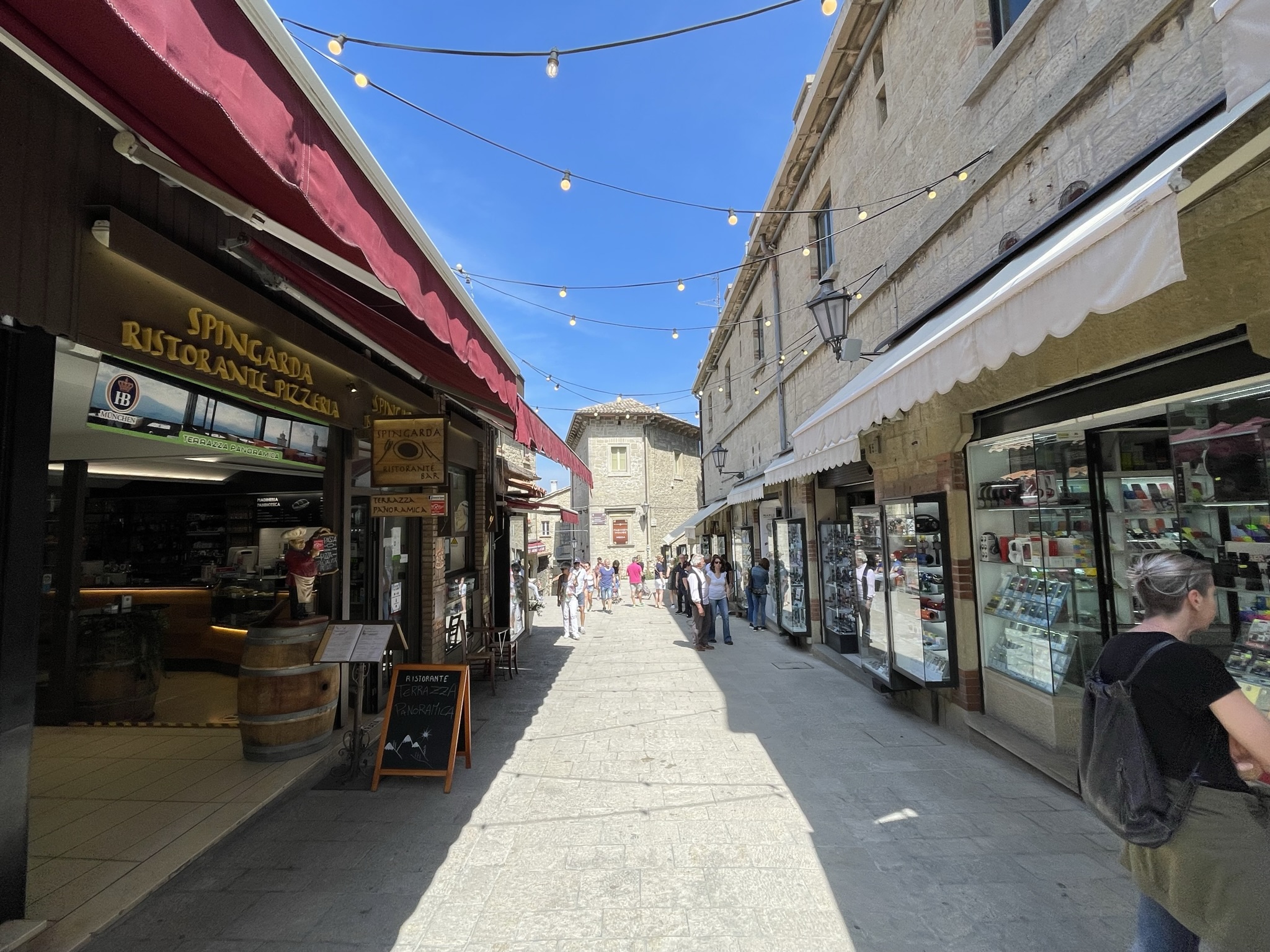 Y otro dato bastante interesante, es que a pesar de ser tan pequeño, alberga cosas sumamente extrañas! Por ejemplo, tiene un Museo de la Tortura, un Museo de Vampiros, y venden armas en varios locales del sector.
Museo de la tortura
Solo fui hasta la puerta…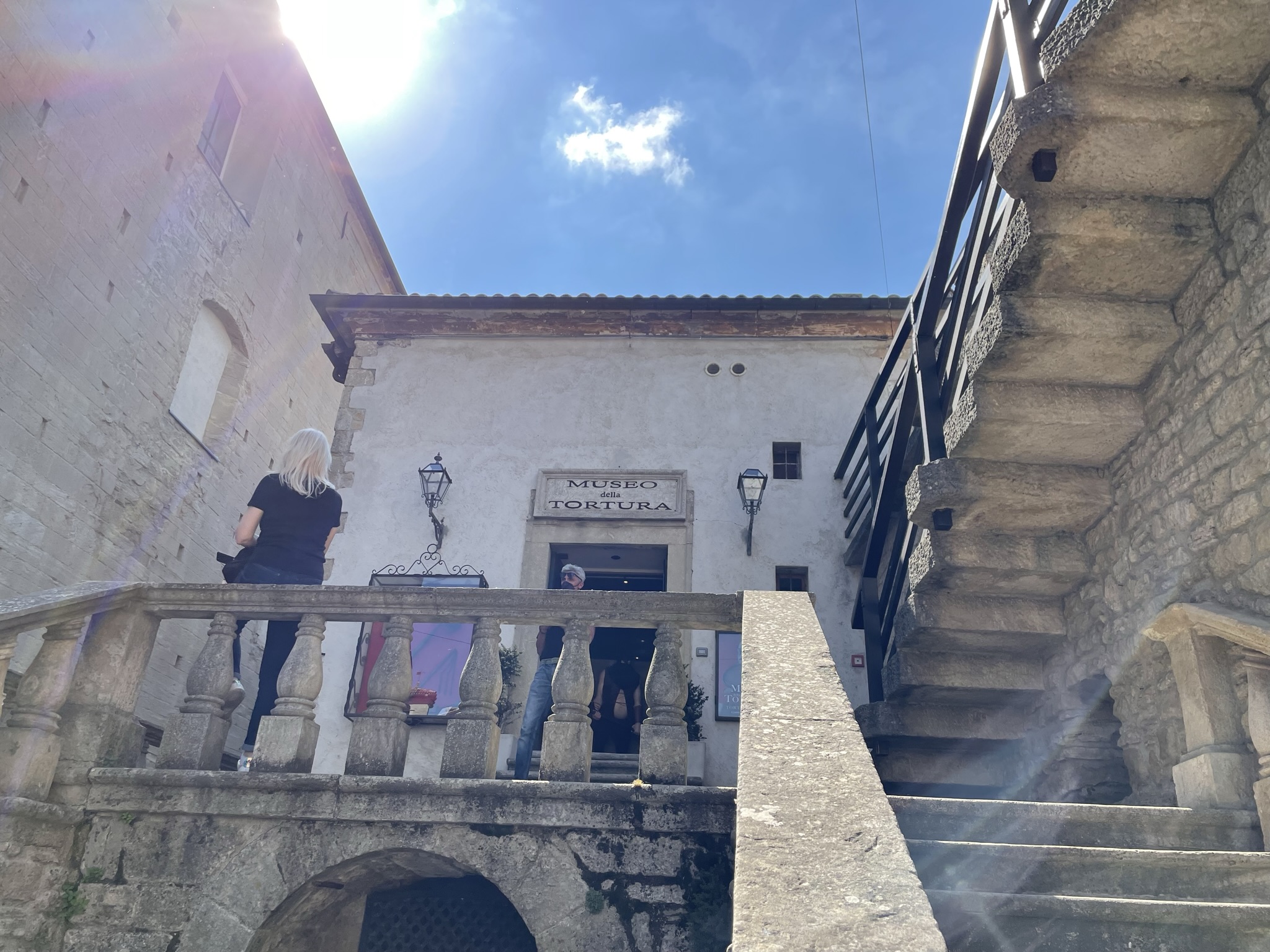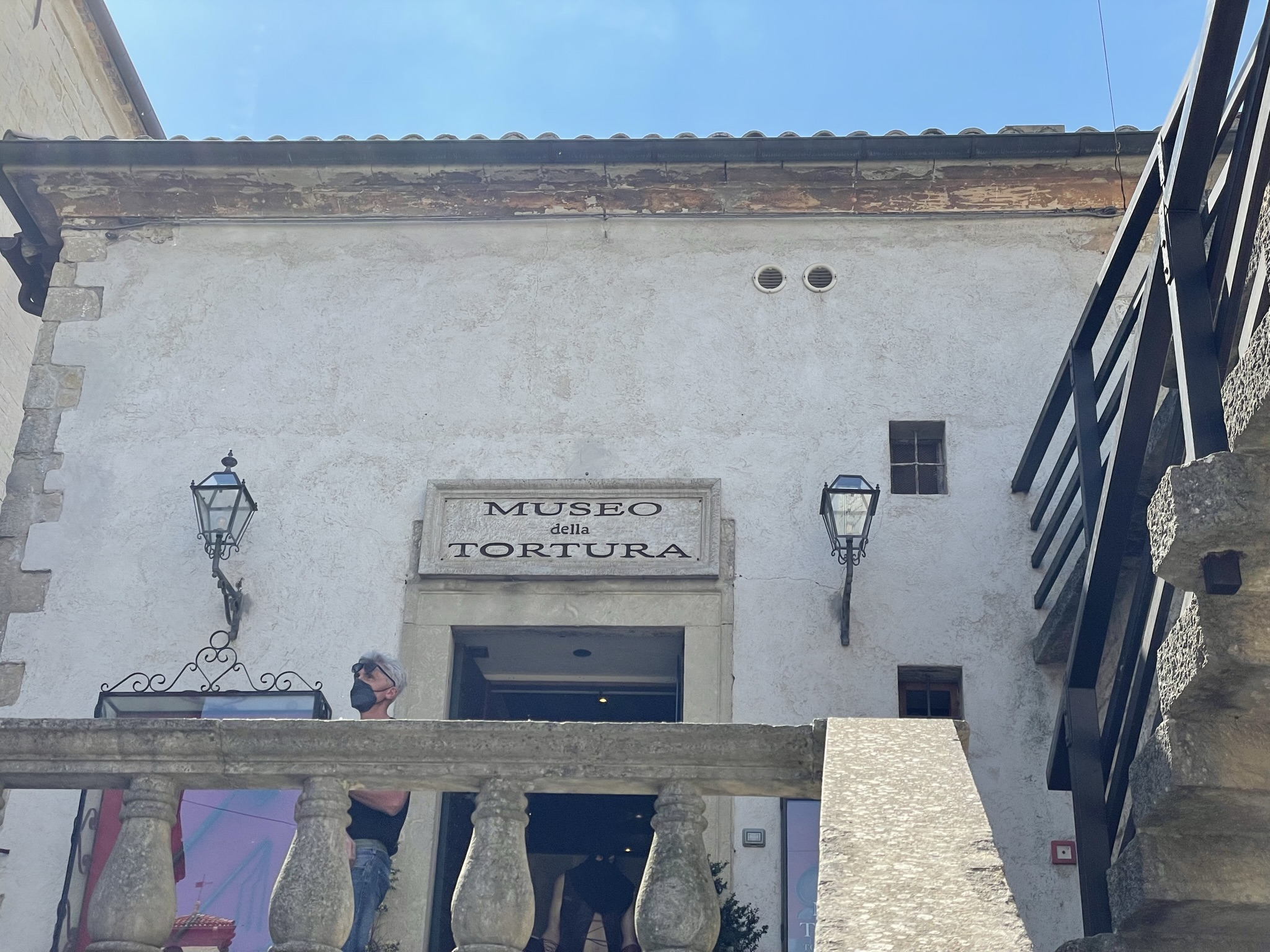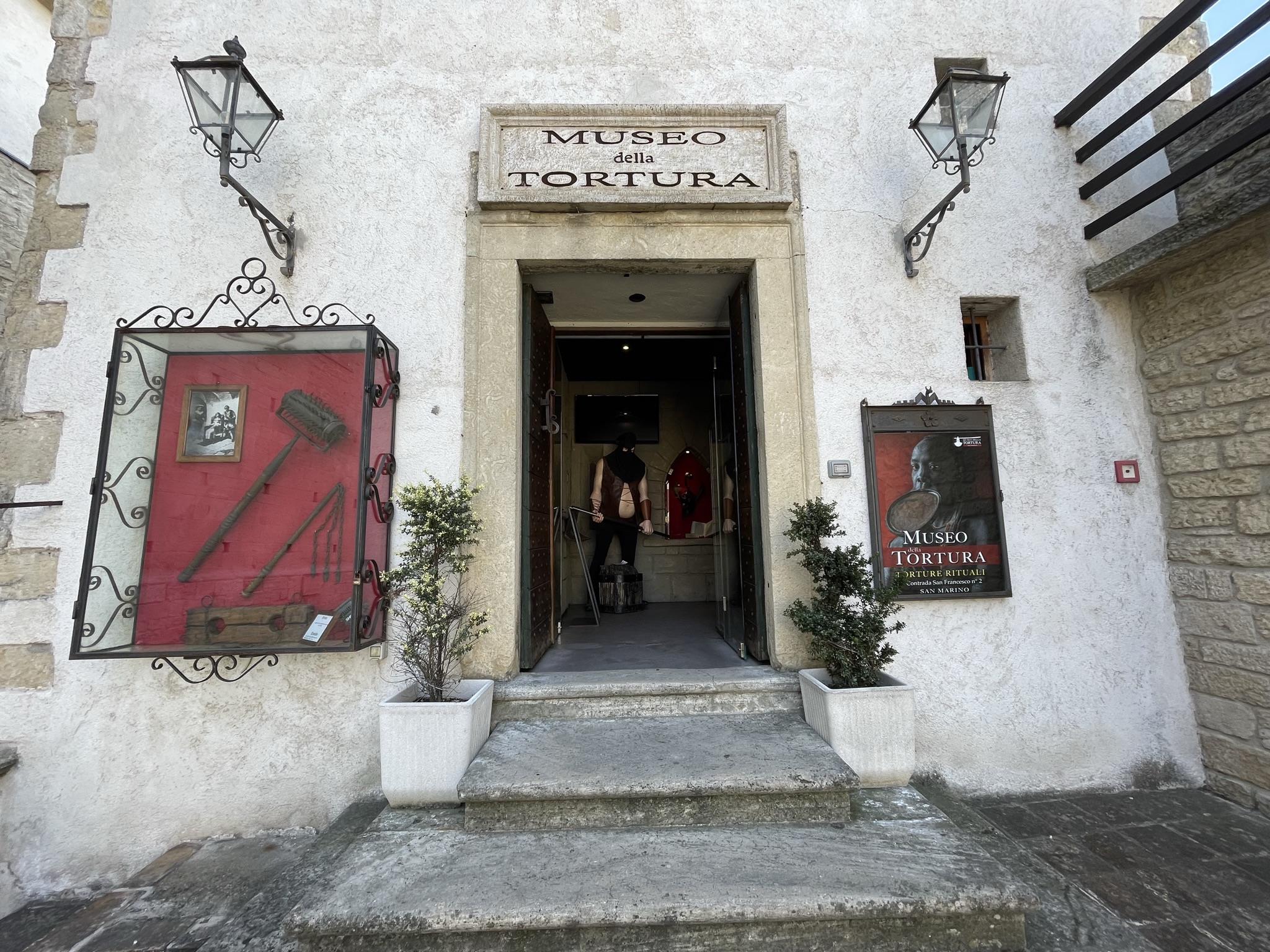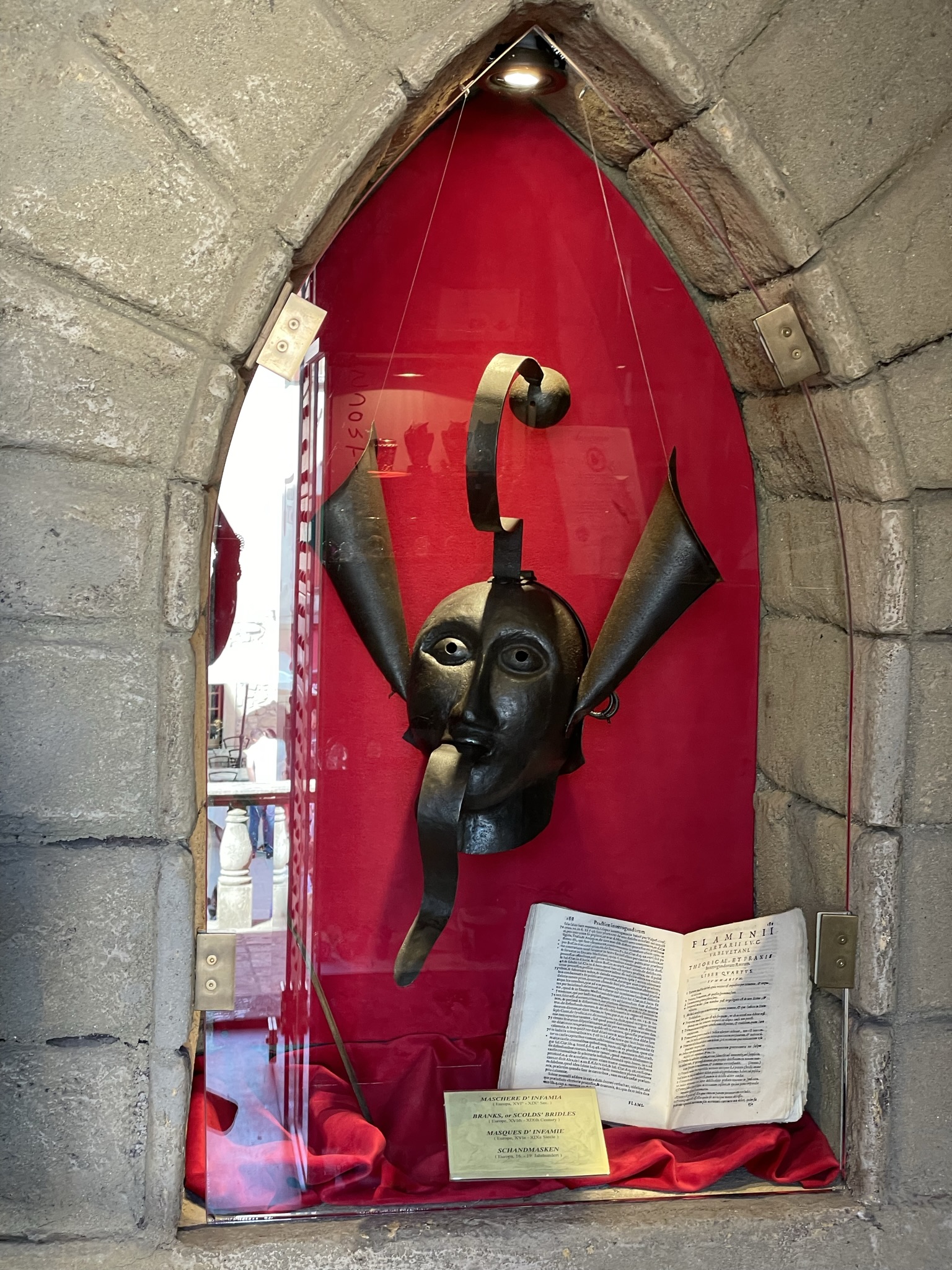 Vista desde el museo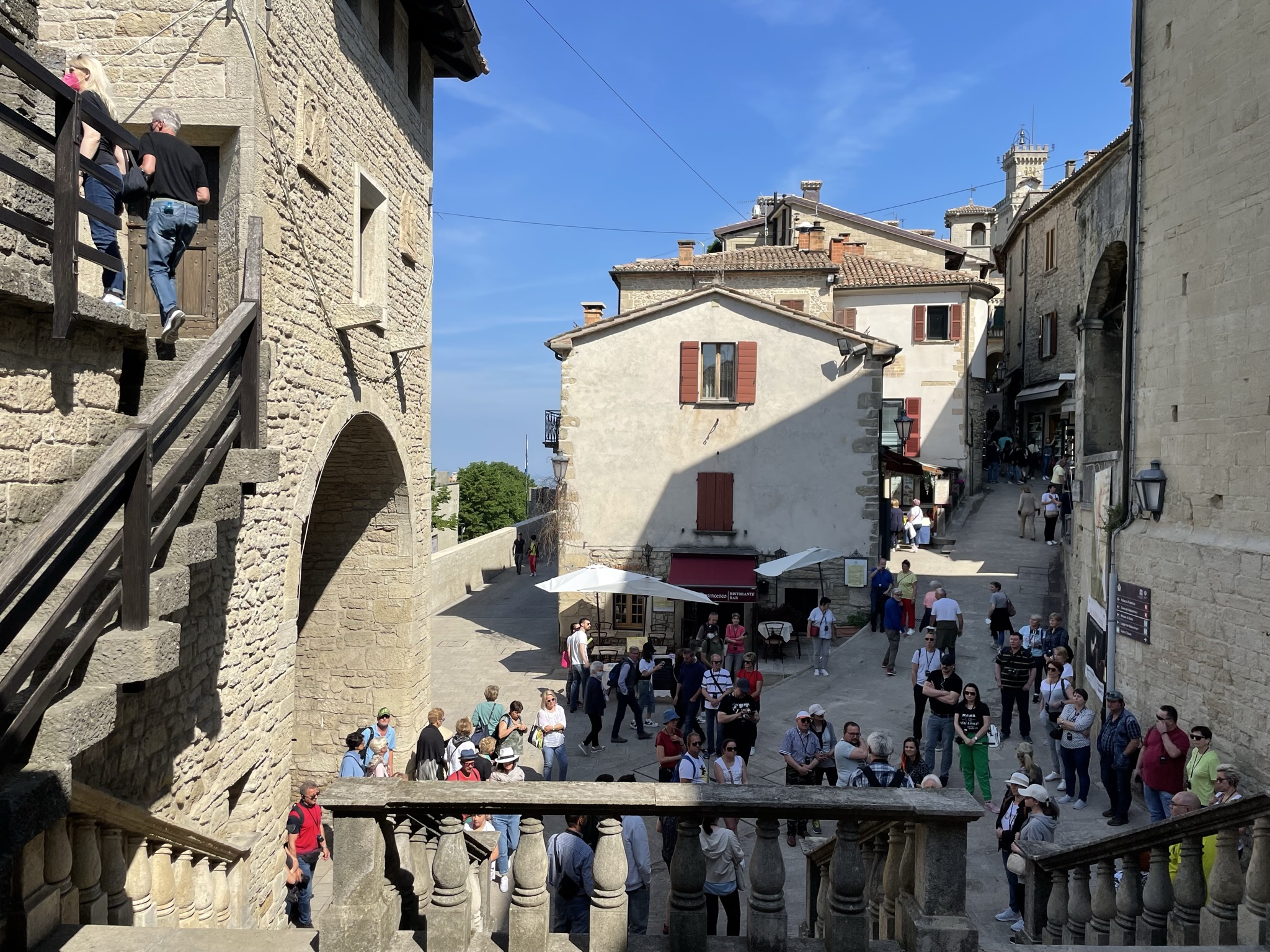 Museo de los vampiros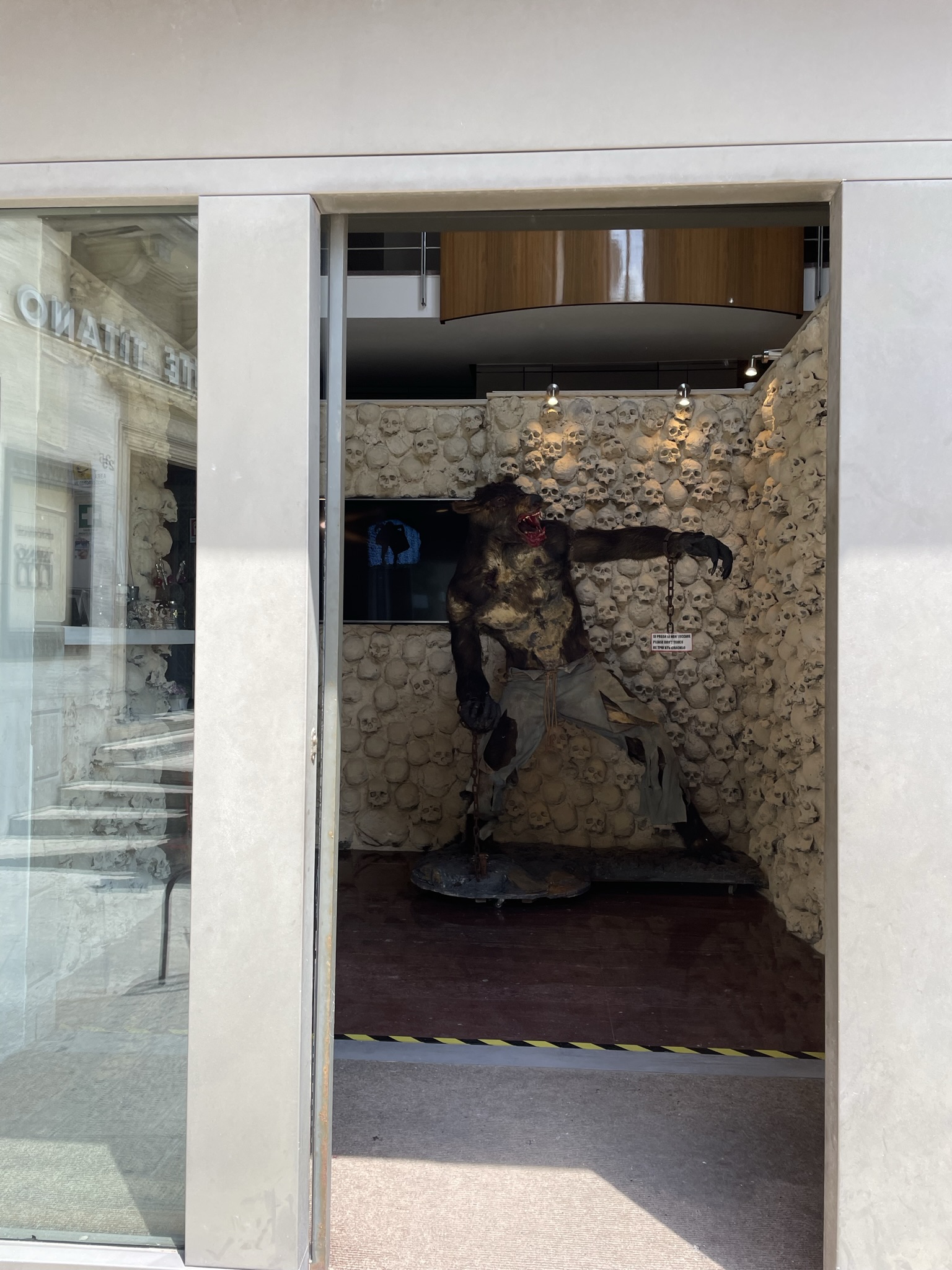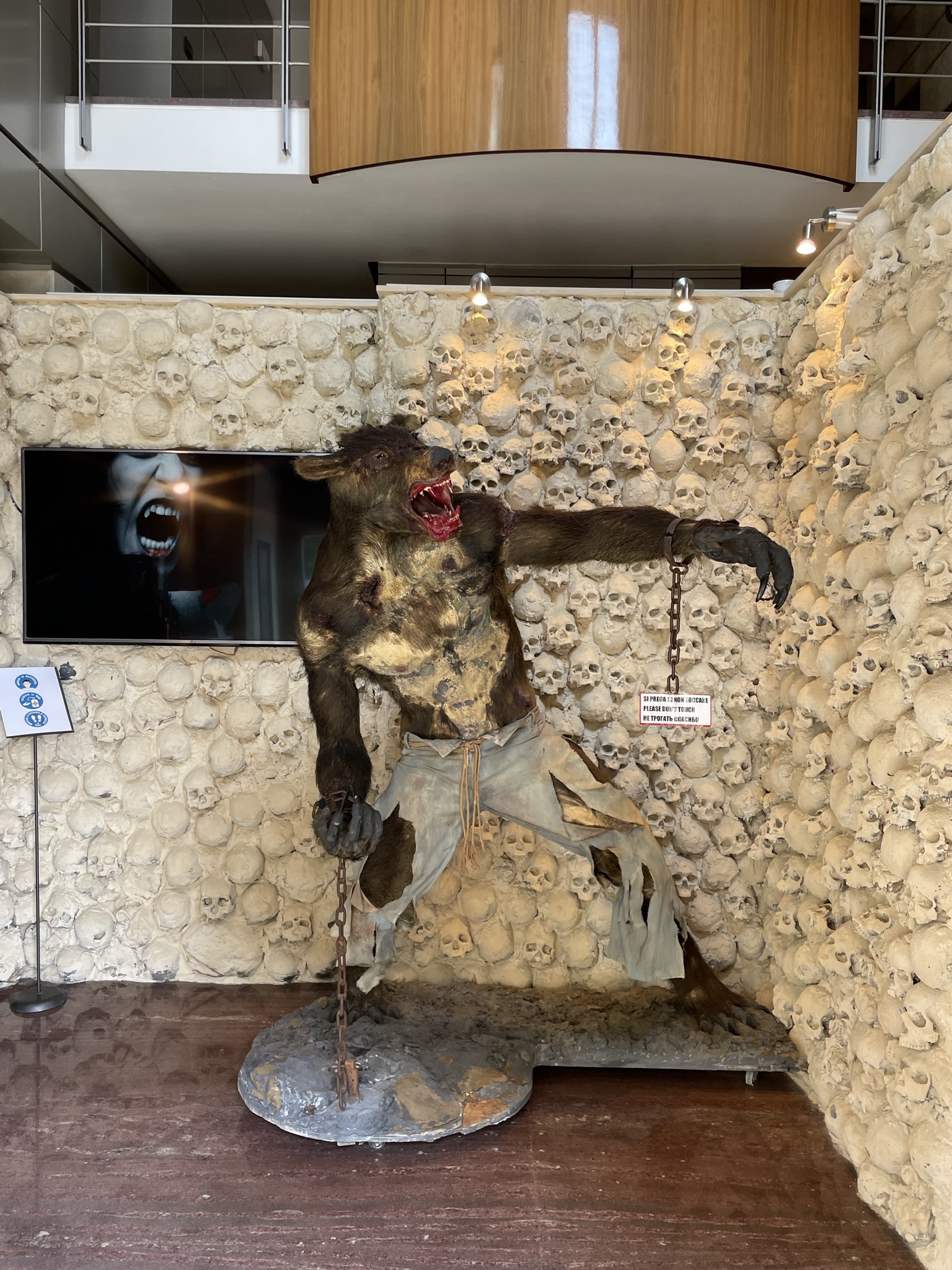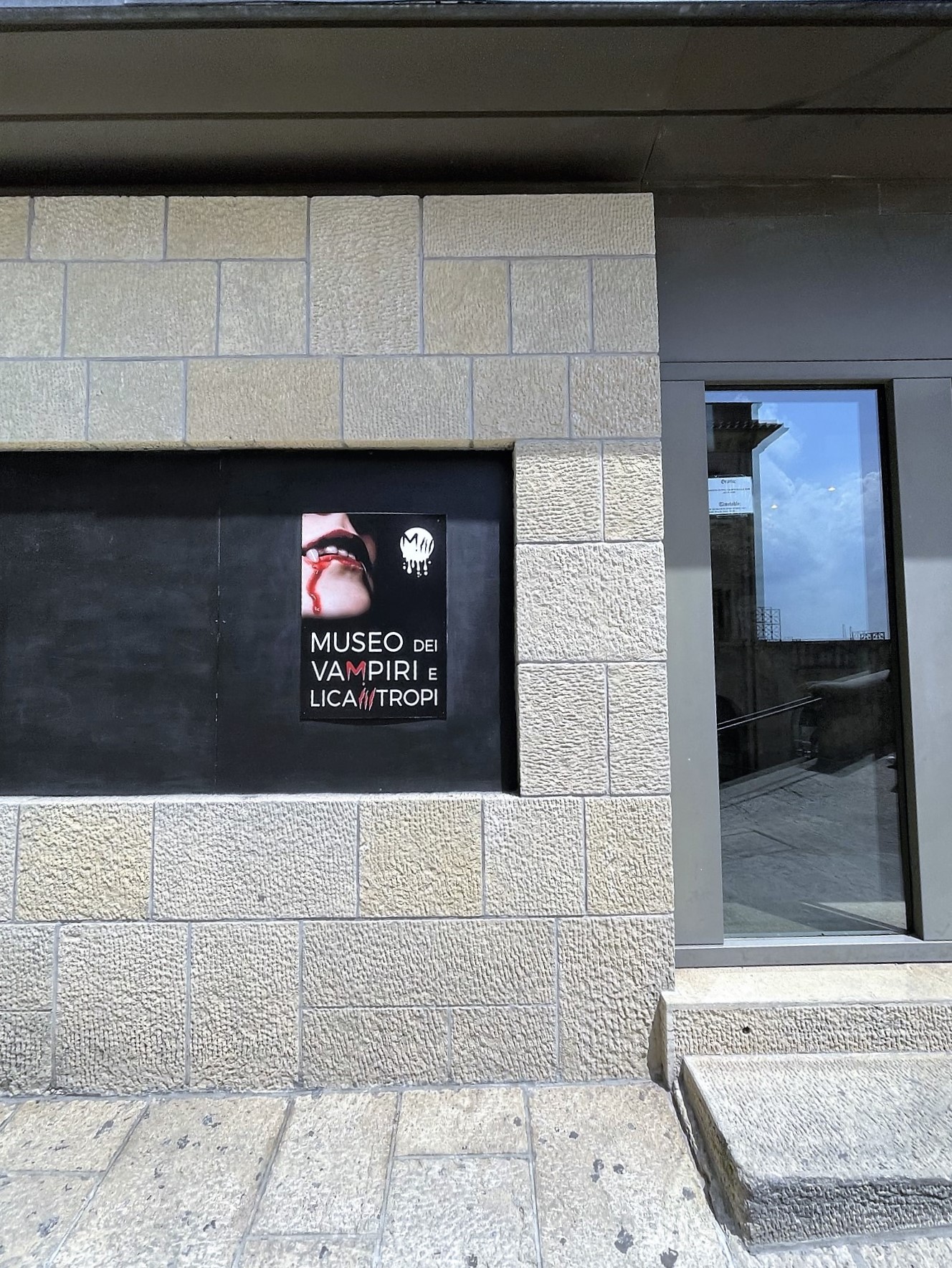 A pesar de esto, y contrastando enormemente con esta temática medio violenta y tenebrosa, ofrece una naturaleza hermosa, en donde puedes ver mariposas de colores volar felizmente de flor en flor, árboes y arbutos por doquier, y un sol alumbrando todo el paisaje.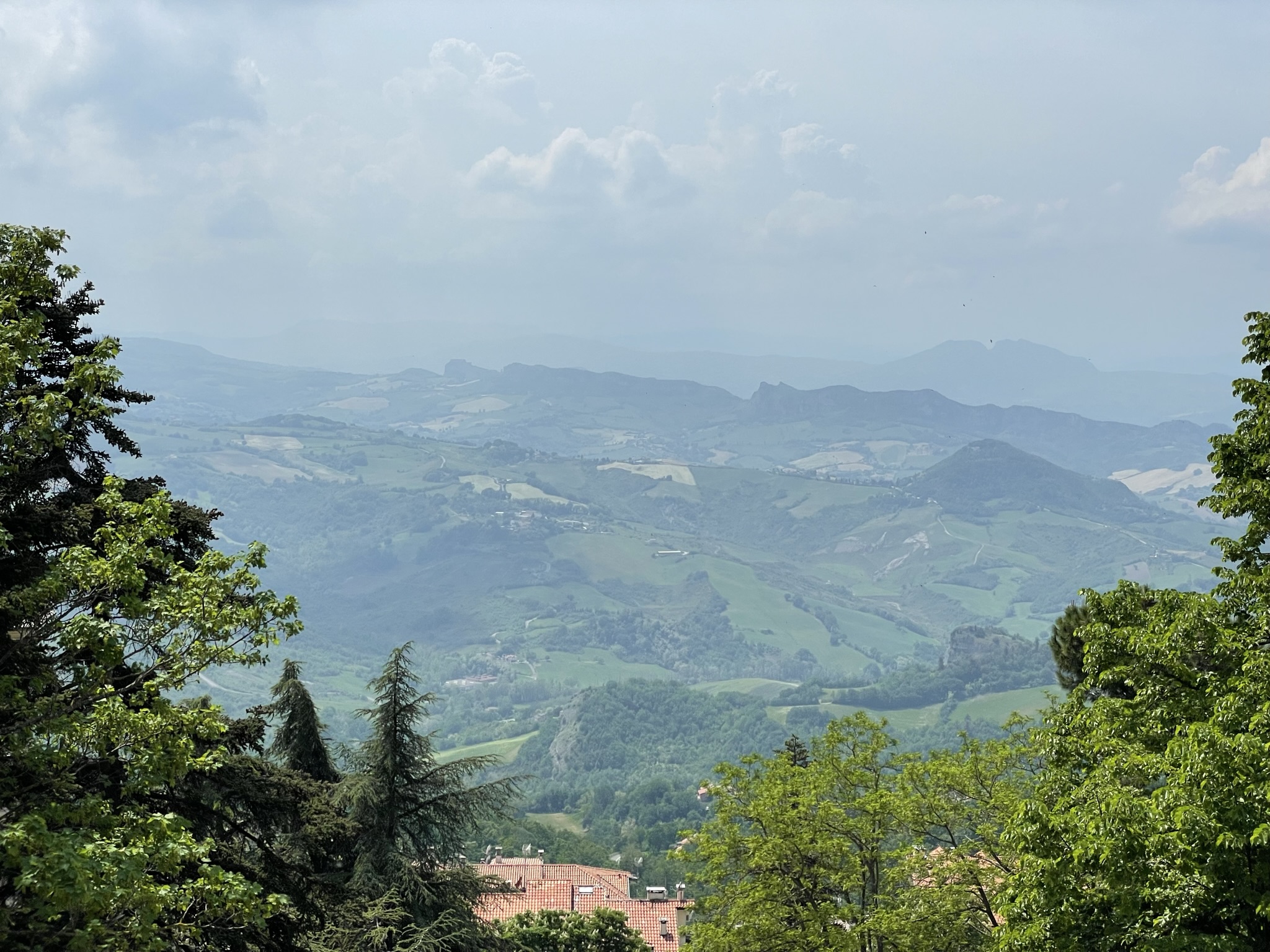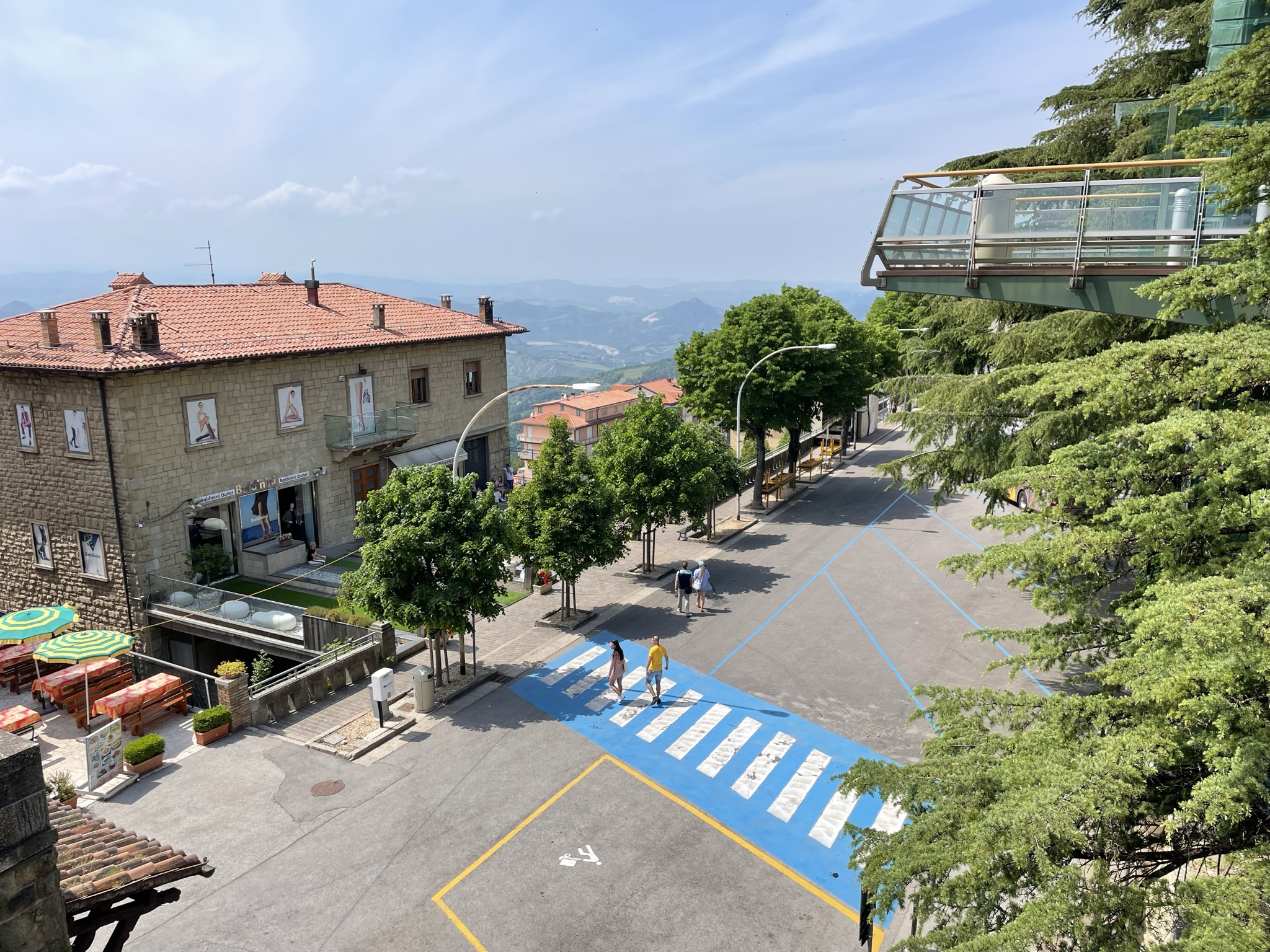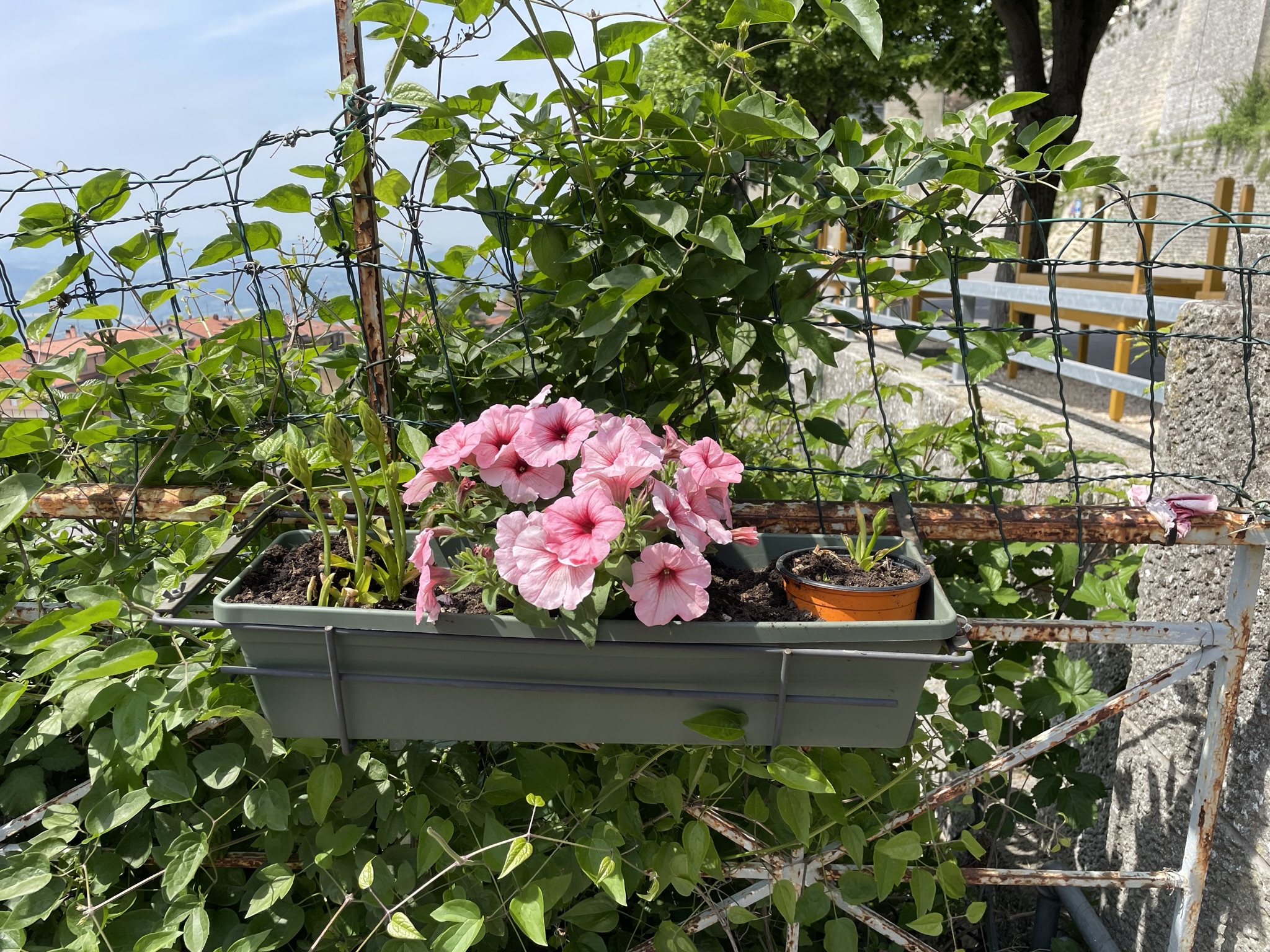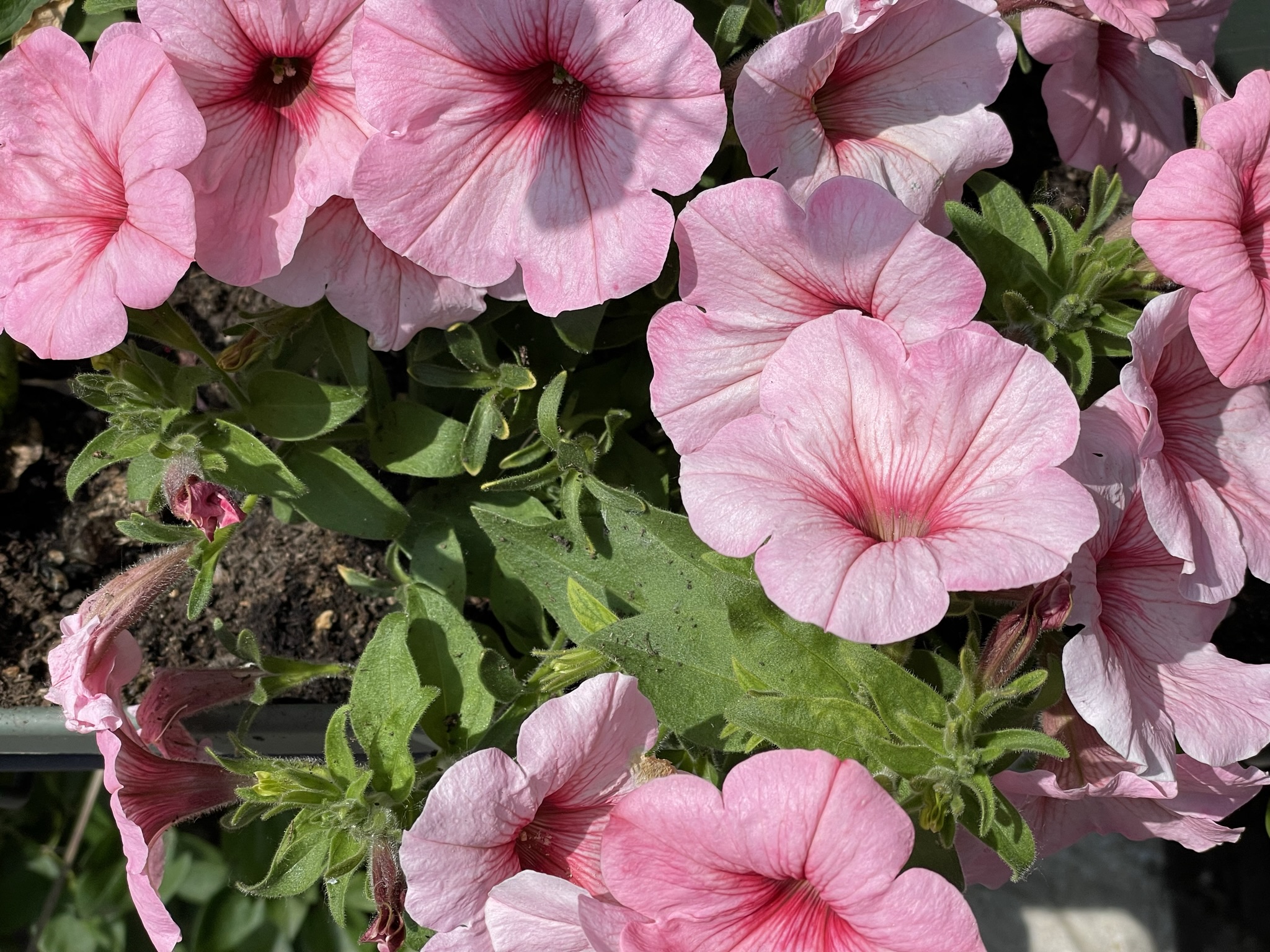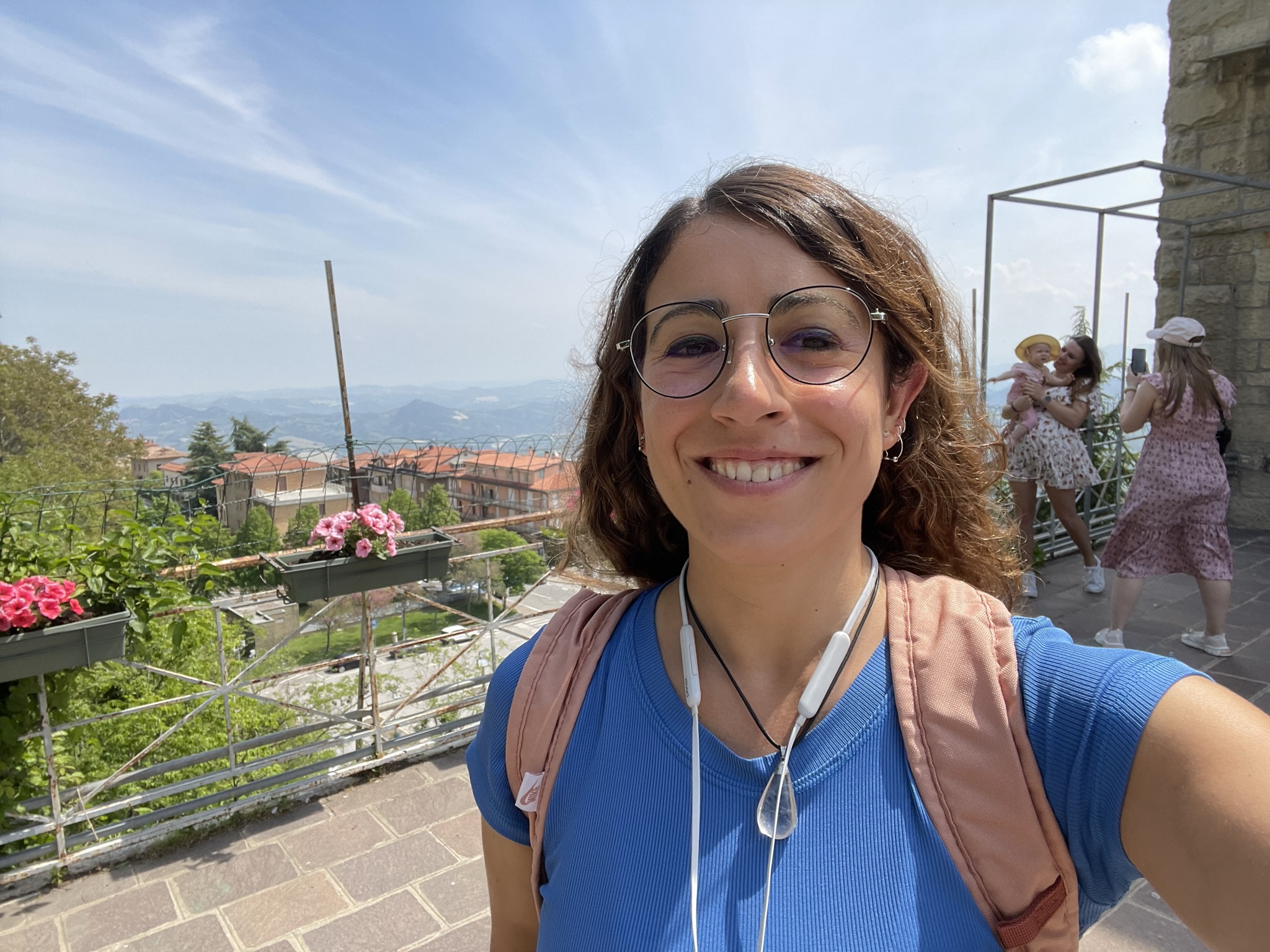 Lo único que no me gustó mucho fue que en los lugares en los que había poca gente, se formaban literalmente nubes de pequeños insectos que no tenían ningún tipo de respeto por la presencia humana y se te posaban encima, en la cara, en la boca, en las orejas. Para mi gusto, eso es muchísimo, ya que mientras más lejos pueda estar de cualquier tipo de insectos, mejor.
---
Amigos les dejo las fotos de las dos torres para una futura publicación. No es que no quiera subirlas ahora, es que este post se hará excesivamente largo y lleno de imágenes, más el video, y sé que perderá valor y material ya que nadie mirará 300 imágenes en un publicación única.
Pronto estaré compartiendo más sobre San Marino. ¡Recordemos que fue un viaje de un día a un país! Así que sí, ¡hay mucho que ver!
......

---
Bueno amigos! Espero que esta publicación les haya gustado!
---
Muchas gracias por estar aquí!!
Los saludo con cariño!
DETAILS / DETALLES
Translated with www.DeepL.com/Translator (free version)
Video edition app: InShot, pro version
Banner edition: Canva
Music: Tropic by Jeff Kaale (music from InShot app)
Device: iPhone 12 Pro
Pinmapple code: [//]:# (!pinmapple 43.941359 lat 12.452660 long Visit San Marino with me! d3scr)
---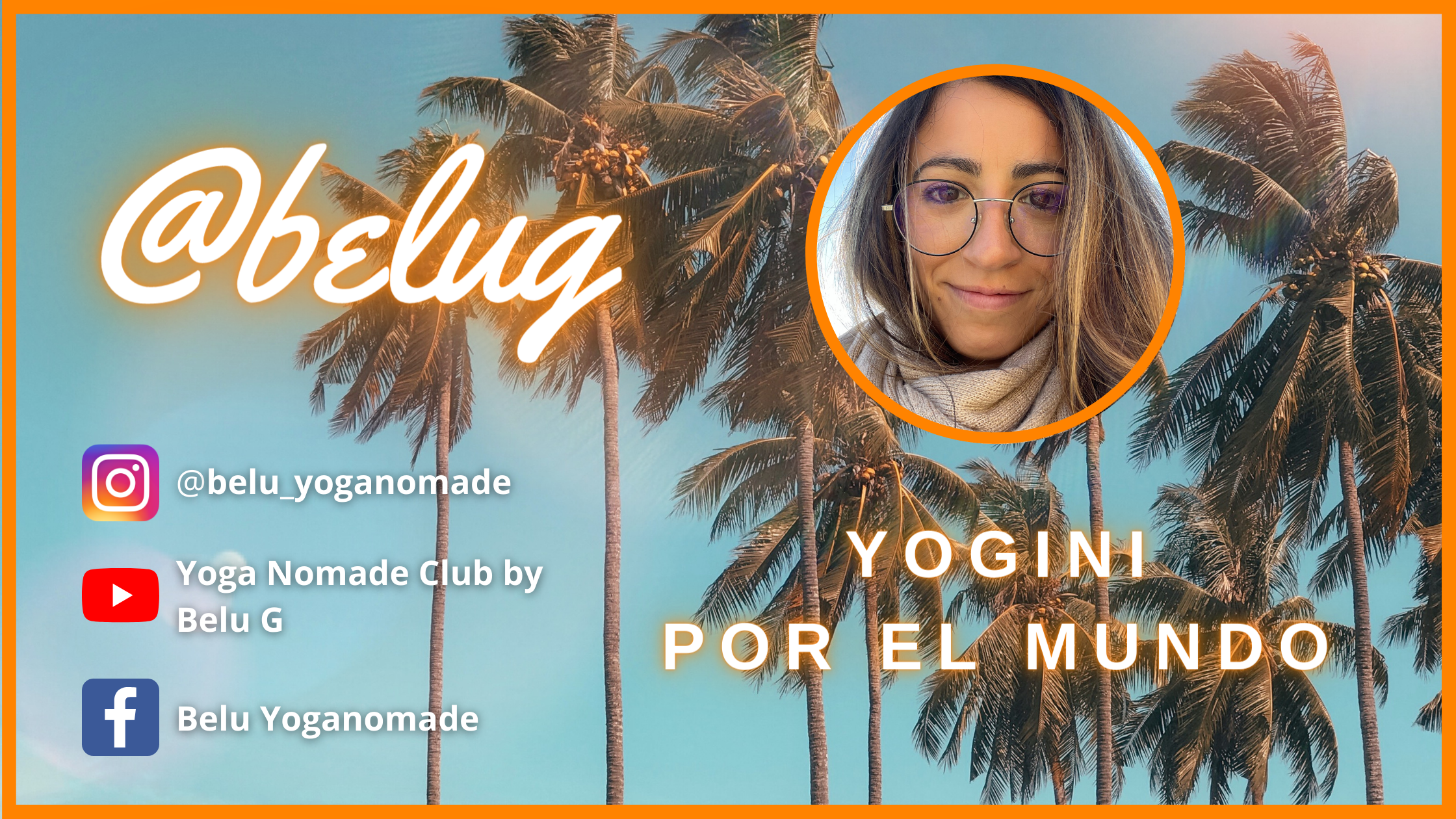 ---
▶️ 3Speak