Hello HIVEs
A highlight of our trip through South America was the accommodation in the Floresta ombrófila mista (rain-loving mixed grove). These could only be reached with an all-terrain vehicle. We often moved through this area at an average speed of less than 15 km/h. However, the view made up for every second of this ordeal. Apart from that, many accommodations were also extremely luxuriously furnished. Who needs a hot tub in their bedroom in the middle of the woods? Ok, the view from the bedroom was phenomenal. A shower in the bathroom was enough for us. There were also plenty of waterfalls and rivers where you could take a bath. Anyway, nature is very inspiring. Rodrigo and I implemented this inspiration in some light paintings.
Ein Highlight unserer Reise durch Südamerika waren die Unterkünfte im Floresta ombrófila mista (regenliebender gemischter Hain). Diese waren nur mit einem geländegängigen Fahrzeug zu erreichen. Oft bewegten wir uns mit weniger als 15 km/h Durchschnittsgeschwindigkeit durch dieses Gebiet. Der Ausblick entschädigte uns jedoch für jede Sekunde dieser Tortur. Abgesehen davon waren viele Unterkünfte auch äusserst luxuriös eingerichtet. Wer braucht mitten im Wald in seinem Schlafzimmer einen Whirlpool? Ok, der Ausblick aus dem Schlafzimmer war phänomenal. Eine Dusche im Bad hat uns aber auch gereicht. Ausserdem gab es jede Menge Wasserfälle und Flüsse in denen man ein Bad nehmen konnte. Jedenfalls ist die Natur sehr inspirierend. Diese Inspiration setzten Rodrigo und ich in einigen Light-Paintings um.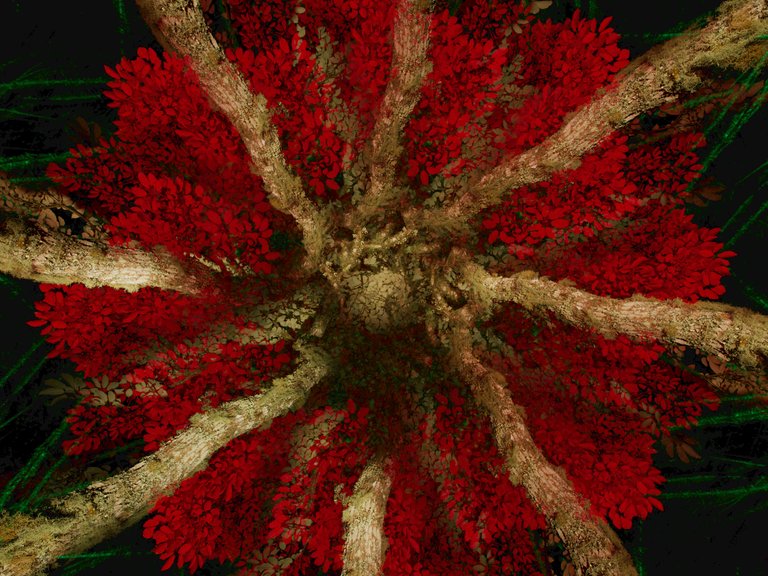 ---
Light smog was also generated in this deserted place. Colorful LED lamps hung in some trees and the paths were illuminated by LED strips. One wonders what that is supposed to mean. We made the best of it and used the existing light for our pictures. In the cover image, the camera was positioned so that it photographed a treetop from below. I had previously mounted a CRT (camera rotation tool) on the tripod. I illuminated the foliage with an EMISAR D18 with a red filter and the trunk of the tree with an EMISAR DM11. Then I rotated the camera 45° around the optical axis and exposed the tree again. I repeated the process 8 times. This is how a tree became a flower.
Auch an diesem verlassenen Ort wurde Lichtsmog erzeugt. In einigen Bäumen hingen bunte LED-Lampen und die Wege wurden durch LED-Stripes beleuchtet. Da fragt man sich schon, was das soll. Wir machten das beste daraus und nutzten das vorhandene Licht für unsere Bilder. Im Titelbild wurde die Kamera so positioniert, dass diese eine Baumkrone von unten ablichtete. Auf dem Stativ hatte ich vorher ein CRT (Camera-Rotation-Tool) montiert. Mit einer EMISAR D18 mit roten Filter beleuchtete ich das Laub und mit einer EMISAR DM11 den Stamm der Baumes. Danach Drehte ich die Kamera um 45° um die optische Achse und belichte den Baum erneut. Den Vorgang wiederholte ich 8mal. So wurde aus einem Baum eine Blume.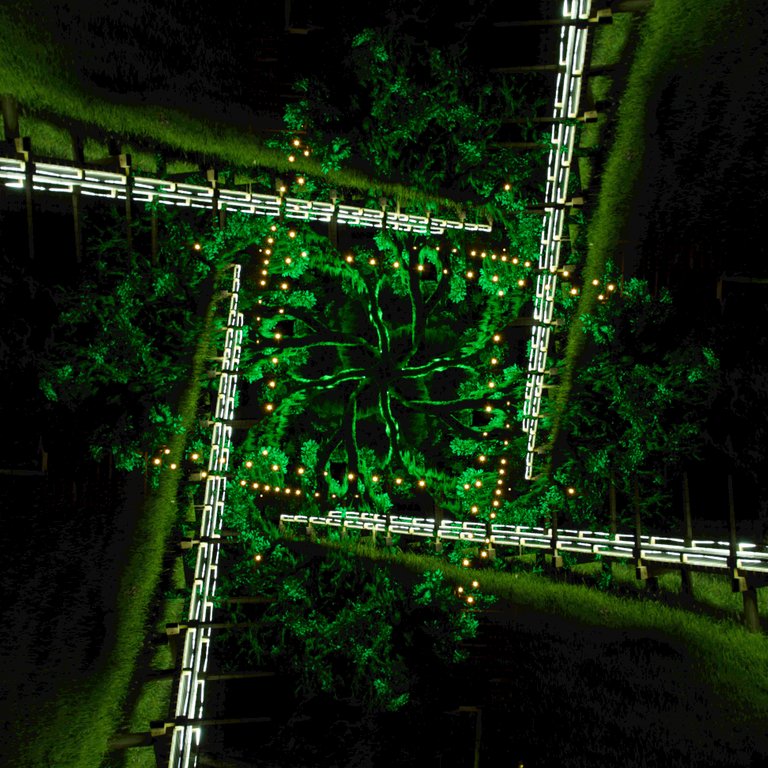 ---
In the second picture only the existing lights were used. The light streaks in the image is the lighted footbridge and the green one is a lighted tree. The camera was rotated around the optical axis in 90° steps.
In dem zweiten Bild wurden ausschließlich die vorhandenen Lichter genutzt. Die hellen Streifen im Bild ist der beleuchtete Steg und das grüne ein beleuchteter Baum. Die Kamera wurde in 90°-Schritten um die optische Achse gedreht.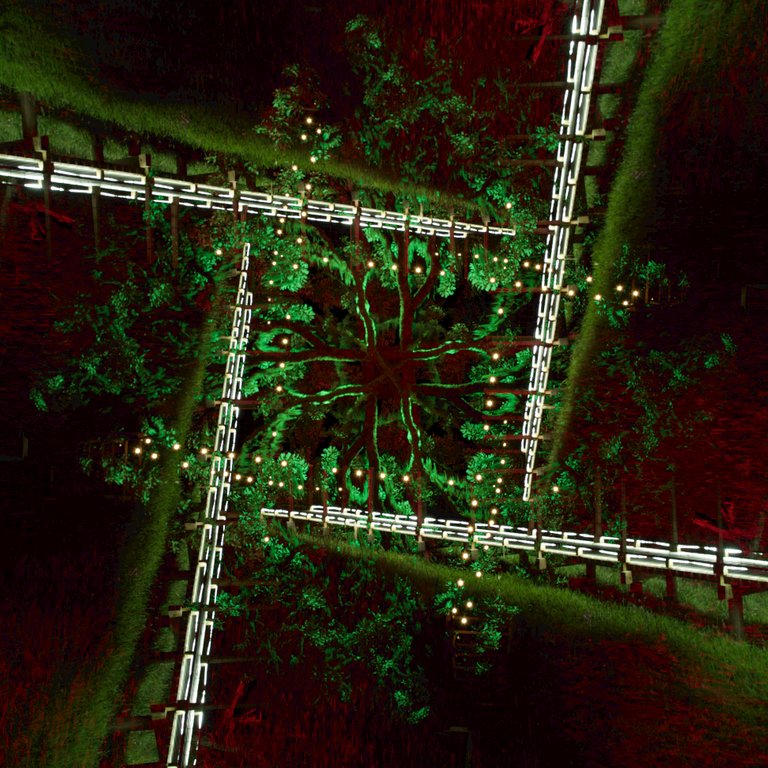 ---
The third image was created exactly like the second. An EMISAR D18 with a red color filter was also used.
Das dritte Bild wurde exakt wie das zweite erstellt. Zusätzlich kam noch eine EMISAR D18 mit rotem Farbfilter zum Einsatz.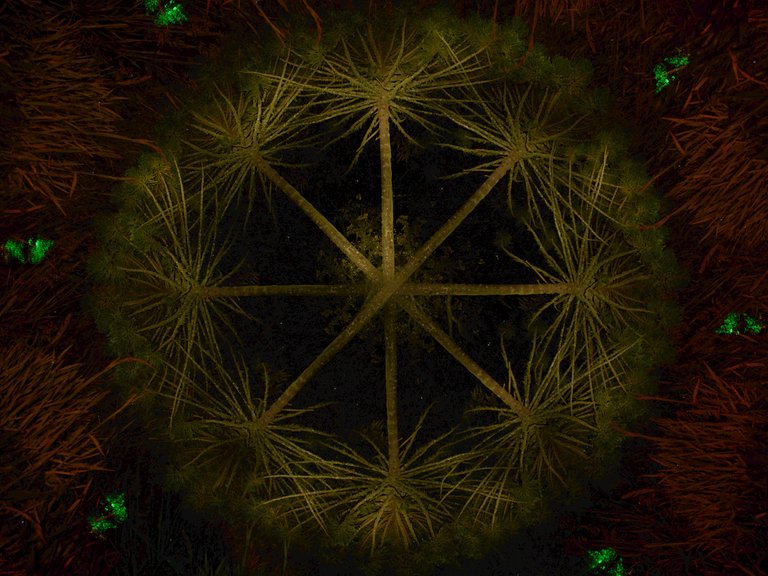 ---
In this image, I illuminated a solitary Brazilian araucaria (Brazil pine) with an EMISAR DM11 and rotated the camera around the optical axis in 45° increments. The foreground was illuminated with an EMISAR D18 with a red color filter. I was a little surprised by the result myself. It looks like a dandelion clock.
Auf diesem Bild habe ich eine einzeln stehende Brasilianische Araukarie (Brasilkiefer) mit einer EMISAR DM11 beleuchtet und die Kamera in 45°-Schritten um die optische Achse rotieren lassen. Der Vordergrund wurde mit einer EMISAR D18 mit rotem Farbfilter beleuchtet. Ich war selbst etwas vom Ergebnis überrascht. Es sieht wie eine Pusteblume aus.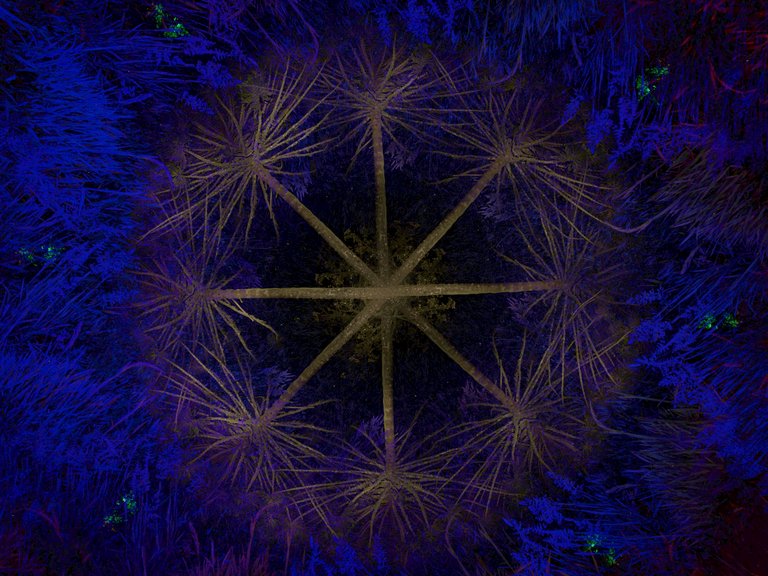 ---
I repeated the same thing again. Only with a blue filter in front of the EMISAR D18.
Das gleiche wiederholte ich noch einmal. Nur mit einem blauen Filter vor der EMISAR D18.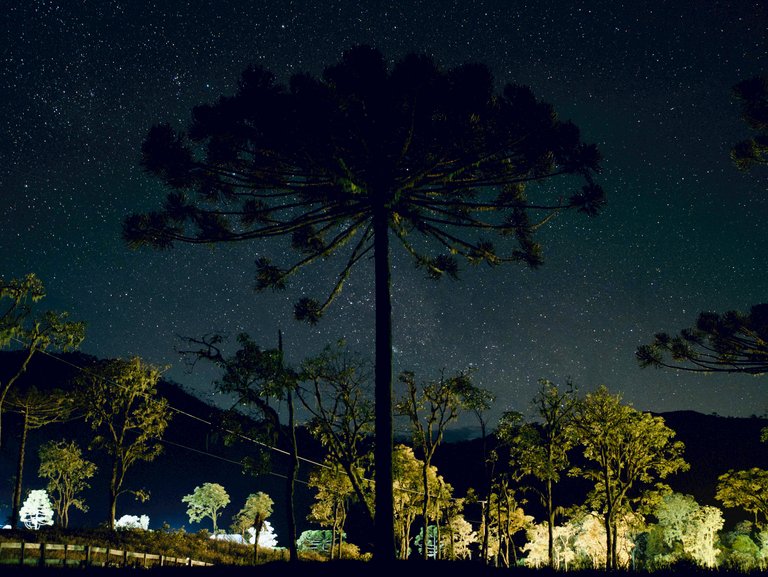 ---
I had chosen the Brazilian pine as my favorite tree in this forest. That's why this light painting was a must have for me. Here you can see the tree again without light painting. The light smog in the background is generated by the illuminated jetty.
Die Brasilkiefer hatte ich in diesem Wald zu meinem Lieblingsbaum erkoren. Deshalb war dieses Lightpainting ein must have für mich. Hier seht ihr den Baum nochmal ohne Lightpainting. Der Lichtsmog im Hintergrund wird durch den beleuchteten Steg erzeugt.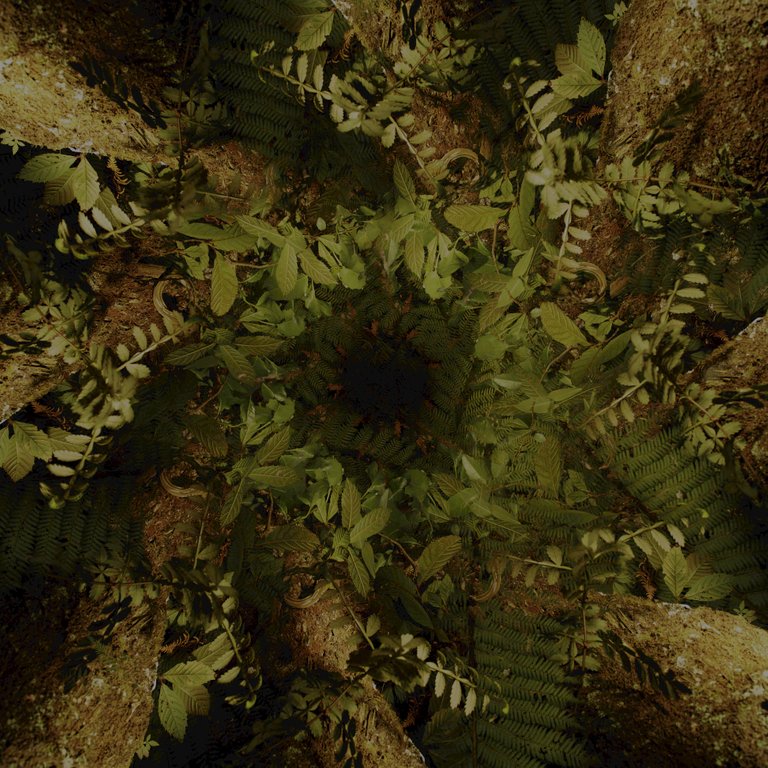 ---
In this picture I left out the colors. The scene was lit with the EMISAR DM11. I rotated the camera in 45° increments. A beautiful rosette has emerged. That's why we called the picture THE VEAGAN ASS. 🤣
In diesem Bild habe ich die Farben weggelassen. Die Szene wurde mit der EMISAR DM11 beleuchtet. Die Kamera habe ich in 45°-Schritten rotieren lassen. Es ist eine schöne Rosette entstanden. Wir haben das Bild deshalb THE VEAGAN ASS genannt. 🤣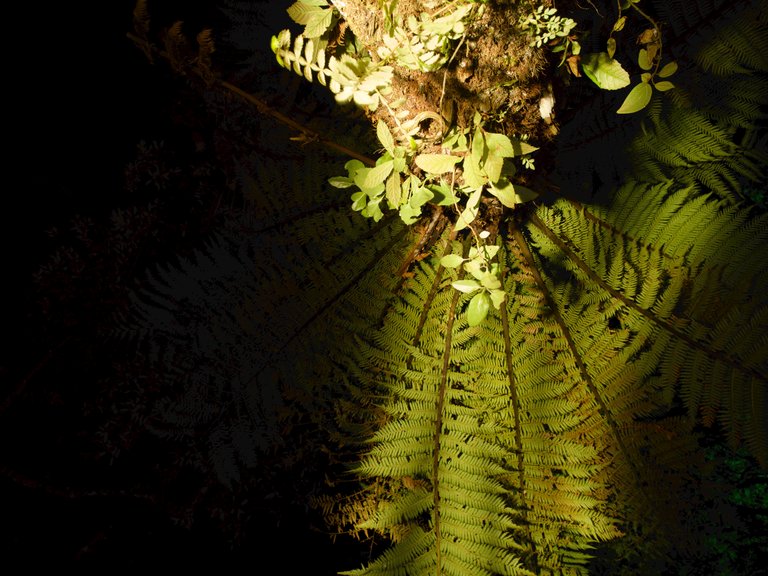 ---
You can see the initial situation above. The camera was positioned so that I shot the tree from below towards the sky.
Oben seht ihr die Ausgangssituation. Die Kamera war so positioniert, dass ich den Baum von unten in Richtung Himmel aufnahm.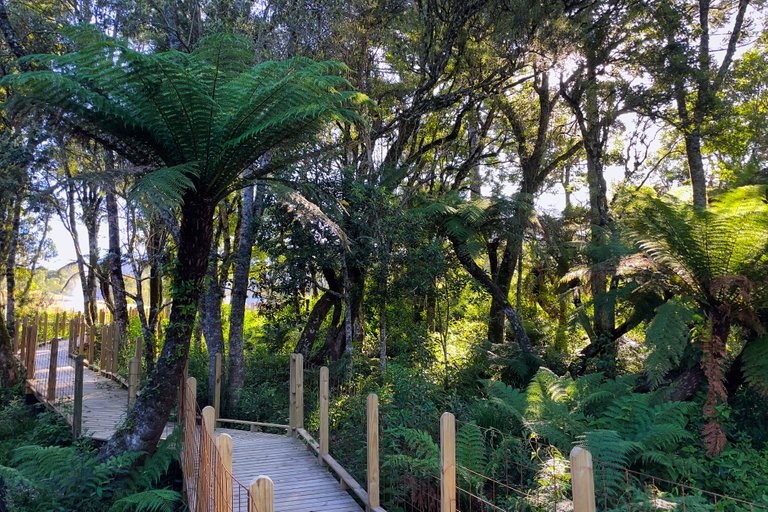 ---
One can hardly determine how many plants and animals live in and on a tree. We spent the whole day observing without going 10m from the house. At night the forest appears impenetrable. In the darkness you can hear the chirping of crickets, the metallic croaking of frogs and the occasional call of larger mammals. At night near our house at a pond we found a deafening background noise. When we arrived at this place, I had also asked myself why illuminated boardwalks were laid out instead of normal paths. At night I realized that in this place the risk of stepping on a reptile and possibly being bitten is quite high. So I didn't leave these paths in the dark.
Man kann kaum bestimmen, wieviele Pflanzen und Tiere in und an einem Baum leben. Den ganzen Tag verbrachten wir mit Beobachtungen, ohne sich 10m vom Haus zu entfernen. Bei Nacht wirkt der Wald undurchdringlich. In der Dunkelheit hört man das Zirpen der Grillen, das metallene Quaken der Frösche und hin und wieder den ruf von größeren Säugetieren. In der Nähe unseres Hauses an einem Teich fanden wir nachts eine ohrenbetäubende Geräuschkulisse vor. Ich hatte mich bei unserem Eintreffen an diesem Ort auch gefragt, warum statt normalen Wegen beleuchtete Holzstege angelegt wurden. Nachts wurde mir klar, dass an diesem Ort das Risiko auf ein Kriechtier zu treten und eventuell dabei gebissen zu werden, ziemlich hoch ist. Also verliess ich diese Wege in der Dunkelheit nicht.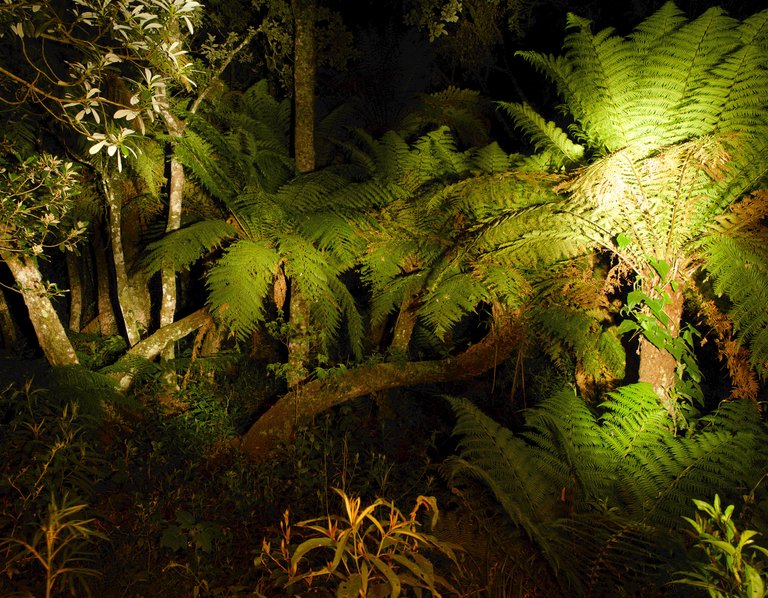 ---
We shot one last picture for this night at this location. With surprising results, as seen below.
Ein letztes Bild für diese Nacht schossen wir an dieser Location. Mit überraschenden Ergebnissen, wie man unten sieht.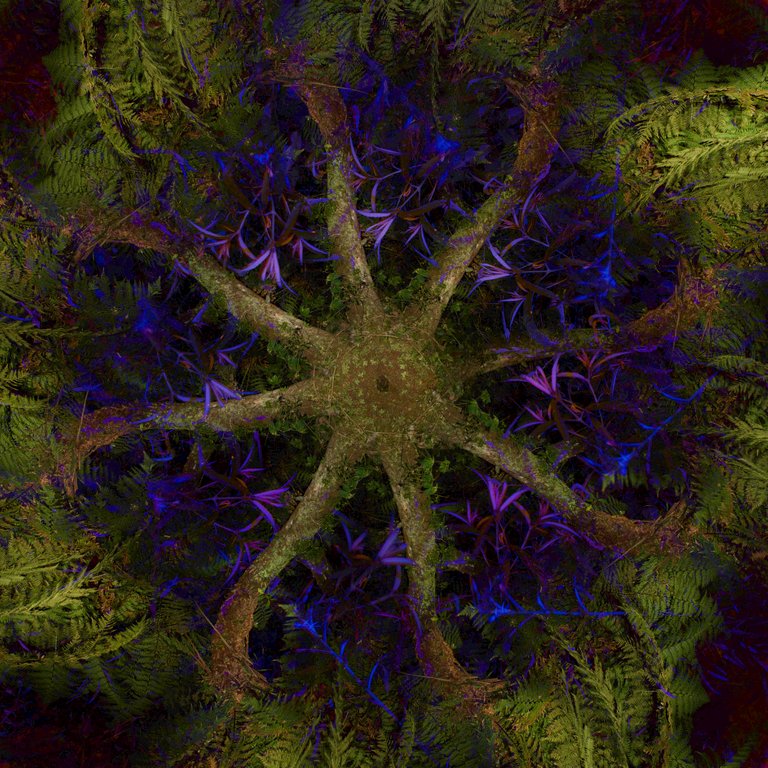 ---
Here I again used the EMISAR D18 with blue filter for the foreground and the EMISAR DM11 for the trees. The camera was also rotated here in 45° steps.
Hier setzte ich wieder die EMISAR D18 mit blauen Filter für den Vordergrund und die EMISAR DM11 für die Bäume ein. Die Kamera wurde auch hier in 45°-Schritten rotiert.
---
The Location
The city of Urubici is located in the Brazilian state of Santa Catarina and was founded in 1915 as the village of São Joaquim. The people here live mainly from agriculture and ecotourism. Urubici is part of the São Joaquim National Park, which is very rich in flora and fauna. The lowest temperatures in Brazil were measured here and there can also be snow. Our accommodation was about 30km outside of town in the mountains.
I hope you enjoyed the post. Next Sunday there will be a continuation of this trip through Brazil. Stay tuned!
Die Stadt Urubici liegt im Brasilianischen Bundesstaat Santa Catarina und wurde 1915 als Dorf São Joaquim gegründet. Hauptsächlich leben die Menschen hier von Landwirtschaft und Ökotourismus. Urubici ist Teil des Nationalparks São Joaquim, der sehr reich an Flora und Fauna ist. Hier wurden die niedrigsten Temperaturen Brasiliens gemessen und es kann auch mal Schnee geben. Unsere Unterkunft lag ca. 30km ausserhalb der Stadt in den Bergen.
Ich hoffe euch hat der Beitrag gefallen. Nächsten Sonntag gibt es eine Fortsetzung von diesem Trip durch Brasilien. Bleibt dran!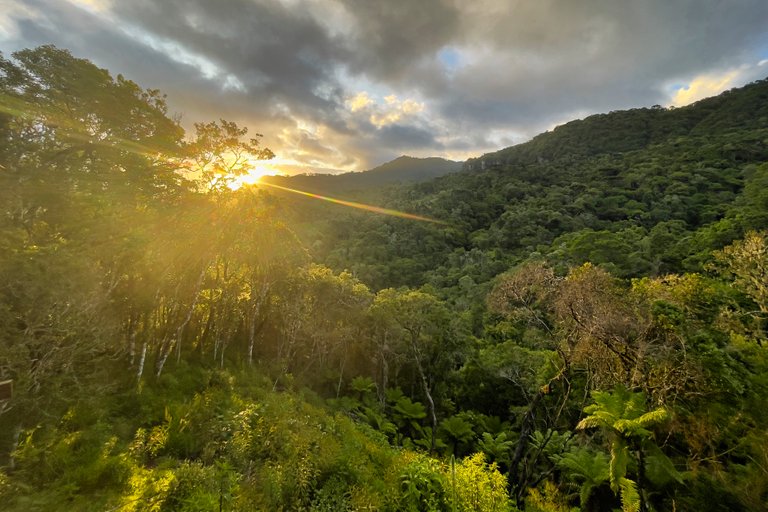 ---
WHAT IS LIGHT PAINTING?
Light painting is a unique form of art. The darkness is illuminate by the artist with diverse light sources and light traces are paint into the picture with various light tools. Various techniques are use, such as camera rotation or other movements of the camera during the exposure. The creative possibilities are almost unlimited. All the pictures were taken during one single exposure. Apart from denoising, sharpening, cutting and possibly adjusting the white balance, the pictures are not processed on the computer.
---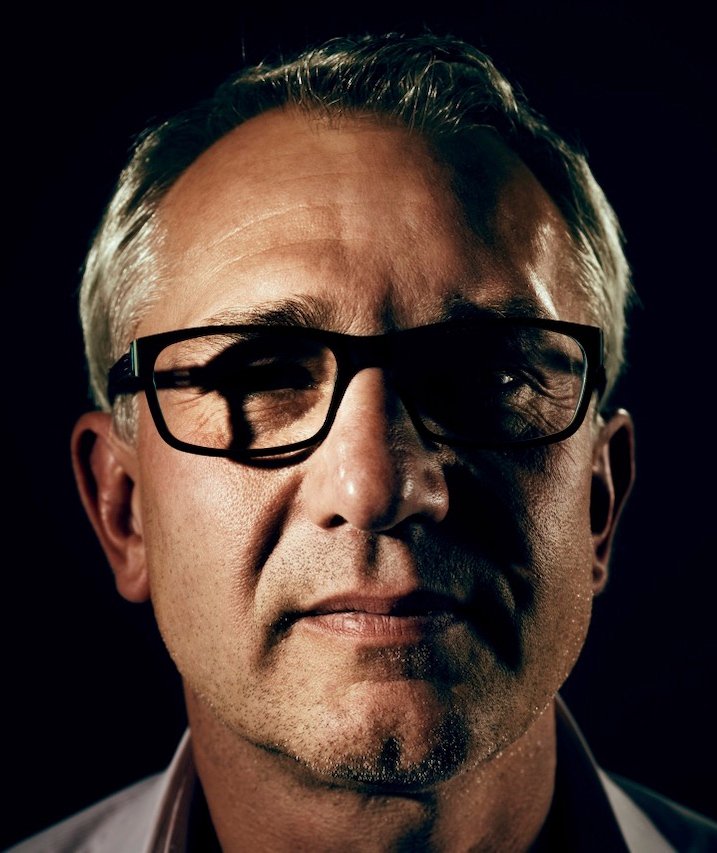 CandelART
more about me and my art:
www.candelart.de
---

WE ARE LIGHT PAINTERS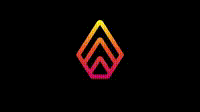 To help and support the LightPainters community here on Hive I would appreciate your delegation of HivePower. Any amount is appreciated. It does not require much to get started, we are happy for any gesture. @lightpainters
How to delegate?
Delegate 50HivePower, [50HP]
Delegate 250HivePower, [250HP]
Delegate 500HivePower, [500HP]
Delegate 1000HivePower, [1000HP]
All the Hive Power will help to upvote the artist's contribution as part of the LightPainters community.