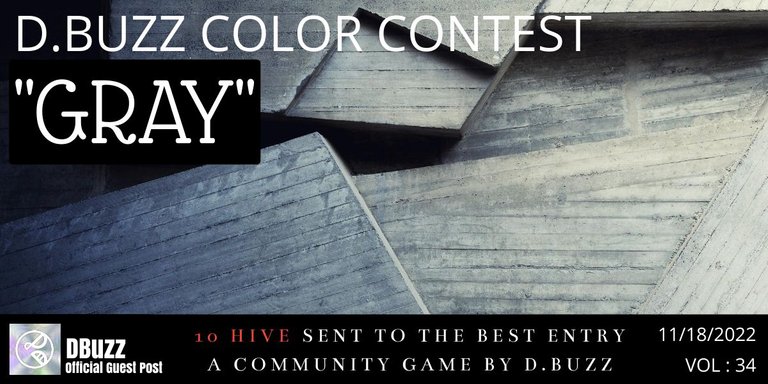 Hi friends of D.Buzz 😃.
Happy Color Contest Friday, everyone! After a few days of traveling and walking, here is your friend @lauramica again 😀. Thank you very much @jacuzzi for taking care of the color finders, you sure had fun as I did reading all the great entries. And thanks to all of you for choosing this contest week after week. Everyone is invited to participate! ❤️
---
As a reminder to all D.Buzz friends, the objective of this challenge will be to upload a photo of something that is the proposed color each week. This something can be whatever you want: an object, an animal, a landscape, whatever comes to mind. The main condition will be that the color occupies more than 75% of the image, that is, that it prevails over all the others that may appear in the photo. Let's see what colorful things you can find 😃!
---
In this week of the Photo Contest about colors, it was the turn of the color WHITE, and several white things have appeared: clouds, flowers, water foam, and decorations 😃. In my opinion, white will always be associated with peace and purity, so it's great to find it in the things of our daily lives.
---
In the week of the white color, our prize goes to our friend @arlaarifin! This user shared with us a photo of a snowman that its friend gave as a birthday gift from Japan 😃. But this isn't the typical snowman we used to see, it's a Japanese version of a snow kitty! Very adorable indeed and today it takes our weekly prize ❤️. Thanks for sharing!
Photo Credit: @arlaarifin
Congratulations @arlaarifin for being the winner of the color WHITE week ❤️!
If you want to visit this post, you can do it here 😃.
https://d.buzz/#/@arlaarifin/c/oguop8wc57clwr9drngscv

---
Now it's time to continue with a new round of our contest, and it will be the turn of the color GRAY. The color gray, historically used as a fairness between black and white, can also mean good things like trust, security, and knowledge. What comes to mind when you think of the color GRAY? Let's see what new things appear with this week's color 😃.
---
D.BUZZ COLOR CONTEST: GRAY

---
Conditions of the challenge
In a post on D.Buzz (https://d.buzz/), share with us an image showing us whatever you want to be GRAY. This color should occupy 75% of the image and stand out from the other colors. Put together your publication in the most attractive way possible!

Tag that post with #dbuzzcolorchallenge.

Post a D.Buzz link in a comment below.

Interact with at least two users who are also participating in this challenge.

You have 6 days to upload and share your entry.
Award
The prize is 10 HIVES for the best entry.
---
Contest friendly reminder: make sure you complete all conditions for your post to be eligible for this prize, all requirements will be verified when choosing the winner. The post must be published through the D.Buzz interface. Do not forget to leave the link of your participation in this post and if you participate very early in the game, come back a couple of days later to find more people who have also joined! 😃
---

The main objective of this challenge is that you have fun sharing the images you like and make new friends. Let's see what GRAY things we find this week 🙂.


Thank you for being part of the Colors Photo Contest of @dbuzz ❤️!




I wish you all a good weekend 😃!

With love.
Lau.

---
---
It is a censorship-resistant short-form micro-blogging platform that empowers you to share your thoughts in 280 characters or fewer.
Censorship resistant and built for the community with love.
---
We strive to have fun and neutral stances on topics. If you have any concerns with the content, please contact @jacuzzi, who writes and generates the content for our articles, or the @dbuzz team for clarification.
---
D.Buzz Online At:
Join us on Discord at : https://discord.gg/BKg5Ptg9ss