CRAZY ANIMALS
Last night I was out on the abandoned railway site again with @stepko. We observed some strange animals doing some crazy things. First, the sloth turned on the big water tap that stands in the middle of the wilderness. Some kind of poisonous green matter came out of the pipe. I'm not sure if this stuff is really healthy. To be on the safe side, we kept some distance. I hope the trees don't all topple over now.
In der letzten Nacht war ich wieder mit @stepko auf dem verlassenen Eisenbahngelände unterwegs. Dabei beobachteten wir einige merkwürdige Tiere, die irgendwelche verrückten Sachen machten. Zuerst drehte das Faultier den großen Wasserhahn, der mitten in der Wildnis steht, auf. Es kam irgendwelche giftgrüne Materie aus dem Rohr. Ich bin mir nicht sicher, ob das Zeug wirklich gesund ist. Vorsichtshalber haben wir etwas Abstand gehalten. Ich hoffe, die Bäume kippen jetzt nicht alle um.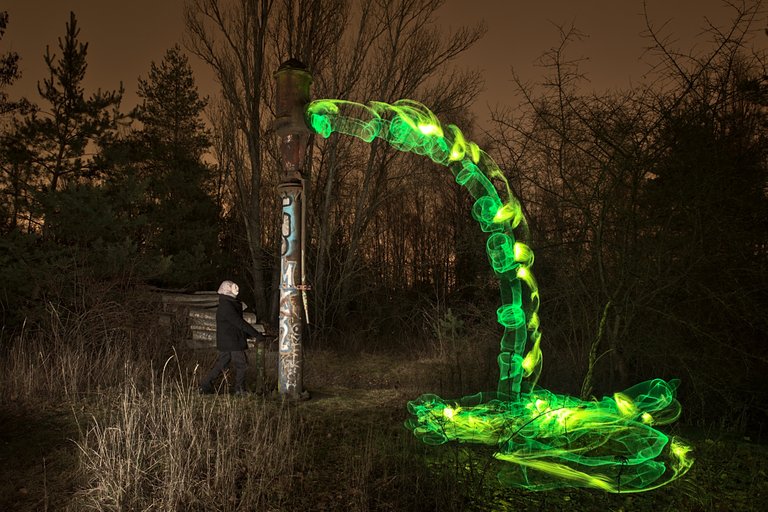 📷 Nikon D750 - Nikkor 17-35/2,8 - f8 - ISO 50 - 173 seconds - Model: @stepko
First I mounted glass fibres with two different green Convoy S2+ on a three metre long planting pole, so better said I had two poles connected. I fumbled the glass fibres into the tube from below with the rod. @stepko started the exposure and I moved the light out of the tube in an arc down to the ground and then painted traces on the forest floor with it. In the second step, @stepko stood at the large water tap. I lit him and the surroundings with the Noctigon DM11 and the Emisar D4K.
Zuerst montierte ich Glasfasern mit zwei verschiedenen grünen Convoy S2+ an einem drei Meter langen Pflanzstab, also besser gesagt, ich hatte zwei Stäbe miteinander verbunden. Ich fummelte von unten mit dem Stab die Glasfasern in das Rohr. @stepko startete die Belichtung und ich bewegte das Licht aus dem Rohr heraus im Bogen bis zum Boden und malte dann damit noch Spuren auf den Waldboden. Im zweiten Schritt stellte @stepko sich an den großen Wasserhahn. Ich beleuchtete ihn und die Umgebung mit der Noctigon DM11 und der Emisar D4K.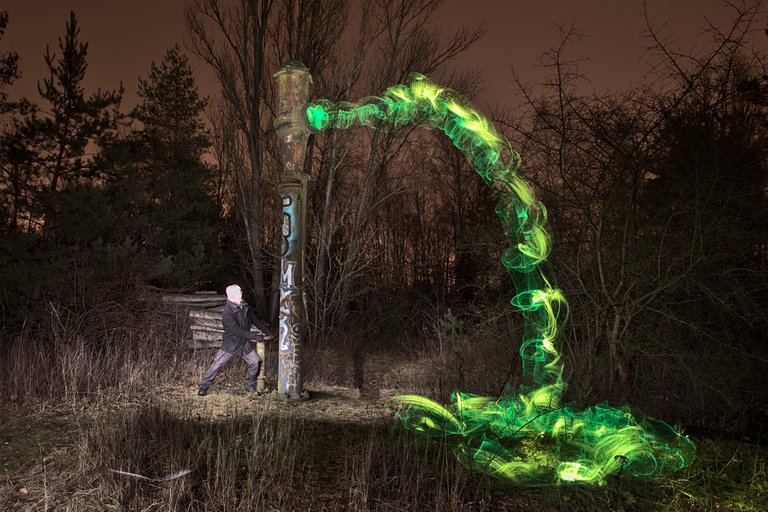 📷 Nikon D750 - Nikkor 17-35/2,8 - f8 - ISO 50 - 190 seconds - Model: @stepko
The light traces are not quite as I had imagined. I did not succeed in moving the glass fibres in a more controlled way on this long rod. On the third attempt, the two convoys with the glass fibres fell off the rod during the movement. At temperatures around freezing point, the beautiful gaffa tape no longer sticks very well. So we left it at that. And then the rabbit came around the corner...
Die Lichtspuren sind nicht ganz so, wie ich mir das vorgestellt habe. Die Glasfasern kontrollierter an diesem langen Stab zu bewegen, ist mir nicht geglückt. Beim dritten Versuch fielen dann bei der Bewegung die beiden Convoy mit den Glasfasern vom Stab ab. Bei Temperaturen um den Gefrierpunkt klebt das schöne Gaffa Tape nicht mehr wirklich gut. Wir haben es dann dabei belassen. Und schon kam der Hase um die Ecke...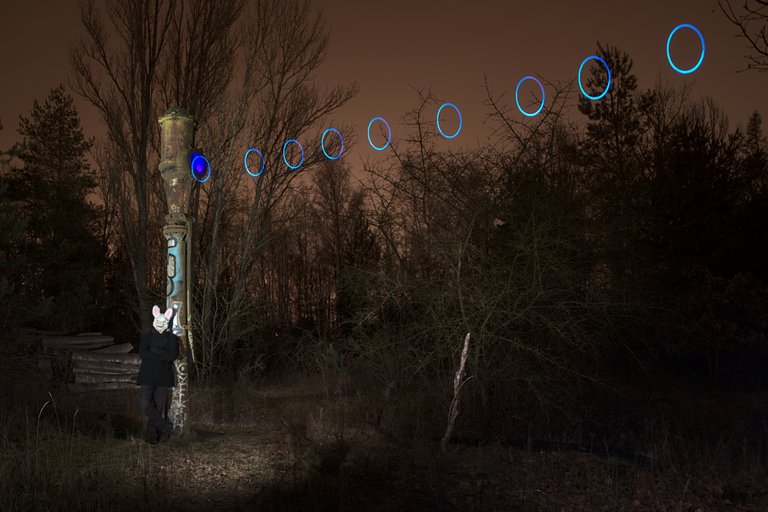 📷 Nikon D750 - Nikkor 17-35/2,8 - f8 - ISO 50 - 362 seconds - Model: @stepko
He leaned against the pipe and suddenly these strange blue rings of light came out of the pipe. At the same time, a funny melody sounded, like from a computer game from 1986. I still don't know what that means. The rabbit also had a very bloody snout. The whole thing was kind of creepy.
Er lehnte sich an das Rohr und plötzlich kamen diese merkwürdigen blauen Lichtringe aus dem Rohr. Gleichzeitig ertönte eine lustige Melodie, wie aus einem Computerspiel von 1986. Ich weiß immer noch nicht, was das zu bedeuten hat. Der Hase hatte auch ein ganz blutige Schnauze. Irgendwie gruselig das Ganze.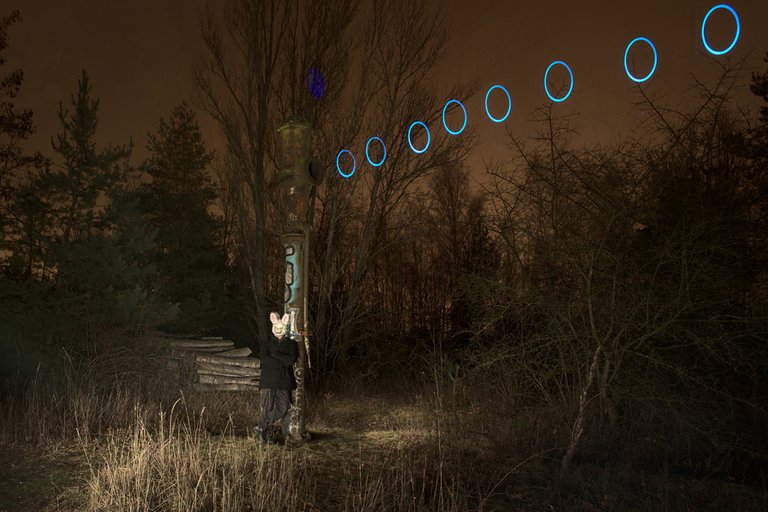 📷 Nikon D750 - Nikkor 17-35/2,8 - f8 - ISO 50 - 328 seconds - Model: @stepko
The first attempt was not very convincing, especially because the scatterbrained light painter forgot to turn the zoom back to the right place. The blue light that was supposed to be in the tube was then above it. To paint the rings into the picture, I swivelled the camera and moved the zoom ring. The exact alignment with the opening at the top of the tube was not so easy, to say the least. It doesn't fit quite so exactly in the final picture either. But I didn't feel like repeating all this fiddling. All in all, we had three tripods set up. The first one for the camera to take the scene, the second one with the circle and the third one for the camera to take the circle. As always, everything was shot in a single exposure.
Der erste Versuch war noch nicht sehr überzeugend, vor Allem, weil der schusselige Light Painter vergessen hat den Zoom wieder an die richtige Stelle zu drehen. Das blaue Licht, welches im Rohr sein sollte, war dann darüber. Um die Ringe ins Bild zu malen habe ich die Kamera geschwenkt und dabei den Zoomring bewegt. Die genaue Ausrichtung auf die Öffnung oben am Rohr war nicht ganz so einfach, um es mal vorsichtig auszudrücken. So ganz genau passt das auch beim finalen Bild nicht. Ich hatte aber keine Lust, dieses ganze Gefummel zu wiederholen. Insgesamt hatten wir drei Stative aufgestellt. Das erste für die Kamera um die Szene aufzunehmen, das zweite mit dem Kreis und das dritte für die Kamera um den Kreis zu fotografieren. Wie immer wurde alles in einer einzelnen Belichtung aufgenommen.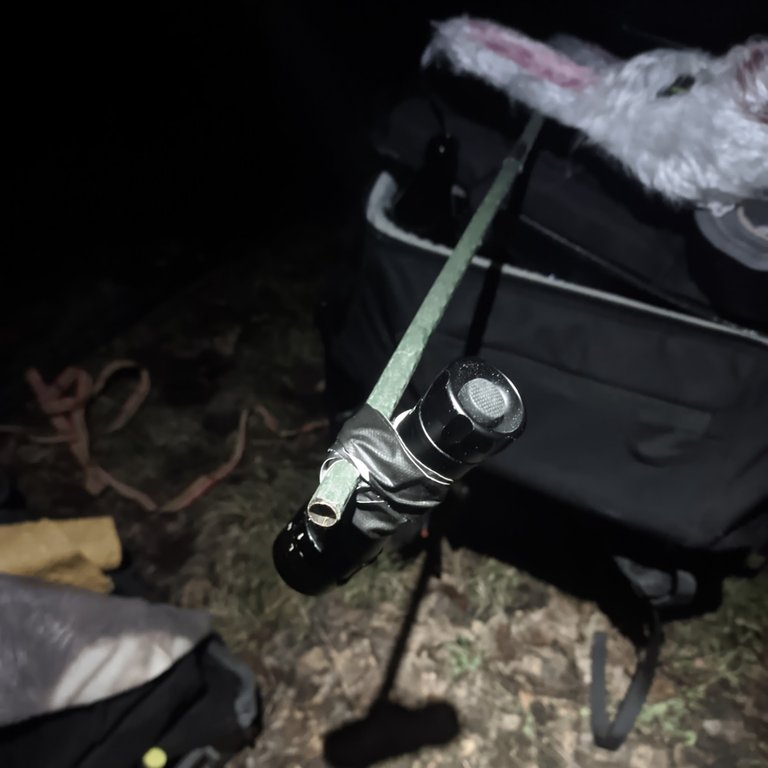 To get the blue light into the top of the tube, I glued the Wurkkos WK40 to the long rod. Fortunately, this time the gaffa tape had held. Otherwise the torch would have disappeared forever in that tube.
Um das blaue Licht oben in das Rohr zu bekommen, habe ich die Wurkkos WK40 an den langen Stab geklebt. Glücklicherweise hatte dieses Mal das Gaffa Tape gehalten. Ansonsten wäre die Taschenlampe für immer in diesem Rohr verschwunden.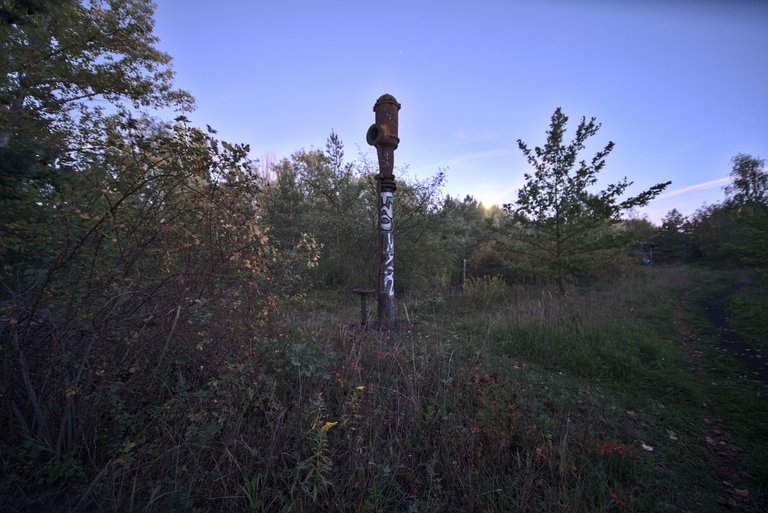 We had spectators again this time. The fox that had already watched us last time and a raccoon. The raccoon, however, was not so much interested in our light painting, but rather in @stepko's catering.
Thank you very much for spending the cold night with me @stepko . I'm already looking forward to our trip today.
Auch dieses Mal hatten wir wieder Zuschauer. Der Fuchs, der uns schon beim letzten Mal beobachtet hatte und ein Waschbär. Der Waschbär hat sich allerdings nicht so sehr für unser Light Painting interessiert, sondern offensichtlich eher für die Verpflegung von @stepko.
Vielen Dank, dass Du Dir die kalte Nacht mit mir um die Ohren geschlagen hast @stepko . Ich freu mich schon auf unseren heutigen Ausflug.

WHAT IS LIGHT PAINTING?
Light painting is a unique form of art. The darkness is illuminate by the artist with diverse light sources and light traces are paint into the picture with various light tools. Various techniques are use, such as camera rotation or other movements of the camera during the exposure. The creative possibilities are almost unlimited. All the pictures were taken during one single exposure. Apart from denoising, sharpening, cutting and possibly adjusting the white balance, the pictures are not processed on the computer.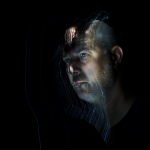 LICHTKUNSTFOTO
If you like my art visit www.lichtkunstfoto.de for more Light Art Photography and informations about Light Painting. Join me on Flickr Twitter



For more great Light Art Photography, Light Painting and inspiration check these light painters: @marlasinger666 @fadetoblack @fastchrisuk @dawnoner @oddballgraphics @martbarras @stepko @rod.evans.visual @yo-hoho @maxpateau @gunnarheilmann @neilru75 @maximepateau @ryuslightworks @lightstabeu @candelart @lacelight

WE ARE LIGHT PAINTERS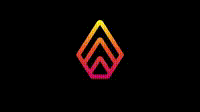 To help and support the LightPainters community here on Hive I would appreciate your delegation of HivePower. Any amount is appreciated. It does not require much to get started, we are happy for any gesture. @lightpainters
How to delegate?
Delegate 50HivePower, [50HP]
Delegate 250HivePower, [250HP]
Delegate 500HivePower, [500HP]
Delegate 1000HivePower, [1000HP]
All the Hive Power will help to upvote the artist's contribution as part of the LightPainters community.