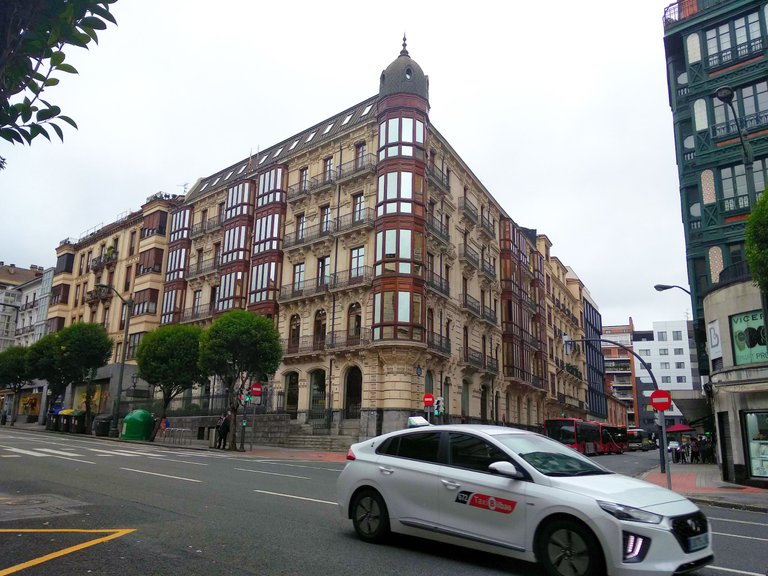 There are very few places we can call home. My first home is back in Venezuela, where I have my fondest and happiest memories with my parents, siblings, grandparents, aunts and uncles, cousins, puppies and kittens hehe. Now I am far away, but I think I am lucky to be able to say that I have found a second home in this city. That's not something easy to find.
Hay muy pocos lugares a los que podemos llamar hogar. Mi primer hogar está allá en Venezuela, donde tengo mis más tiernos y felices recuerdos junto a mis padres, hermanos, abuelos, tíos, primos, perritos y gatitos jeje. Ahora estoy lejos, pero pienso que soy afortunada al poder decir que he encontrado un segundo hogar en esta ciudad. Eso no es algo fácil de encontrar.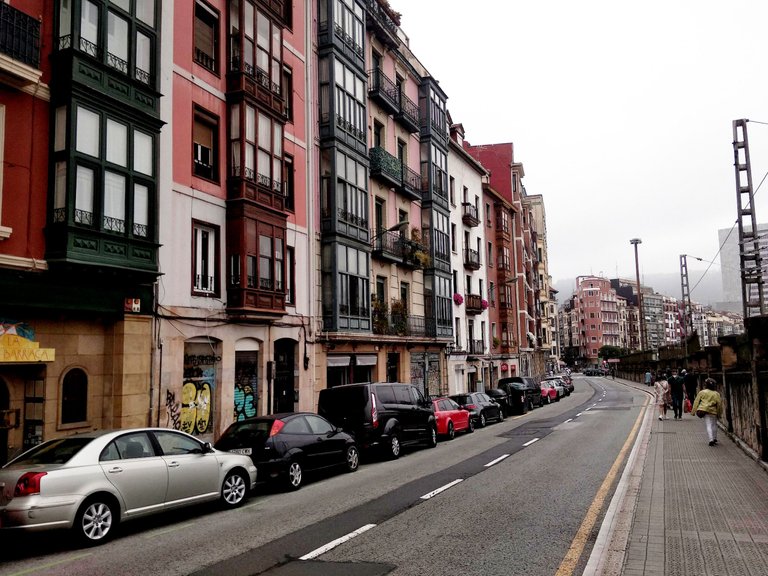 It is a whole process when moving to a new country, a process of extreme changes, external and internal, new people, new experiences and circumstances. Everything has an influence. For me being here and not feeling like an outsider who doesn't belong anywhere means that I have integrated well in this place, I feel welcome here. And there is something else, although there have been good and bad moments, between moments of sadness and happiness, in general I've been happy here.
Es todo un proceso al mudarse de país, un proceso de cambios bastante extremos, externos e internos, nuevas personas, nuevas experiencias y circunstancias. Todo influye. Para mí el estar aquí y no sentirme como una extraña que no pertenece a ningún lado significa que me he integrado bien en este lugar, me siento acogida aquí. Y hay algo más, aunque hayan buenos y malos momentos, entre momentos de tristezas y alegrías, en general he sido feliz.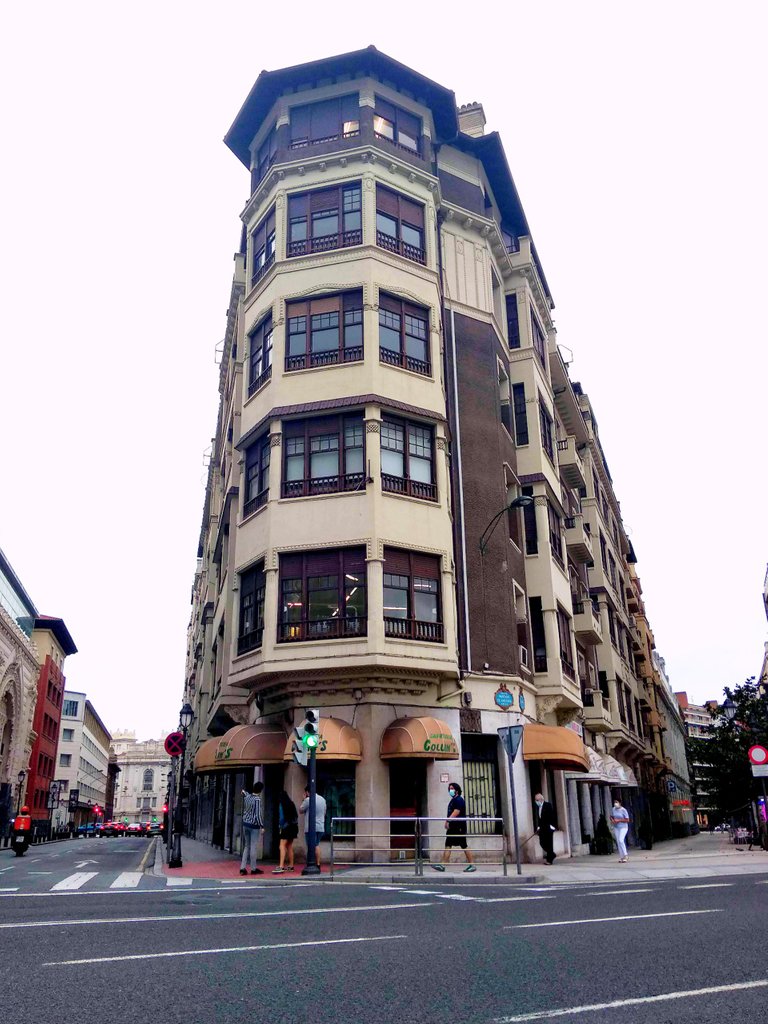 These are some street photos taken by me on Bilbao, the city in which I live and which I have come to love, on a gray foggy day.
Estas son algunas fotos callejeras tomadas por mí en Bilbao, ciudad en la que vivo y que he llegado a amar, en un día de niebla gris.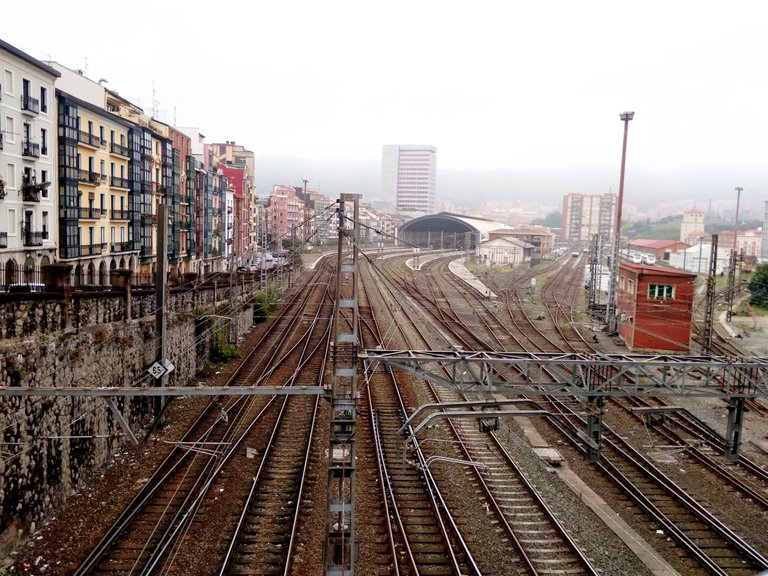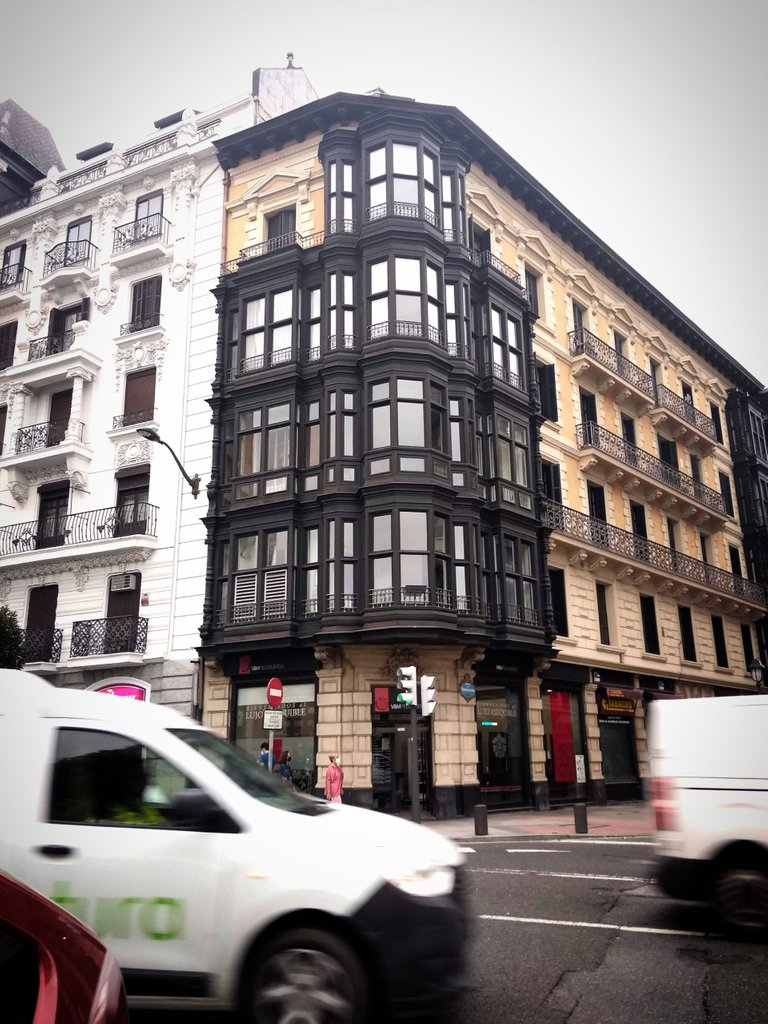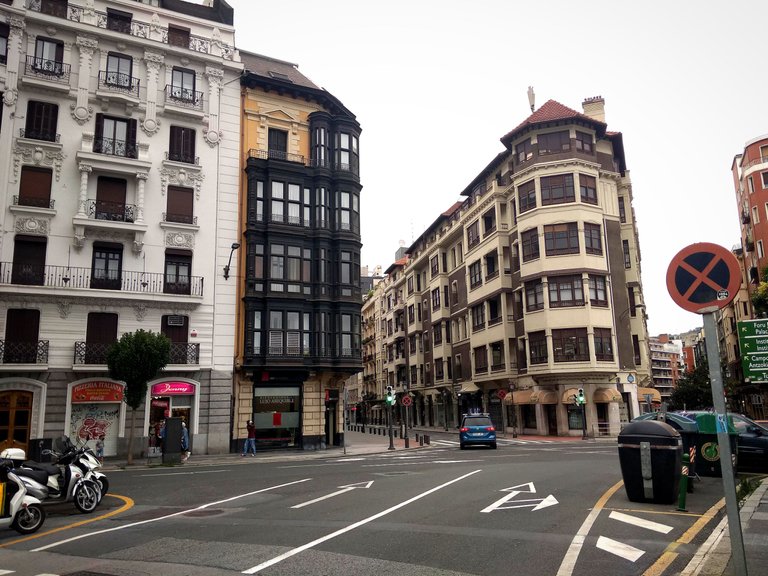 That day I was running some errands and at lunchtime I sat down on a little bench by the river to eat there.
Ese día estaba haciendo unos recados y a la hora del almuerzo me senté en un banquito junto al río para comer allí.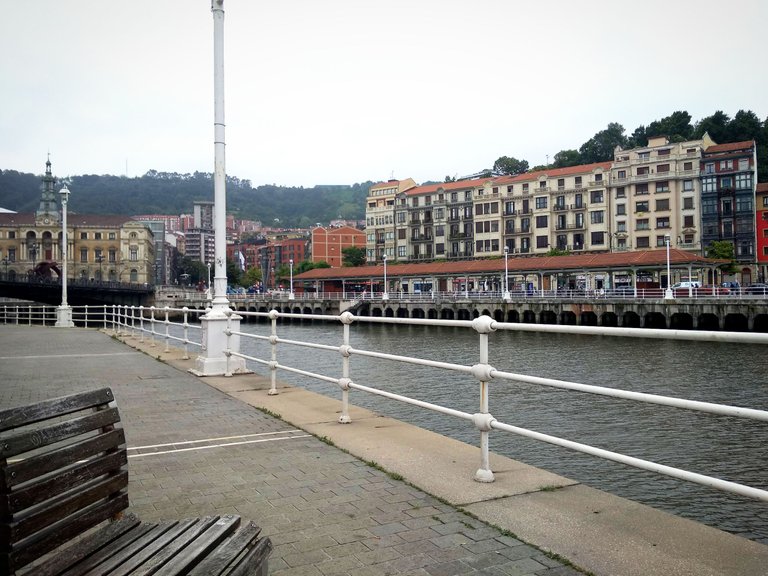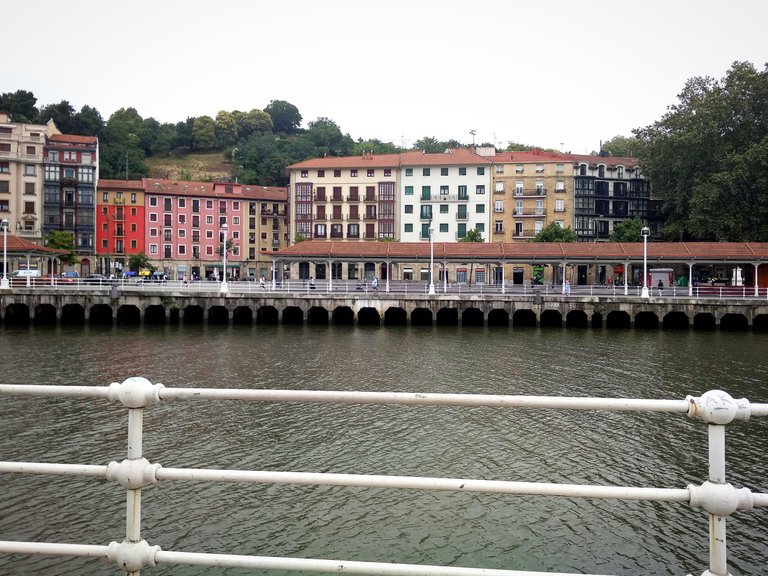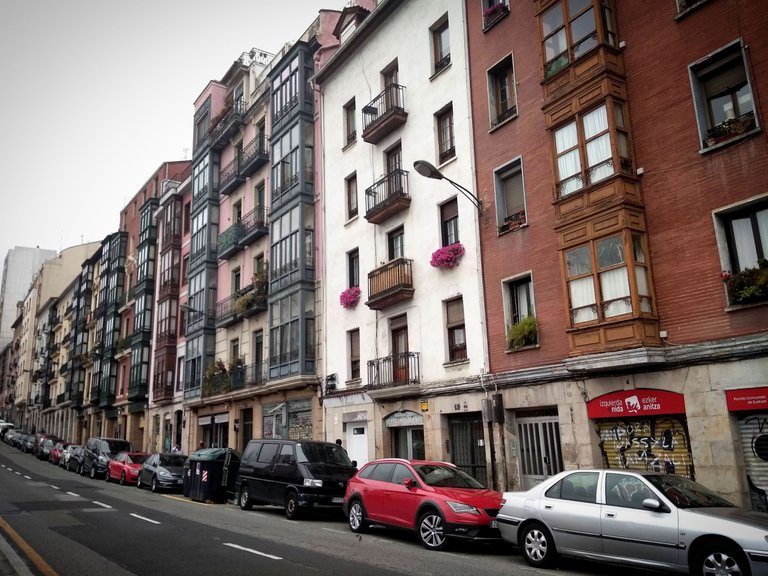 On the way home I decided to take an alternate route that I sometimes use. I live in a fairly high area and I always walk, just where the steepest area begins I can choose between a lot of different ways to get there, several of them go through a neighborhood that is considered dangerous, but being in the daytime and taking this street which is one of the most external, nothing dangerous happens, in fact this is quite quiet, and also seems to me picturesque and beautiful.
De regreso a casa decidí tomar una ruta alterna que a veces uso. Yo vivo en una zona bastante alta y siempre voy andando, justo en donde empieza la zona más empinada puedo elegir entre un montón de caminos distintos para llegar, varios de ellos transcurren atravesando un barrio que es considerado peligroso, pero siendo de día y tomando esta calle que es una de las más externas, no pasa nada peligroso, de hecho esta es bastante tranquila, y además me parece pintoresca y bonita.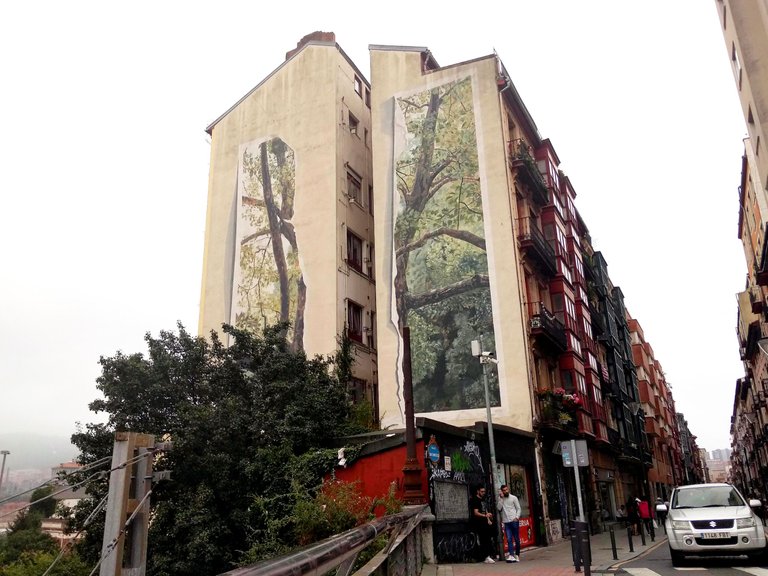 [//]:# (!pinmapple 43.256479 lat -2.931777 long Street Photos d3scr)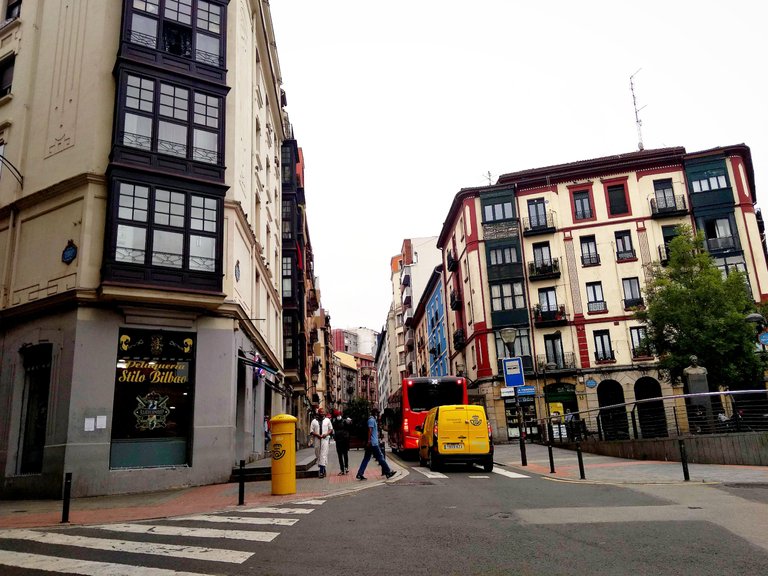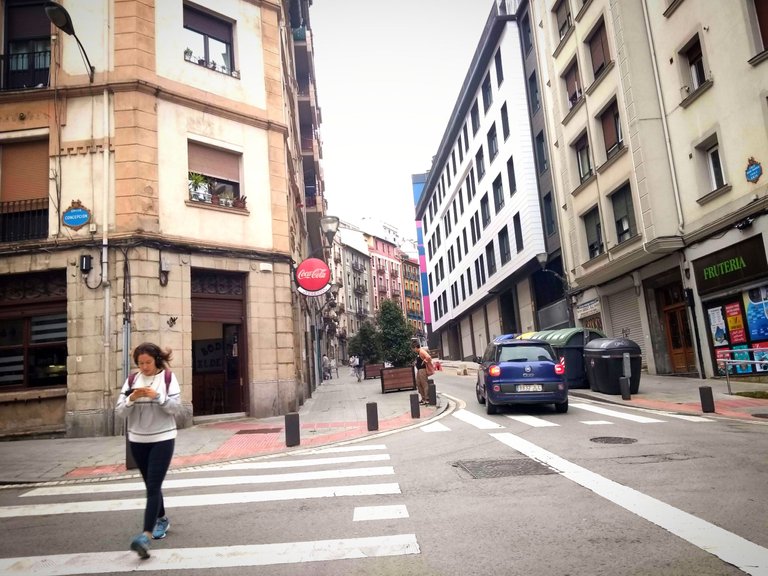 As you can see, in all the photos there are slopes, this is because all the terrain is inclined on one side or the other, it is something I noticed since I arrived, the terrain is similar to a city in my country called San Cristobal, there everything is uphill and downhill too.
Como pueden ver, en todas las fotos hay inclinaciones, esto es porque todo el terreno es inclinado por un lado o por otro, es algo que noté desde que llegué, el terreno es parecido a una ciudad de mi país llamada San Cristóbal, allí todo es subidas y bajadas también.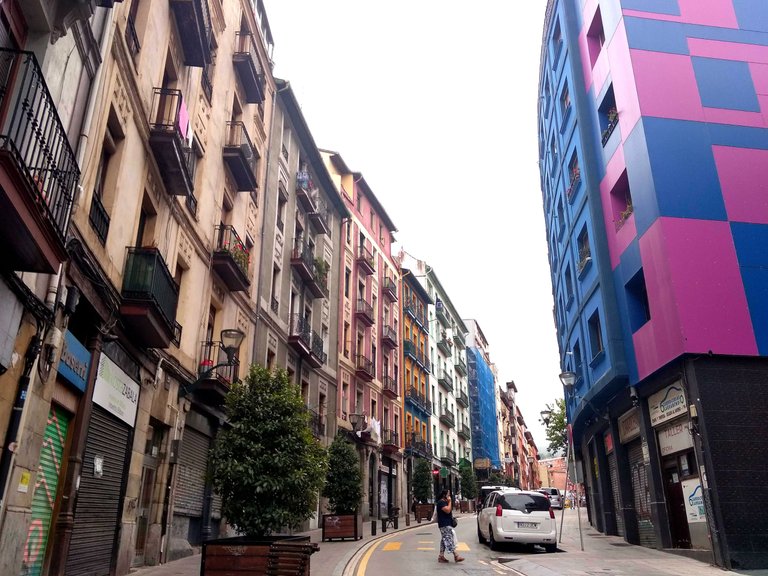 The truth is that when I arrived here I was quite surprised that the locals called this neighborhood "chungo" (referring to a place, "chungo" means ugly and dangerous). Coming from Venezuela, where by the time I emigrated the insecurity was quite extreme, I could not help but compare and I even found it funny that they warned me that this area is dangerous. In fact, when I first arrived, I got lost in these streets, and I had to ask where I was, I only noticed that there were many immigrants, from Africa, Arab countries and South America, and it seemed to me a very liberal and festive place, which does influence the frequent occurrence of incidents. But on quiet days like this, and at this hour, everything looks very peaceful.
La verdad es que cuando llegué aquí me sorprendió bastante que los lugareños llamaran "chungo" a este barrio (refiriéndose a un lugar, chungo significa feo y peligroso). Al venir de Venezuela, donde para cuando me vine la inseguridad era bastante extrema, no pude evitar comparar y que me pareciera hasta gracioso que me advirtieran que es peligrosa esta zona. De hecho cuando estaba recién llegada, me perdí por estas calles, y tuve que ponerme a preguntar dónde estaba, sólo me fijé en que habían muchos inmigrantes, de África, de países árabes y de Suramérica, y sí me pareció un lugar bastante liberal y festivo, lo cual sí que influye en que ocurran incidencias de manera frecuente. Pero en días tranquilos como este, y a estas horas, todo se ve muy pacífico.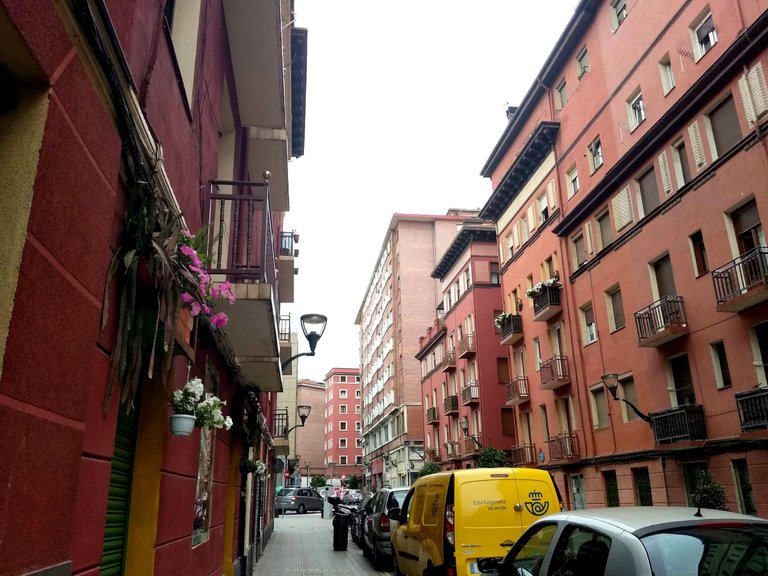 Apart from the fact that everywhere in the world there are places that are more dangerous than others, and that prejudice also exists, in this city most people appreciate and enjoy the diversity that exists due to the presence of a large number of immigrants from all over the world.
Apartando el hecho de que en todas partes del mundo hay lugares maás peligrosos que otros, y de que también existe el prejuicio, en esta ciudad la mayoría de la gente aprecia y disfruta de la diversidad que existe debido a la presencia de una gran cantidad de inmigrantes de todo el mundo.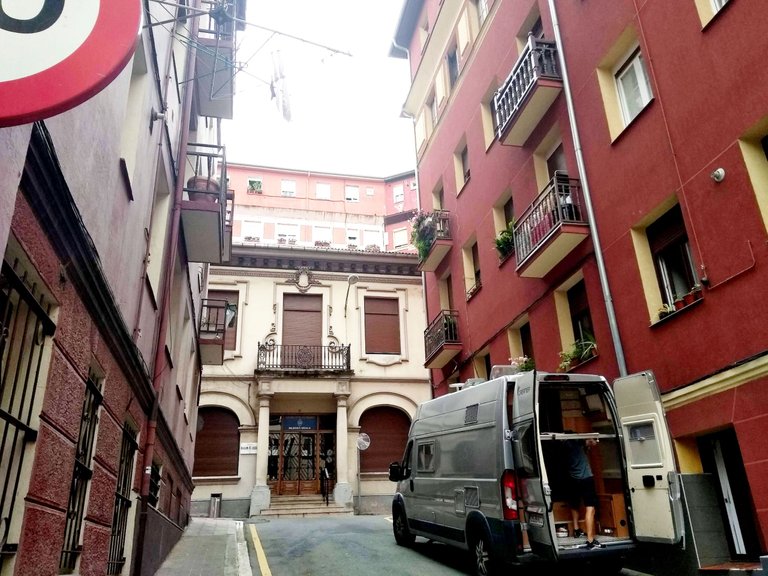 Arriving to this part of red buildings I was already much closer to where he lived, although I still had to climb a little more, so I stopped taking pictures to save energy hehe. Thanks to those who made it this far, for reading and giving me your support. Feel free to comment if you wish. I like to talk about topics related to the experience of migrating, as it is a very important part of this stage of my life, and it is for everyone who experiences it, so if you want to talk, I'll be happy 🤗 see you soon!
Llegando a esta parte de edificios rojos ya estaba bastante más cerca de donde vivió, aunque aún me faltaba subir un poco más, así que dejé de tomar fotos para ahorrar energías jeje. Gracias a quienes llegaron hasta aquí, por leer y darme su apoyo. Siéntanse libres de comentar si así lo desean. Me gusta hablar sobre temas relacionados con la experiencia de migrar, ya que constituye una parte importantísima de esta etapa de mi vida, y lo es para todo el que lo experimenta, así que si quieren conversar, estaré encantada 🤗 nos vemos pronto!