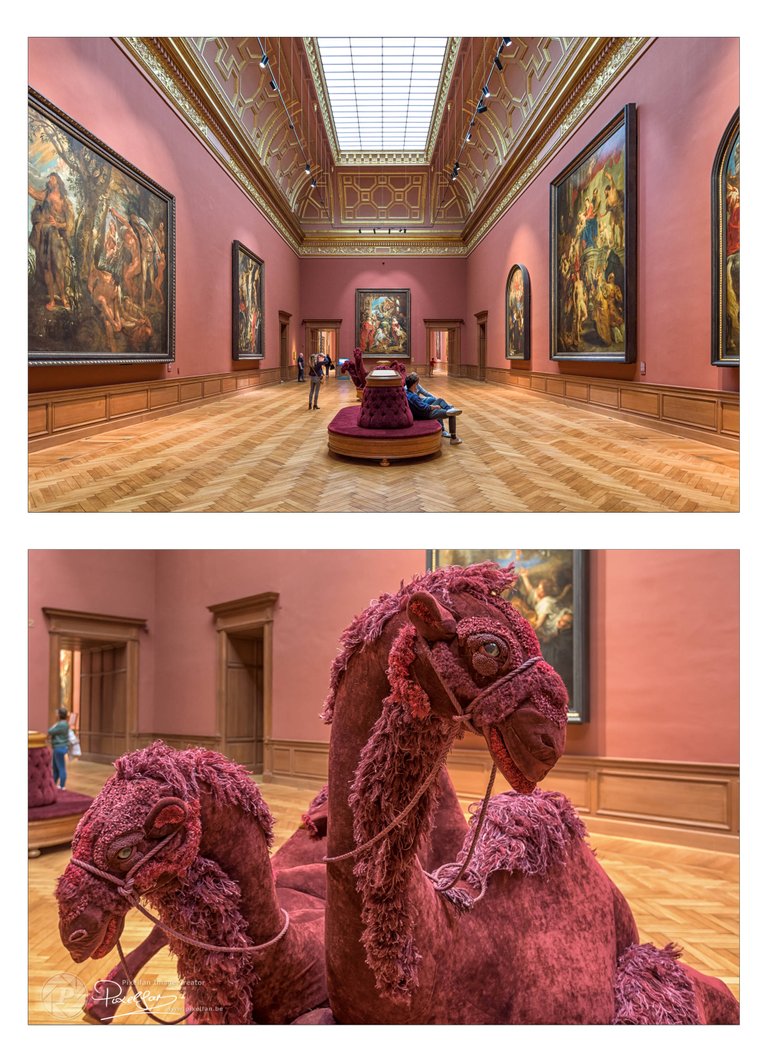 ---
Of course there is 1 painter who can be proud that he has his own exhibition room in the museum... Pieter Paul Rubens.
Rubens (Siegen, June 28, 1577 – Antwerp, May 30, 1640) was a Flemish Baroque painter, draftsman, tapestry designer and diplomat, working in Antwerp.
And as an "Antwerp resident" it was inevitable that he would be extensively honored in the Royal Museum of Fine Arts in Antwerp.
Although we have to admit that given the dimensions of his work, a whole room is really needed 😉
Most residents of Antwerp are indeed proud that such a world-famous painter was a fellow townsman, but there are always a few who are not really impressed.
Like those 2 camels in the bottom photo for example... it's clear from their look that they don't care much at all. They look rather blasé…
And if you were wondering why those 2 camels are there, no, it's not a work of art. It is a sofa that is particularly popular with children. That way, parents can quietly watch the works while their offspring martirize those 2 beasts...
I actually wanted to sit on it myself, but the look of one of the room attendants convinced me that I already had better ideas 😂
---
You liked this post?
Right you are 😉
Just follow me here to make sure you don't miss any new work. As you can see below, you will be in good company... my 3 skinny friends are waiting for you 😉


BTW: I will not ask you to upvote my posts… deep down inside you know you have to 😉
Curious to see my other work?
Although I spend most of my time here, you can also find me in other places… just take your pick…