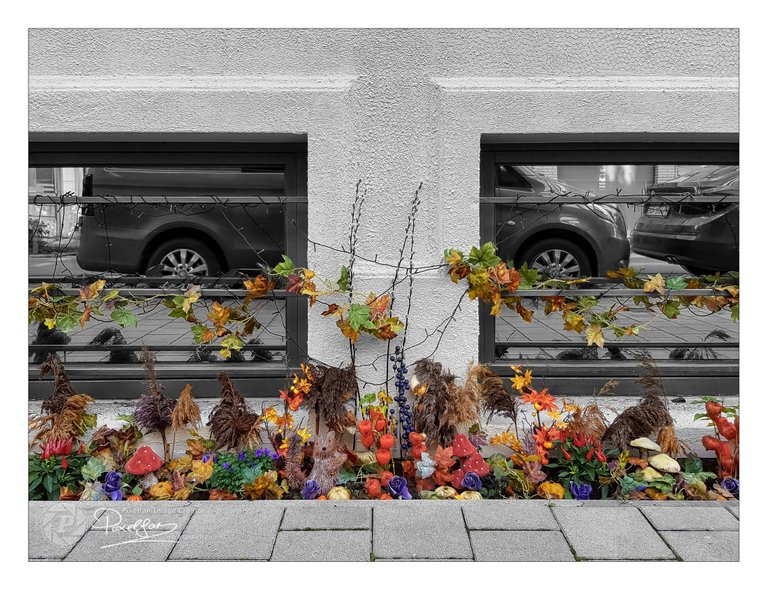 ---
I'm going to stop with my KMSKA museum series for now... every now and then you should post and work on something else, huh. But later there will be more pictures... it's my closest neighbor after all and I will definitely pop in regularly...
Speaking of neighbors...
What you see above is the facade of a house that I regularly pass on my walks with the dog. At least, not really the facade... but the bottom at the height of the basement windows.
I had noticed this house before because of the decoration they put up. The great thing is that the decoration changes regularly...depending on the seasons and/or holidays.
It goes without saying that this is clearly an autumn scene...but people, what an eye for detail! If more people were to do this, walking the streets would be much more interesting...
I'm already curious what their next decor will be...
On the other hand... those details might be a bit over the top. At least for me. Do you realize what a lot of work this means to convert/edit this photo into a color splash? 😉
(PS: The difficulty may also be due to the fact that I took that picture with my mobile, and not with my camera. Every time I take a picture with my phone, I appreciate my Nikons all the more...)
---
You liked this post?
Right you are 😉
Just follow me here to make sure you don't miss any new work. As you can see below, you will be in good company... my 3 skinny friends are waiting for you 😉


BTW: I will not ask you to upvote my posts… deep down inside you know you have to 😉
Curious to see my other work?
Although I spend most of my time here, you can also find me in other places… just take your pick…