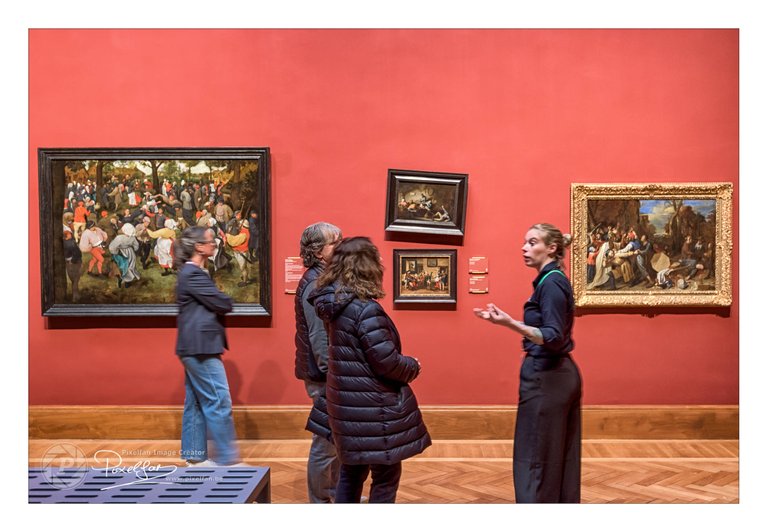 ---
Ok, maybe you think you are looking at a standard museum scene here... A guide explains the exhibited works to 2 lost tourists...
At least, that's what you think you see when you take a quick look...
But then you look again, but this time more attentively...
And then you suddenly notice that those paintings are hanging far from straight! Especially that little one in the middle... someone must have pulled on that with a lot of force. Probably one of those infatuated tourists who thought he was getting himself a souvenir. Scandalous!
But then you look again, and this time very carefully…
And then you notice that the subject of all those paintings is related to parties. And especially that little painting. The subject is a party, in a pub, with large amounts of booze!
And then you understand...the regulars of that pub make so much noise and party so loud that the whole painting has come to a skew!
PS: If you think I'm making this up...nope. This is exactly why the painting was hung that way. In the end it is not written anywhere that a curator must be humorless 😂
---
You liked this post?
Right you are 😉
Just follow me here to make sure you don't miss any new work. As you can see below, you will be in good company... my 3 skinny friends are waiting for you 😉


BTW: I will not ask you to upvote my posts… deep down inside you know you have to 😉
Curious to see my other work?
Although I spend most of my time here, you can also find me in other places… just take your pick…