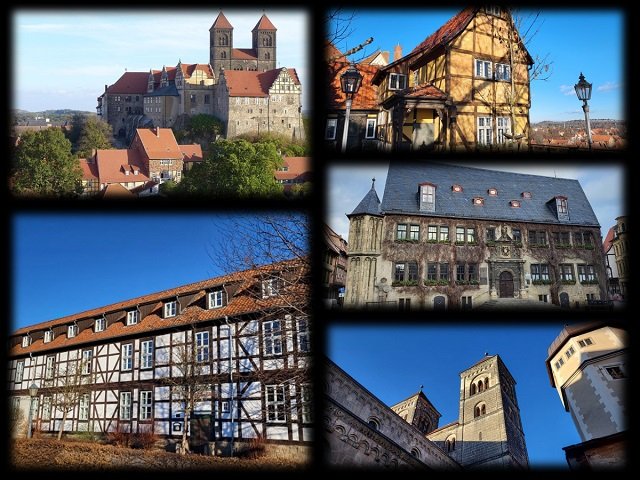 ---
Hallo und Servus an die Citytraveler
One day in Quedlinburg
---
Heute finde ich mal Zeit euch in eine Stadt von Sachsen-Anhalt mitzunehmen:
Today I find time to take you to a city in Saxony-Anhalt:
Quedlinburg
Es war jener Tag, der 19.1.2023, wo ich 3 Meetups ( Hive & BTC ) an einem Tag besuchen würde, dazu etwas später mehr. Der Tag begann für mich und Fr.reiseamateur sehr früh, um pünktlich zum Treffpunkt welcher um 10.00 uhr auf einem Parkplatz war, der sehr zentral gelegen in Quedlinburg liegt. Hier traffen wir uns mit unserem Hive-Fremdenführer @der-prophet oder auch besser bekannt als @danielhuhservice.
It was that day, the 19.1.2023, where I would visit 3 Meetups (Hive & BTC) in one day, more about that a little later. The day started very early for me and Fr.reiseamateur, to get to the meeting point on time, which was at 10.00 am on a car park, which is very centrally located in Quedlinburg. Here we met up with our hive guide @der-prophet or better known as @danielhuhservice.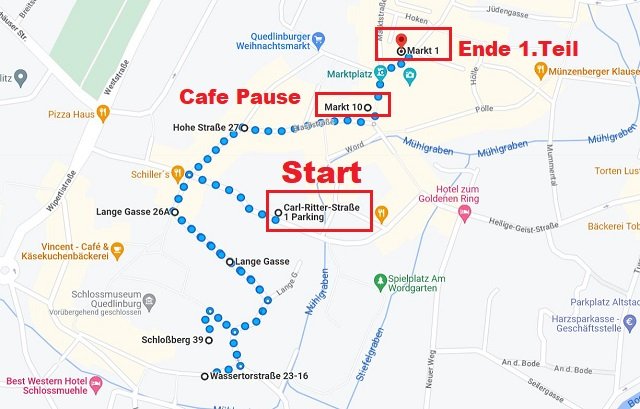 Hier auf der Karte seht ihr schon mal wie unser Rundweg sein wird,
der nun im ersten Teil vor dem Rathaus enden wird!
Here on the map you can see how our circular route will be,
which will now end in the first part in front of the town hall!
---
---

---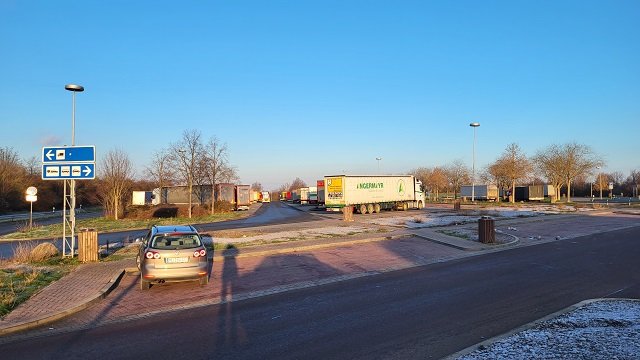 Wie schon erwähnt, begann unsere Anreise sehr früh, da selbst die Autobahn Raststätte noch reichlich gefüllt war mit den Trucks, die schön langsam aus der Nachtruhe aufwachten.
As already mentioned, our journey began very early, as even the motorway service area was still full of trucks that were slowly waking up from their night's rest.
---

---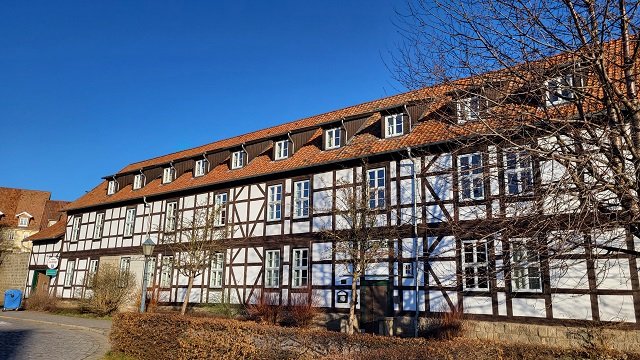 Jedenfalls sind wir pünktlichst angekommen und kurze Zeit später war auch @der-prophet schon anwesend und wir gingen schön langsam, bei etwas kälterem Wetter mal los, später wird auch noch Fr.Prophet noch dazu stossen...
Hier am ersten Bild sieht man schon sehr gut, welches eine Brauerei ist, das diese Kleinstadt mit ca. 24 000 Einwohnern, sehr gepregt ist mit Fachwerkhäusern...
Anyway, we arrived on time and a short time later @der-prophet was already there and we started slowly, in somewhat colder weather, later Fr.Prophet will also join us...
Here in the first picture you can see very well, which is a brewery, that this small town with about 24 000 inhabitants, is very pressed with half-timbered houses...
---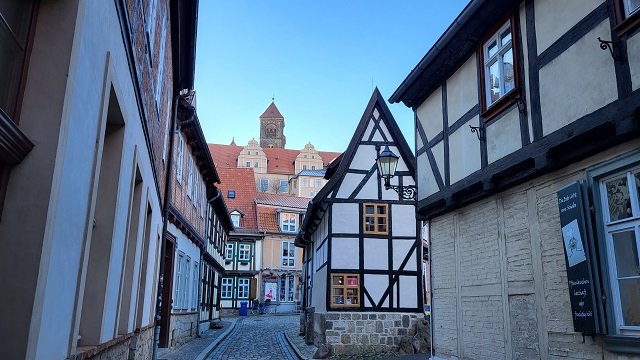 Vorbei und durch enge Gassen, die einen in die Mitteralterliche Zeit zurück versetzt, geht es zu einem ersten Ziel,zu der Burg.
Passing by and through narrow streets that take you back to the Middle Ages, you reach your first destination, the castle.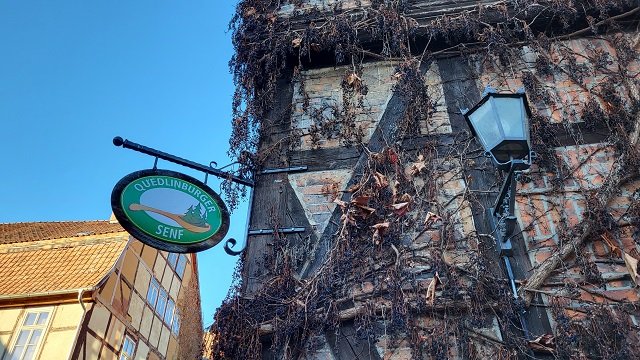 Scheint so, das jedes Bundesland ihren eigenen Senf hat...
It seems that every state has its own mustard...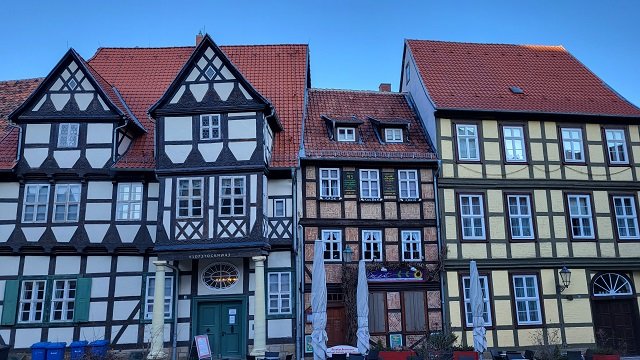 und schon immer wieder beeindruckend die über 2100 Fachwerkhäuser,
welche bestens erhalten bzw. restauriert sind,
and always impressive the more than 2100 half-timbered houses,
which are excellently preserved or restored
---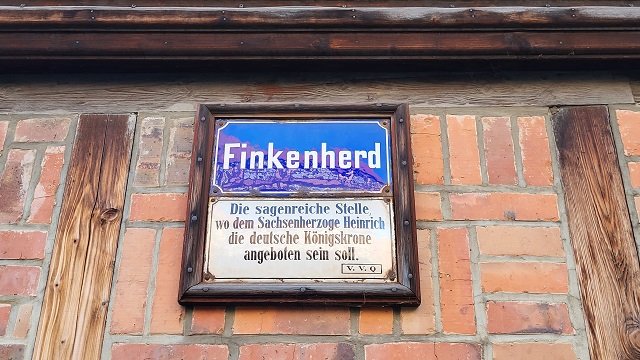 Wenn man so schöne Altbauten sieht, erübrigt es sich zu erwähnen, das sich hier auch ein Teil der deutschen Geschichte ereignet hat, wie zB.: soll sich hier dem Sachsenherzog Heinrich die deutsche Königskrone angeboten worden sein...
Auch wird Quedlinburg nachgesagt, die erste Hauptstadt Deutschlands gewesen zu sein, einfach mal dannach googlen...
When you see such beautiful old buildings, there is no need to mention that part of German history took place here, for example: the German royal crown is said to have been offered to the Saxon Duke Heinrich here...
Quedlinburg is also said to have been the first capital of Germany, just google it...
---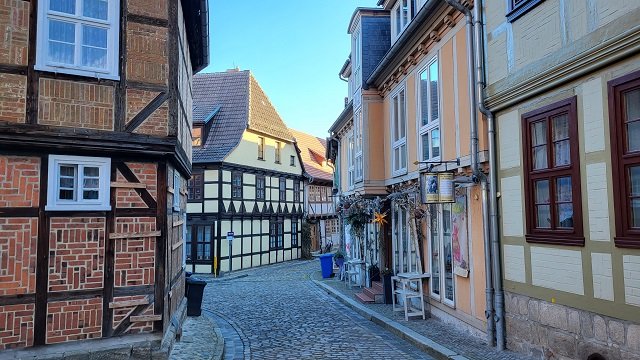 Und vor allem auffallend sind die Kopfsteingepflasterten Straßen...
And most striking of all are the cobbled streets....
---

---
nach einem kurzen Spaziergang erreichten wir den Eingang zur Burg,
der aber leider wegen Bauarbeiten für uns gesperrt war...
After a short walk we reached the entrance to the castle,
but unfortunately it was closed to us because of construction work...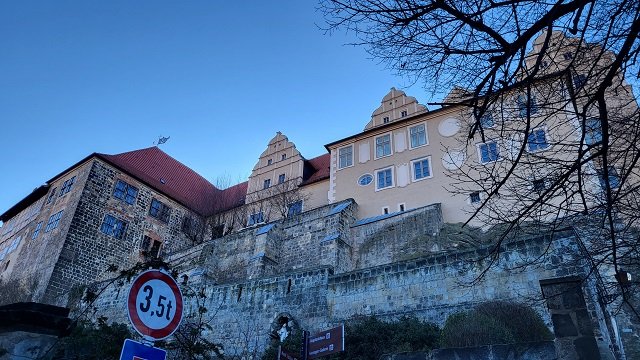 ---
Aber wir hatten Glück, denn als wir weiter gingen, kamen wir an einem Aufgang vorbei der zum Schlossgarten führen sollte, welches leider Fr.reiseamateur lieber nicht mitbestieg...
But we were lucky, because as we walked on, we passed a staircase that should lead to the castle garden, which unfortunately Fr.reiseamateur preferred not to go to...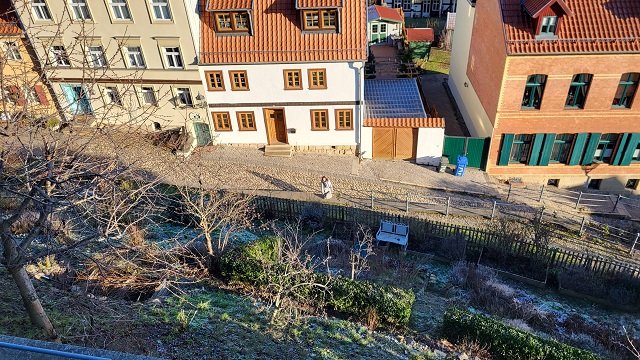 ---
oben angekommen, konnten wir eine Herrliche Aussicht über Quedlinburg geniessen:
Once we reached the top, we could enjoy a magnificent view over Quedlinburg:
Wenn ich die Dächer so sehe, gibt es eine große Ähnlichkeit mit Graz,
das ist aber eine andere Geschichte...
When I see the roofs like this, there is a great resemblance to Graz,
but that's another story...
---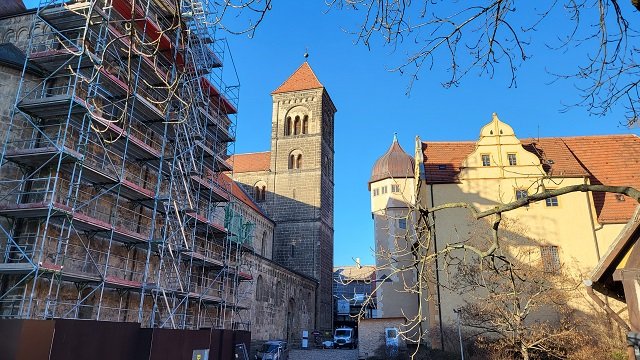 Wenn man schon nicht von vorne rein darf, zumindest die Ansicht von hinten..
If you can't go in from the front, at least you can see the back...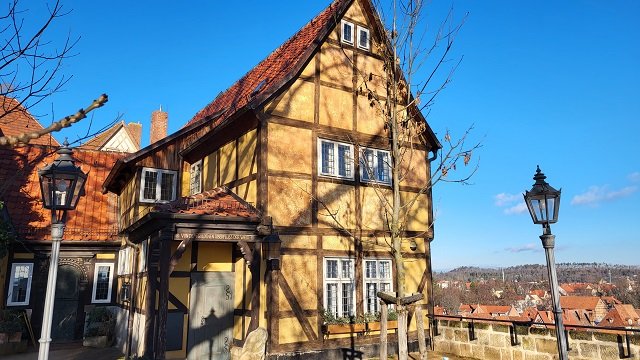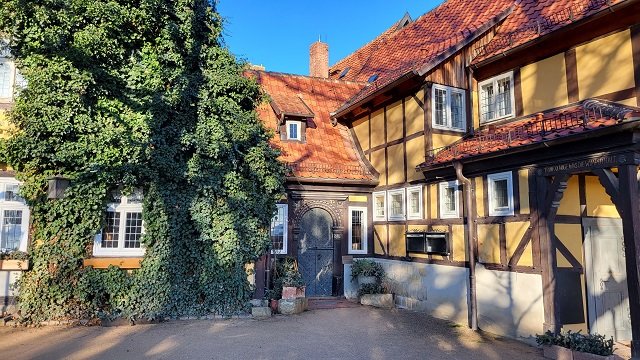 Die Gastwirtschaft, hat leider noch geschlossen, da zwischen Saison..
The inn, unfortunately, is still closed, because between season...

---
Daher gingen wir weiter in Richtung Hauptplatz, wo wir bei einem Kaffee nicht nur auf Fr.Propheten warteten sondern die ersten Gespräche betreff Hive, Crypto und Co starteten...Qusi ein Privatissimum Hive Meetup ...
So we went on towards the main square, where we not only waited for Br.Propheten over a coffee but also started the first conversations about Hive, Crypto and Co...Qusi a Privatissimum Hive Meetup ...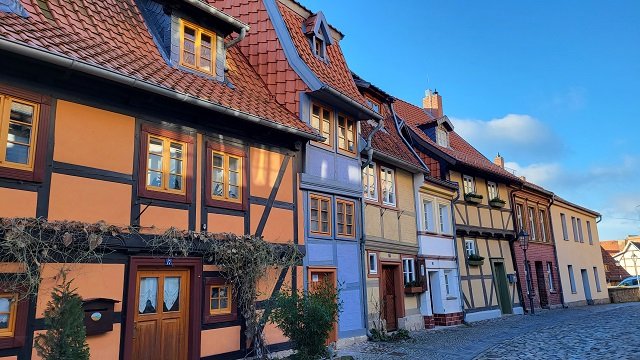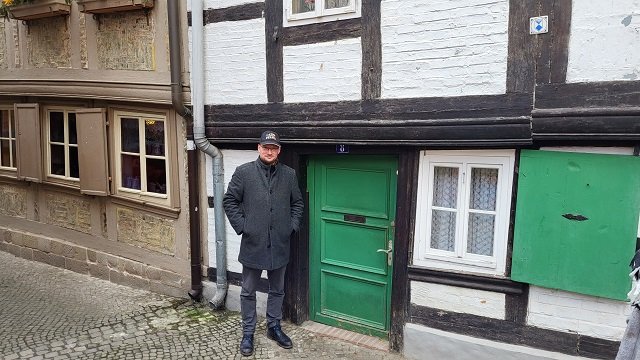 Hier mal ein Vergleich wie klein die Hauseingänge sind,
gut @der-prophet ist auch fast 2m , was ich vor dem treffen nicht dachte..
Here is a comparison of how small the entrances are,
well @the-prophet is also almost 2m, which I did not think before the meeting...
---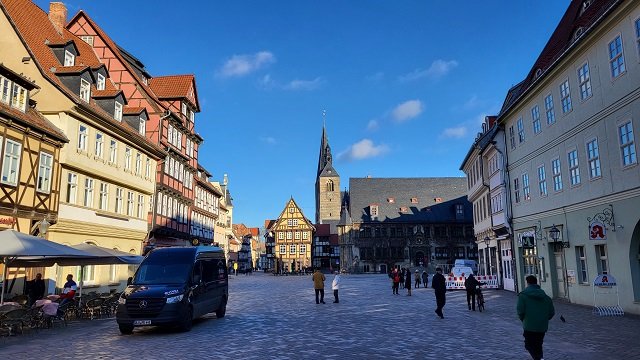 Somit erreichten wir den Hauptplatz,
wo wir dann man staune: Österreichischen Kaffee geniessen konnten :)
So we reached the main square,
where we were able to enjoy, astonishingly, Austrian coffee :)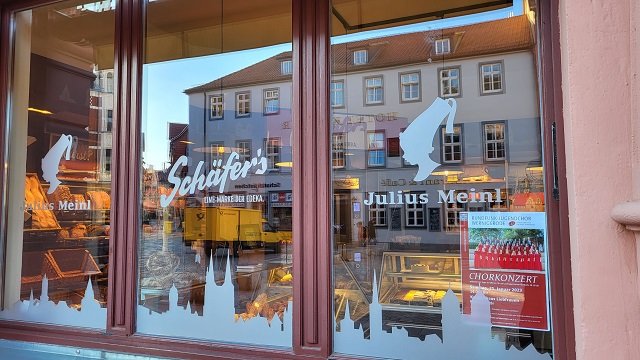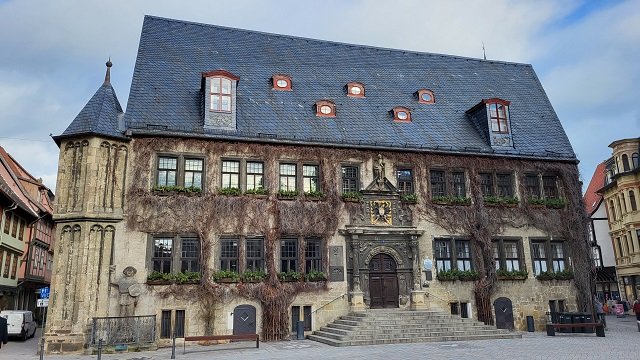 Nachdem wir Vollzählig waren, ging es zum Rathaus und dann rechts weiter, wo wir uns dann im 2.Teil hier wiederlesen unter anderem auf den Spuren von "7 Zwerge - Der Wald ist nicht genug" Otto Walkes & co ...
After we were all together, we went to the town hall and then to the right, where we read the second part of "7 Dwarfs - The Forest is not Enough" Otto Walkes & co ...

---
Wenn du jetzt bis hier hingekommen bist, dann vielen Dank dafür!!
Wie man sieht, es muss nicht immer die Skyline einer großen Stadt sein,
auch kann man ein Meetup im kleinen machen, welche an diesem Tag
später noch 2 mal in Leipzig stattfand, mehr dazu im 2.Teil!
If you've made it this far, thank you for that!!!
As you can see, it doesn't always have to be the skyline of a big city,
you can also do a Meetup on a small scale, but 2 more Meetups followed in Leipzig on the same day. More on this in part 2!
---

---

---
photocredit & gif: @reiseamateur
one pic the castle in the Title, from the Tourismus Office, thanks!
device: Samsung S21 FE
Links: Qudlinburg https://www.quedlinburg.de/
---

---