In 2018 my girlfriend and I embarked on a journey through Americas West. We travelled 1000s of miles in an old Ford Econoline van, which I had converted into a camper. The trip took us through Washington, Oregon, Nevada, Utah, Arizona and Idaho. We did a lot of hiking, climbing and sightseeing along the way.
The desert landscapes of the southwest were unlike anything I'd ever seen. As a Canadian I'm used to mountainous landscapes, forests and lakes. The fragile and delicate sandstone structures of the south were something completely new to me. I know these arches and buttes carved out of sandstone, by years and years of weathering, wont be here forever and I'm glad to have been able to see them in person.
The Delicate Arch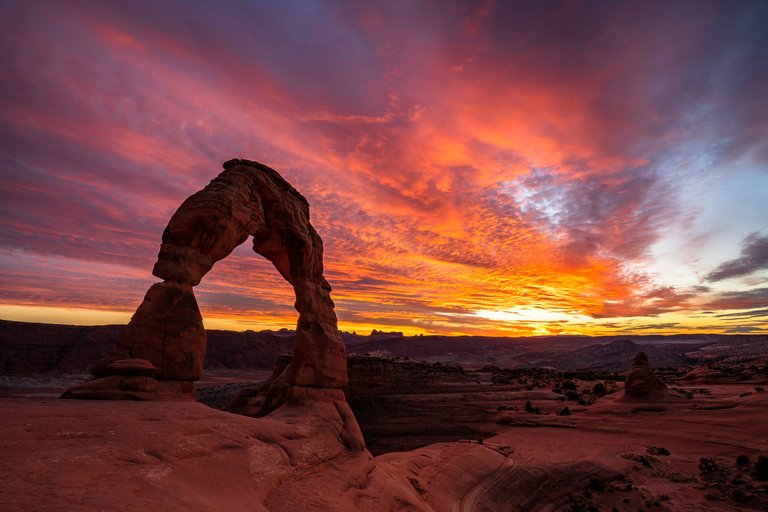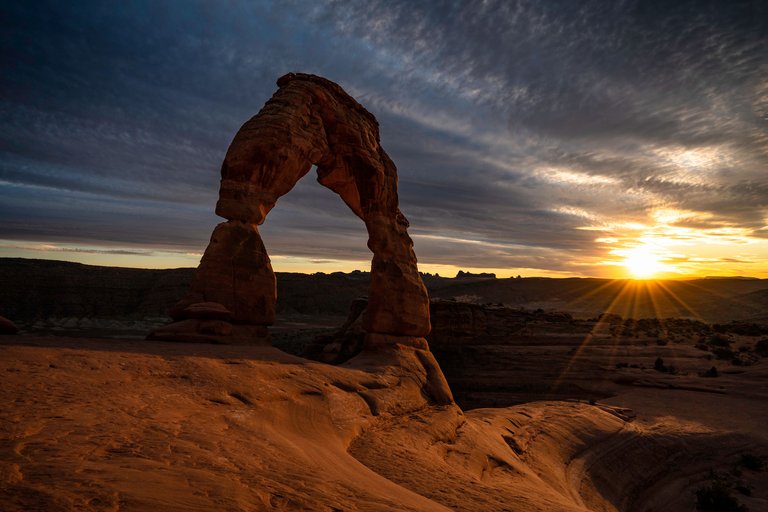 When we arrived in Utah I just had to make a stop at this classic geological destination. I'd seen photos of it, but never gotten to experience it in person. I usually try to avoid the super touristy places when I can, but being a tourist in Utah myself I had to go. We casually took our time hiking up to the viewpoint as we were heading up there to watch the sunset. It was pretty wild to see everyone sit back in a big semi circle to admire the sky being painted with hues of pink, orange and yellow with the delicate arch as the centrepiece. I didn't expect to get a sunset this beautiful, but we got super lucky for only being in the area for one day (This often tends to happen for reasons unknown 😅).
Monument Valley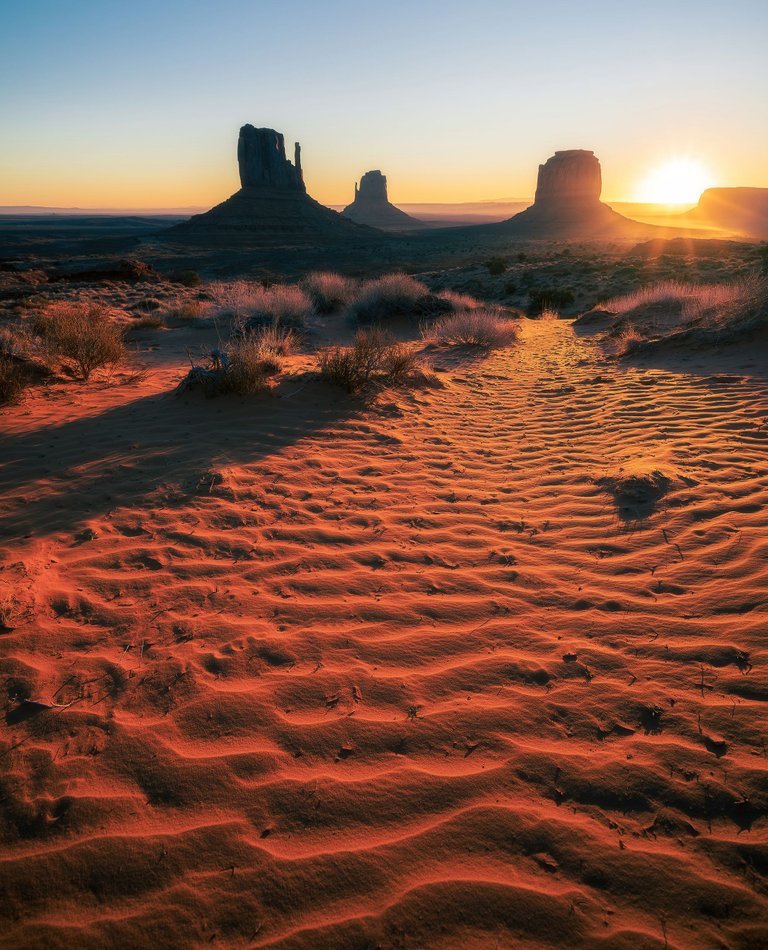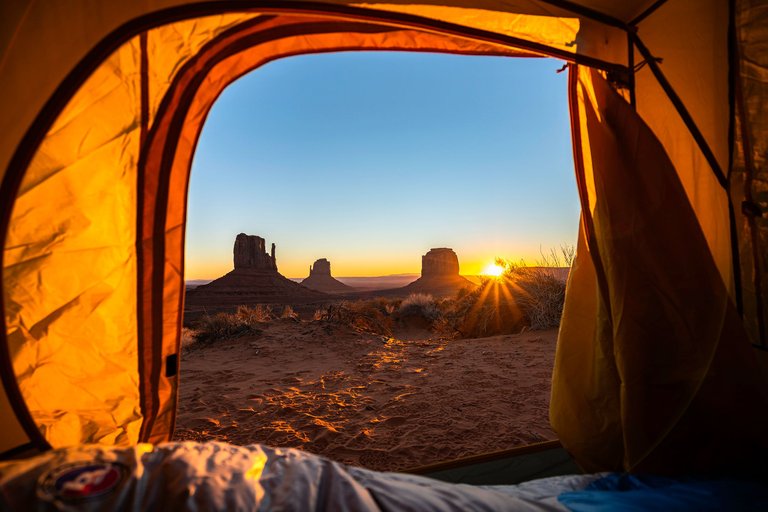 Monument Valley was one of the only places we paid for camping on our entire trip. The valley is sacred to the Navajo Nation and you can't just set up anywhere. It was fun to take a break from the van for a night and spend it in the tent instead. We found a spot right in front of the monuments, with an incredible view of the massive sandstone buttes.One thing i'll mention about sleeping in the desert in November, it gets surprisingly cold. I was wearing a down layer in my down sleeping bag and was still a little bit chilly. Watching the sun rise over the horizon without leaving the comfort of my sleeping bag was a huge bonus. It was an incredible experience I won't soon forget.
Temples of the Sun and Moon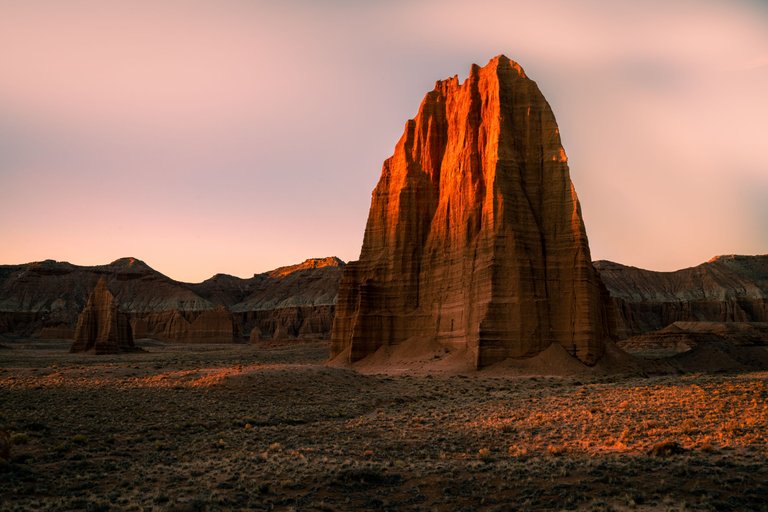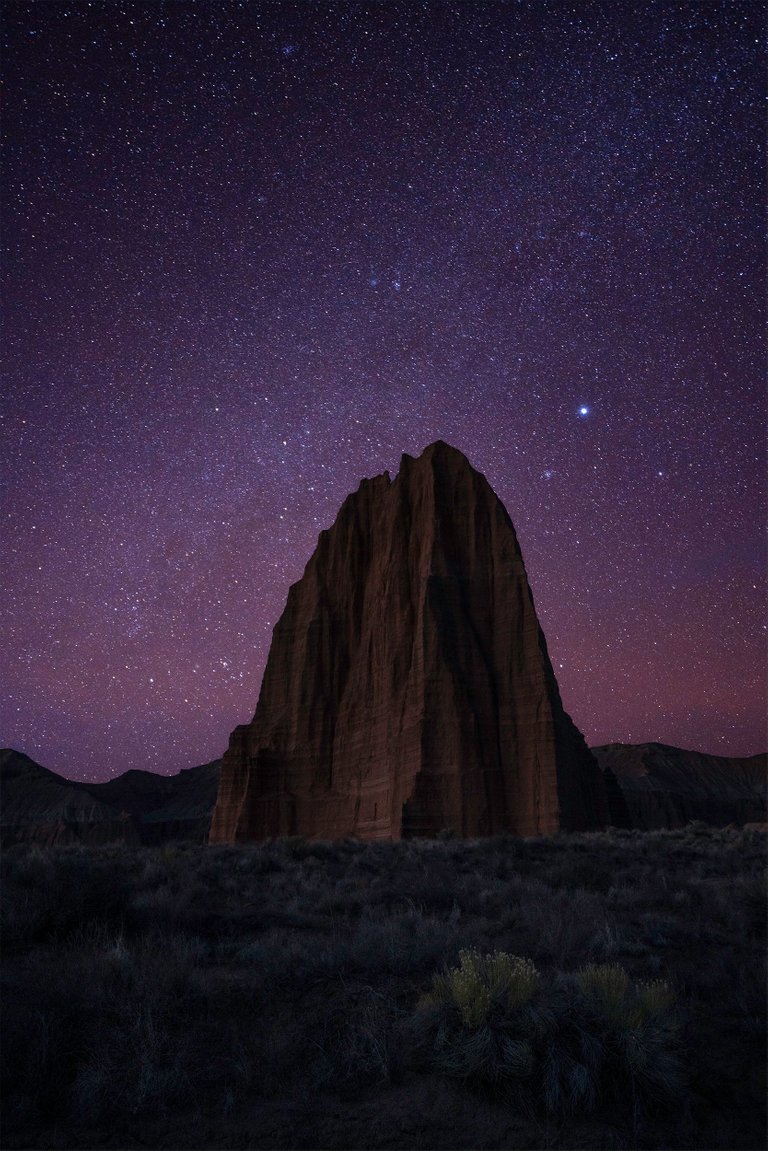 After a long day doing all the things in Capitol Reef National Park that the kind park ranger advised us to do, I still wanted to make one more stop. It was about 20 miles down a partly washed out dirt road, but that didn't stop Ulna (our trusty van). We got there just before sunset, but the light wasn't right, so we decided to stick around for sunrise. The only other person out there was an older gentleman parked in the BML land just outside of the park (BLM=The Bureau of Land Management). He was enjoying a glass of whiskey and his dinner by the fire. We pulled up beside him and asked if we could spend the night there, he replied enthusiastically, "I don't mind at all!" Of course my skeptical mind right away went, do we trust this guy out here in the middle of nowhere all alone? After pulling up a chair beside him around the fire and talking to him for a while, it turns out he was one of the nicest guys ever. His name was Greg. A photographer from Idaho, who shot medium format film for years and had just gotten a new digital camera. He was out there shooting some astrophotography. He had traveled the World and told us a story about helping people in Tibet set up the internet in their village. Now he visits Utah almost every year to explore the backcountry, canyoneer and take photos. Although we will probably never cross paths again, I'm glad we stuck around and listened to his stories. As the sun rose we headed back into the park to watch the morning sun illuminate the aptly named temples of the Sun and Moon. I've seen plenty of sunrises in the mountains, but seeing these 400 foot sandstone monoliths glowing red in the morning light was unlike anything I've ever seen.
The Mesa Arch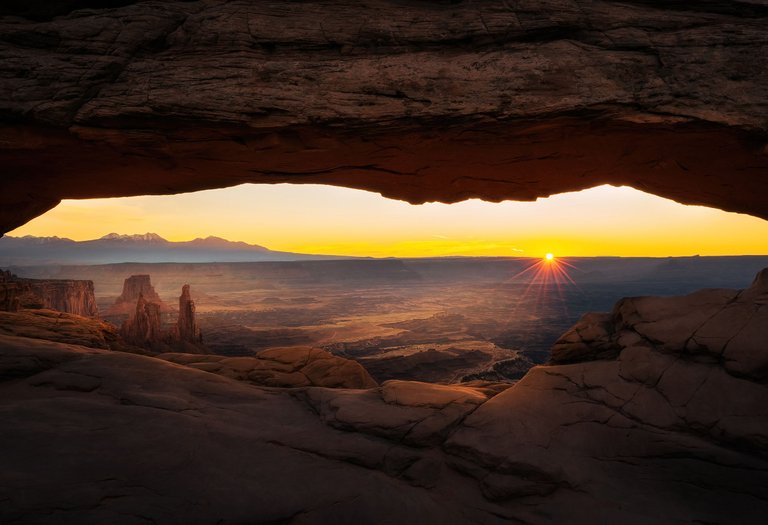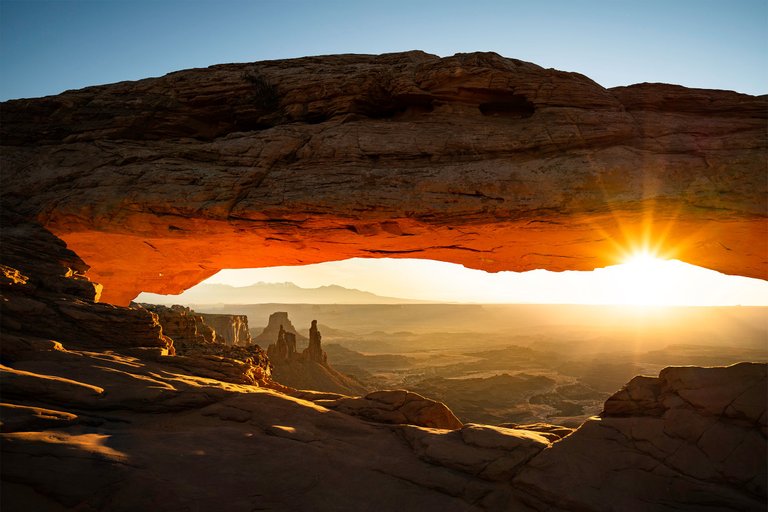 The Mesa Arch is an ultimate classic, iconic photo spot in Canyonlands National Park, Utah. At the time I didn't know how popular it really was. Of course I wanted to get the sought after sun coming through the arch shot. Much to my girlfriends dismay we headed to the arch for sunrise which involved waking up at around 3:30 AM. She slept in the back of the van anyways as I hustled up the windy road through the park 😂. We got to the arch as it was just starting to get light out. There was only one other photographer around and I figured it would be a pretty quiet morning, boy was I wrong. By the time the sun rose above the canyon below there were around 25 other tripods set up beside me in the small space in front of the arch and at least another 100 people who had come to witness the sunrise. This place is busy for a reason, the view is truly one of a kind. However, this was by far the most people I'd ever seen photography the exact same thing, with Lake Louise, Alberta following in a close second.
I haven't been back to the Southwest since, but I've been itching to go back. There are so many unique landscapes to explore and if you're into outdoor sports like climbing and mountain biking there are so many options. I would highly recommend going in October-November. Autumn is an amazing time to visit because it is a little less busy than the Summer months and you might even get lucky with some snow or fall colours in certain areas.
As always if you enjoyed this content, please feel free to check out my other Social Channels and artwork! 👇
Social Links
Twitter
Instagram
Facebook
Website
NFTs