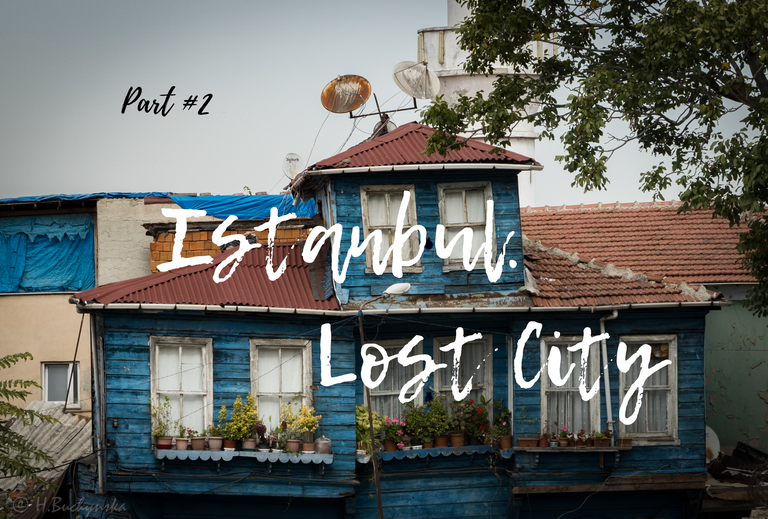 Hello, dear friends and followers!
I'm back to continue my story of another side of Istanbul that I have started yesterday. And today we will continue roaming non-touristic locations and find out what is life looks like.
As you can see, it is tough and rather unsightly. Here are the real surroundings of the sweet house from the cover image. Once, it was very nice, but now... Seems to me there is not a single horizontal or vertical or simply parallel line here, and anyway its residents want their homes to look attractive so they decorated windows with blooming flowers. But no decoration can hide this ugly dump.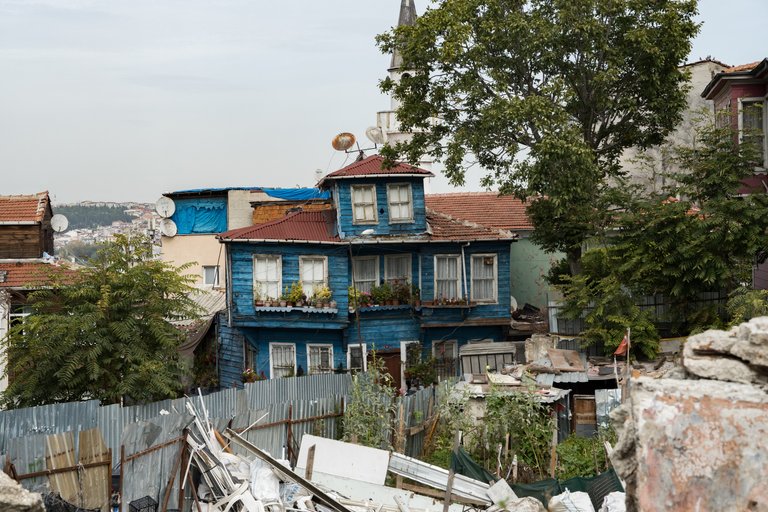 [//]:# (!pinmapple 41.019032 lat 28.962948 long Istanbul. Lost City. Part #2 d3scr)
From a closer look, it is not a dump. It is a place for garbage collection and sorting. Yes, garbage sorting in Turkey is a bit deranged. As I was told, they sort only plastic and paper. But this is business that feeds people here...
On the streets, we saw parked cars and taxies. There were small trucks loaded with garbage bales twice their height. Like little ants.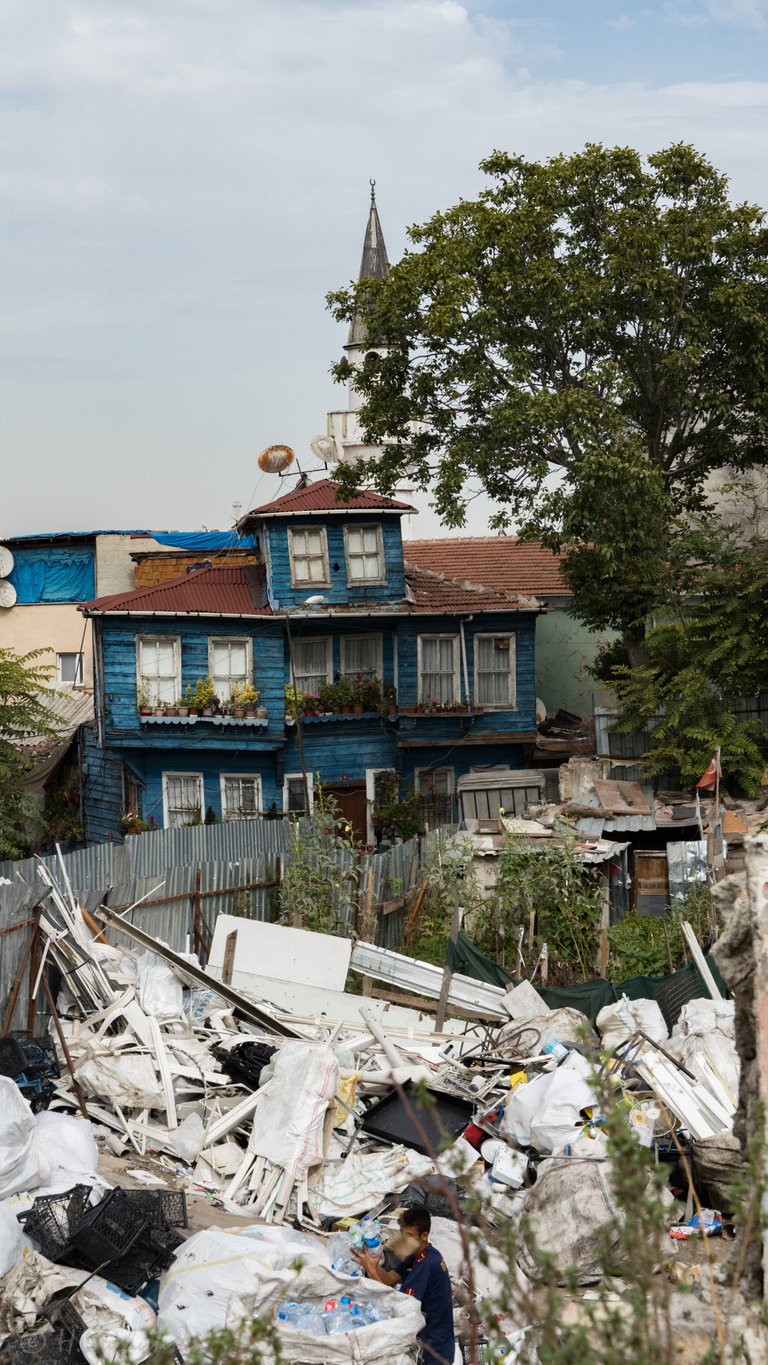 As I wrote in my previous post, I came here first at night, and although I was with a small group of people the surroundings looked really spooky. It was dark and quiet, we walked from one lonely street light to another through darkened back alleys. We passed by a Muslim cemetery (photos made with my phone):
Somewhere here, near this building (at the shot below), in a distance, I saw an animal standing in the bright spot of light. It was tied to the fence with a rope. First, I thought it was a dog. As we approached, it turned out to be a goat. I've no idea where it is grazed. Anyway, it's appearance and the whole scenery caused a lively reaction and discussion. Someone even said that this goat may have been brought here to be eaten tomorrow. Frankly speaking, I didn't see it when coming here the next day...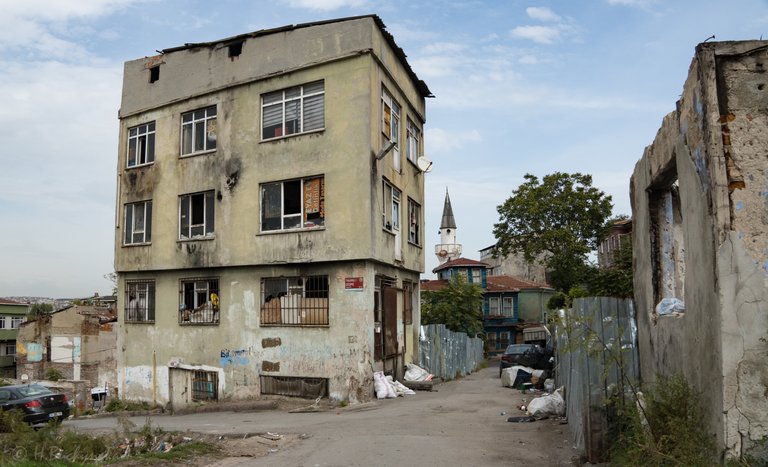 Looking at these landfills, wastelands, the remains of once luxurious buildings, broken windows, dirt and garbage, I kept asking myself - does anyone really permanently live in these houses?
Often at first glance, the house seemed completely uninhabited and abandoned, and then I saw someone open the front door and put a bowl of food for cats. It was hard to believe. Aren't they afraid that one morning the ceiling will fall on their heads?
No, this is not a poor area. This is a completely different world.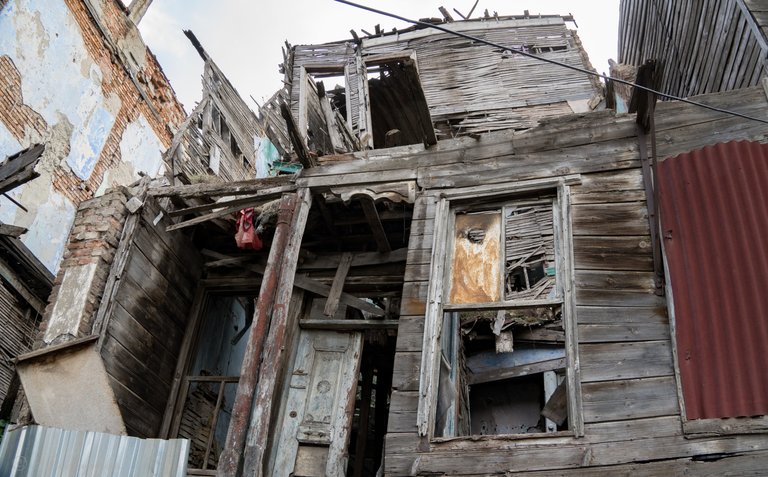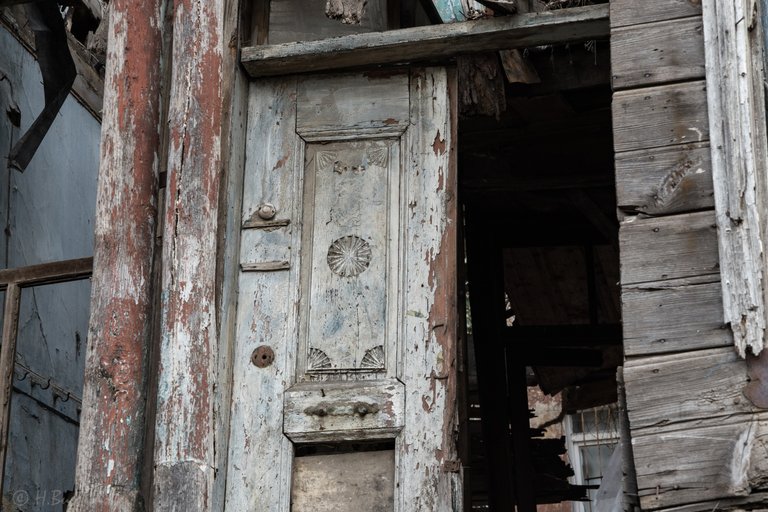 I recall the picture that really impressed me. At night, we passed another landfill. A dilapidated two-story house stood behind it. On the second floor, part of the ceiling and three walls have been preserved. The fourth wall (the facade) was absent. People were having dinner in the room by the light of a bright light bulb, and the missed wall was partially covered with an old blanket or sheet.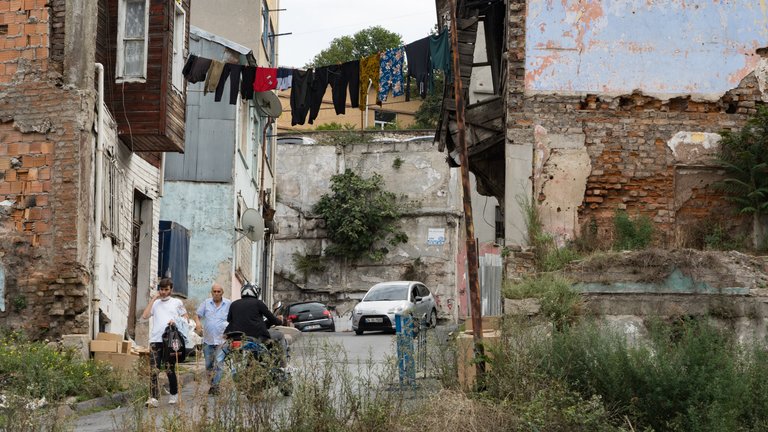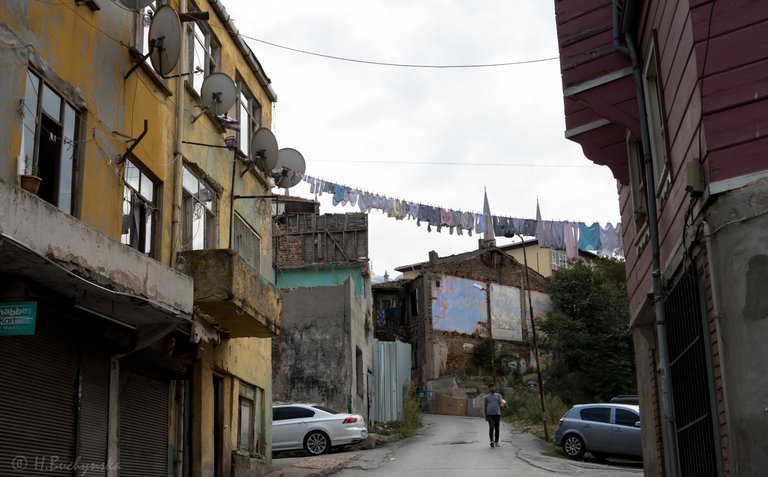 And although the houses here look so that one cannot immediately say with certainty whether they live in them or not, the local people are not vagabonds or beggars.
So, how did it happen? There are 2 reasons. First, this area belongs to parts of old Istanbul where any construction, repair or restoration work can be carried out only after architectural research and excavation. But even then, there's no guarantee that you get the permission, because there is always a chance that the finding can be more valuable than what you are going to build. It's too expensive here, in short.
Therefore, after the great fire in 1782 when about 7000 buildings were damaged in the area between Karagümrük and Hazine-i Şerif and Sultan Selim Mosque on the coast of the Golden Horn, rich people that lived here had to settle in other districts.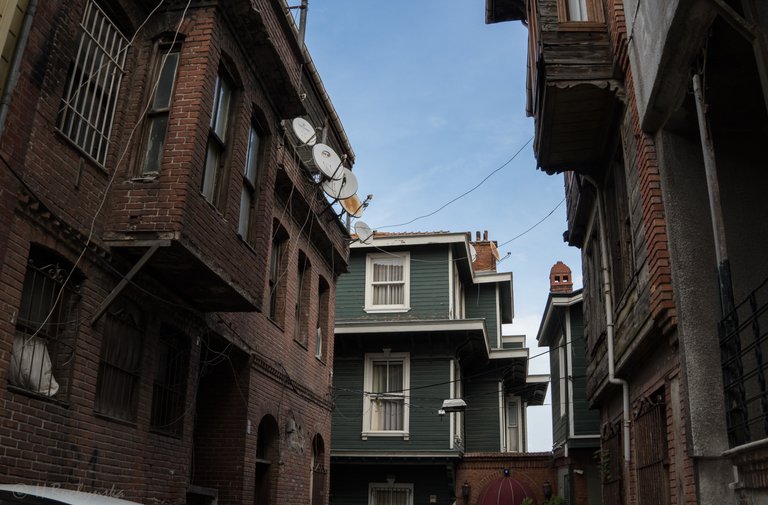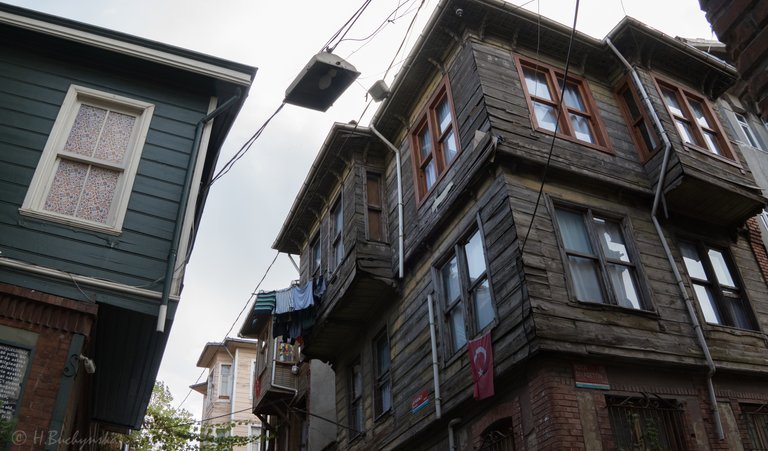 And who lives here, you may ask. Refugees. They settle here and live and grow children as long as possible. We were told that mostly Afghans.
This place never ceases to amaze. Look at the windows on the second and third floors and try to guess where people live. Perhaps at both. And no matter how ̶r̶i̶c̶h̶ poor they are but flowers, they always have flowers. They make their place of living look more home.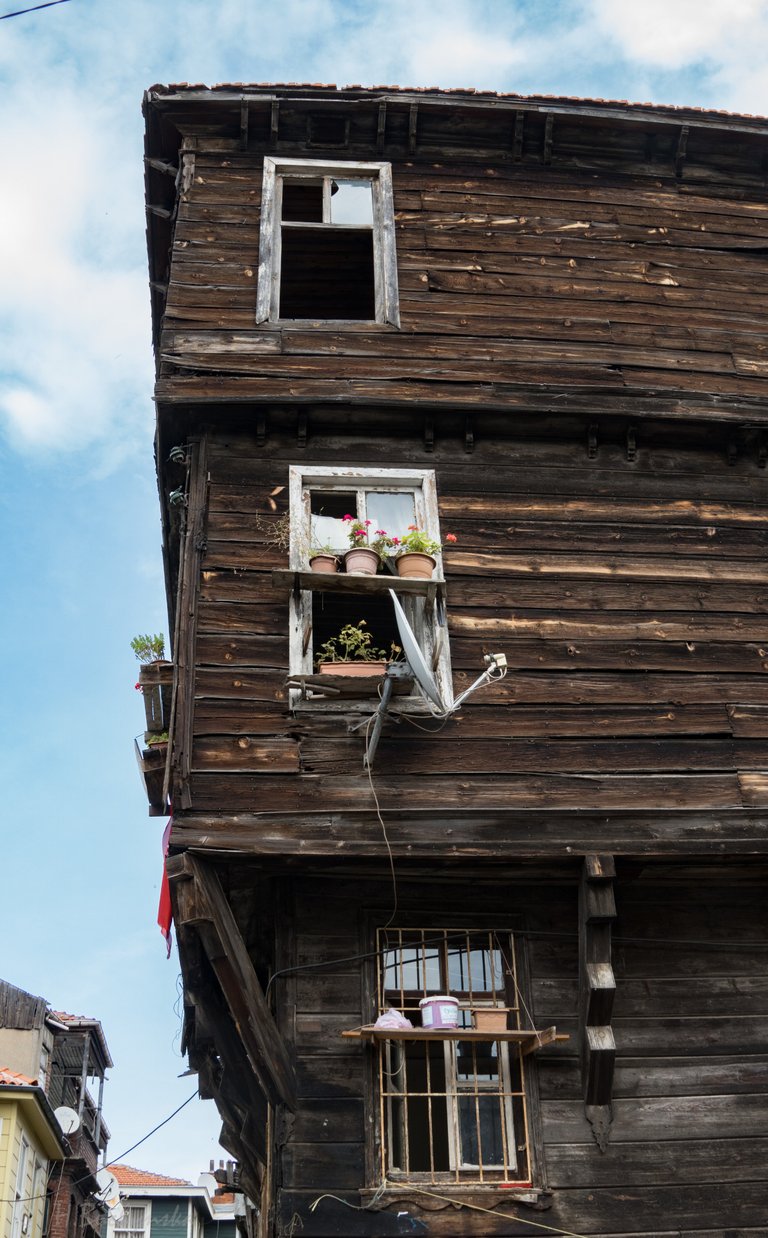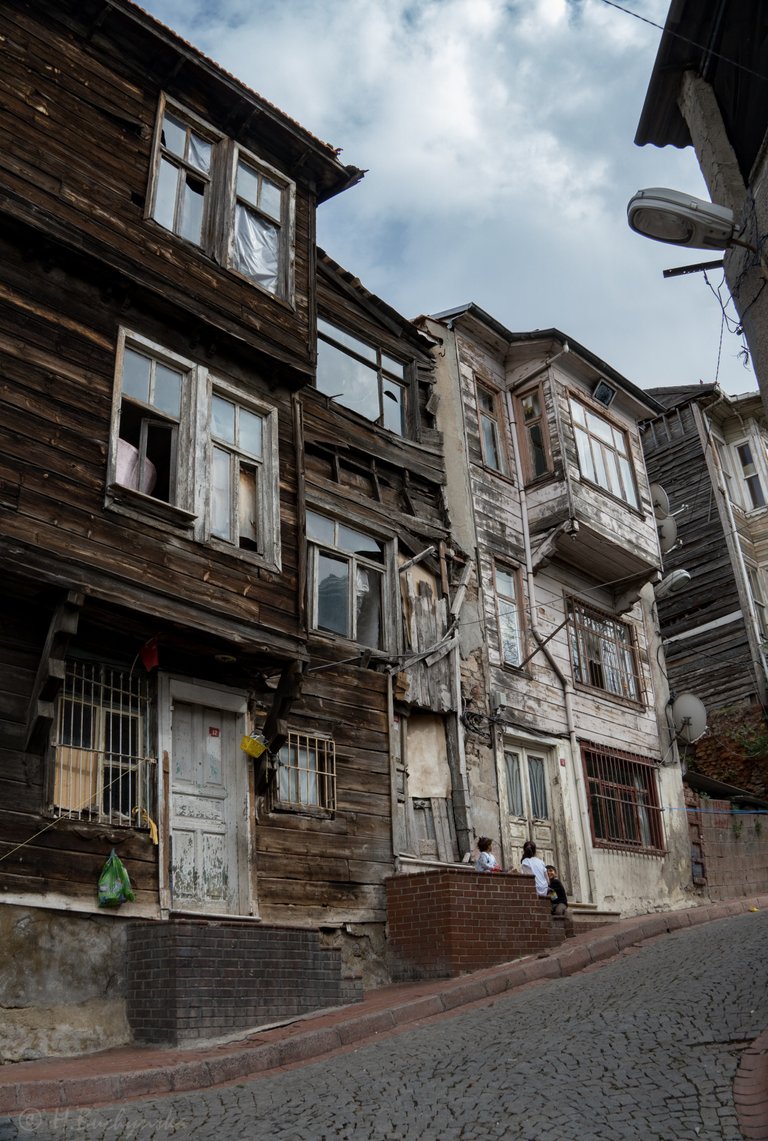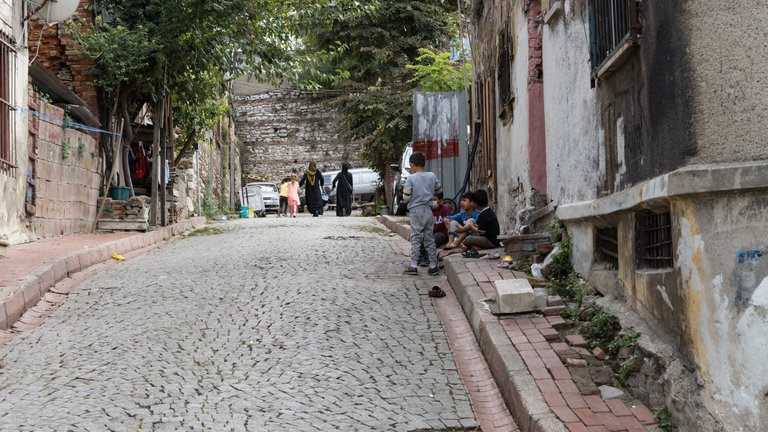 I saw several hotels and hostels. This one looks very cozy and nice but would I book here a night or two? I don't know... What about you?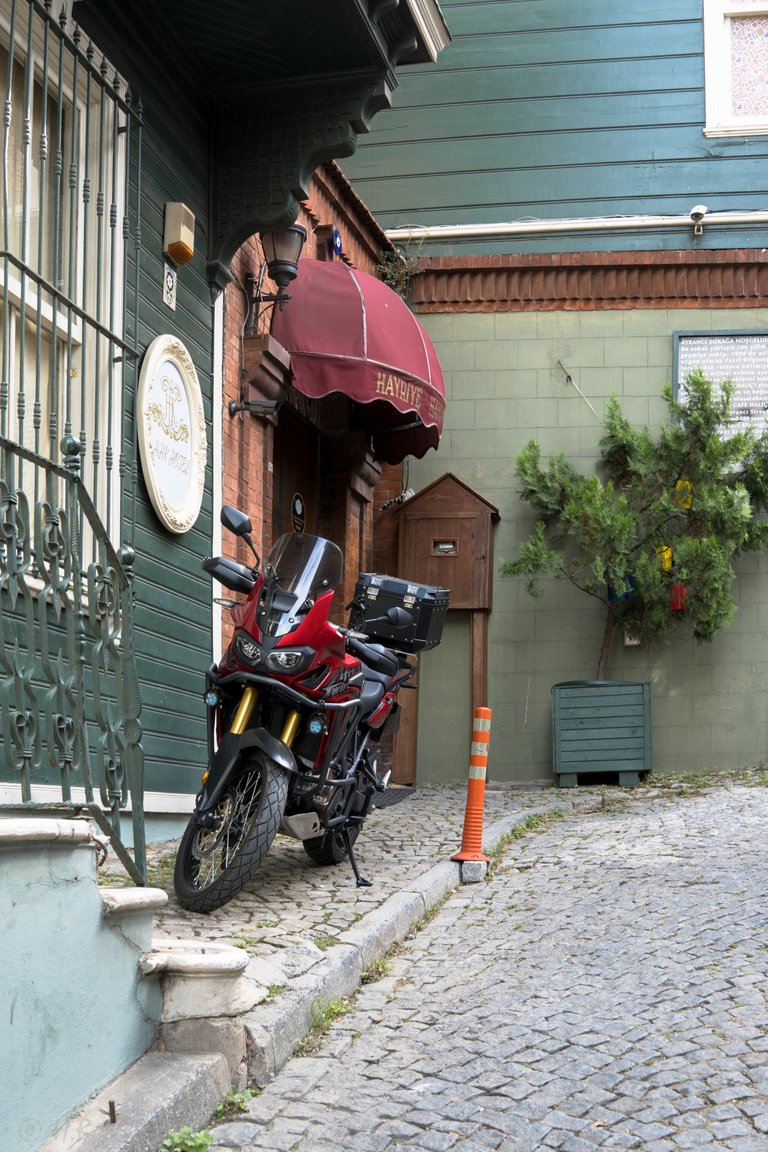 Here, I decided that I need a pause. A place to sit, and have a snack and a cup of tasty Turkish coffee or tea. On the right, there was a cafe in the basement of this building. Nick, my husband, said looking at my hesitating: "You can say you ate in real slums." And we came in.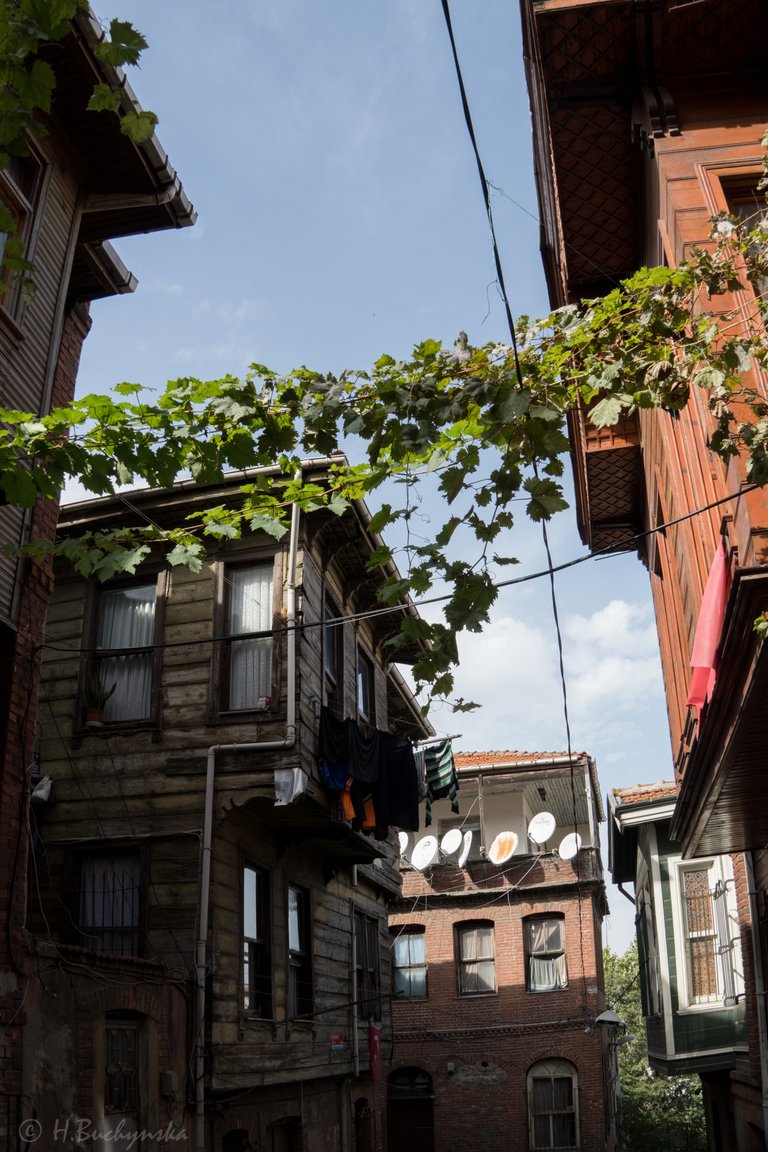 The interior was another shock, I'd say it was a culture shock. Because from inside, it was awesome with stylish decoration and a breathtaking view of Golden Horn! All tables except one were taken. We made an order and settled on a cozy sofa. No, I keep wondering.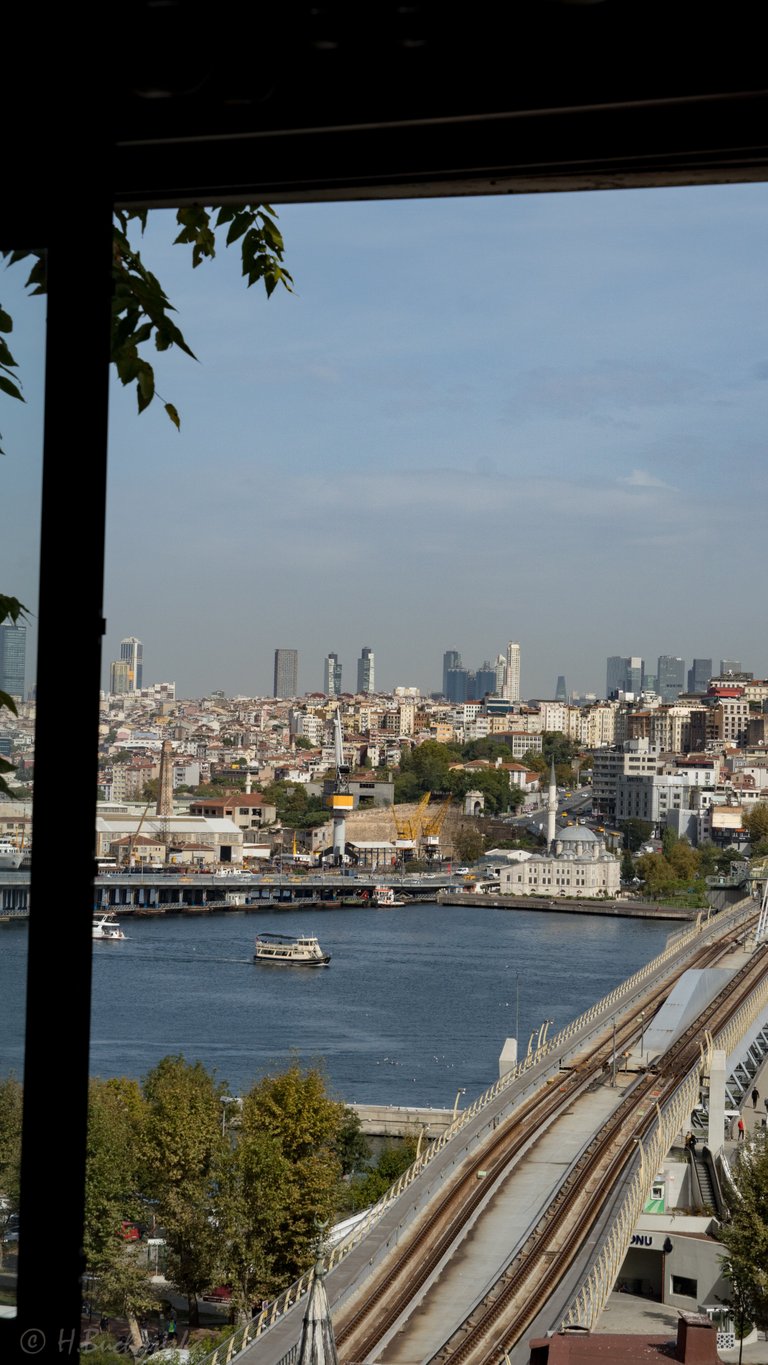 Again, photos from my phone (can't let you miss it!):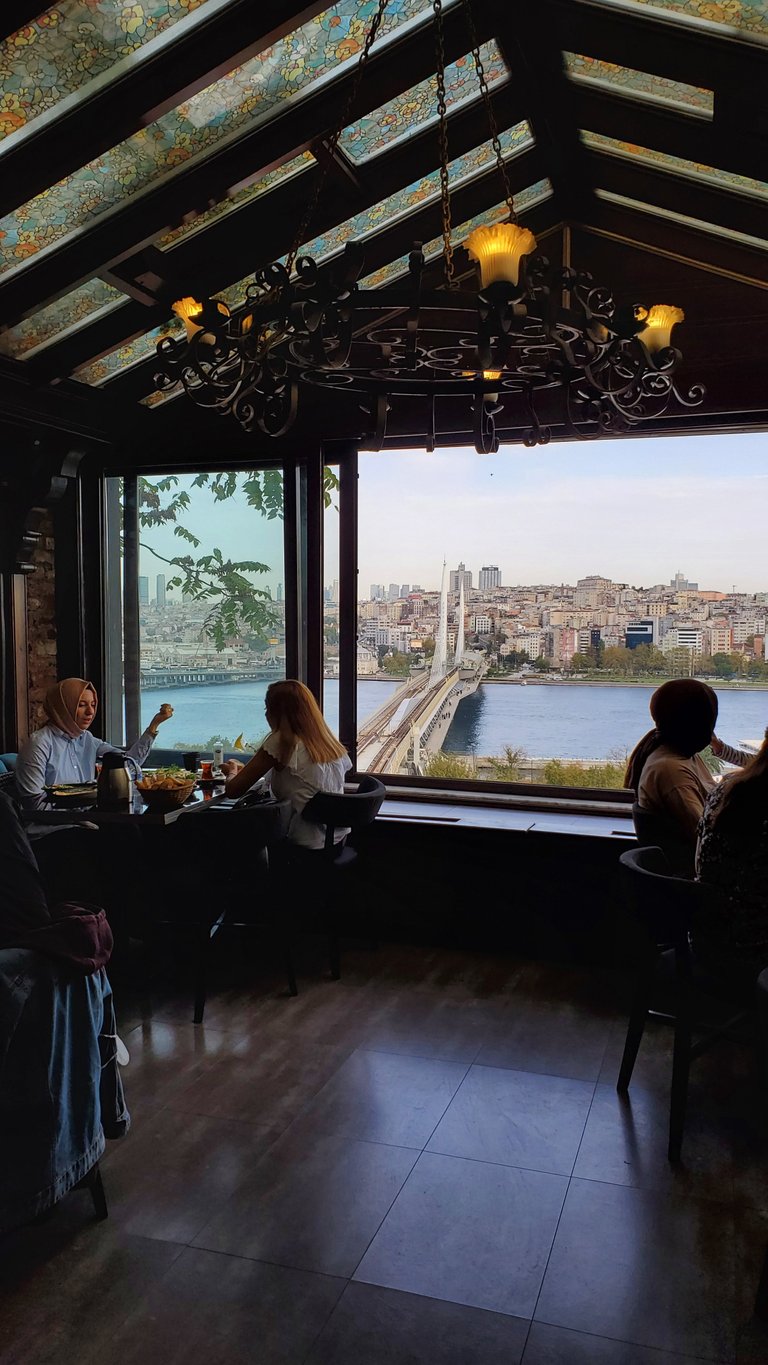 Good clothes, tasty food, smiley faces, stained glass, cleanliness. If I didn't know where I am I'd not believe it.


And another "view point", a hundred meters down the next street. So... that's how it is. Different, regretful, surviving, seeking the beauty of life in most ordinal things. We should appreciate all we have.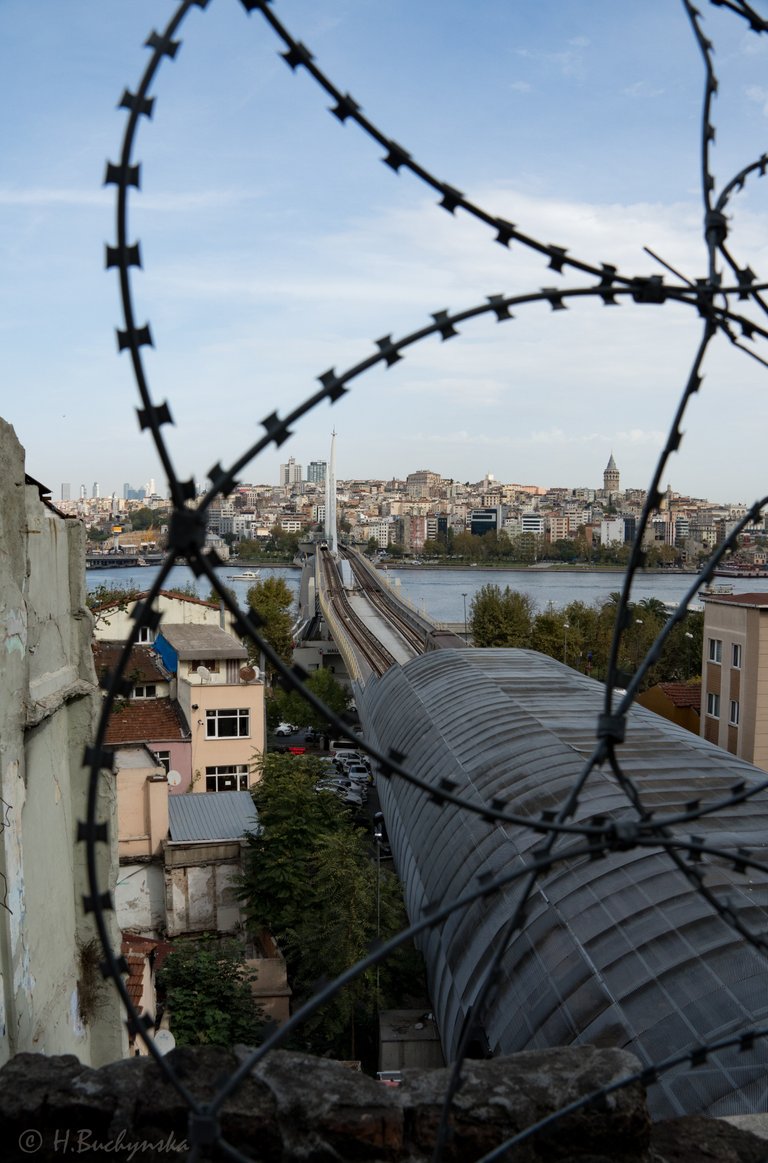 If not mentioned, all photos are captured with Sony A6400 and 18-135 kit lens.
"Why should we expect a city to cure us of our spiritual pains? Perhaps because we cannot help loving our city like a family. But we still have to decide which part of the city we love and invent the reasons why."
    ― Orhan Pamuk, Istanbul: Memories and the City
How beautifully he speaks, doesn't he?


Hey, that's it! Hope you like our walk together.
Thank you so much for taking time to read and drop a comment and for your upvotes. I always appreciate it!


More posts about Istanbul and my experience are below:

---
Exploring the city.
Little Hagia Sophia
Day 2
Amazing Haya Sophia
Istanbul Birds
| Stories of Istanbul cats - for #Caturday | Southern night in Istanbul |
| --- | --- |
All photos used in my posts are taken and owned by myself. If you wish to use any of my images please contact me @zirochka.