I'm trying to get the last seasonal card that I'm missing - the Drumkin!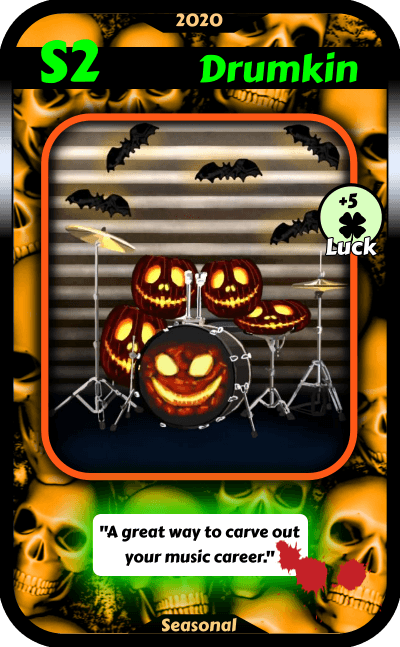 I have the Pumpkin Bass and Guitar - just need this to complete the set.
So my Rising Star gaming has settled into this rhythm...
Eat Pizza Slice to boost to 100%
Do Halloween Spooktacular mission -35% (check to see if I have a 3. card, stick bottom lip out)
Do another Halloween Spooktacular mission -35% (check again to see if I have a card, tut, sigh & harrumph a little under my breath)
Do Radio Interview -15%
Do another Radio Interview -15%
Goto 1
If it's near bedtime, then after eating a pizza (in the game, my wife would kill be if I had a pre bed pizza. Regardless of how good that sounds), I'll pop on the Band Audition mission to run overnight. (I also just need one more band member to complete my band and move on to the next island. But my in-game alter-ego is sooooo picky. Lots of failed auditions!)
I think I've been lucky in that I got Undead Fred in the second pack I opened, then pretty quickly picked up the Pumpkin Guitars.
I have 5 pizza boxes, and again have been lucky enough to have a slice available when I need them. I have had to do a run of Radio Interviews once, though, to top them up.
So there you have it. My Rising Star day.
---
If you're not playing Rising Star and fancy a go (and why wouldn't you - it's fun, and there's a cool little community to join in with as well), you can get started using my referral link 😉
https://www.risingstargame.com?referrer=gribbles