Today I had time to take a closer look at the game Rising Star.
Dear developers: Bull's Eye.
A lovingly developed game about the rise of a lowly busker to a global mega star. This is a story I'm very excited to follow and I'm already looking forward to developing my character further.
I will not go into the details of the game here. That would go beyond the scope of my post, because I would rather show here how far I got in the game on the first day: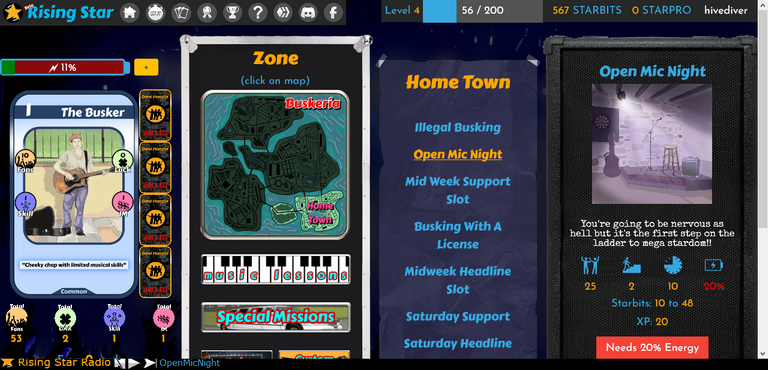 You see, I've had a few gigs and now I'm completely out of energy. This is a good time to finish the game for today.
I can't say whether I did well or not. Perhaps you can judge that much better than I can myself. I'm satisfied and that is what counts for me.
---
By the way, besides the actual game, what impressed me very positively today was firstly the simple verification process on Discord and secondly the record staking: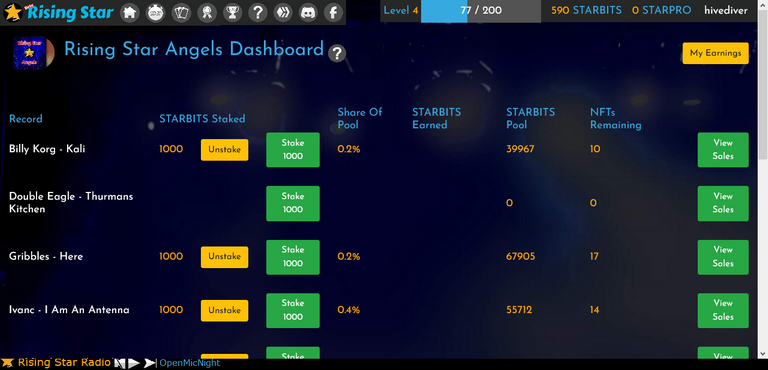 As you can see, I traded some starbits to try out the record staking. I am impressed, fascinated and interested at the same time, because until now I didn't know that such an interface between game and real life exists at all. This part of the game definitely has even greater potential for the future.
I'm already looking forward to diving deeper into the game and exploring it further.
Many thanks to the developers.
---
If you have any suggestions for improvement or other helpful hints for my posts, just write it in the comments.
Thanks for reading. Have a nice day and stay healthy.