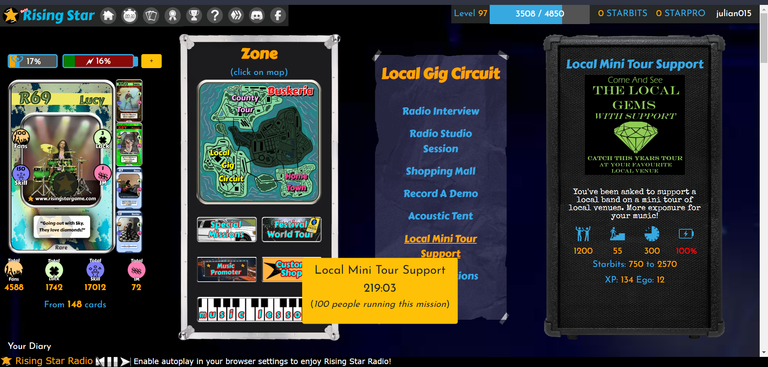 Very good morning HIVE and Rising Star Game community, these days I bought a pack of twelve in-game booster packs for 100.000 Starbits, here I tell you the results, in case you want to know what cards are coming out. stereo
Before opening the packs this was the state of my account:
148 Cards
4588 Fans
1742 Luck
17012 Skill
Muy buenos días comunidad de HIVE y Rising Star Game, en estos días compré un pack de doce sobres dentro del juego por 100.000 Starbits, aquí les cuento los resultados, en el caso de que quieran saber que cartas están saliendo. estéreo
Antes de abrir los packs este era el estado de mi cuenta:

148 Cartas
4588 Fans
1742 Luck
17012 Skill
The first three envelopes:
Los primeros tres sobres: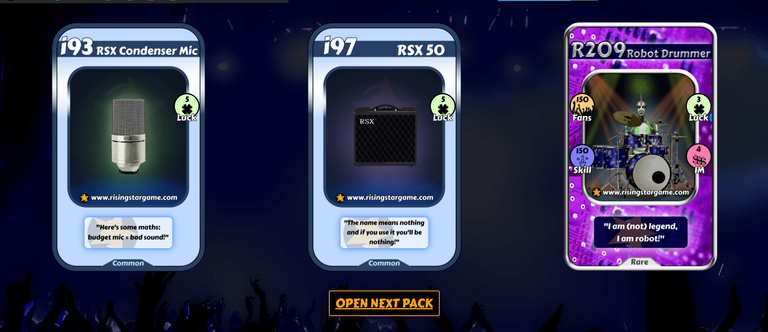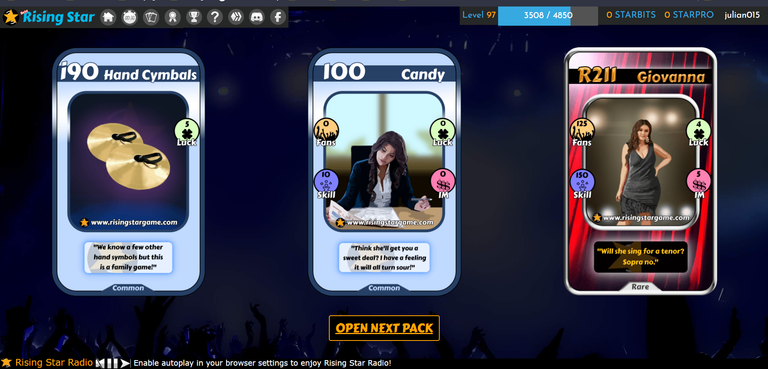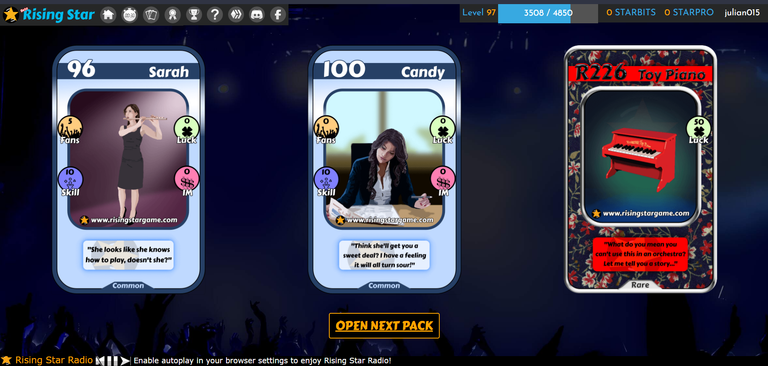 Here began the excitement, it had been a long time since I had opened an envelope and suddenly seeing 150 Fans was a little joyful. In the second envelope Giovanna came out with 125 Fans, which is not bad either, but I wanted to go for more...
Aquí empezó la emoción, hacia mucho tiempo que no abría un sobre y de repente ver 150 Fans fue un pequeño golpe de alegría. En el segundo sobre salió Giovanna con 125 Fans que tampoco está nada mal, pero quería ir por mas...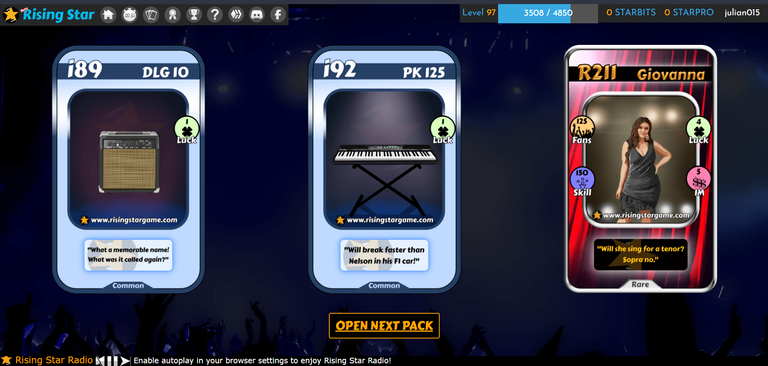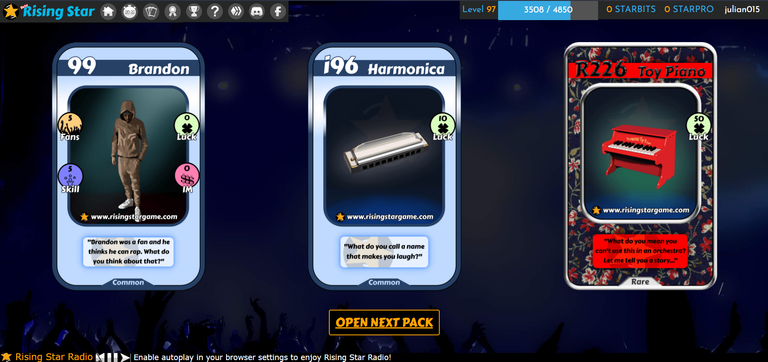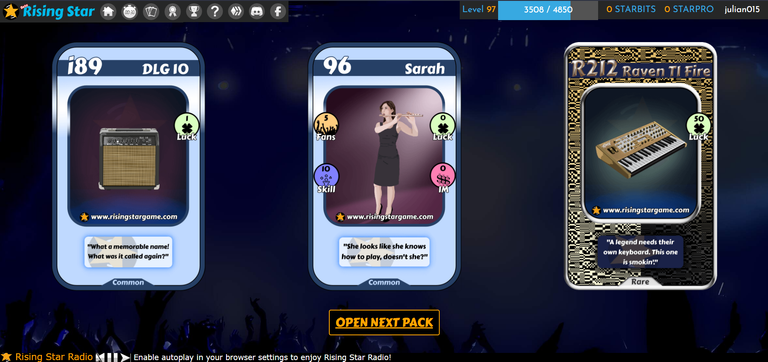 The next three were not so emotional, hahaha, again Giovanna and two rare instruments that add up to 100 Luck, good for lowering the ego.
Los tres siguientes no fueron tan emotivos, jajaja, nuevamente Giovanna y dos instrumentos raros que suman 100 Luck, vienen bien para bajar el ego.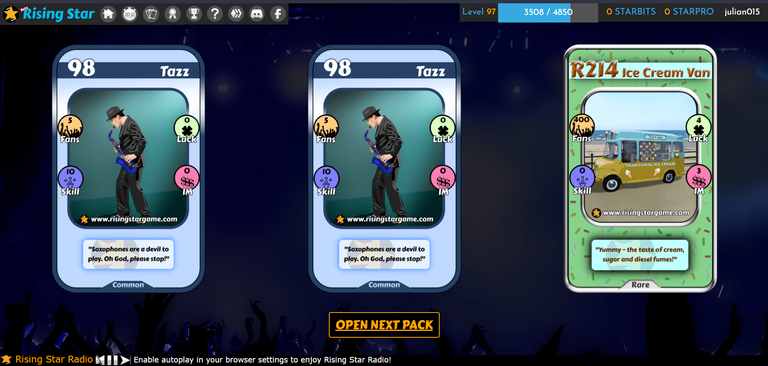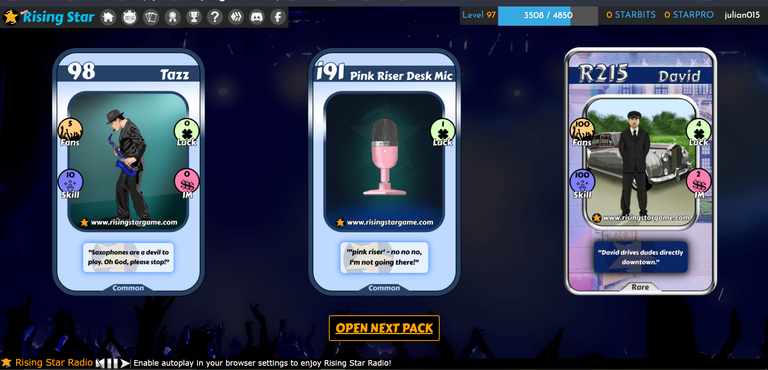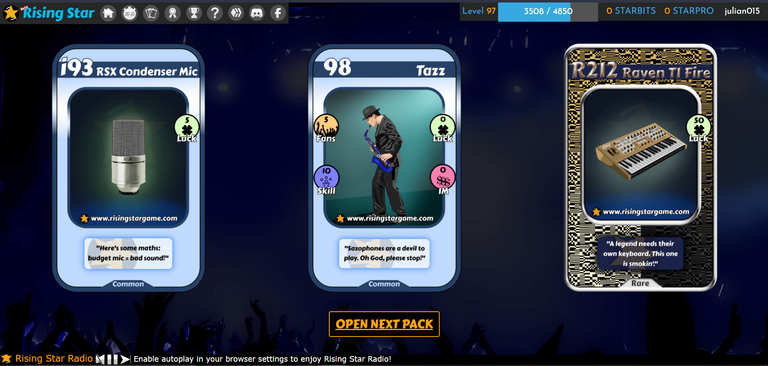 And here, yes, an Ice Cream Van arrived with 400 Fans, which redeems the investment a little, plus 100 Fans of David.
Y aquí si, llego un Ice Cream Van con 400 Fans que rescata un poco la inversión, más 100 Fans de David.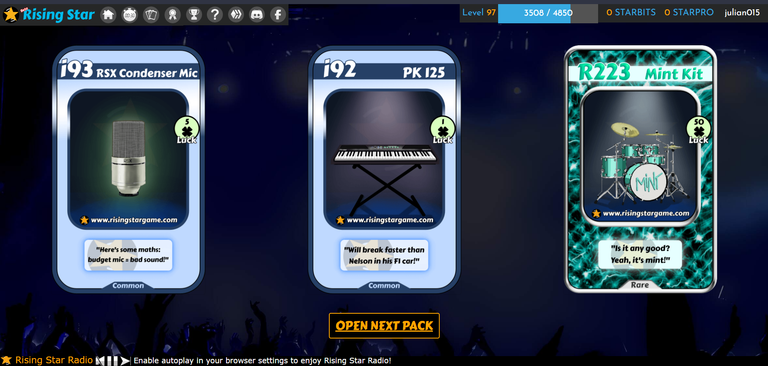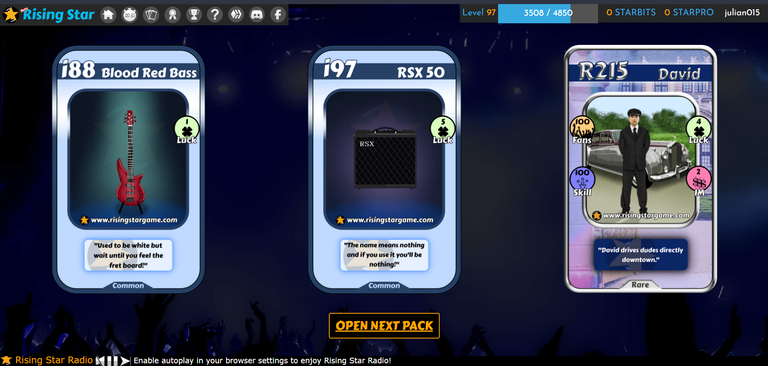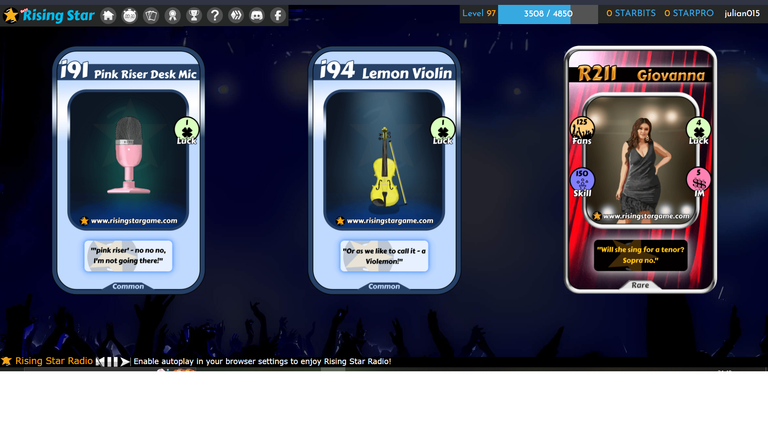 In the last three packs David and Giovanna came out again.
Results: the total sum of Fans is 1160, dividing 100.000 Starbits by this number tells us how much each Fan has paid: 86,2 Starbits.
184 Cards
5748 Fans
2067 Luck
17897 Skill
Objective for the following days, to bring the Ego to 0.
En los últimos tres packs nuevamente salieron David y Giovanna.
Resultados: la suma total de Fans es de 1160, dividiendo 100.000 Starbits por este numero nos dice a cuanto he pagado cada Fan: 86,2 Starbits.
184 Cartas
5748 Fans
2067 Luck
17897 Skill
Objetivo para los siguientes días, llevar el Ego a 0.