Hi everyone! I´m Marcos and this is my first post in this community and therefore I want to introduce myself and tell how has been my experience in the first days playing Rising Star.
---
Who?
Who am I?
I´m Marcos, I´m 15 and I live in a city of Spain. I discovered the HIVE world relative recently so in this first weeks I want to learn everything that is useful to me.
I started to make posts for the gains made investing them in HIVE blockchain games such as Rising Star and later dCITY (I'll talk about this in another post)
---
How I started?
As I said before, I started on this recently so the profits of my first posts were invested in Rising Star, exactly I invested them in a slice of pizza and a box of pizza so I wouldn't have to worry about the energy that initially hinders the game so much.
---
How am I progressing?
This started to be a lot more productive and I don't have to wait forever for the energy to recharge, actually I´m doing an average of 35-40 missions per day and I´m doing the "Open mic Night" ones, that I think are the most profitable in energy/profits.
I have also achieved the achievements of making 100, 110, 120 and 130 missions that among all have given me 4 cards that now in the beginning of the game come quite well. He has specifically given me another pizza box, a mid-range microphone, a saxophonist and a cheap car
I leave here a picture of how I am currently in the game
---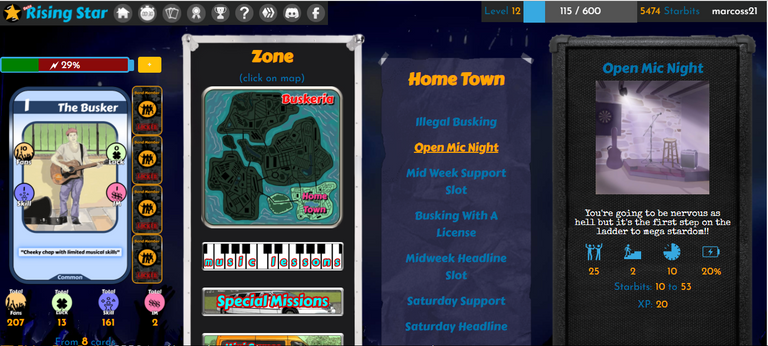 ---
In the end my goal is to go getting StarBits little by little and reinvesting them in the game either buying packs for example to generate more little by little.
Any suggestions and advice to progress are free to leave in the comments and finally I would like to thank Liuke - Academia Libertad for introducing me to this game and for making the beginnings of this game easier
Nothing more to tell, in a few days I guess I will return to update my progress :)
Greetings!