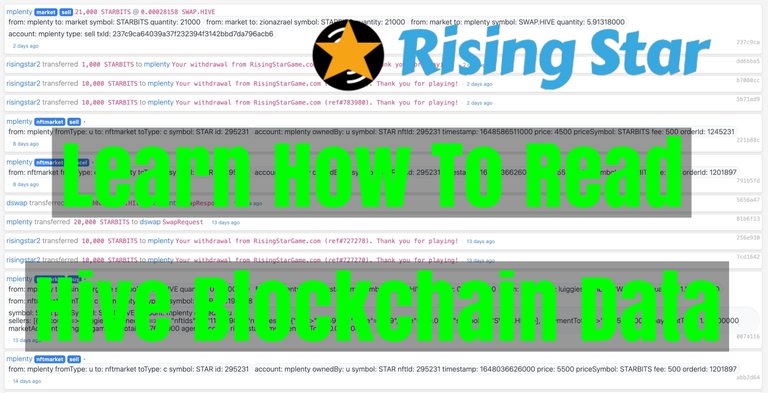 We get a lot of questions in support related to people not knowing how to find out what happened to a card they put on the market and related issues.
I think it's really important that everyone tries to learn how to read the Hive blockchain data as that is where the actual transactions can be seen.
It can seem quite intimidating at first but there are a few transaction types that are quite simple to understand once you know what they mean.
Viewing Your Own Transactions
Whilst it doesn't always work we recommend using Hive-Engine.rocks as it stores some additional data that you cannot get with other tools.
You can access it via the "Hive Engine Explorer" link in the Rising Star menu.

Listing a Card For Sale

The above example shows a Rising Star NFT being placed for sale on the market. The "STAR id" is the NFT number.
This means you have placed a card on the market for sale NOT that it has sold.
Cancelling a Card You Have Listed For Sale

Hopefully self explanatory!
Buying a Card

When you buy a card you will see an "nftmarket buy" transaction.
The first line is the 5% market fee going to us.
The second line are the proceeds of the sale going to the seller and you receiving the card.
The third line just shows some additional information.
Selling STARBITS
A "market sell" transaction appears when you sell some tokens.
The first line shows your sell order going to the market and then someone (in this case zionazrael) buying them from you.
The second line shows the proceeds you have received from the sale.
In the above example the player has sold the tokens immediately at market price hence they have received the proceeds in the same transaction.
If you put tokens up for sale as a "limit order" (meaning you don't want to sell at the market price but want to wait for someone to buy them at a lower price) then you would just see the first part of the transaction like this:

Learn To Love The Data!
I hope this makes things a little clearer and whilst we can't promise that you will become "the one" and be able to interpret the matrix it should help you find out what is happening when you use Hive Engine and associated apps.


Rising Star - The Play2Earn NFT virtual music career game built on Hive.