For those of you that just love and acronym, it's my twist on VFD. Which in the Electrical trade is Variable Frequency Drive. Generally used to control the flow rate, or for some of the heavier pipe lines with a larger bucket of money, pressure rates as well.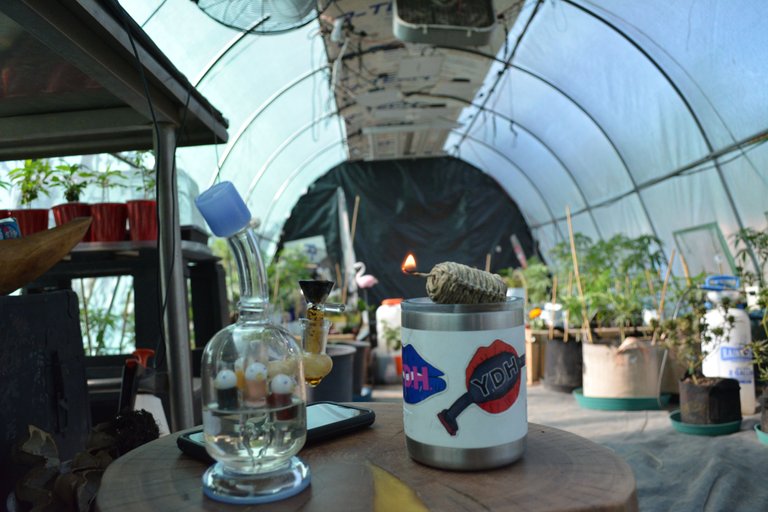 Frequency may vary due to season. Work load has gone thru the roof. Might have to switch to the higher flow rate of images and at a lower pressure. Meaning Highlights with limited word input. Who the pHuck knows.
Got a good shot of the green house after the table was turned and some new houses' were fitted for their new tenant's.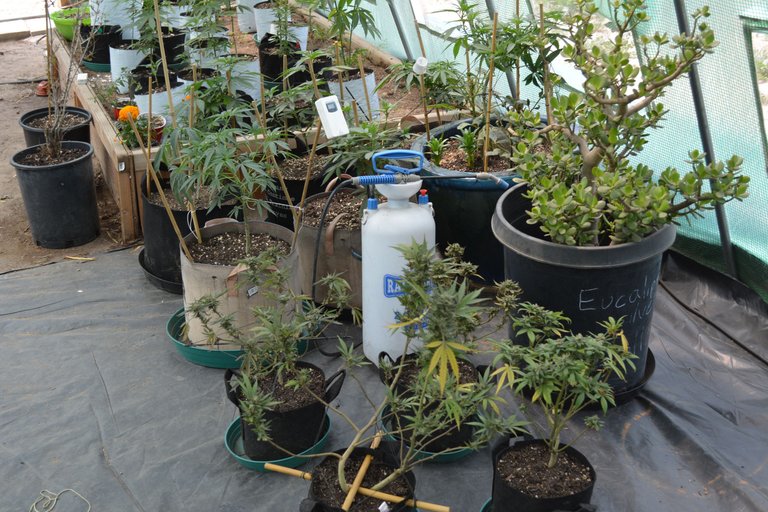 Call me a Fabric Pot Slumlord if you will. I kind of run it like a "Hot Cot, Man Camp". One in one out. La Onda an shit, eh? Plants have sap, close enough.
Another 4, plus the Swan are in chop an on the rack. Save for the washing of the pot and the drying out of the soil, make sure the gnats die. Those pHuckers.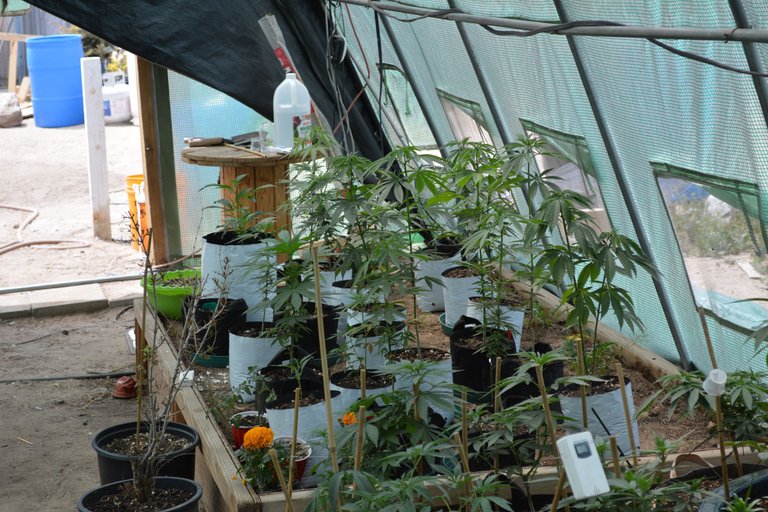 Everyone spread out real good, give me a better chance at a higher body count when it comes to the pest. I like to watch'em squish in the clutches of the ever aggressive Mantis. Murderous lot they are. pHantastic.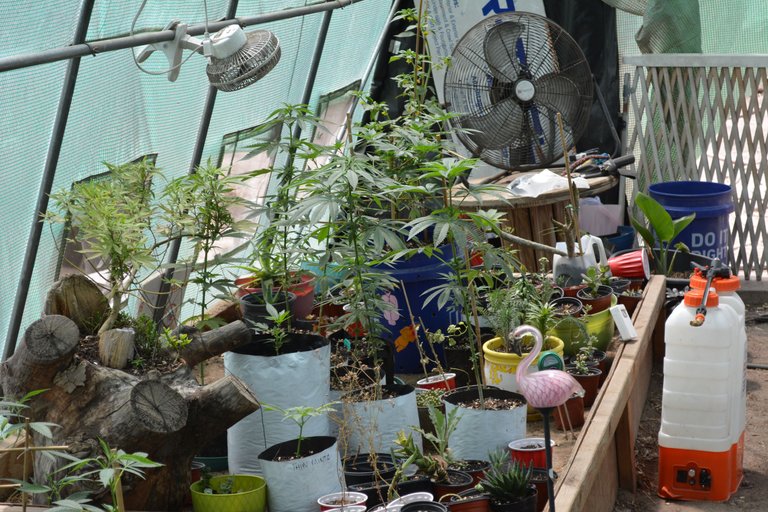 Just under the Petrified OG there is a cut of the #1 Thin Mintz that showed female, she is doing well. All the others have already found new areas to grow, out of my scope. Sometimes is sad, watching the little cutting leave the cloner. Almost like having to find homes for a litter of puppies. Always hoping the best, but keeping the strongest of the lot for yourself. Meh, they should be alright.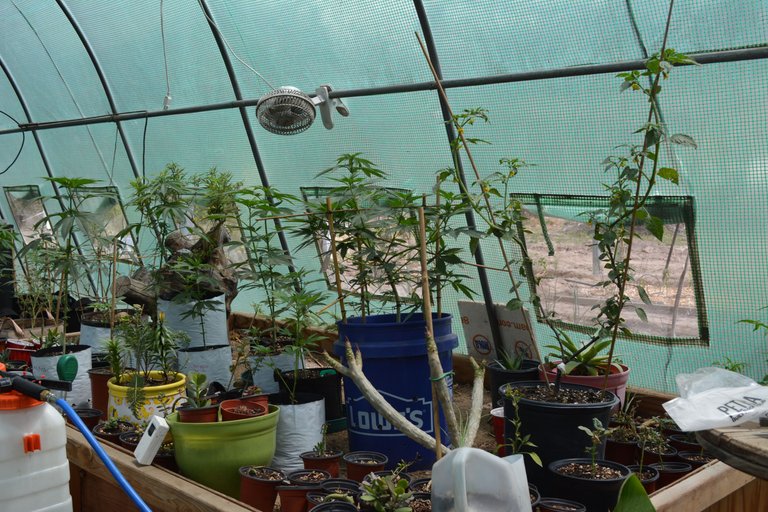 #5GallonChallenge is coming along nice more than likely the end of the week take a few cuttings before "flip". Then maybe one more round get a "monster crop" effect along with a 2nd round of cuts. Plans and thoughts right?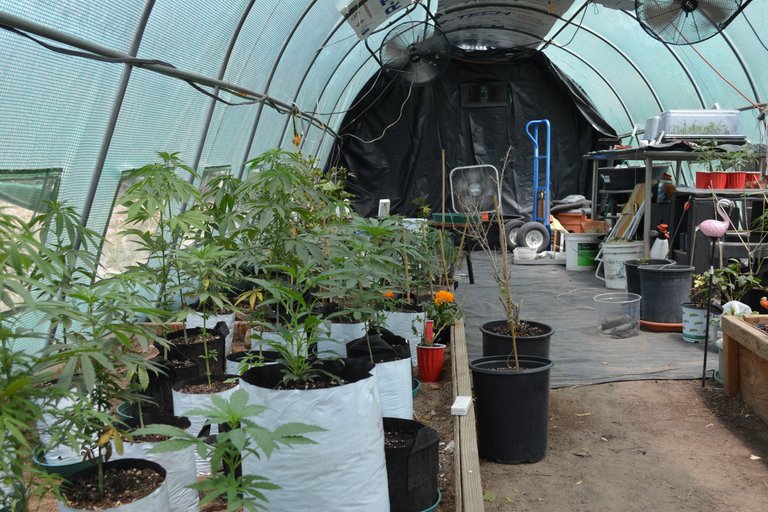 Front side of the Box. Lot more room available for air flow. Was a great time to re-arrange the fan layout, the old configuration was not good enough for what they are going to need in the coming heat.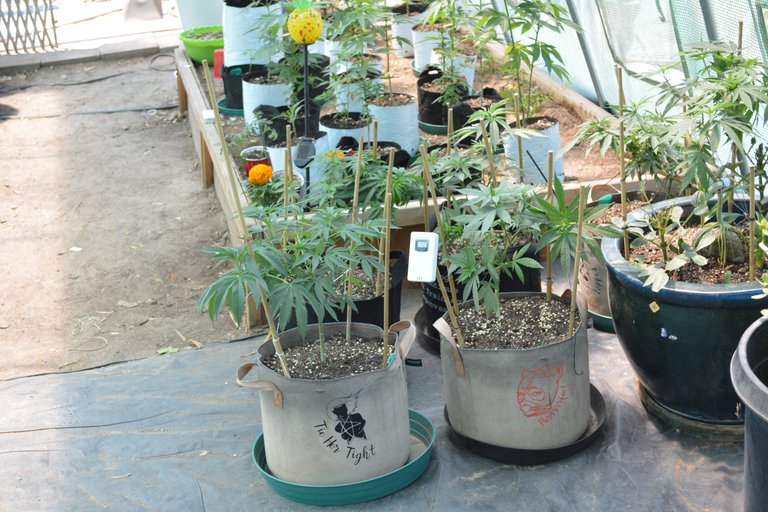 Put the ropes to the Slurricane that hasn't been topped. She was getting tall. The Citrus Farmer in the Purrrrrfect bag there is coming round the 2nd post on her turns. So not too much longer an the pruning for more sites is on the list of things that need to be done.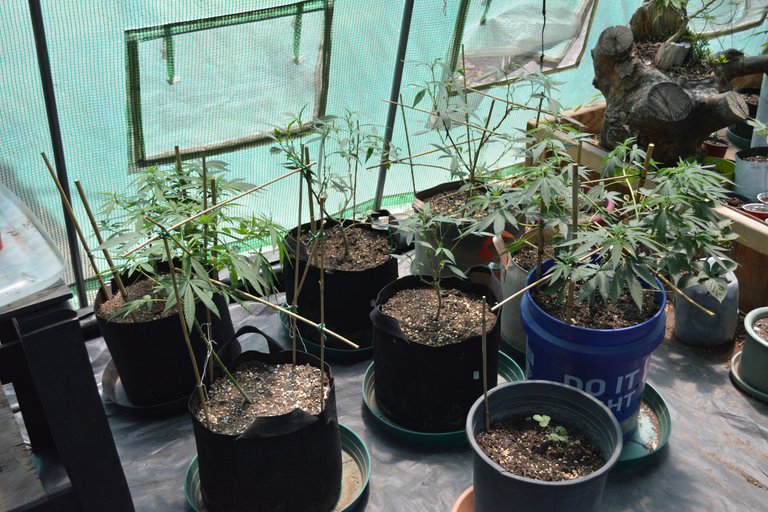 2 new 5'ers were set down the other day. Wedding Cake #4 x 5G and a Gorilla Glue x 5G. Wedding cake is the forward one with the cross brace bamboo GG x 5G is in the back there. Both throwing pHat hairs. #5GallonChallenge has a new spot there. Her tops are all just about leveled off there at the top of the bamboo pikes. Those are all 2', not pushed all the way down of course. But few more nodes and the honey comes out.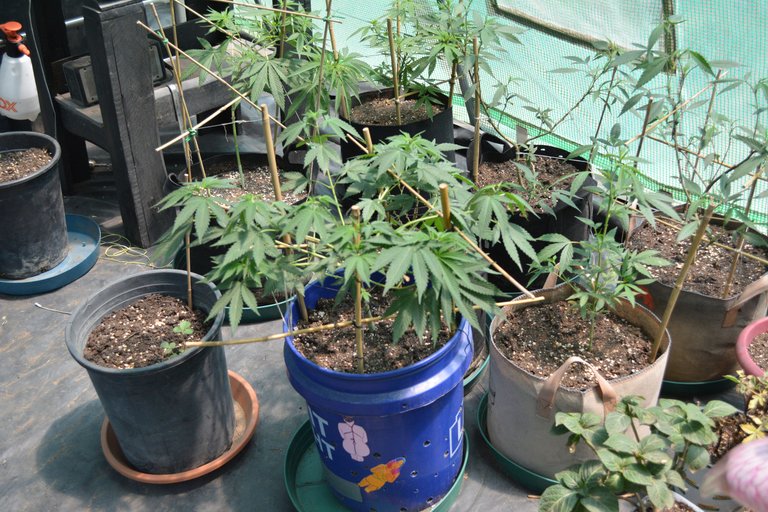 Pine Berry right next to the Slymer x Wilson x 5G bucket, so big trick with these and the strawberries is don't get the leaves wet. AT ALL. They die real quick. Flood for best results.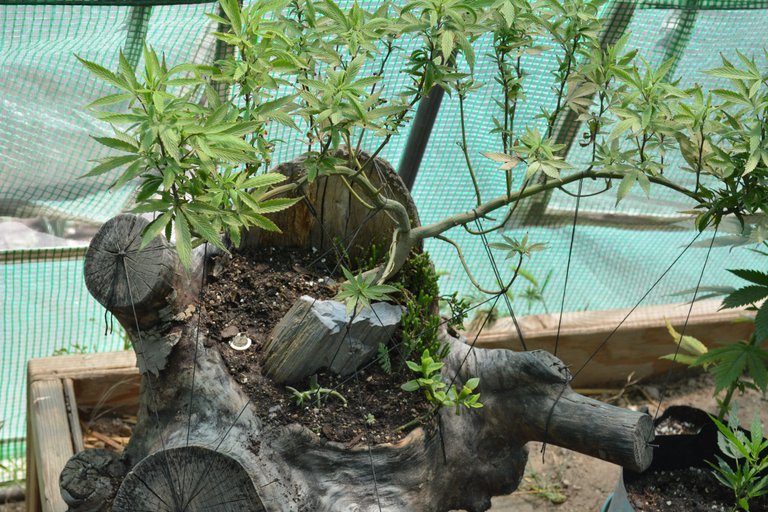 Petrified OG is doing sooooo much better. There at the beginning the Oak stump, in which she resides, was loaded for the 2 gal that it took to fill. Waaaay back when she was just living in a blackout tent. 5-6 months something like that? Anyhow, feeding is far easier when done in tea mode, as opposed to dry amends. Also any of you that work with soil an the dry amends know that good soil gets real clumpy and hard. "No Till" yes agreed if your pots have the correct red wiggler count per square inch.
Having trouble getting water to the middle of the pot. I took a piece of 1/2" PVC and drilled it up and stuck right in her brown spot right there. 🤷‍♂
4 days since placement and the bugs are almost gone leaves are getting sooo much brighter. A band aid for now but we'll see if we can't get some more better soilutions on this.


Those lilies leaves and root work just look soo very nice together. Black and orange, along with the Platinum Gorilla being shaped around the taller cutting flowers coming in.
Ever see those talented gardeners that shape things into animals?
I tend to like the Freak Show more myself then the upturned nose of horticulturist zoological tendencies, more alike inspiration for my style. 😉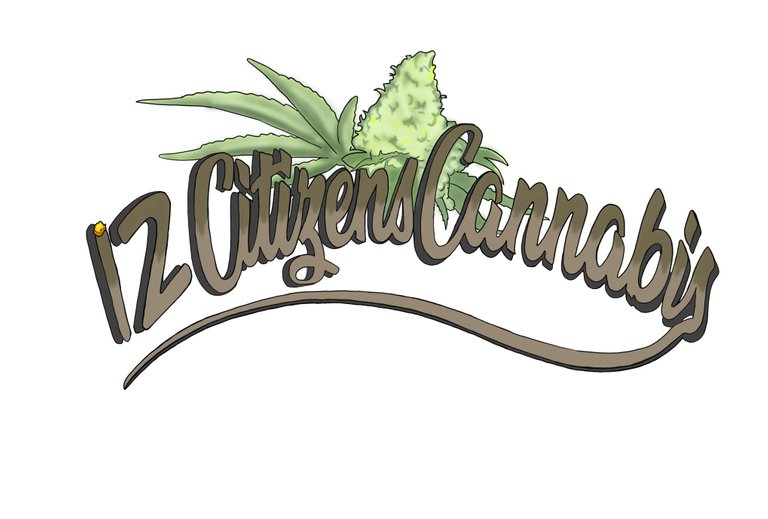 I know I have mentioned this before but this is the Logo sticker work up 12_citizenscannabis, that has taken some of the digital time this last week and this week as well. Caught a commission to run the stickers for his seed drop. Have you been to that page yet? He's on instagram, I know but some folks just like different ponds. Have to check it out He's got some nice gear, as well as awesome stickers, made by a cannabis friendly fine art purveyor.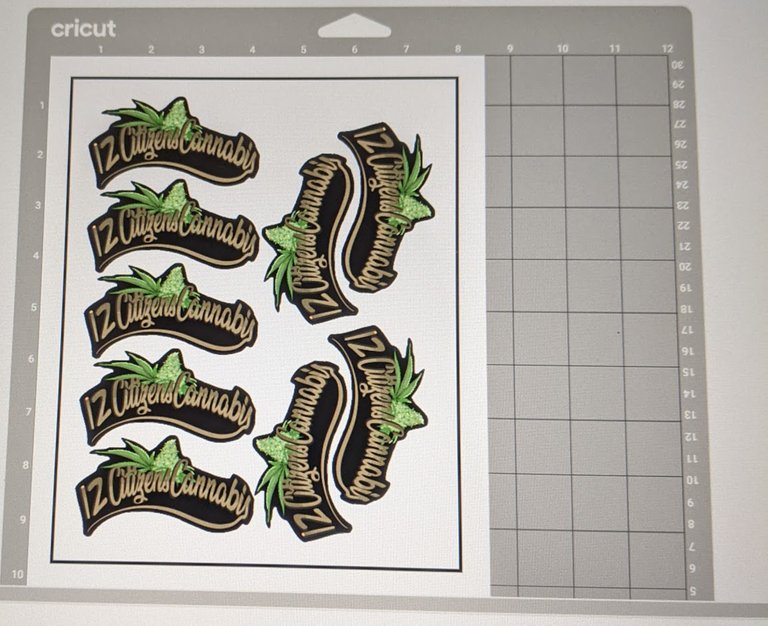 It's me, I'm talking about me. I make stuff like that. Like this ☝️.
Not this 👇. This is someone else's art work. I changed the background on the top one for variety. Cool drawing, even cooler stickers being minted on the morrow.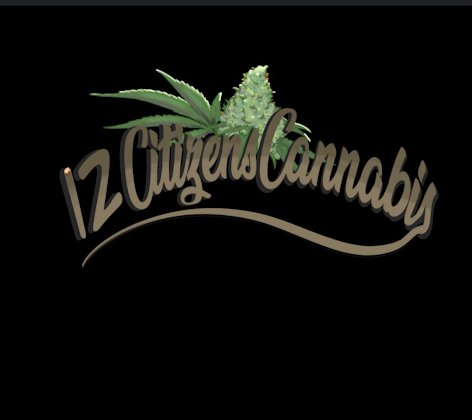 That's ol'timey speak for, I'll get to it today when the materials come in.
Thanks for stopping in for the garden scroll.
Have a pHantastic week.
Knottydaddy, Tied Off.