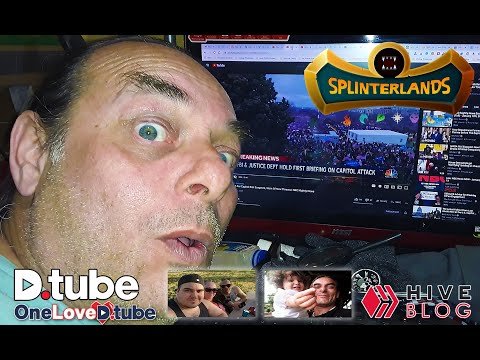 ---
Good Evening Everyone... Well, the news today is very interesting... As the FBI puts out an all alert in their search for the Domestic Terrorist who made their attack on the Capitol. The FBI talks about the many types of crimes they are pursuing and the amount of time some May end up spending time in prison and the threats that are coming in about further plans for more attacks all over the Country...
At the same time this manhunt is going on, New developments from the House of Representatives, the Senate, Democrats, and Republicans seem to Be on the same side for the impeachment of Trump, including Mitch McConnell... Didn't see this coming for real...
Played some @splinterlands tonight and didn't do So well this evening... What was strange though is a comment I received on My YouTube channel from someone in the #splinterlands community asking me to separate my political reporting from My splinterlands videos... Censorship isn't good in any form for the most part... It really depends on the situation like words that are Criminal and May cause physical harm to another Life...
But the videos I make are of many subjects and I don't think it's okay for people to tell someone what they should include in their videos as long as it isn't harmful to others...
Well, almost time for bed... Goodnight all and May You Always Be Happy and Blessed...
Keeping My 10k a day going with @actifit and Loving it...
![splinterlands, armed attacks, capitol buildings, gaming, Donald Trump, FBI, insurrection, bipartisan, impeachment, life, dtube, steem, streemie, mob, gaming video, jeronimorubio, jeronimo rubio (261.jpg](https://images.hive.blog/DQmcmKienHNZH5AEpWwCTYWpp6wZLmMJgR2zB6oD3R5xWNA/splinterlands,%20armed%20attacks,%20capitol%20buildings,%20gaming,%20Donald%20Trump,%20FBI,%20insurrection,%20bipartisan,%20impeachment,%20life,%20dtube,%20steem,%20streemie,%20mob,%20gaming%20video,%20jeronimorubio,%20jeronimo%20rubio%20(261.jpg)
#hive
Come Battle Me on @splinterlands ...
https://bit.ly/Come-Battle-Me-in-Splinterlands
Streemie Video Sharing Site:
https://streemie.com/register?........................
https://support.streemie.com/h........................
@dsound is One Place to Get Music for your Videos but, Ask Permission First:
https://dsound.audio/#!/feed
Free Stock Music is Another Great Website for this as Well"
https://www.free-stock-music.com/
Music in this Video:
Neither Do I by Electronic Senses | https://soundcloud.com/electronicsenses
Music promoted by https://www.free-stock-music.com
Creative Commons Attribution-ShareAlike 3.0 Unported
https://creativecommons.org/licenses/by-sa/3.0/deed.en_US
@dtube - Video Site - Youtube - No Censorship - https://d.tube/
@vimmtv - Live Streaming Platform - Twitch - No Censorship - https://www.vimm.tv/
@dsound - Podcast & Music Site - Soundcloud - No Censorship - https://dsound.audio/#!/feed
@steemhunt - Product Search & Review - No Censorship - https://steemhunt.com/
@dlike - Web Content Sharing - Pinterest - No Censorship - https://dlike.io/
@actifit - Fitness Tracker - https://actifit.io/
@splinterlands - Digital Card Game - https://steemmonsters.com/
@appics / @steepshot - Instagram - No Censorship - https://appics.com/ - https://steepshot.io/
Every Day is a Day to Be Thankful for all the Amazing and Beautiful with the People in My Life, Like My Beautiful Fiance Vanja, Our Two Children Angeles and David and All of My Family in Mexico, Norway, Thailand (My Brother @stewsak), and here in the USA. They Are a True Blessing in My Life and I Love Them With All of My Heart.
May You always live in the Abundance of Beauty, Love and Be at Peace in Your Heart, My Amazing Family All Over the World... Go Out and Spread that Joy, Happiness, Peace, and Love Always Every Day. @jeronimorubio
---
▶️ DTube