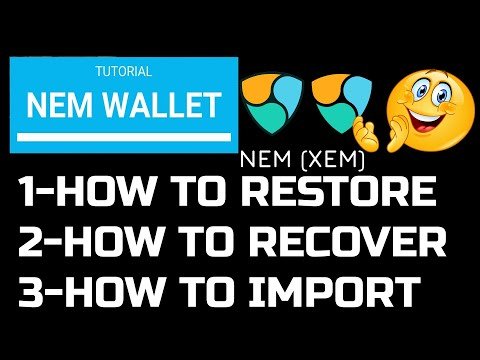 ---
How To Restore NEM Wallet. This video provides options to restore NEM wallet from backup:
Restore from Raw Wallet File
This tutorial assumes you have backed up the .wlt file data at the creation of your NEM Wallet. It is always best security practice to keep such files in a safe location such as an external USB device, and off the network.
This video uses the NEM Nano Wallet. which is available for download at https://nem.io/downloads. The Windows, MAC, and Linux download button are for 64-bit computers. Use the Universal Client (with Trezor Support) link for 32-bit computers. . its very easy and every one can understand. Its a short demo you must
watch this video till end to get complete information. So follow these steps.
Support Me With Crypto
[BITCOIN] 1P9e3aFqVSzFczpTpYQuuWYAuvFcmzjcSo
[LITECOIN] LViXEZrLQUi1T1eAtPh6vWzDf4QVhJsiqs
[DOGECOIN] D8vkFq5cDjPiKYGLAKYKvmNZH2AxAmVLok
[TRON] TMiajBAfpvaQ9YUTiv5GnNQ5dzBd2EQ1QQ
[ETH] 0xafbc06b6cc58780bc166ad426cb536c75a76cf3a
So if you face any problem regarding this. you can freely contact me.
So if you find this video informative. Subscribe to my channel and press the bell icon button
for latest updates. You can also like and share it.
---
▶️ DTube