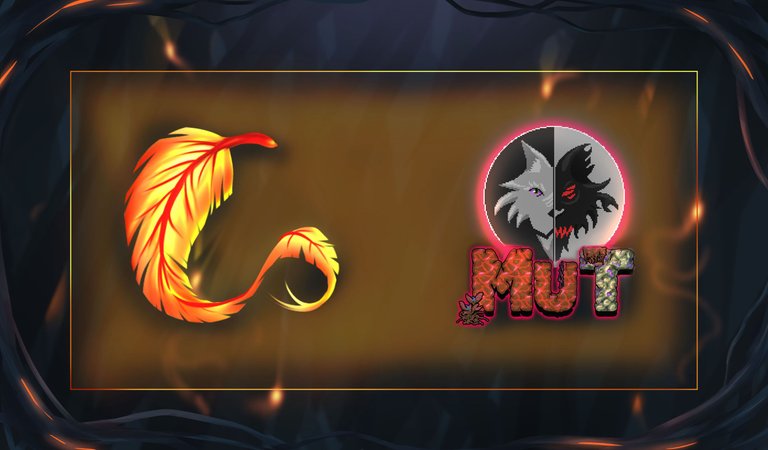 We aim and pledge to have our whole economy based on MUT tokens only, i.e., at one point in the future, we will stop accepting any other payment methods except MUT. We will certainly create different pools to help the community get MUT tokens easily. On that note, lets dive into how MUT will be distributed.

MUT
Mutee Utility Token aka MUT will be the only token of MuTerra. You will be able to use it to purchase anything and everything related to MuTerra at one point in time. It will act as the governance token too.
We aim to create high demand for MUT. From using it for all in-game purchases to voting power of a player, MUT will be used for everything and we do NOT intend to introduce any other token.

TOKEN DISTRIBUTION
| S.No. | Category | Release Schedule/Duration |
| --- | --- | --- |
| 1 | Airdrop | 60 months |
| 2 | Staking Rewards | 60 months |
| 3 | Liquidity Provider Rewards | 60 months |
| 4 | Team | 12 months |
| 5 | DAO | Vote dependent |
| 6 | P2E Rewards | Vote dependent + Formula Based |
| 7 | Miscellaneous | Vote dependent + Will Vary |
| 8 | Partnerships | Will Vary |
Total Supply of MUT will be unlimited initially. We intend to have DAO decide whether to limit the supply or not in the future.
---
This post will be strictly talking about MUT Airdrop and MUT Staking Rewards only.

AIRDROP
MUT will be airdropped to players based upon the amount and type of MuTerra assets held in their HIVE wallet.
Airdrop will happen on a daily basis over a span of 5 years.
We will monitor the supply of wild edition cards and might adjust the MUT airdrop after 1st year.
Screenshot of your assets will be taken at 2 PM GMT every day.
The airdrop will start on the day of Alpha opening ceremony. The date will be revealed in upcoming posts.
MUT AIRDROP TABLE
---
Edit made on 8th December 02:30 AM GMT - Common tamer now gives 0.05 MUT/Day instead of 0.
---
---
---
---
---
Please make sure all the assets mentioned above are in your HIVE wallet and NOT in your WAX wallet.

STAKING REWARDS
Staking MUT will give MUT as reward in a depreciating way over a span of 5 years.

The 1st year airdrop is aimed to give our early supporters a nice little head start.

The Staking rewards you get will be automatically staked to your account. (Only the MUT airdrop will be in liquid form which can also be staked.)

Staking rewards will be distributed everyday at 3 PM GMT.

Staking MUT will lock your MUT tokens for 4 weeks.

Un-staking process will take 4 weeks to completely un-stake, i.e., each week you'll get 25% of the total un-staked amount back.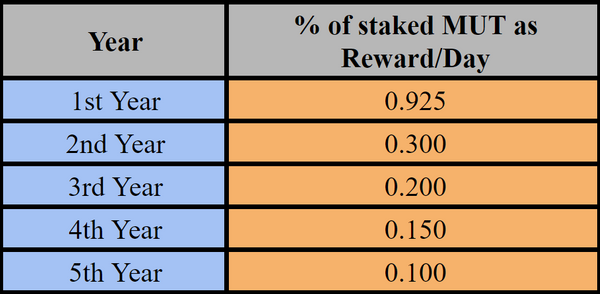 NOTE : The more MUT you stake, the more Voting Power you will have

LORE
May 2034
First meeting of the council, under the supervision of Fiona.
Highest order of business was setting up an adaptable currency system based on the current situation and not the ancient norms.
Mutee Utility Token (MUT) is to be a form of bounty on the products most in demand.
One "MUT" is the equivalent of a crate of bones and common woods.
All mutated materials collected are to be valued in MUT and must be stored in the safe house close to HQ.
The council hence decides to assign 10 MUT for the restoration of Sweetplains' tower. Top Priority.

REFERRAL BONUS
Don't forget to invite your friends over to MuTerra! Every time they purchase something, you'll receive 1% of the amount straight to your hive wallet!
Read more about it here : Info on Referral Bonus

MUTERRA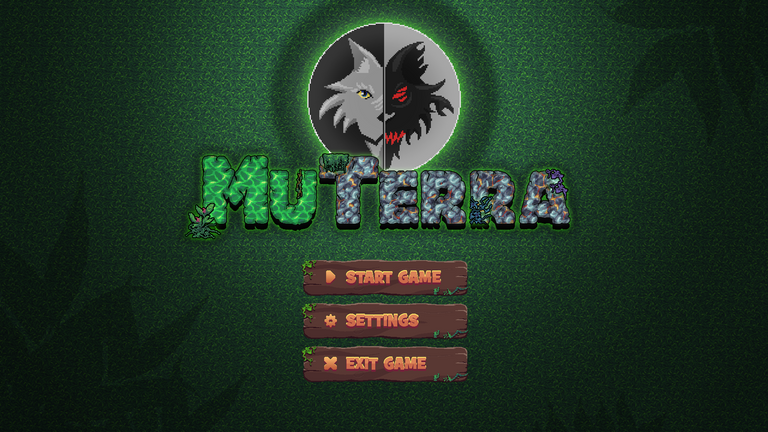 MuTerra is set in a post-apocalyptic world where radiation has killed almost all of humanity and has mutated plants and animals. You, the survivors, are tasked with ensuring that humanity doesn't go extinct by exploring the wild, capturing the mutated animals and taming them.
MuTerra is a TCG + RPG game which will be on HIVE blockchain.
The RPG aspect will deal with explorations, raids, quests and more.
While the TCG aspect will deal with PvE and PvP battles, where you collect NFTs and fight each other to prove you are the better tamer.

Visit our Website :
Join us on :
Follow us on :