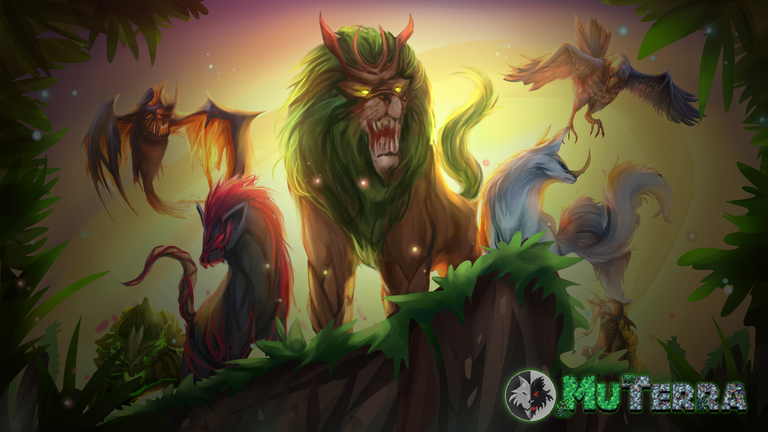 In this post we will be sharing details about what we have achieved so far in the last 2 months, what we are currently working on and what we plan to achieve in the next few months.
Happy Reading.
---
MUTEE ILLUSTRATIONS
The word "mutee" refers to the mutated creatures of MuTerra. The teasers that we keep dropping on MuTerra : Discord are those mutees that you'll be able to hunt and tame in MuTerra Gameplay.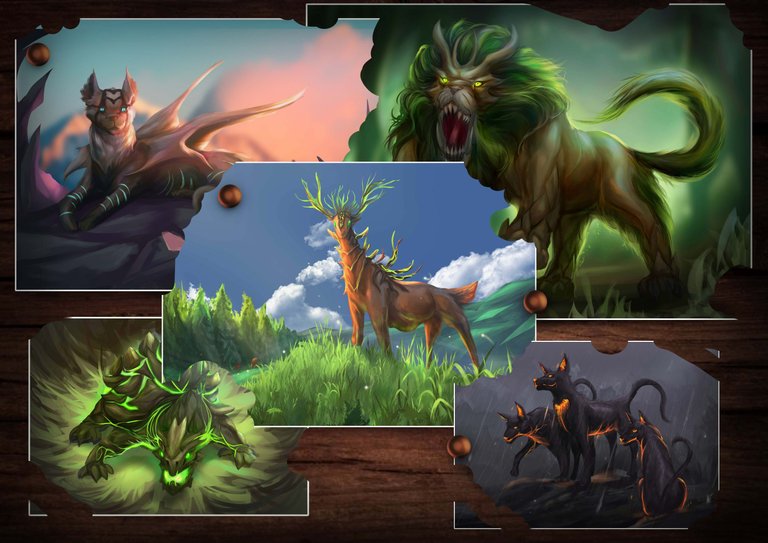 Around 20 more mutees have been created in addition to the 20 limited edition mutees that were made available in the pack sales.
Currently, these new mutee illustrations are being turned into pixel art for the PvE gameplay.
---
PIXEL ART
There are small small things that required our attention like font style, color palette, art style, tile size of assets, UI layout and more. Each of these things needed intensive discussion and numerous tries before we made any final decision. Thankfully we are done with that phase.
User Interface
Here we are sharing one of many initial Drafts of UI screen layout. In NO way this is final.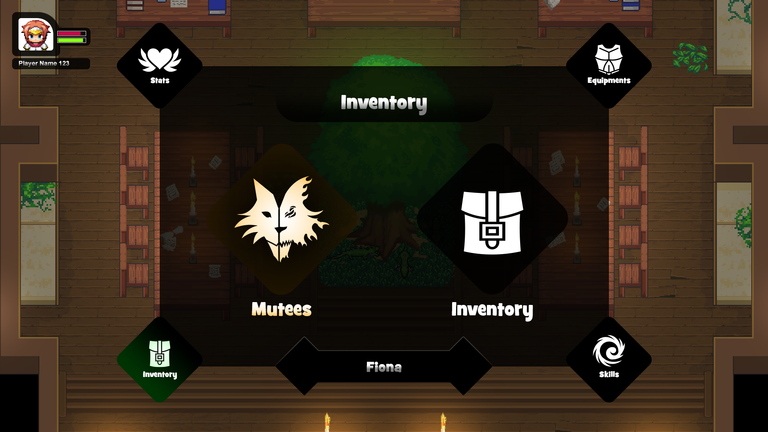 Currently, we are designing symbols and discussing placements for best User Experience.
NPC Designs
We have created templates for a human Adult and Child.

Currently, we are working on templates for mutated humans which can be visualized as orcs, goblins, elves, etc.
In addition to the templates, we are making tons of wearables. These will help us generate a lot of NPCs and will also let the players identify what rarity/level of armor their Avatar is wearing.
A few things have been listed here :
Helmet
Hairstyle
Boots
Upper Armor
Bottom Armors
Accessories
Clothing
Epidermis Mutations
Demonstration :


MAP Designs
From small cracks in buildings to big trees, each detail requires time and we have been making great progress. Here's an initial draft of one of our maps just to show case a few of our tiles :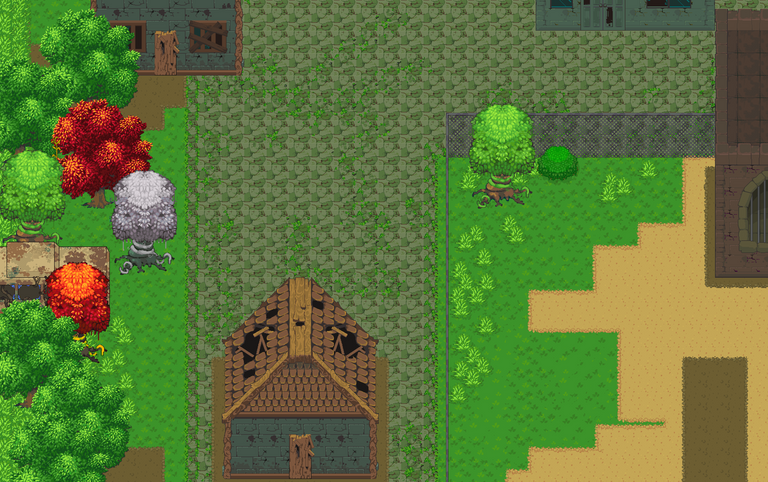 The maps we are making have many layers. What you see above is just a few layers. This is how the map looks when we combine lighting layers :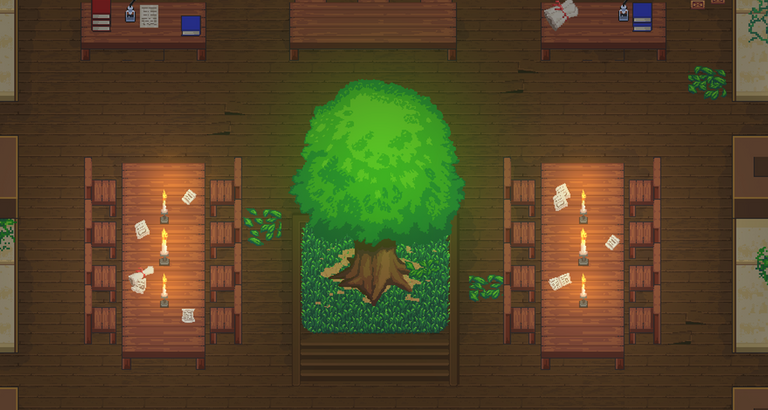 The map above is a part of the Head Quarter's interior.
Currently, we have put a hold on map creation and are focusing on tile set creation.
---
DEVELOPER'S CORNER
We are done with the art work and in this section we will share a few things about the codes backing up those assets.
Unity
A lot of time was spent on finalizing the game engine for MuTerra. After exploring a few options, we finally decided on going with UNITY.
Here's a dev log :
Completed UI design as per the provided mockup
Worked on responsive UI
Implemented navigations
Working on the webservices list [In Progress]
Setup of Main Menu UI
Setup of Intro scene
Wrote common scene management script
Added navigations between scenes
Created and setup the splash scene
Implemented automatic player movement in intro scene
Added storybook feature in intro scene
Created UI manager script for scene navigations and screen transition effects
NPCs setup
Exceptions handling
Testing and Bugs fixing
Implemented player controller system, player camera system, player health and damage system, walk animations blend tree for the player
We have tried to present a small portion of the log in a very simplified manner. What this all means is that a lot of work has been completed already.
Currently, we are working on the battle mechanics for the PvE system on UNITY side.
Blockchain Integration
With the UNITY part almost done, we have started integrating the game to HIVE blockchain.
Currently, we are testing the current APIs and making changes to the schema. The challenge here is securing everything. Once this is done, well... that would mean the game is ready to roll out.
---
LORE
A game is incomplete without stories! We have been making great progress in that department as well. Each mutee will be accompanied by a short story. Here's an interesting read. (Hand picked by our Lore Master)
Flamander's Story :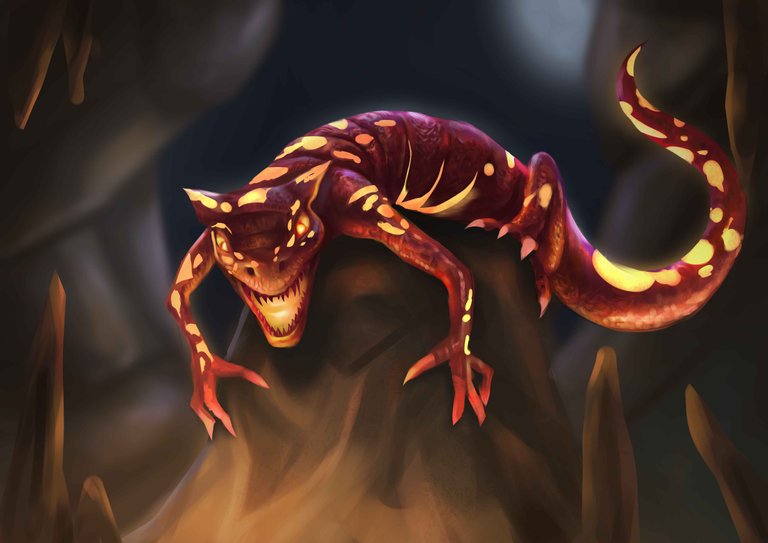 "I've always hated lizards. And that was before the surge when they were 20cm long tops. Now they are the size of a cat, and they consider ME food. Those little devils!
Flamanders are possibly the worst in my opinion. They're fast, aggressive, and their tiny teeth will break off and stay in your wound. Speaking from experience, it's a nightmare to remove.
But say you need to hunt one. Like reaaaally need to.
Then you'll start by noticing it's almost impossible to get close. This crawling nightmare radiates heat like a furnace, at 3m it's uncomfortable, within touching distance you'll get serious burns in seconds.
So… you'll try arrows, right?
Wrong! unless you have metal or bone ones, don't even bother with wood. Spears could work too, but the real trick?
Douse the critter and listen for the sizzle, THEN you stab it. Once you know that, they get manageable.
But wait! Now you fancy yourself dinner?
You'll be happy to know that a Flamander simply can't be cooked! Fire-resistant flesh! Because why not!?
The only use for it is tanning the leather to make armor against the heat, which is arguably practical. I'll show you when you're older.
Alright now, time for bed. Tomorrow IF you're nice, I'll tell you guys about the second-worst lizards on this island."
The storyteller turned his back to the uproar; the crowd of energetic kids desperately negotiating for another story.
---
SOUND
We are very excited to announce that our team now has a Music Producer! 7 BGMs accompanied with SFXs and Foleys have already been created.
We are releasing the first track exclusively on MuTerra : Discord.
Join us to hear the beautiful melody of MuTerra's Intro Screen.
---
ROAD MAP
Please understand that our team is currently very small and we are trying our best to complete everything without compromising with the quality of work. Its definitely not an excuse, but we do hope that you would forgive us for our unintentional tardiness.
Testing
We will be starting our testing phase very soon. It can be tomorrow or next week or early January. But it will be happening real soon.
This phase will be testing the server durability, APIs and functionalities of the UNITY-HIVE integration. We will NOT release the final artwork of maps and assets in the testing phase. Do remember that we aren't testing looks of the game during this phase.
We will be inviting you all in a phased manner. The order of invitation is as follows :
Legendary Tamers - Those who bought Fiona, our legendary tamer

Megalodon Pack Holders (1000 packs)

Mammoth Pack Holders (400 packs)

Mastadon Pack Holders (100 packs)

Mustang Pack Holders (40 packs)

Discord Game Winners

Mongrel Pack Holders (10 packs)

Moggie Pack Holders (4 packs)

Millipede Pack Holders (1 pack)

Muterrans - Those who bought NFTs on WAX

Discord Game Participants

OPEN TESTING (Everyone's Invited)
WAX Sale
While the testing phase is in progress we will hold the second half of our pre-sale.
For those who don't know, there are 20,000 MALDIVES PACKS. MALDIVES Packs are the first pack edition of MuTerra, aka, Alpha Pack. We sold 10,000 packs in September. 1,000 packs were kept for promotions and rewards. The remaining 9,000 packs will constitute the second half of the pre-sale which will happen on WAX chain.
With this sale, WAX-HIVE bridge will go live. All assets will be transferrable to and from WAX-HIVE. More on this when the time is right.
Game Launch
After the WAX sale is done, we will launch the game play.
---
MUTERRA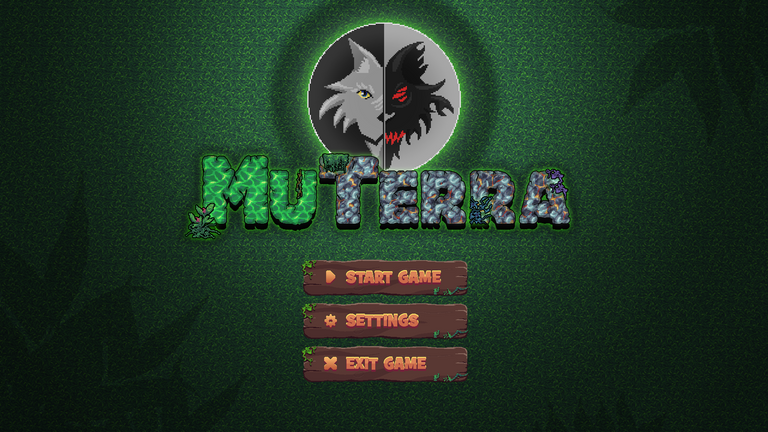 MuTerra is set in a post-apocalyptic world where radiation has killed almost all of humanity and has mutated plants and animals. You, the survivors, are tasked with ensuring that humanity doesn't go extinct by exploring the wild, capturing the mutated animals and taming them.
MuTerra is TCG+RPG game which will on HIVE blockchain. But the assets will be available on both WAX and HIVE. WAX side will be used to breed and blend mutees (mutated animals). And the new NFT created on WAX can be sent over to HIVE chain.
The RPG aspect will deal with explorations, raids, quests and more.
The TCG aspect will deal with PvE and PvP battles, where you collect NFTs and fight each other to prove you are the better tamer.
Visit our Website :
Join us on :
Follow us on :