After the 10,000 MALDIVES pack were sold on 27th July within 2.5 hours, you all have been very eager to open up the packs you bought.
This announcement is aimed at putting an end to your wait.
---
For those who were thinking - why the delay in opening? Doesn't that require just a few clicks?
Well... The reason for the wait was because - The next phase of development was being finalized :
Searching for Pixel artists who met Muterra standards and forming a team with them was a very time intensive task. But its now done and we have very talented and experienced pixel artists with us!



Deciding on a suitable game engine. Each game engine we explored had its own challenges. From tech-stack to API and back-end, a lot of things were considered and we have finally decided to create the game using UNITY and have hired devs to work on it and speed up the development. Briefing them about the project took time. But it was a time well spent and now Unity game development is on!



Changes in NFT Properties. This was the most time consuming task. With UNITY getting finalized, a lot of changes were made to the UI-blockchain logic to smoothen the integration of the game-engine and the HIVE blockchain. To incorporate this, Pre-existing NFT properties were changed. Its all done now.
---
What are you doing now!? Just let us open the packs!!
Currently, we are testing the openings and putting in animations. With new NFT properties in place, the UI needs to re-adjust itself, which is almost done.
Having said that, we would like to announce the opening date -
31st August 2021
---
But thats not all what we have been working on.
TAMER CARDS
Remember the promo NFTs that were given to the community members? We have decided that they'll be usable in the game!
These tamers were given to the early joiners of our discord group as WAX NFTs. More details on them will be disclosed soon.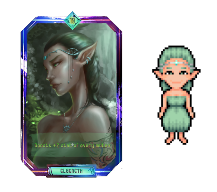 *The tamer card design and stats are not final.
---
DETAILED CARD
The cards you get from the packs display simplified values so as not to bombard you with a lot of numbers and stats. But for competitive players, detailed version of the cards will be displayed on the UI soon.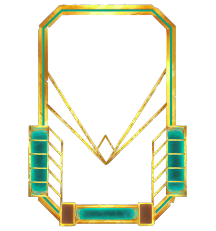 *This detailed-card design is just a draft and subject to becoming more awesome.
---
PvE MAPS
With our pixel artists making art at full throttle, we have now started making maps that will be there in the game!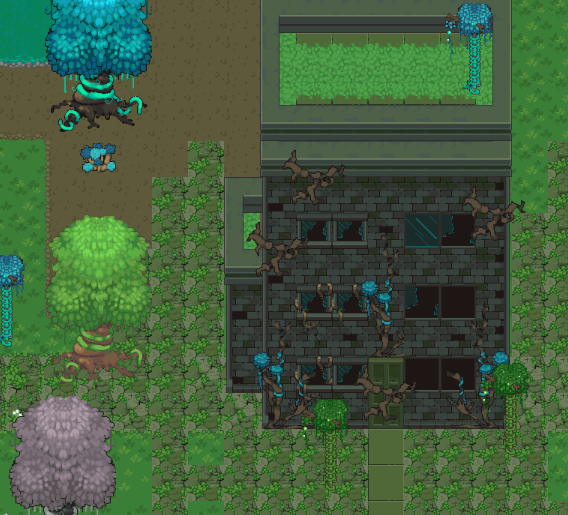 *The pixel art is not final and is subject to becoming more awesome than it already is.
---
PvE Mutees - Monsters
The limited edition mutees that you will get from packs will accompany you in your explorations and hunts. Here are a few of them :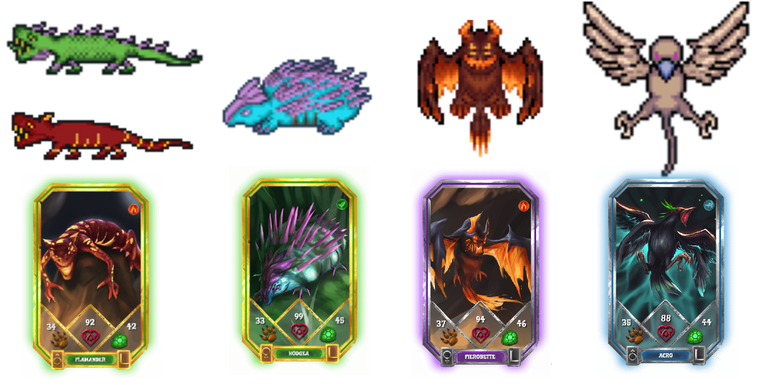 *These pixel arts are not final and are subject to becoming more awesome than they already are.
---
MUTERRA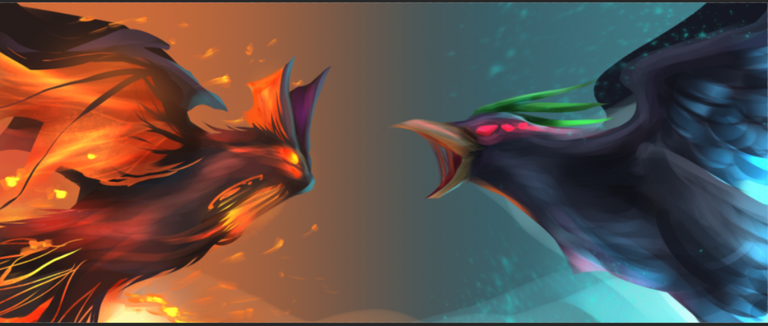 MuTerra is set in a post-apocalyptic world where radiation has killed almost all of humanity and has mutated plants and animals. You, the survivors, are tasked with ensuring that humanity doesn't go extinct by exploring the wild, capturing the mutated animals and taming them.
MuTerra is TCG+RPG game which will on HIVE blockchain. But the assets will be available on both WAX and HIVE. WAX side will be used to breed and blend mutees (mutated animals). And the new NFT created on WAX can be sent over to HIVE chain.
The RPG aspect will deal with explorations, raids, quests and more.
The TCG aspect will deal with PvE and PvP battles, where you collect NFTs and fight each other to prove you are the better tamer.
Check us out : MuTerra
Join us on -->
MuTerra : Discord
MuTerra : Telegram
Follow us on -->
MuTerra : Twitter
MuTerra : Instagram