2- Some analytical methods used in laboratories:
The most often used analytical technique in water analysis is molecular absorption spectrophotometry. Its foundation is the observation that any coloured solution that a beam of light passes through only permits a small percentage of the incident light to pass; the amount of light absorbed is directly related to the concentration of the desired coloured compound (Beer-Lambert law).
On another side, UV and IR absorption spectrophotometry techniques are used to measure families of organic matter in water. A defining indicator of substances with one or more double bonds is the measurement of UV absorption at 254 nm.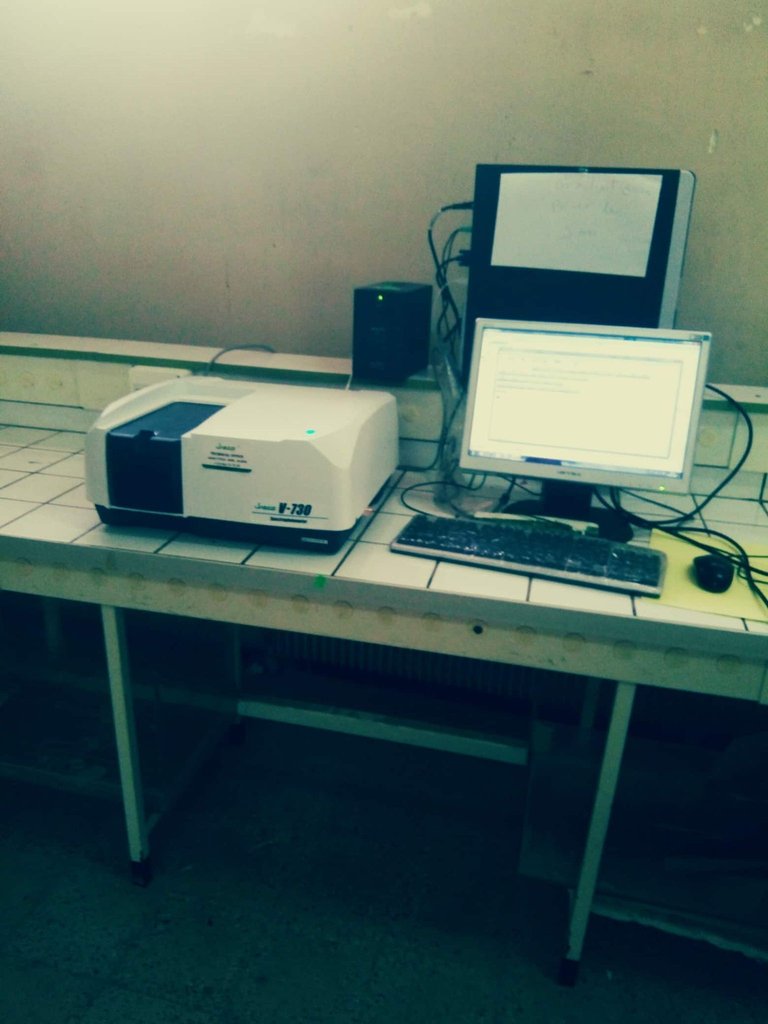 [UV Spectrophotometer- Photo taken by me, in the water treatment plant laboratory ُSEOR'. Mostaganem. Algeria. (2018)]
Flame emission spectrophotometry:
Alkaline elements Na, K, and Li can be directly determined using this method. When a water solution containing metals is sprayed into a flame, the trace metals dissociate and break down into their atomic forms. The flame thermally excites the metal atoms in this way, and as they return to their ground state, they emit radiation whose wavelength is unique to the element being sought after.
References:
[General and inorganic chemistry book- M. Shkhashirou- H. Birqdad- Y. Qodsi- University publications. Algeria]

[AQUAPROX- Livre: Traitement des eaux de refroidissement. Imprimé en France par EMD S.A.S- 53110 Lassay-les-Chateaux. N° d'imprimeur: 15566- Dépot légal: juin 2006. N° 842- Cyclus print 90°]

[GÉOCHIMIE DES EAUX CONTINENTALES- Nathalie Gassama. ISBN 9782340-047402 ©Ellipses Édition Marketing S.A., 2021. 8/10 rue la Quintinie 75015 Paris]

[Introduction to Water Chemistry (Pollution- Treatment- Analysis). Dr. Nasser Al-Hayek. Publication of the Higher Institute for Applied Sciences and Technology (HIAST). Syrian Arab Republic, 2017.]

"Chapter A2. Selection of Equipment for Water Sampling" (PDF). National Field Manual for the Collection of Water-Quality Data (Report). Techniques of Water-Resources Investigations, Book 9. Reston, VA: U.S. Geological Survey. March 2003.

Folco Laverdière, Anja Holstein, Laurent Thiebaut, Robert Mallee, Guillaume Gravejat, Benjamin Des clozeaux: Les principales methodes d'analyse,1999, p5.