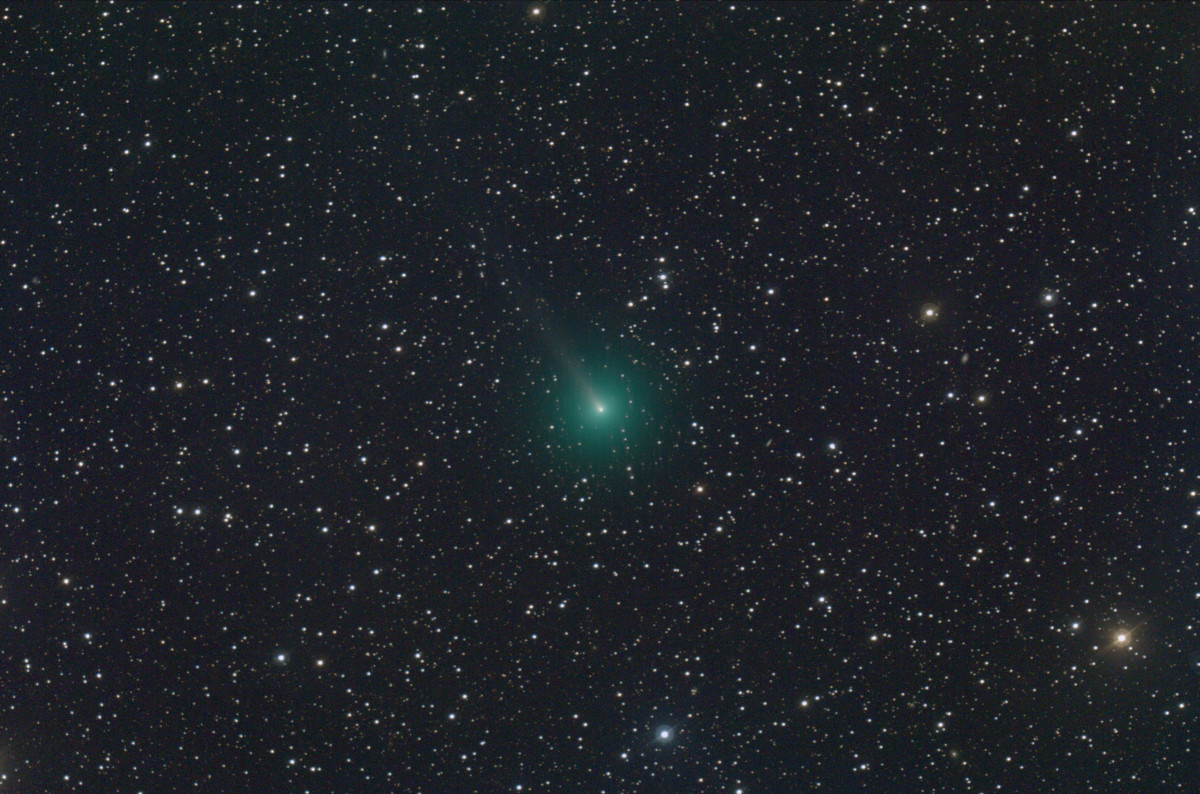 Comet C/2019 Y4 (ATLAS) remotely imaged on March 26, 2020, from Mayhill, New Mexico. Image Credit: The author
About a 3 months ago I wrote about a newly discovered comet, Comet C/2019 Y4 (ATLAS), found by the Asteroid Terrestrial-impact Last Alert System (ATLAS) team using a 0.5m telescope on top of Mauna Loa in Hawaii. This is a followup post on the comet. Note although I will refer to this comet, as Comet ATLAS from this point in, the proper name includes C/2019 Y4 so as to differentiate it from the other comet's also named ATLAS.
The new comet did show some promise of becoming visible to the naked eye. In fact the general media picked up on this at the time, although it was quickly hyped with some unrealistic predictions (like the comet becoming brighter than the planet Venus) but that's another story! As it turned out Comet ATLAS failed to become bright, but still managed to entertain us by undergoing multiple fragmentation's before finally disintegrating altogether in mid-May, 2020.
This final fate was perhaps not too surprising as Comet ATLAS itself appears to be the product of a fragmentation event from an ancient comet several thousand years ago. We believe this to be the case as it shares an almost identical orbit to a bright comet that appeared in late 1844 . To demonstrate how similar the orbits have a look at the plot in the following diagram, with the 1844 trajectory shown as red, and the 2020 comet trajectory shown in green.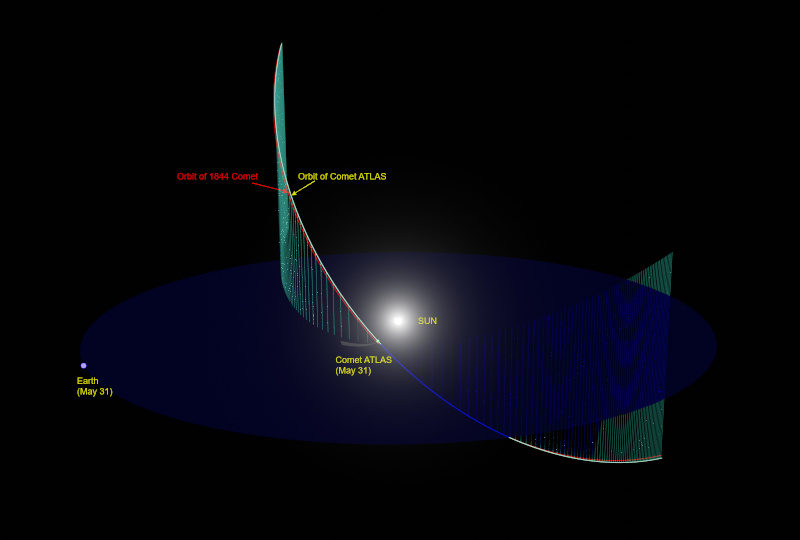 The orbits of the 2020 and 1844 Comets plotted together in 3D. Large version here . Credit: Author, generated in Blender 2.80
Through March, April and May I used the iTelescope facility at Mayhill, New Mexico, to remotely acquire images of Comet ATLAS. The following article is a chronology of my observations during that time.
Development in March 2020
Much of the initial excitement around Comet ATLAS came about during February and March, when it appeared to brighten rapidly. I documented this rapid brightening rate in images here where the increase in the comet's brightness is readily evident from March 1st to 16th. Careful photometric measurements indicated a brightening of 5 fold over that time period.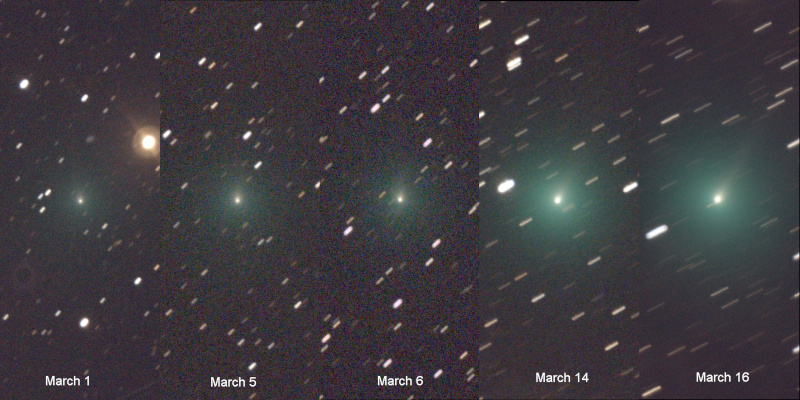 Brightness development of comet is clearly visible in the sequence of images from March 1 to 16. Image Credit: Author
However, following observations after March 16, seem to indicate little if any brightening when a steady increase was expected. This was the first indication there may be a problem with the comet.
Nucleus Breaks apart April 2020
The first direct evidence of Comet ATLAS starting to disintegrate came in early April. This can be seen in the following 2 images I acquired a couple of weeks apart using the same telescope and exposure settings (10 minutes each). The main point to note is the morphology of the central part of the comet has changed from a round object to a highly elongated streak. Other important changes include a change of color from green to a more yellowish hue, as well as general loss of brightness. Careful examination of the second image shows mottling within the elongated area. These changes all indicate a loss of emission from the comet, as well as a fragmentation event of the comets nucleus - now estimated to be just a couple of 100m in diameter (see reference 3 below).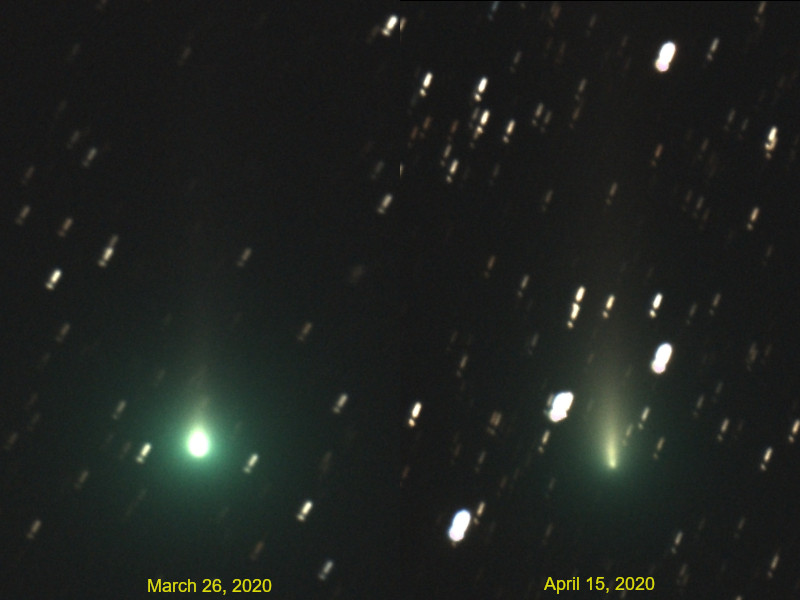 Big changes in the comet's morphology from March 26 to April 15, indicated the comet was fragmenting. Image Credit: Author
The above images were made with an 0.28m telescope, however, I was able to get some time on larger 0.5 and 0.6m aperture telescopes to have a closer look at the central area. Here are some of those images, with commentary. As an approximation the scale is around 150,000km wide for all these following images.
Clear indications of comet fragmentation were visible on April 10 and 11 with up to 4 or 5 pieces near the limit of resolution. Here is the image from April 11, 2020.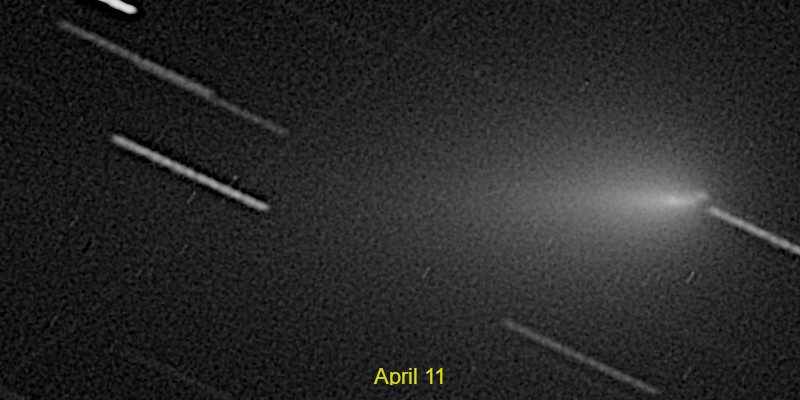 April 11, 2020. Comet C/2019 Y4. 13 x 180seconds exposure using T11 teelscope at Mayhill, New Mexico
A few days later there appeared to be just 2 main fragments as evidenced by the following 2 images. In reality there were lots of smaller fragments not seen here, but clearly visible in Hubble images taken around the same time.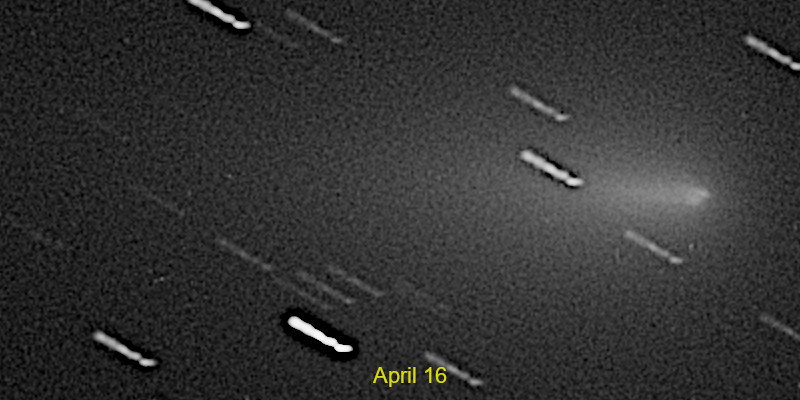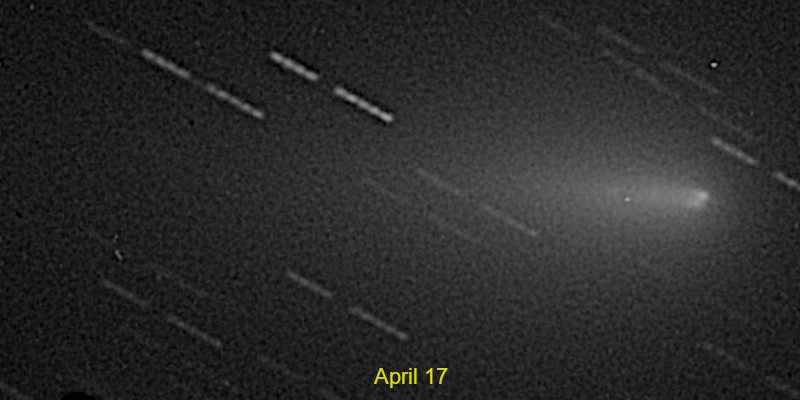 This image is a collaboration between myself and James Willinghan showing a possible 3rd fragment well downstream of the primary nucleii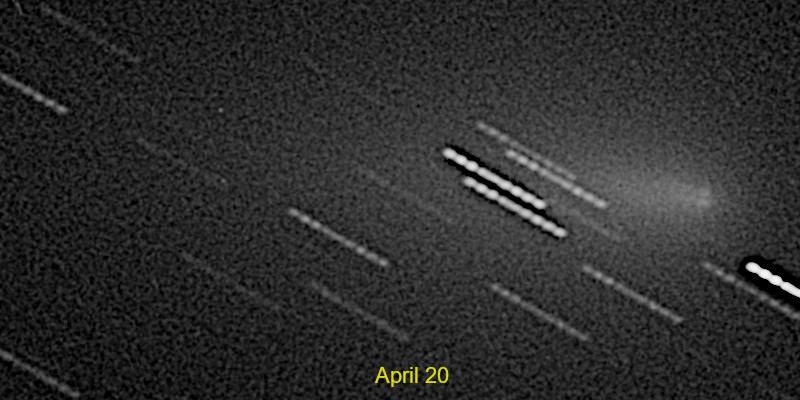 By April 28, there appeared to be just one main nucleus as can be seen here (although there were hints of other nuclei in deeper images).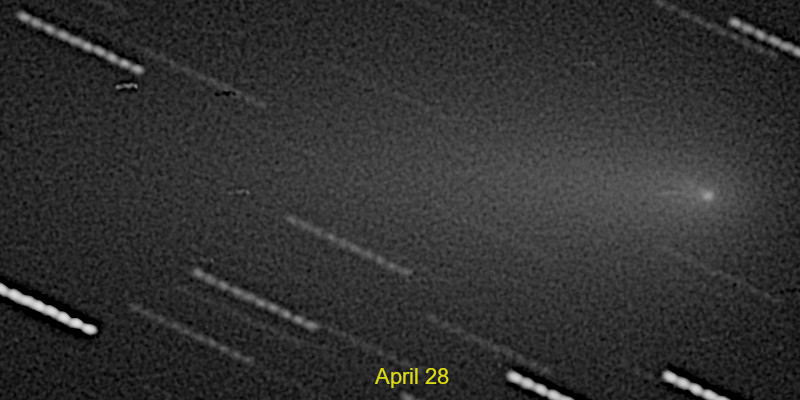 In the early part of May, the comet mostly a weak primary nucleus, but this suddenly began brightening after May 5/6 which is evident in these following images. Sadly, the elevation of the comet had got too low in the sky for the telescopes to reach so I was not able to follow what appears to be a final fragmentation event leading to the demise of what was the primary nucleus.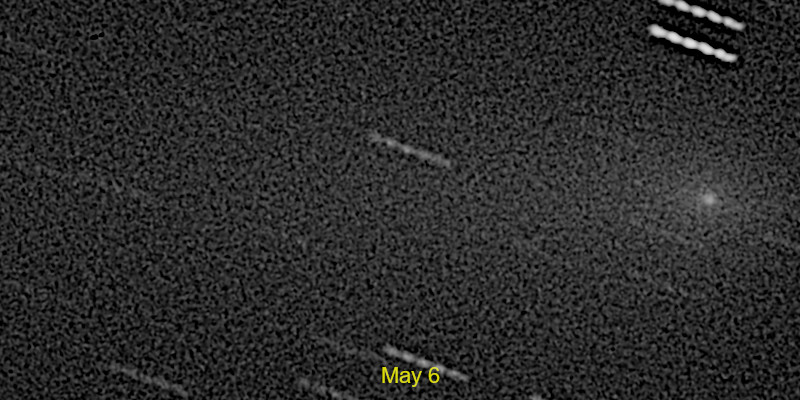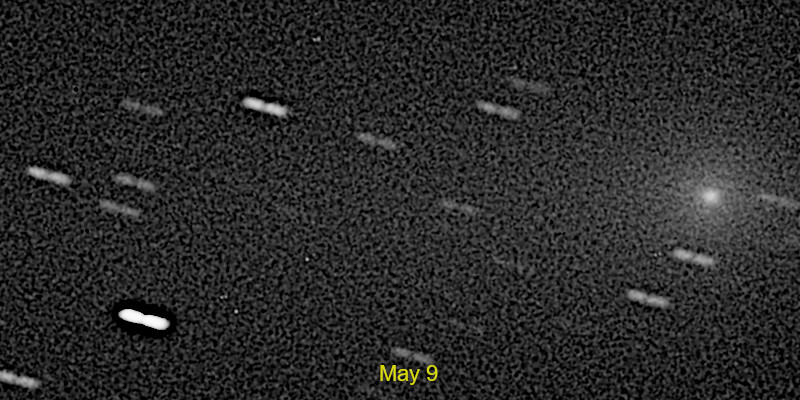 A different view on May 9, showed a forward (pointing toward the sun) debris field. Over the coming days there was considerable development in this area (but as mentioned I could not get images because of the low position in the sky. So what is next for the comet? Nobody really knows for sure, but it has likely met it's end in the last few days.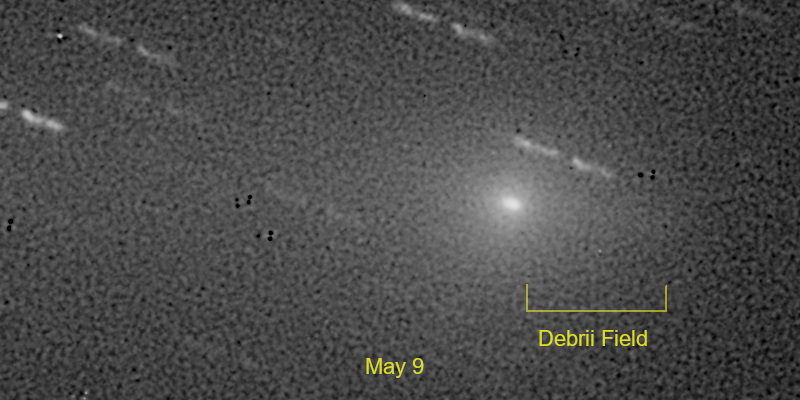 Further Reading
Spaceweather Site showing spectacular amateur images from May 16 - a week after I last imaged the comet