---
Hello Hive community,
Sophie is a 30 years old professionnal dancer from the South of France. She's also a danse teacher.
Unfortunately, we had a quite poor weather during our first sessions 😕 But we managed to score good shots during a sunny morning last year, at one of my favorites spots.
Bonjour la Ruche,
Sophie est une danseuse professionnelle de 30 ans originaire du sud de la France. Elle est également professeure de danse.
Malheureusement, nous avons eu un temps assez médiocre lors de nos premières séances. Mais nous avons réussi à faire de bons clichés lors d'une matinée ensoleillée l'année dernière, sur l'un de mes spots favoris.
---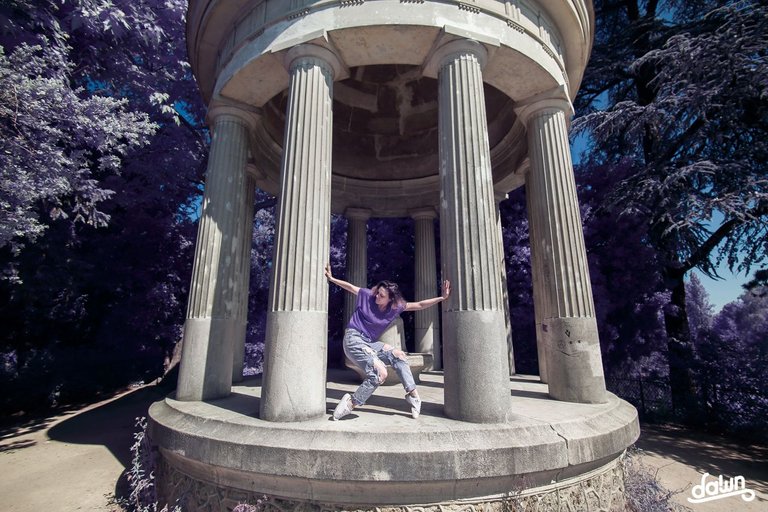 1/1250s 16mm f/4 160 ISO
---
Full spectrum shots created in real time, captured to the camera in one single photographic frame.
No layers /no Photoshop / no editing exept minor adjustments and addition of my logo.
Prises de vue en spectre complet créée en temps réel, capturée par l'appareil photo lors d'une seule et unique exposition photographique.
Pas de calques / pas de Photoshop / pas d'édition sauf des ajustements mineurs et l'ajout de mon logo.
---
Specs :
Canon EOS 6D Full Spectrum body
Canon EF 24-105mm f/4L IS II USM lens
Hoya 85B filter
May 2020
Equipement :
Appareil Canon EOS 6D
Objectif Canon EF 24-105mm f/4L IS II USM
Filtre Hoya 85B
Mai 2020