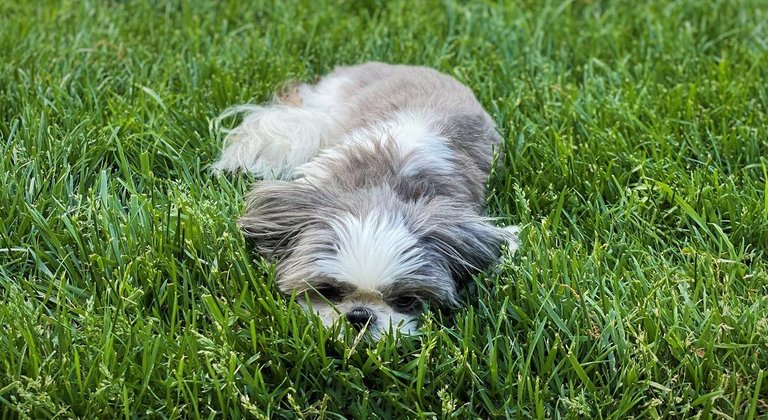 Cool, Soft, Green Grass On A Warm Summer Morning ..
How about it? I know it felt good on my bare feet, so I only assume those who spend most of their time at ground level, like Molly, are enjoying it too. Whenever we go up to my cousins place in the heart of Amish country, I truly believe that Molly looks forward to the time spent in their back yard. While looking for a place to go to the bathroom, she usually heads toward the very back of the yard. It is up hill and far out of the way.
She loves it up there for whatever reason. I can't blame her, because the view from that area of the yard is very nice. We can see out into the valley for miles! Rolling green for miles and miles.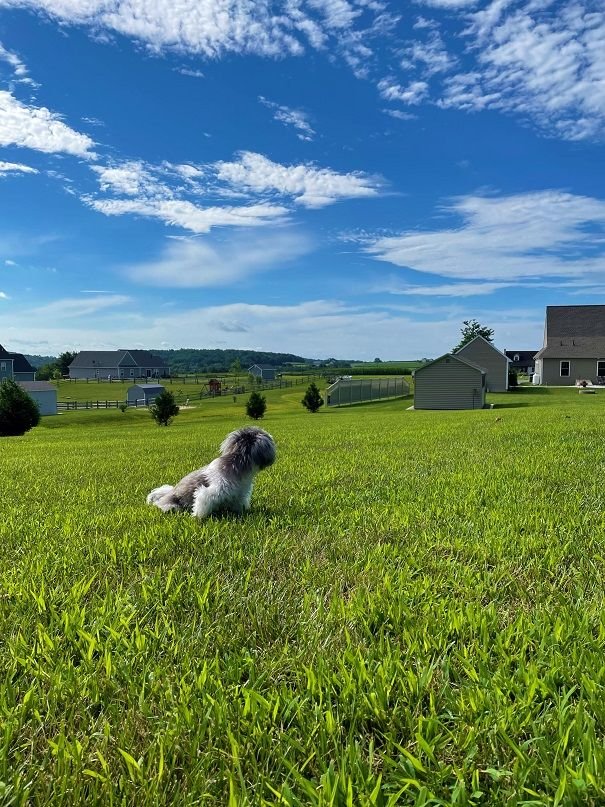 Sometimes we just stand there and soak in the peace and tranquility that sort of blows around in the air. The light breezes bring along with them the sound of birds busy gathering food and chirping out to their friends. Since they are aloud to have burn barrels up here, we often smell the light sent of smoke, that I usually equate with autumn not summer.
The occasional sound of 'Clippty-Clop' from Amish horse and buggies can be heard coming from the distant roadway.. a sound not at all unfamiliar to the area locals. Molly seems not to be bothered at all by the sound coming from the horse shoes clopping against the hot black-top drive. She has become used to hearing it. This could be an indication we are spending more than our fair share of time up here for visits.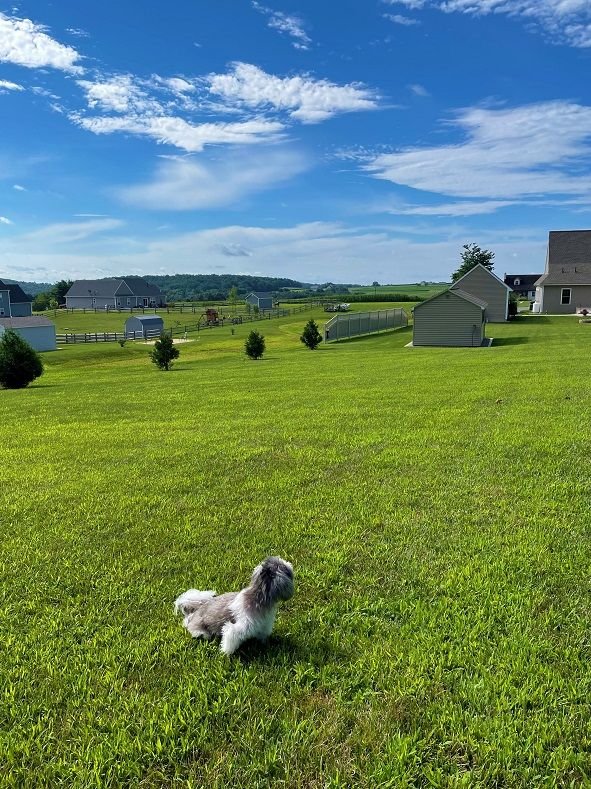 Now, If I could just get Molly to turn around for a photograph that isn't of the back of her head. Is she enjoying the view, enjoying the sounds of Lancaster County, or just avoiding the camera? Hmmmm. Not quite sure, but I am going to try my best to get a good one!
I try calling her name and that just makes her move closer and out of focus. When I try again for a shot, her head spins right back around toward the valley.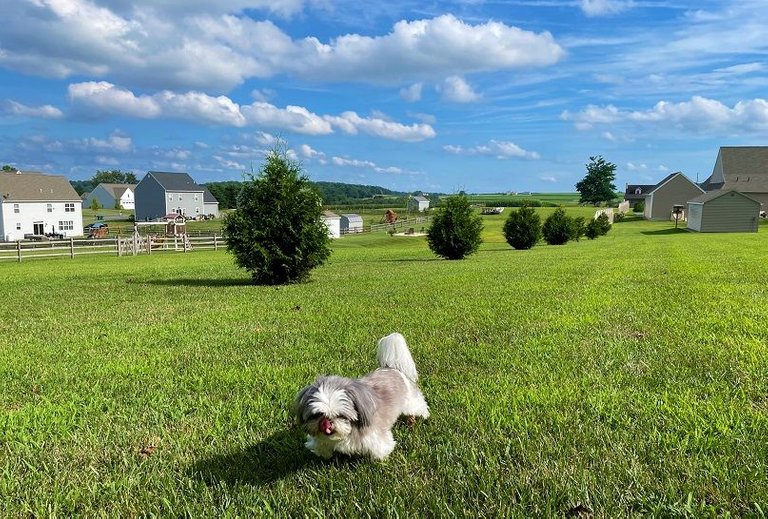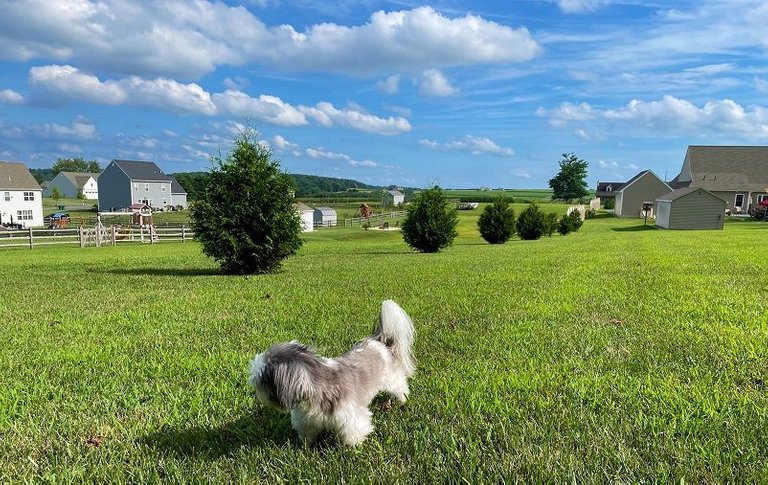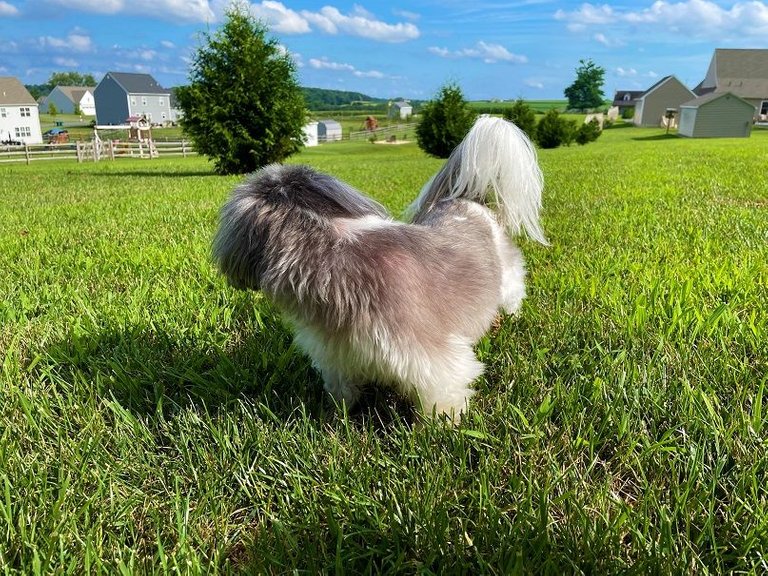 I'll back up and try one more time, then leave her alone to enjoy the view and coolness of the grass.
And she follows me again!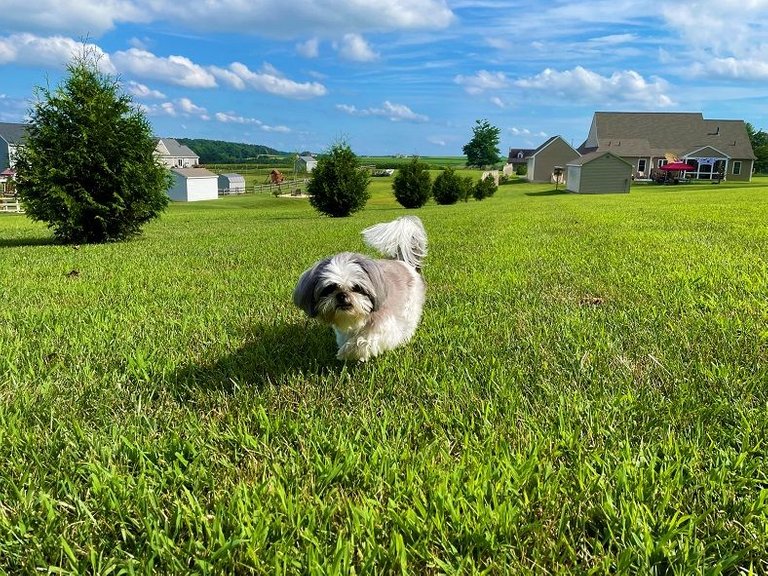 Wait! She's sitting down and allowing me to take a few good ones!!!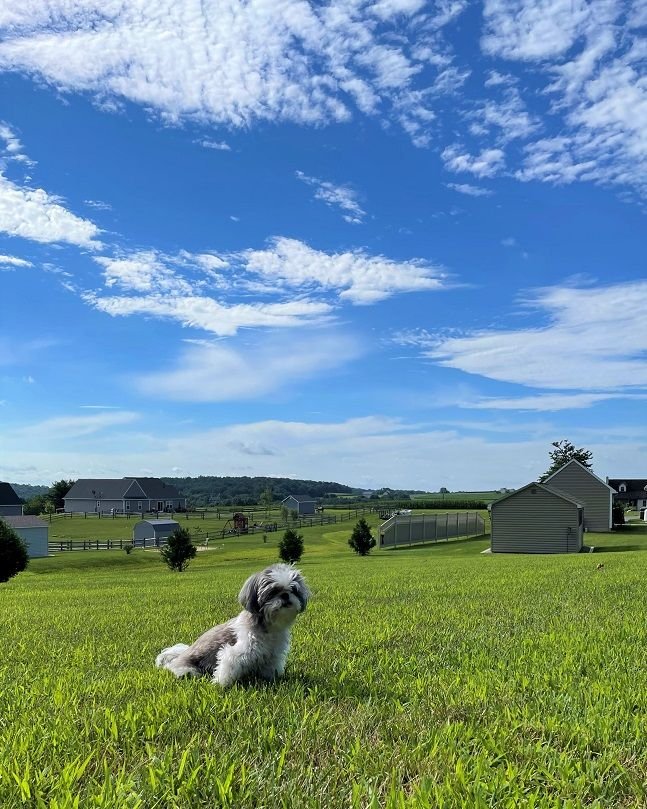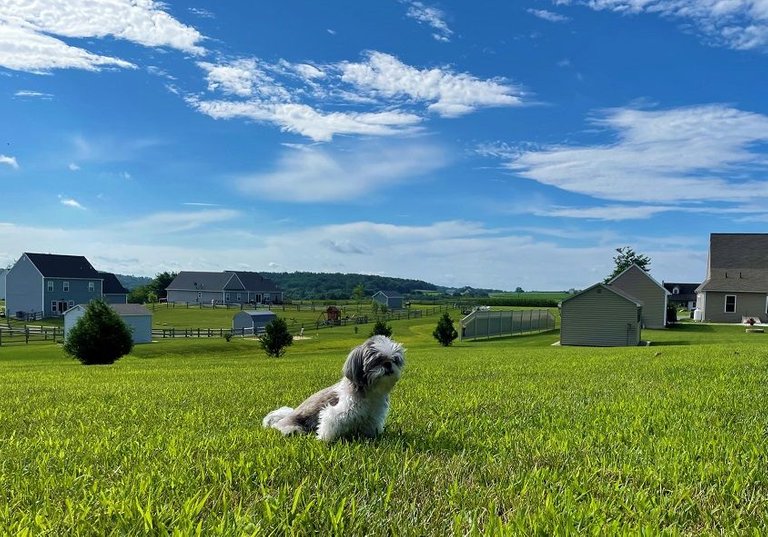 Awesome!! Now for a few close ups with a short depth of field...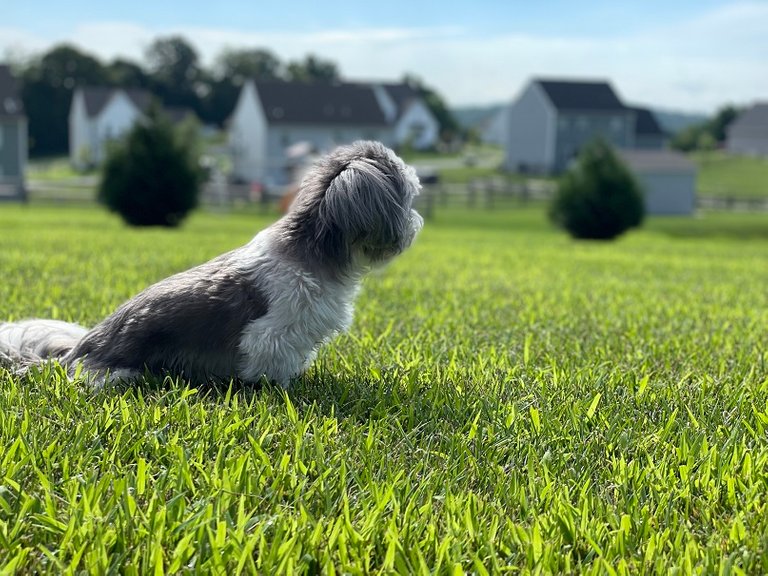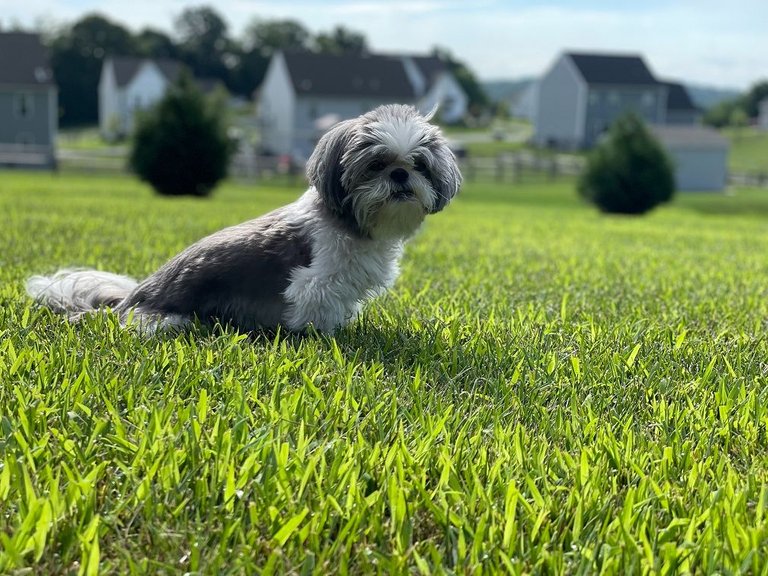 And just when I think she's done ..
A cute shot appears and I take it!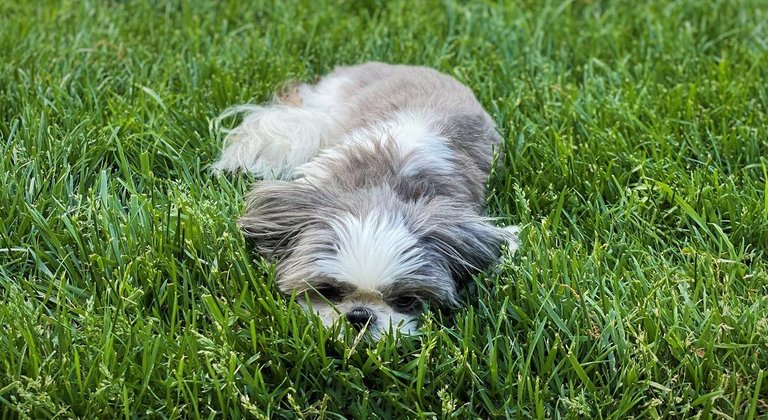 That grass is so soft and cool, how can she NOT take full advantage of it?!
I sat there with her for a little while, stroking her soft fur and letting it run through the tips of my fingers. I lay my hand on her chest, feeling every breath along with the thump, thump, thump of her heart. And my other hand rose to my chest so that I could feel my own as well. I thought about life and all of its complexities.
But it wasn't long before my thoughts soon faded to joyful times, careless days, and moments where I had never felt more human and happy to be alive.
Moments like these are felt deeply.. Are realized far to little and often far to late. I took my time and Molly took hers. I think this moment is one I will remember for a long time.
Not because of it's emotional complexity,
But rather the beauty of it's brevity.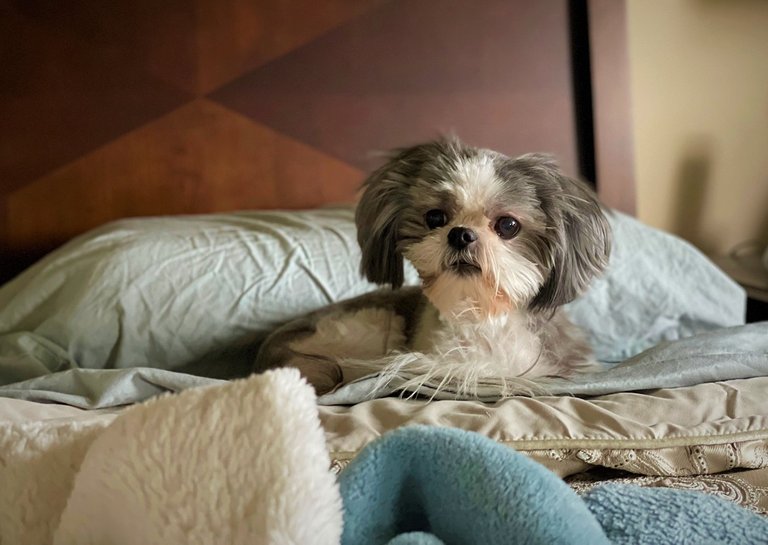 "Two such as you with such a master speed
Cannot be parted nor be swept away
From one another once you are agreed
That life is only life forevermore
Together wing to wing and oar to oar"
― Robert Frost


Thank you for swinging by my blog and checking out the post. Have a great day!

All words, pictures and art pieces are the sole property of B D Miller Gallery, unless otherwise noted and credited, and are not to be reproduced or copied without the prior written consent of B D Miller Gallery.


The Orchid Lovers Community!
Love Orchids? Consider joining our community. We look forward to seeing you there!!!
A place for people who Love Orchids!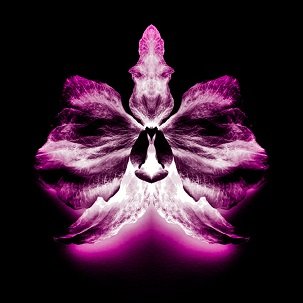 My NFT Art Pieces Can Be Found on NFT Showroom