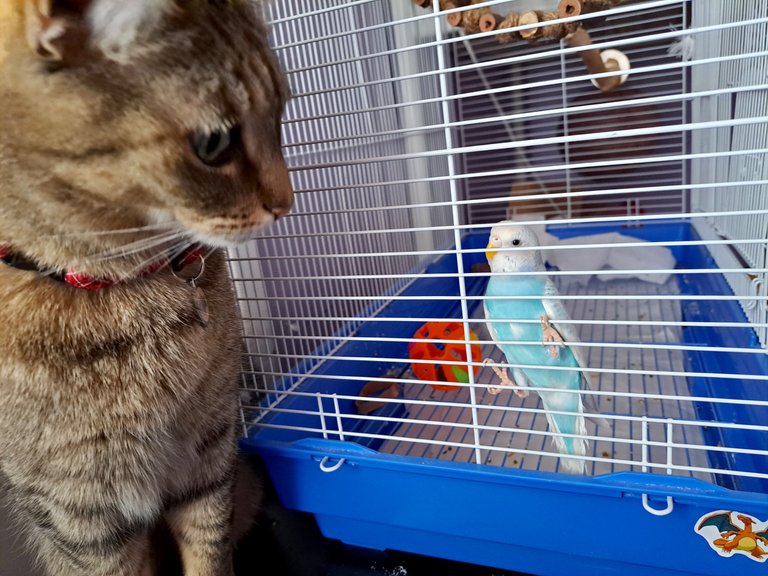 Oz is a little parakeet that joined our family in June this year. He is my youngest daughter's parakeet that I take care of sometimes, haha. He shares the room with my youngest daughter. I don't want him to feel lonely, so I hang out with him on the school day when I'm home.
I fussed around making sure that Pepper has no access to the bird (no access to the room when nobody is around). It was hard because Pepper loves to hang in this room and my daughter often forgets to close the door. We locked both of them in the room a few times by accident😅
To make a long story short...they are fine together. Pepper is generally very gentle with things, like mice. She usually brings them to me alive. Yikes…, but it turned out to be a good things. What makes a big difference in their relationship the most is that Oz is not scared of Pepper. It is so funny to see them interact. Oz flies away from my hands but not Pepper.
I'll leave the video here.
今年の6月に我が家に迎えたインコのオズ、次女ちゃんのインコですが時々面倒をみています。ケージを次女ちゃんの部屋に置いているので次女ちゃんが学校に行っている間、そこでお茶したりします。寂しい思いをさせたくないので… 動画を観たり音楽をかけるとノリノリで何やらお喋りをはじめます。
オズが我が家に来てしばらくは、ペッパーがイタズラをしないようにあれやこれやとバタバタしました。けれどペッパーは次女ちゃんの部屋が大好きで、次女ちゃんもドアを閉め忘れたり… 何度かペッパーが部屋にいるのに気づかずドアを閉めて出かけてしまったことも😅
結果、何もなく大丈夫みたいなんです。ペッパーが穏やかな性格でネズミを捕まえても生きたまま持ってきてくれるようなニャンコだからでしょうか。それも困るんですが、今回はそれが良かったみたいです。いや、、、どちらにせよネズミは勘弁してもらいたいんですが😭
オズもペッパーを怖がるどころか、ペッパーの姿が見えると嬉しそうに鳴きます。変な鳥です。私が手を近づけると逃げるのに。。。
ふたりの様子が楽しかったので動画を撮ってみました。よかったら見てください。
We are very happy to see Pepper keeping calm around Oz. I hope it stays this way.
ペッパーが穏やかな性格でよかったです。いつまでも仲良しでいてほしいです。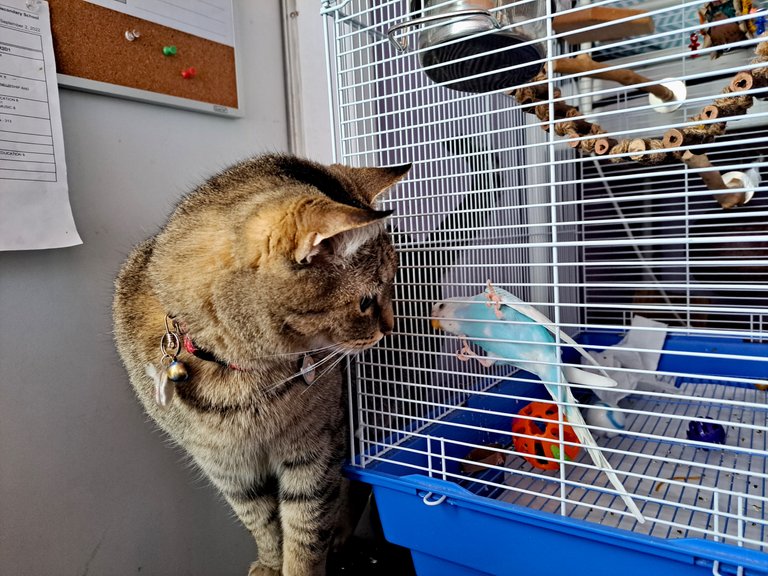 Sorry about the mess. It's a teenager's room. The top of the bunk bed is the favourite place for Pepper to nap. Oz makes sure that Pepper sees him by making a sweet chirp. Pepper roles for Oz sometimes.
散らかってますね。先日ティーンになった次女ちゃんは壁にいろいろ貼るのが流行っているようです。
バンクベッドの上の段はペッパーのお気に入りの場所で、オズが来るとごろ〜んとして手を伸ばしたりします。オズも嬉しそうにお喋りを始めます。とっても可愛いんです。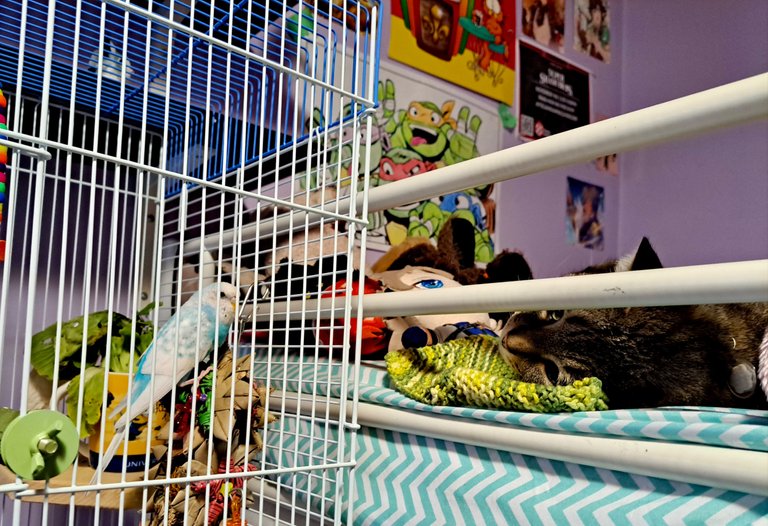 ☆☆☆
That's all for today.
Thanks for visiting!
いつもありがとうございます!