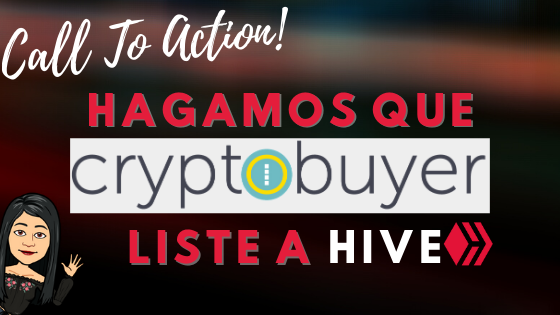 ---
Call To Action
---

What is CryptoBuyer? || Qué es Cryptobuyer?
Es un servicio que integra servicios de Exchange con puntos de venta y pago de servicios, alrededor de Latinoamérica especialmente Venezuela.
It is a service that integrates Exchange services with points of sale and payment of services, around Latin America especially Venezuela.

Call to Action! || Llamada a la Acción!
Let's get @cryptobuyer to list Hive! || Hagamos que @cryptobuyer liste a Hive!
You can tweet to them in English and spanish so it doesn't matter what is your language, they do have services beyond LATAM so it benefits the whole Hive community, I'm focusing this on the LATAM community mostly because it would help us a lot specially the Venezuela community to no need to exchange our HIVEs to fiat in order to buy in several supermarkets and major retail stores in our country!
Puedes twittearles en inglés y español, así que no importa cuál es tu idioma, tienen servicios más allá de Latinoamerica, por lo que beneficia a todo Hive, a la comunidad de LATAM principalmente la Venezolana nos ayudaría a comprar en varios supermercados y tiendas importantes de nuestro país, sin necesidad de cambiar nuestros HIVE a fiat. y que nuestro dinero se devalue.
Their Twitter Account
https://twitter.com/cryptobuyer
Tweet something like I did to them || tweeteales algo como yo lo hice
Ask them to list HIVE and tell them the awesome benefits of having a coin with NO FEEs per transaction in their services!
Use the tags
$Hive #Crypto in your tweet
¡Pídeles que listen a HIVE y cuéntales los increíbles beneficios de tener una moneda sin SIN COMISIONES por transacción en sus servicios!
usa los tags $Hive #crypto y #Venezuela en tu tweet!

As always, thank you very much for reading me and
I hope to read your comments!
---
Picture Credit: All images are of my property unless said otherwise and the emojis are made with Bitmoji.com!
---
Proud Member and Supporter of The Minnow Support Project, If You Are Not Yet on The Community What Are You Waiting For?? CLICK below!!!

---
---
😗 Follow me on my Other Social Media...❗️⬇️⬇️⬇️⬇️