Through the Hive Pizza community, I came across @dibblers.dabs and the Scholar and Scribe group.
I haven't written a short story in a very long time, but after getting more familiar with the @hashkings and the lore behind it I decided to give the writing contest a go.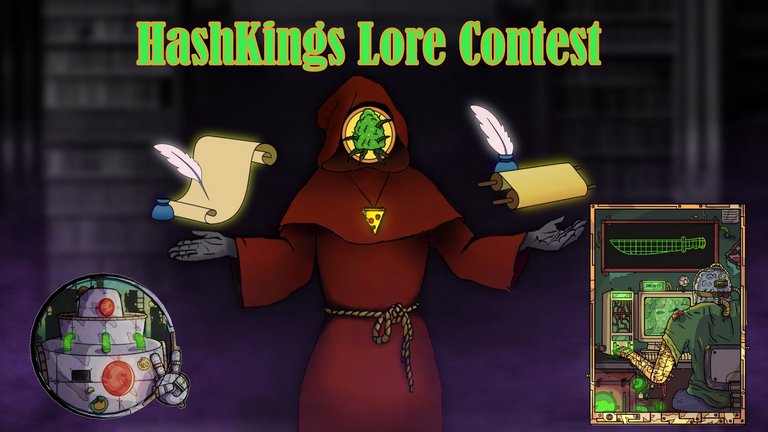 So without further ado, I present to you a story about the newest avatar, Arcade Shaggi, for Hashkings that was inspired by the new game, Bang! Defense, from @liuke96player and the other HashKing devs.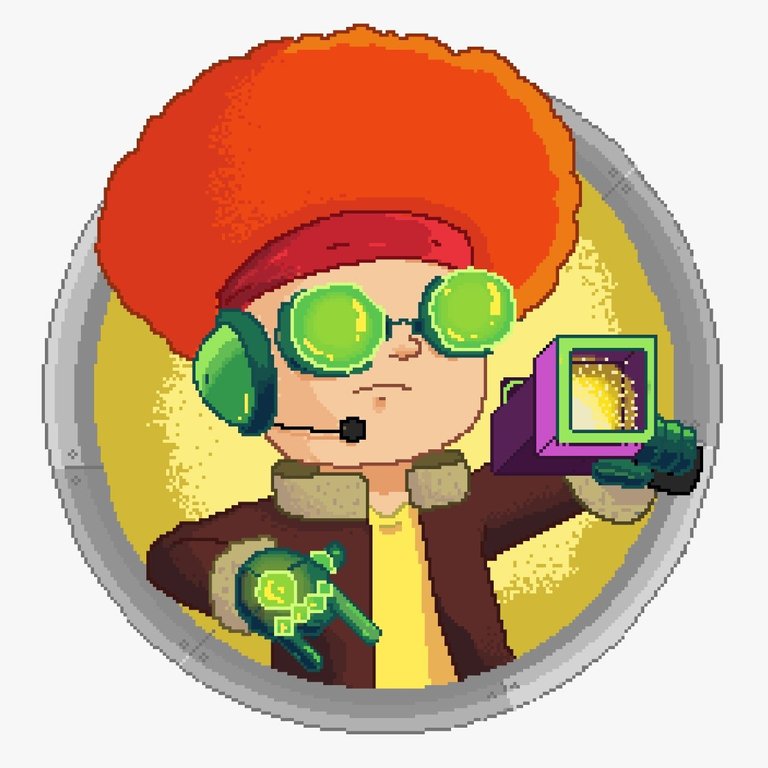 Sunset in the Ozarks has always been a beautiful sight. Now, with the tear in the sky, with its crackle reflective edges, makes for a majestic burnt orange sunset kaleidoscope. That's the only wonderful thing about the tear and it's a daily reminder for Tommy, or as those close to him call him, Arcade.
His attention on the warm skyline is distracted by something rising above the distant treelines across the lake. Flocks of birds flying away from the trees as if something is disturbing them. Tommy drops his head because he knows what it is. "Early this year. I thought we had more time". He quietly said. It is early spring and warmer temperatures are starting to set in. This doesn't just mean higher yields for the BUD fields on the back plots behind the lakefront, but the horde becomes mobile.
Tommy and his family have created a good life here, somewhat tucked away from the evils that have emerged from the Happening, when the sky ripped open and creatures poured into major cities. They brought with them, their atmosphere. An atmosphere that lets them thrive in our environment yet is toxic to the human body. As forces across the globe mobilize to defend and fight back against these invaders from another dimension, so many of the masses fell due to this new atmosphere. Those that came in contact with it either had their insides liquified or turned them into half-dead versions of themselves. These zombies, if you will travel in packs or hordes, are attracted to the burning of cannabis, which, just so happens to be the most common form of currency and common component for crafting and fuel for the bots. So, it's used and burned often.
"Billy!", Tommy shouted to his older cousin who was overseeing the crop harvesting. Billy whips his head around, and Tommy goes on to say, "It's time. The horde is a few miles away". Billy grins and replies, "Boy howdy, I had a feeling that time was coming, and I sure am itching to blow some of those green meat bags up!"
See, while Billy is a simple farmer, he enjoys watching the bots transform from harvest mode to battle mode when he gives the command. He is a formidable fighter himself and never lets the bots have all the fun.
Billy turns and calls over the resident Spikebot, the most sentient of the 27 bots on the farm, "Hey Spike, call the rest of our friends in and prepare the defenses.". Spike simply replies with a barely notable smirk, "With pleasure", and hovers over the edge of the field. His head arcs with green energy as he communicates with the other bots.
See this new atmosphere, not only transformed humans into zombie-like versions of their former selves, but robots and other automated machines became sentient. Some on the basic level, others near human-like. But, the wonderful part is, that they had a hatred for the multiverse invaders and the horde that served them, as well. They can also maintain and harvest BUD fields like no other and have led to a mutually benefiting relationship.
"Thanks, Billy!", Tommy yells, "I'm off to tell the rest of the family and I'll see you on their beach in 20 minutes with the rest of the crew and I'll have a new toy to show off!" Billy's eyes widen and smiles, "Is it ready? I can't wait to see it in action!" Tommy smirks and shouts. "Oh, it's ready!"
Once the entire compound is made aware of the yearly treat coming this way, Tommy heads back to his personal repurposed barn. He turned this large building into the biggest video game lair this side of the Mississippi, maybe in all the US. Airtight, and fully powering multiple gaming rigs, retro consoles, VR stations, and his personal favorite an arcade alley. That's how he got his nickname, Arcade Shaggi
But today, was no time for games. He entered this back workshop, through a heavy sliding door that lead to the other half of the barn, and raises the master power switch, lighting up a 20-foot mech. Tommy pauses to admire, once again, the marvel he created with his chest puffed out and a toothy smirk across his face, He had been working on it these past few months during the winter and could not wait to jump in and take it to the horde in a new way.
Inspired by the bots that had become sentient, especially the ones that have fitted themselves to take on the horde, it looked like a mix between the XO-64 bot and the Tank-420. He called it Iron Gaint. He got the name from an old movie he found in an abandoned house many years ago.
With parts harvested from once operational car manufacturing plant automated machines, old BUD harvesters, and military depots, Iron Giant was packed full of destructive capabilities. So much that Tommy left no room for a cockpit. Yet, that was not a problem for Aracade Shaggi!
Suddenly, Lucky Maggi comes over the intercom on his watch. "Hey Arcade, you might want to finish up whatever you are doing, because Billy is freaking out, saying we have bigger problems than the horde!". "What do you mean?", Tommy replied sensing the urgency and tinge of fear in her voice. "Well, one of those twisted monsters from the alternate dimension just walked out of the water and is giving our bots a run for it!" Tommy shots back in a calm voice, "Hey, this is Arcade you are talking to, and there is not level or baddie boss I can't beat. I got this". "This is not a game Tommy!" Lucky shouts back choosing to use his real 1st name to show she's serious. "Oh…I know. You'll see in a minute, trust me", Tommy calmly said.
Tommy takes a deep breath and says, "It's go time buddy" and he steps into a VR station haptic suit, locks into a VR station, drops his VR goggles on, and with the voice command, "Iron Giant active", the towering mech comes to life. Through, Tommy's VR station the mech can mimic his every move without Arcade having to leave the barn.
Back on the beach, the half-machine half minotaur-looking breast had many of Billy's finest bots torn to pieces. The horde was bout to be on them and at this rate would overrun the defenses. That's when he heard the howling sound of engines. Billy looked up to see a huge robot with jet boosters he had never seen before barrel into the beast knocking it back and away from his remaining bots.
"What in tarnation!" Billy exclaimed. Suddenly the towering mech turns its head and spoke, and it was Tommy's voice synthesized saying, "Seems I got here just in time cousin". Billy replied with excitement, "WOW, that's your new toy"?! "One and the same, and from the comfort of my own barn", said Tommy. Billy chuckled, and shouted, "Living up to your name aren't you…Arcade"!
Before Tommy could comment, the beast stood back up and snarled. The mech shifted its stance, aimed with its right arm, and Tommy shouted, "Eat Lead!" as Iron Giant unleashed a barrage of bullets from a mounted chain gun. The beast raised the arm to try and block the attack, but the hail of bullets instead shredded the arm to a bloody stump before it darted out of the way and behind a large tree, howling in pain. "Gotcha you filthy animal" came from the speakers on Irom Giant. However, that agonizing sound quickly turned into a roar as the raging half-mechanical minotaur charged at the mech only slightly bigger than it was. Tommy was taken by surprise but was able to get the other arm up in time to engulf the beast in a stream of fire. The burning beast did not slow despite being literally cooked alive and slammed into Iron Giant knocking it down. Before the flamming robo-minotaur could pounce on him, Iron Giant sprung up swinging its right arm once again filling the air with the sound of mounted harvesting blades slicing through the torso of the beast. Blood and sparks shot all over the Iron Giant and you could hear Tommy's synthesized voice shout "Its' BBQ time!"
Billy, Lucky, and the rest of the Shaggi family were still in awe of what they had just witnessed. Even the remaining bots seemed perplexed. Awe turned to excitement and the all began to shout in praise. "Hey, see, all these gaming and VR skills paid off, huh!" said Tommy through the mech's speakers. "But we aren't done yet. After we make light work of the horde that just arrived, let's see what else this mech can do! Giant rolled joints made by this Iron Giant are on me!"

Love all things Hive? Love all things Pizza? Then you need to get on the !PIZZA train!
The $HIVE gaming community is the best there is on the Hive ecosystem.
Plus... you can buy video games 🎮 with PIZZA tokens.
Participate in high yield liquidity pools.
Earn rewards 💰 for staking and engaging.
If you are a $PIZZA holder, you know what to do below. 😉
🍕PIZZA🍕Guild & Discord @hive-185582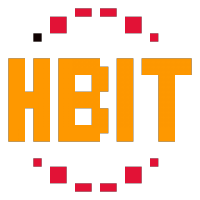 Want to MINE some reward tokens?!
@Hivebits blends Hive's blockchain with the ethos of Bitcoin.
HBIT can be "mined" simply by commenting on any post (even this one) by typing one of the HBIT commands: !hivebits or !HBIT or !hbit or $HBIT. Any of these will work.
You will receive 0.9 HBIT in your Hive-Engine wallet(24hr cooldown)
The account you reply to will receive 0.1 HBIT
You can receive 100% of the HBIT simply by replying to yourself

-ThaddeusPrime
Co-founder of Mulehorn Gaming
For all things gaming and geekery, check out MHG for articles, game streaming, merch, and more click on the images below.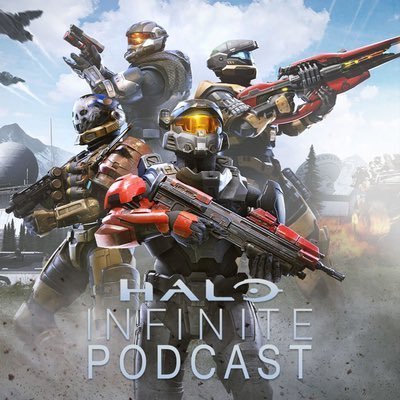 Where else can you find me?