Hello Hive Community, today I will present to you, an educational and fun: Game Of Frogs, Of Colors, the same, was elaborated, with useful material, to teach children from 2 to 4 years old to coordinate their movements, identifying colors, counting caps etc.
This wonderful game consists of the following: In a template, with 3 frogs of different colors and covers with the same colors as the frogs, the children must move the covers, until they are placed in the color of the corresponding frogs. This activity serves to develop in children their ability to coordinate movements, attention, concentration and memory.
With this game, in addition to color recognition, we can apply it to count how many caps there are of one color and the other, identify the animal in the game and recognize the circle as a geometric figure. That is, we can take advantage of it, for the teaching-learning process of it.
Next, I will present the materials and steps for its preparation:
​Hola Comunidad de Hive, hoy les presentaré, un educativo y divertido: Juego De Ranas, De Colores, el mismo, se elaboró, con material de provecho, para enseñar a niños de 2 a 4 años a coordinar sus movimientos, identificando colores, contando tapas etc.
Este maravilloso juego, consiste en lo siguiente: En una plantilla, con 3 ranas de diferentes colores y tapas con los mismos colores de las ranas, los niños deben de mover las tapar, hasta colocarlas en el color de las ranas correspondientes. Está actividad, sirve para desarrollar en los niños su capacidad de movimientos coordinados, atención, concentración y memoria.
Con este juego, además del reconocimiento de colores, podemos aplicarlo, para contar cuántas tapas hay de un color y del otro, identificar el animal del juego y reconocimiento del circulo, como figura geométrica. Es decir, que podemos sacar provecho del mismo, para el proceso de enseñanza- aprendizaje del mismo.
A continuación, les presentaré, los materiales y pasos para su elaboración:
---
---

Materials:
. 1 sheet of cardboard (from a box)
. Yellow cardstock (or color of your choice)
. 9 soft drink caps
. 1 cap of compotes
. Tempera: green, red, blue (or colors of your choice)
. Brush
. Colored crayons: Green, red, blue (or colors of your choice)
. Scissors
. silicone
. Marker
. Pencil
. frog template
Materiales:
. 1 lámina de cartón (de una caja)
. Cartulina amarilla (o el color de su preferencia)
. 9 tapas de refrescos
. 1 tapa de compotas
. Tempera: verdes, rojo, azul (o colores de su preferencia)
. Pincel
. Creyones de colores: Verde, rojo, azul (o colores de su preferencia)
. Tijera
. Silicón
. Marcador
. Lápiz
. Plantilla de ranitas
---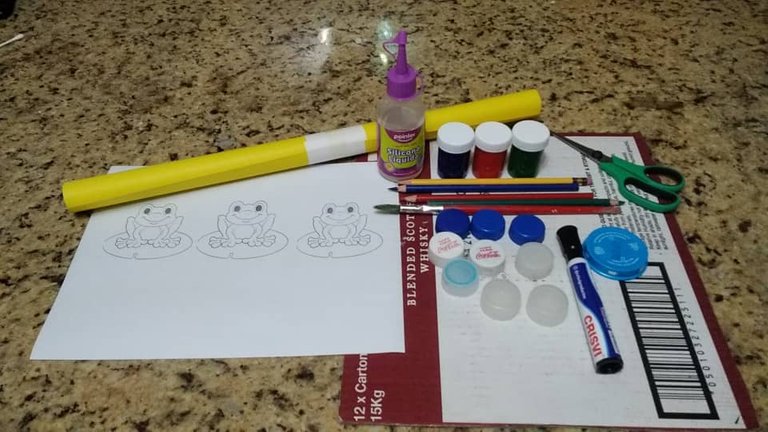 ---

Step 1:
Measure and cut the cardboard to the size of the cardboard sheet and stick it on it with silicone.
Paso 1:
Medir y recortar, la cartulina, del tamaño de la lámina de cartón y pegarla, en la misma, con silicón.
---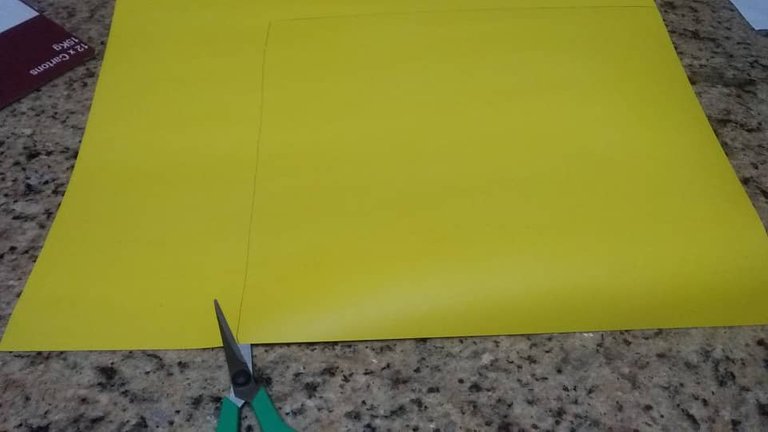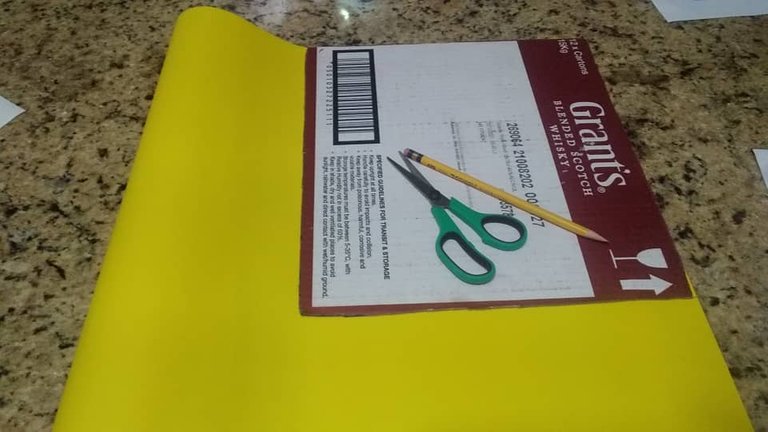 ---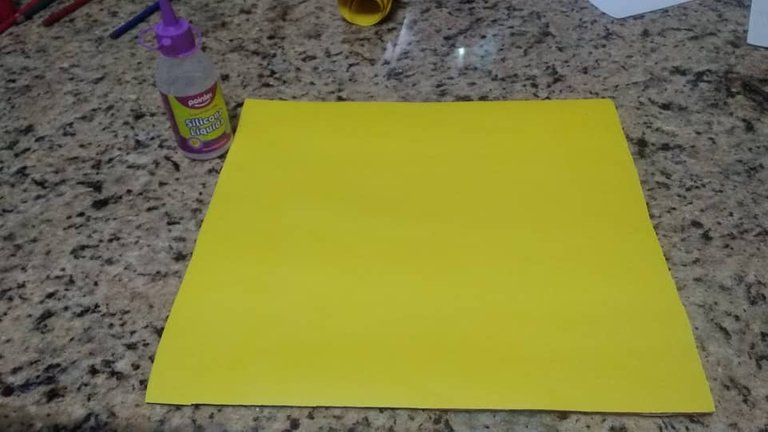 ---

Step 2:
Cut out and paint with crayons the frogs, one blue, one red and one green, and glue them to the top of the sheet or template.
Paso 2:
Recortar y pintar con creyones las ranitas, una azul, una roja y una verde y pegarlas en la parte superior de la lámina o plantilla.
---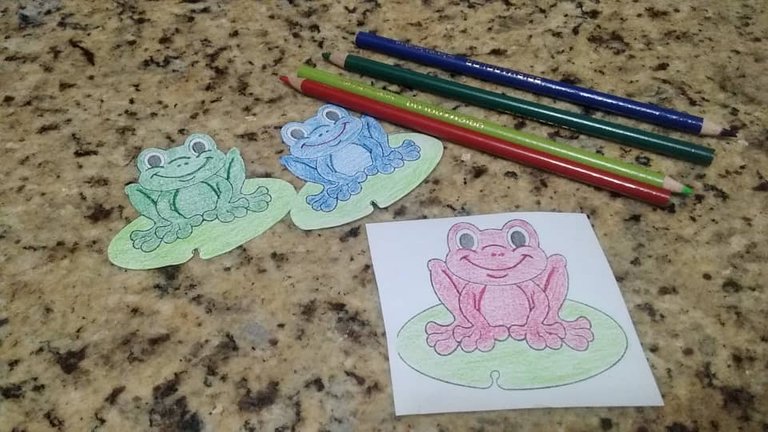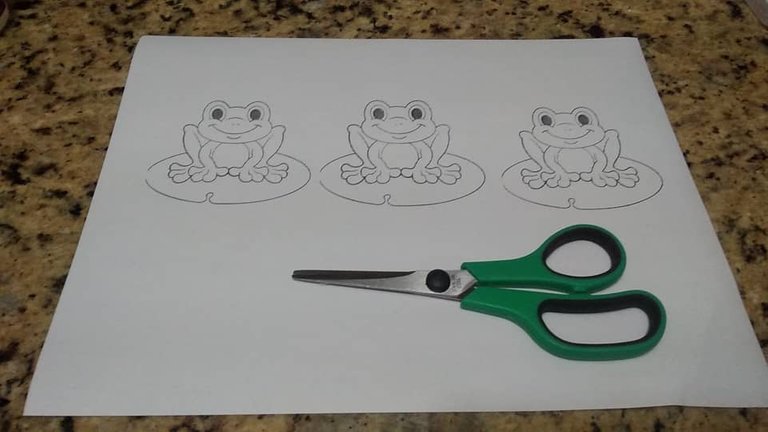 ---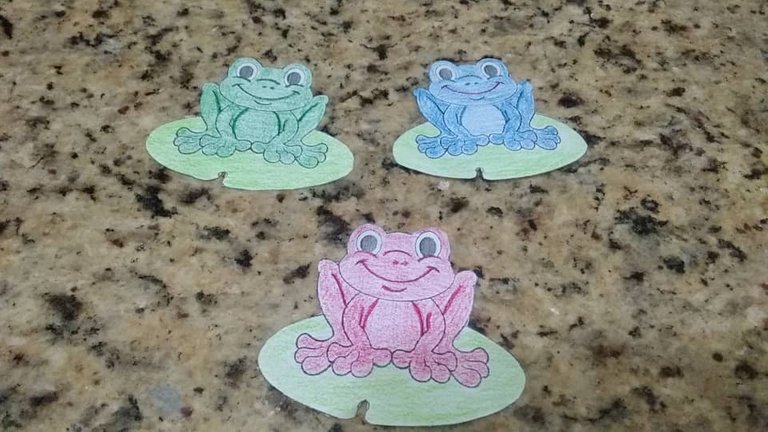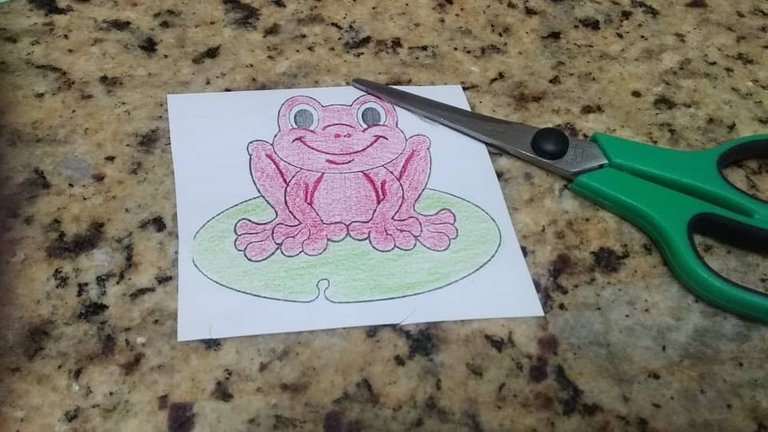 ---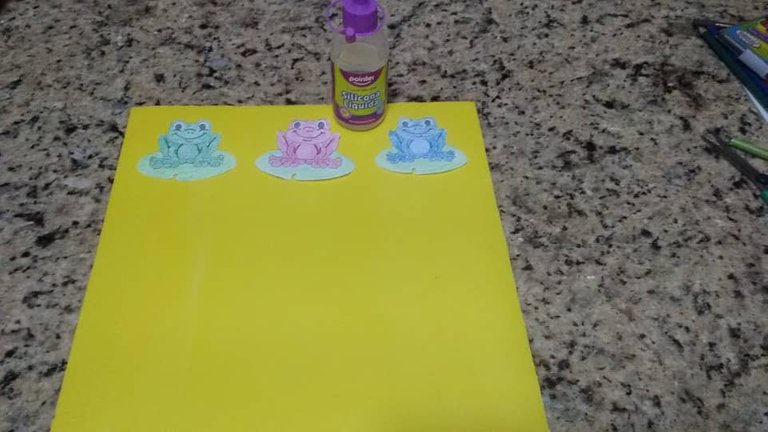 ---

Step 3:
Paint with tempera, 3 covers in green, 3 in red and 3 in blue, let dry.
Paso 3:
Pintar con tempera, 3 tapas en verde, 3 en rojo y 3 en azul, dejar secar.
---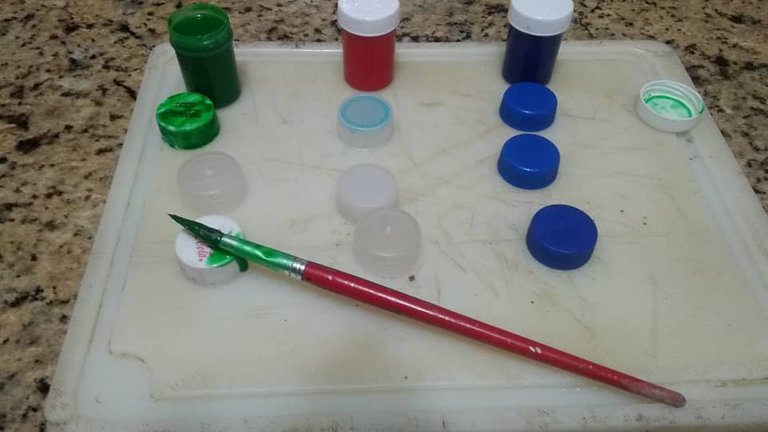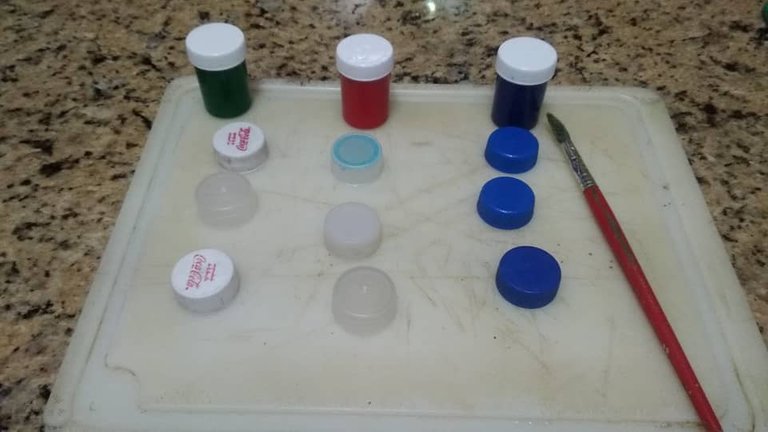 ---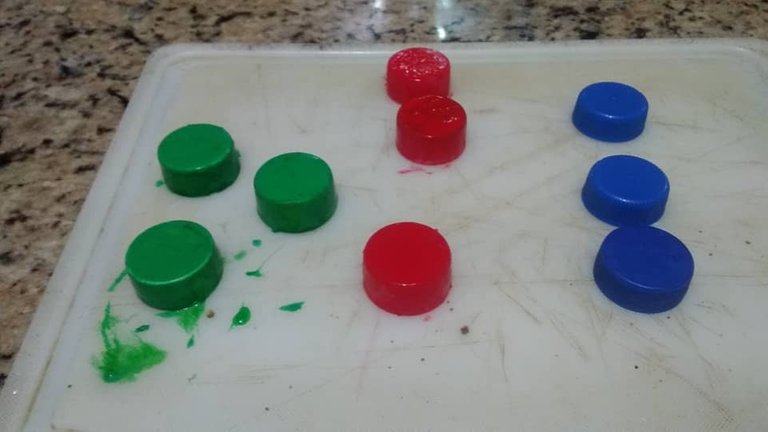 ---

Step 4:
While the lids are drying, make 3 circles on the template under each of the frogs, helping yourself with a compote lid and a marker. View photo
Paso 4:
Mientras se secan las tapas, elaborar en la plantilla, 3 círculos, debajo de cada una de las ranas, ayudándose con una tapa de compota y marcador. Ver foto
---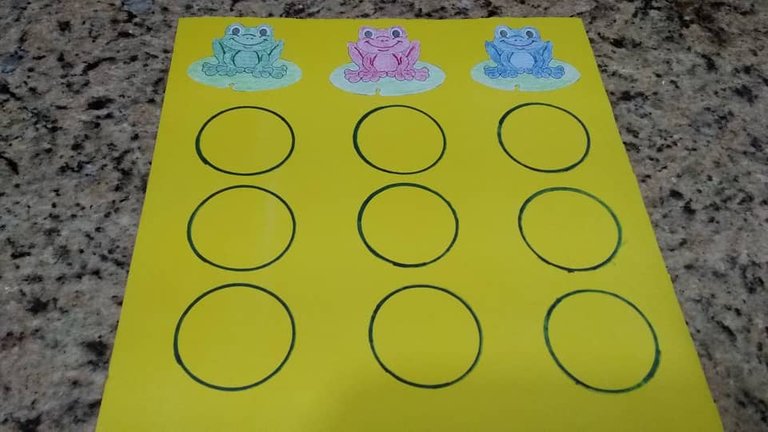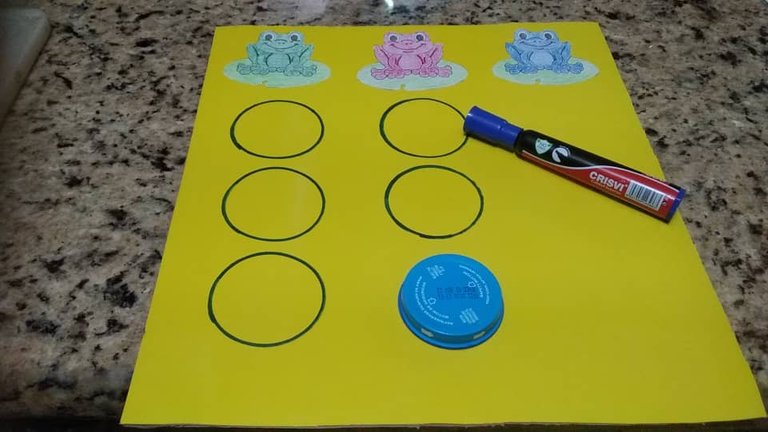 ---

Step 5:
For the game, the covers are placed in a disorderly way, so that the child or children move them towards the corresponding color and complete the colors of each frog.
Paso 5:
Para el juego, se colocan en forma desordenada las tapas, para que el niño o los niños, las muevan hacia el color correspondiente y complete los colores de cada rana.
---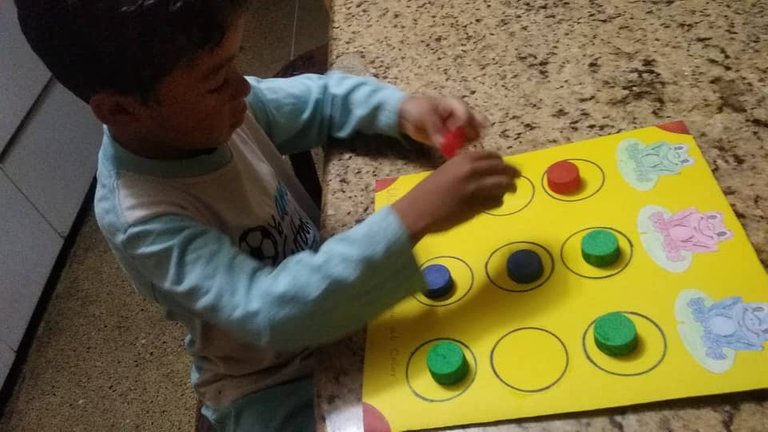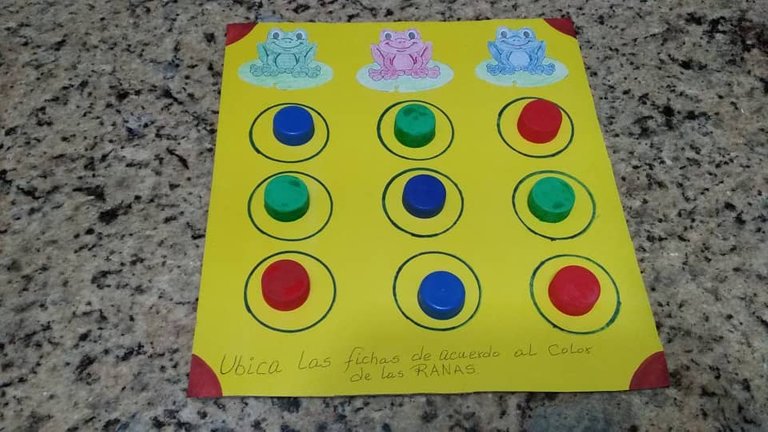 ---

Waiting, you will like this game, for teaching, during the initial stage of the child, to develop her learning capacity, achieving coordinated movements, which develop her attention and concentration.
Thank you for taking your time to read my post. Cheers
Esperando, les agrade este juego, para la enseñanza, durante la etapa inicial del niño, para desarrollar su capacidad de aprendizaje, logrando, movimientos coordinados, que desarrollen su atención y concentración.
Gracias, por tomar de su tiempo en leer mi post. Saludos
---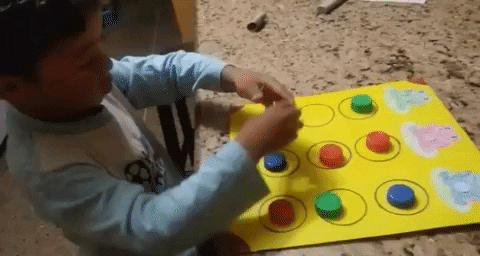 ---

Until next time/ Hasta la Próxima
---
---
All photos are my property taken with my Redmi Go smartphone
.All separators are my property, free to use.
.English it is not my native language, I help myself with translators to make these posts
............................................
. Todas las fotos son de mi propiedad tomadas con mi celular inteligente Redmi Go
. Todos los separadores son de mi propiedad, libres de uso
. El inglés no es mi idioma natal, me ayudo de traductor