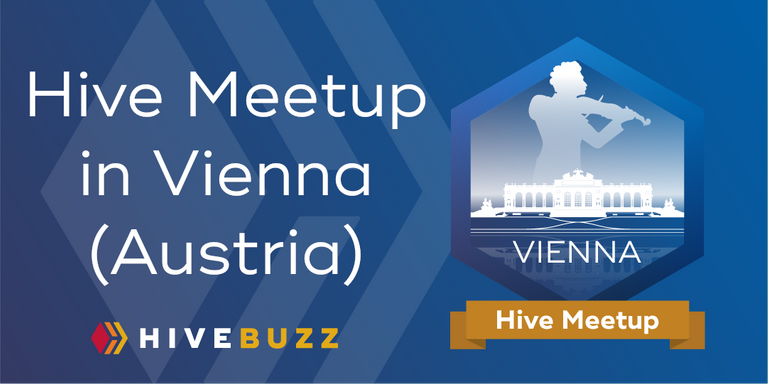 Yesterday took place the first Hive Meetup Vienna in cooperation with @hivebuzz. It was the first time we were requested to create a Meetup Badge for an Austrian community and the overall experience was great!

Dieser Beitrag ist ins Deutsche übersetzt: hier
We contacted @manncpt (the meetup organizer) to get his feedback about this last edition.

@manncpt
First of all, thank you for implementing the idea so well and quickly. The design is very special and represents Vienna well with the Glorietta and Strauss. For me as an organizer, it is a great opportunity to be able to distribute an additional "thank you" to the participants in addition to the payout from the invitation post.

That's also really cool that there is even a shop where you can get items with this badge for the meetup.

What would be even cooler if Hive interfaces like hive.blog or peakd.com could display your new badges once received. Hopefully, such a feature can be implemented soon.
First Participants
The 6 participants who can be proud to be the first to receive their badge are @thermoplastic, @siriusgaia, @vikisecrets, @stayoutoftherz, @schmidi and of course @manncpt himself.
They now have their first star below their badge and will be able to obtain more by attending the next editions of the meetup.
Congratulations everybody!
To get an idea about how the meetup was, check out this meetup report from @manncpt
It was our pleasure to work with the Vienna community and we are looking forward to seeing many more participants getting their badge at the next Hive Meetup Vienna.
The Hivebuzz Team
---
If you are a meetup organizer and you want to reward participants with a personalized badge, do not hesitate to contact us on Discord or Telegram.
---
HiveBuzz is a project created by @arcange
---