Here are some additional good news during this big HIVE pump.
1.8.4.1 is already out on Firefox and will hopefully be on the Chrome Store soon.
Latest updates
requestProxy
A new requestProxy function can be used as follow :
hive_keychain.requestProxy(username,proxy,callback);

proxy must be either the account serving as proxy, or an empty string to remove a proxy.
Keychainify Update
Keychainify, when enabled in the settings triggers a Keychain popup for transfer, delegation, witness votes and now proxy, when a corresponding HiveSigner window is open.
Most of my work this week was directed to update Keychainify to work when no account is specified on HiveSigner, which is often the case. When that happens,Keychain will open a popup with a dropdown containing all the accounts that have the desired authority.
Let's see an example of how this works!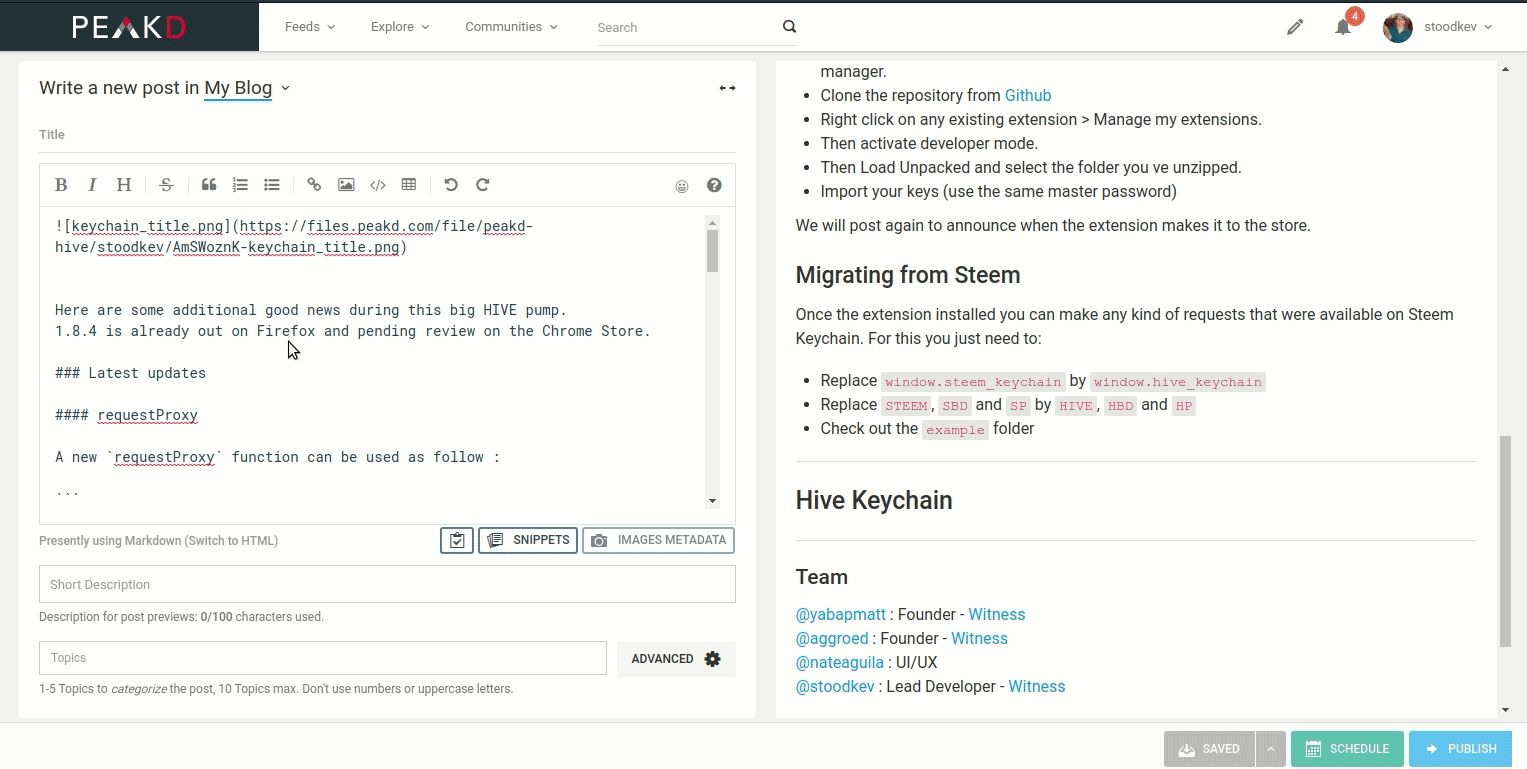 Other changes
Design adjustments
Resolved issue #41 by making the scrollbar visible
Next Steps
Enabling Hive Engine
Adding signTx method
Make it easier to import accounts to Keychain upon creation
Downloading the extension
Firefox
Get the latest version of Hive Keychain on the FireFox Add-Ons Store.
It will update by itself.
Chrome / Opera / Brave
Get the latest version of Hive Keychain on the Chrome Store.
It will update automatically.
Local installation or update
Export your keys (from settings)
If you have a previous local version of Hive Keychain, uninstall it from your extension manager.
Clone the repository from Github
Right click on any existing extension > Manage my extensions.
Then activate developer mode.
Then Load Unpacked and select the folder you ve unzipped.
Import your keys (use the same master password)
Migrating from Steem
Once the extension installed you can make any kind of requests that were available on Steem Keychain. For this you just need to:
Replace window.steem_keychain by window.hive_keychain
Replace STEEM, SBD and SP by HIVE, HBD and HP
Check out the example folder
---
Hive Keychain
---
Team
@yabapmatt : Founder - Witness
@aggroed : Founder - Witness
@nateaguila : UI/UX
@stoodkev : Lead Developer - Witness
Frequent contributors
@arcange - Witness
@quochuy - Witness
To vote using Hive Keychain, use the witness tab, or enable Keychainify.