Hello, we hope everyone is well and staying safe at home. In this post we want to share our updates on Content Detail and Comment section. We are finally able to parse the markdown content and we are trying to integrate as much details as possible in the screens which would not only help the users to perform actions easily but also feel connected with the application. The video includes Nested comments, Upvote and Downvote comments, Reblog posts, Sending Gifts / tips, Standalone comments, List and Normal View and a lot more features. We had quite a lot of network latency so API requests took more time. We will let you watch the video now…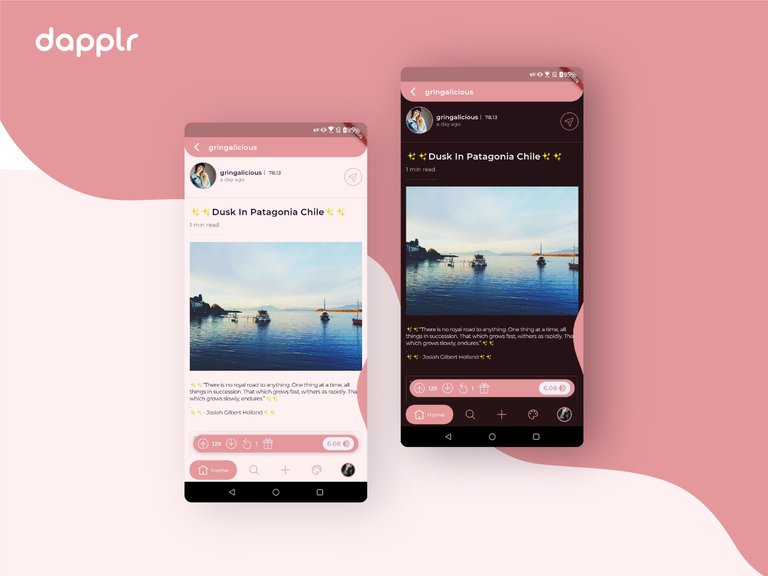 ---
Frontend Progress -
Features Done -
Parsing and posting nested Comment
Reblog
Sending tips/gift
Standalone comment page.
List View
Normal View
Upvote and Downvote comments.
Avatar and Picture details
Minor fixes.
You will be able to see all the features in the video.
Design Progress -
List/Normal View in detail
Animation elements.
Back-end Progress -
Chat storage in DB
Brainstorming around notifications and its types.
---
Difficulties
Content editors are not well supported in mobile devices and there is no support of complex markdown renders in Flutter so we are making changes in the core parser to parse the content from blockchain and show it to the user. We are trying to integrate as much details as possible and we are ensuring the performance of the application. We have overcome most of our issues with the content parsers and other related stuff and now we can focus on building more features around it.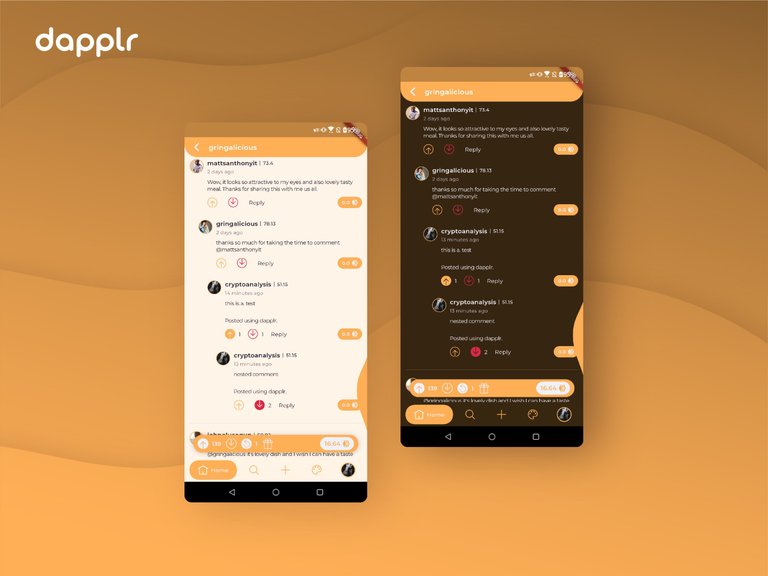 ToDos
Profile Screen
Profile Screen Actions
Different types of views on profile detail page.
---
Support us by voting for our proposal
Total funds requested - - - > 4830 HBD (30 HBD daily)
Runs from - - - > Apr 17, 2020 - Sep 25, 2020 (161 days)
If funded, these funds will be used to cover 3rd party costs: our server and the junior dev/design team.


Vote using your favorite UI:
Hivesigner - - - > https://hivesigner.com/sign/update_proposal_votes?proposal_ids=%5B%2295%22%5D&approve=true
HiveDao - - - > https://hivedao.com/proposal/95
Peakd.com - - - > https://peakd.com/proposals/95
Open Source Proposal -
The Dapplr team has been working very hard and we are putting everything that we have got with us. We are putting in our personal resources, designers, animators, tools, testing devices, money and most importantly efforts to make this a standout application from any other social media platform.
With our proposal being approved and completely funded, we will open source all of our front-end and back-end code once we have launched the product and out of beta release.
We want to give our HIVE community an application that they would love, cheer and feel proud of. If #hive community want it, they will get it.


We want to thank our wonderful supporters - @liondani , @runicar , @soyrosa , @ash , @fknmayhem, @vimukthi and too many to count.
In order to support open source, Support our proposal
Total funds requested - - - > 60,000 HBD (500 HBD daily)
Runs from - - - > May 28, 2020 - Sep 25, 2020 (120 days)
If funded, these funds will be used to cover the dapplr team effort to open source complete front-end (Android and IOS) and back-end code.
Vote using your favorite UI:


-------------------_____Support us with your upvotes and tips/donations _____-----------------


Follow us on Instagram - https://www.instagram.com/dapplr_app
Follow us on Twitter - https://www.twitter.com/@Dapplr_app
Join us on Discord - https://discord.gg/Uj5JXZ