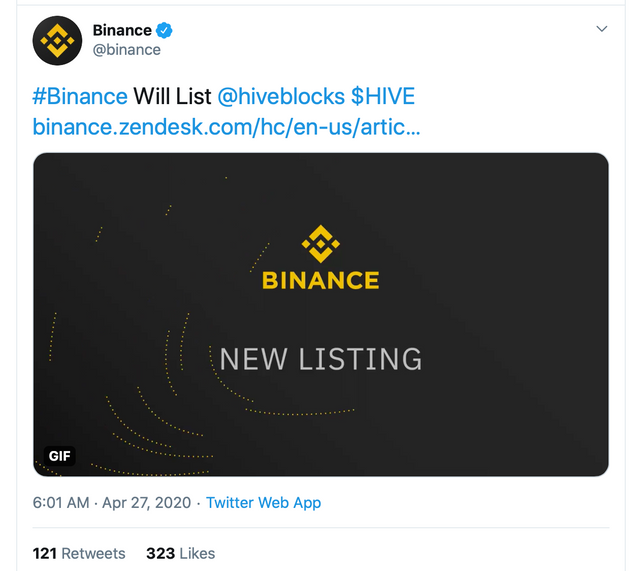 ---
According to an announcement on Binance official website, HIVE will be listed starting today (but wallets will open a bit later). Here is the relevant part:
Binance will list Hive (HIVE) and open trading for HIVE/BNB, HIVE/BTC and HIVE/USDT trading pairs at 2020/04/27 05:00 AM (UTC).
Due to initial wallet requirements, HIVE deposits and withdrawals will open at 2020/04/29 04:00 AM (UTC).
I find this both encouraging and ironic. Encouraging because HIVE is getting a lot of attention, and its price is clearly reflecting this. Ironic because, with or without knowing what they were doing, Binance was somehow part of the Hive fork. Steem stake held on a few exchanges, Binance and Huobi included, was used to vote in an aggressive takeover of the Steem blockchain a few weeks ago.
The recent listing of HIVE on Huobi resulted in a huge price spike, with HIVE reaching as high as 0.89 cents, almost 6 times more than just a week ago.
---
There is an ongoing funding proposal for two of my Hive-related projects, which will allow me to support some of the costs involved. If you want to support this proposal, all you have to do is to vote it using any of the two links below:
Sign this proposal with Hivesigner
Peakd: https://peakd.com/me/proposals/92
Already supported by: @toofasteddie, @alina.romila, @amico, @bluerobo, @chrisaiki, @erikah, @ervin-lemark, @ew-and-patterns, @guruvaj, @mytechtrail, @pharesim, @ryivhnn, @sacrosanct, @captainklaus, @santigs, @inertia, @bro.poker, @distantsignal, @doze, @gadrian-sp, @shmoogleosukami, @valued-customer, @condeas, @justinashby, @likwid, @bucipuci
---
I'm a geek, blogger and ultrarunner. You can find me mainly on my blog at Dragos Roua where I write about productivity, business, relationships and running. Here on Steemit you may stay updated by following me @dragosroua.


---
Wanna know when you're getting paid?
I know the feeling. That's why I created hive.supply, an easy to use and accurate tool for calculating your HIVE rewards
It's free to use, but if you think this is a useful addition, I'd appreciate your witness vote.
Thank you!