Following the recent bull run - driven mainly by the recent HIVE listing on Huobi, as some of my followers observed in my previous post - HIVE climbed to an astonishing 31th position in the global crypto chart on CoinGecko.
---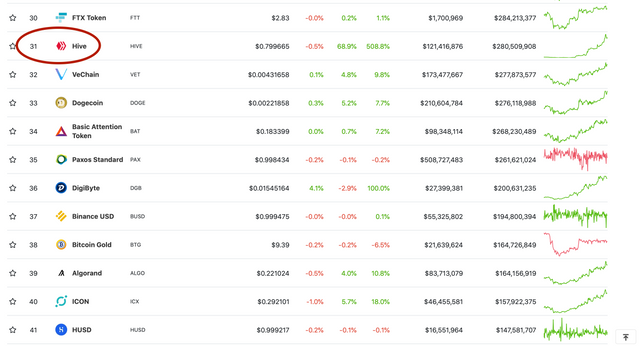 ---
This spot is well ahead of other, more established tokens, like BAT (Basic Attention Token), Enjin (well known in the gaming industry) or Decred, to name just a few.
This reminds that, at some point, in 2016, if I'm not mistaken, STEEM (the blockchain from which HIVE forked) was briefly the number 3 cryptocurrency in the world, with only Bitcoin and Ethereum ahead of it.
I know that, right now, wanting to be in that spot again may sound utterly crazy and unrealistic. But one can only hope, right?
Of course, it can also go in the other direction, sinking somewhere in the bottom of the top 100, along with STEEM, which is now sitting on 74.
(I'm not saying that I want this, but being prepared for anything and everything proved to be a much healthier approach than having unrealistic expectations, rooted only in hope and nothing else. Hard work, strong ethics and consistency beat hope anytime.)
---
There is an ongoing funding proposal for two of my Hive-related projects, which will allow me to support some of the costs involved. If you want to support this proposal, all you have to do is to vote it using any of the two links below:
Sign this proposal with Hivesigner
Peakd: https://peakd.com/me/proposals/92
Already supported by: @toofasteddie, @alina.romila, @amico, @bluerobo, @chrisaiki, @erikah, @ervin-lemark, @ew-and-patterns, @guruvaj, @mytechtrail, @pharesim, @ryivhnn, @sacrosanct, @captainklaus, @santigs, @inertia, @bro.poker, @distantsignal, @doze, @gadrian-sp, @shmoogleosukami, @valued-customer, @condeas, @justinashby, @likwid, @bucipuci
---
I'm a geek, blogger and ultrarunner. You can find me mainly on my blog at Dragos Roua where I write about productivity, business, relationships and running. Here on Steemit you may stay updated by following me @dragosroua.


---
Wanna know when you're getting paid?
I know the feeling. That's why I created hive.supply, an easy to use and accurate tool for calculating your HIVE rewards
It's free to use, but if you think this is a useful addition, I'd appreciate your witness vote.
Thank you!