A week ago I disclosed an unofficial news about SNAX rewards being ported to the HIVE blockchain. I'm happy to confirm that news today, based on this official tweet from the SNAX team:
---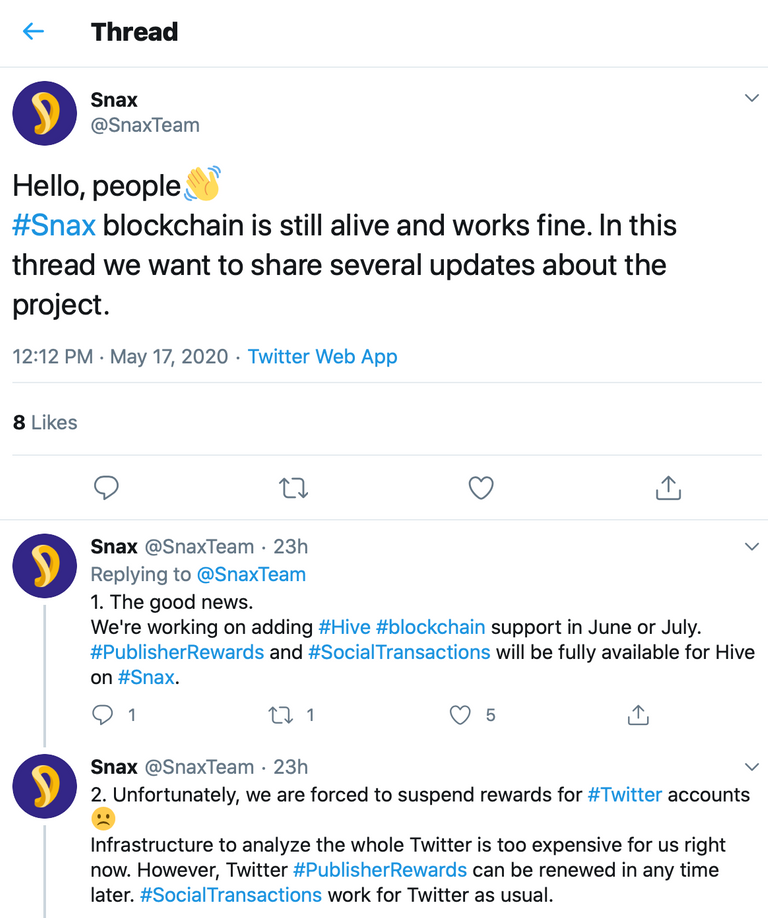 ---
As you can see, the Twitter rewards are also confirmed out, which could be also a good news. If the rewards pool is split only between Steem and Hive, then it's obvious there will be more allocated to these two blockchains.
For those of you now knowing yet what SNAX is, it's an EOS fork rewarding social interactions. The white paper explains in depth (you would need some more than average math skills to really get it) the reputation algorithm and you could head over to https://snax.one for more information. I'm a SNAX producer and, once the Hive support will be live, I'm planning a few writing challenges that will help you get the most of SNAX.
---
There is an ongoing funding proposal for two of my Hive-related projects, which will allow me to support some of the costs involved. If you want to support this proposal, all you have to do is to vote it using any of the two links below:
Sign this proposal with Hivesigner
Peakd: https://peakd.com/me/proposals/92
Already supported by: @toofasteddie, @alina.romila, @amico, @bluerobo, @chrisaiki, @erikah, @ervin-lemark, @ew-and-patterns, @guruvaj, @mytechtrail, @pharesim, @ryivhnn, @sacrosanct, @captainklaus, @santigs, @inertia, @bro.poker, @distantsignal, @doze, @gadrian-sp, @shmoogleosukami, @valued-customer, @condeas, @justinashby, @likwid, @bucipuci
---
I'm a geek, blogger and ultrarunner. You can find me mainly on my blog at Dragos Roua where I write about productivity, business, relationships and running. Here on Hive you may stay updated by following me @dragosroua.


---
Wanna know when you're getting paid?
I know the feeling. That's why I created hive.supply, an easy to use and accurate tool for calculating your HIVE rewards
It's free to use, but if you think this is a useful addition, I'd appreciate your witness vote.
Thank you!