As I was doing my regular morning checkup, something odd hit me on the Peakd wallet page. Something was change. It seemed like I had way less space in the middle, until I realized there is a new column on the left.
To make a long story short, the Peakd wallet now has 4 sections: the Hive wallet, the Hive-Engine wallet, External services and Games. Let's take them one at a time:
Hive wallet
It's just as you would expect, a wallet with all the native tokens and services of the Hive blockchain: Hive, Hive Power, Hive Dollars and Savings. The only new thing here is that some of the tokens which used to reside here aren't here anymore.
---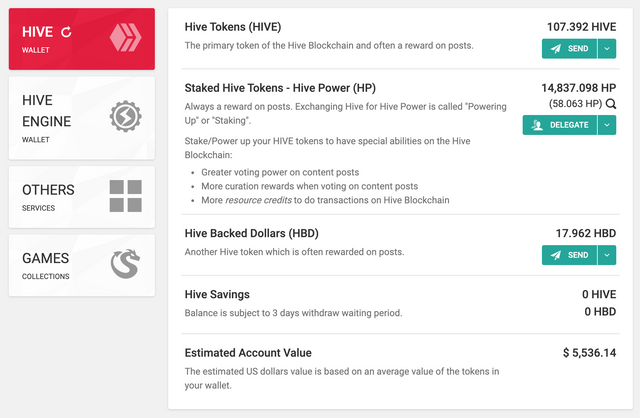 ---
Hive-Engine
Hive-Engine is a smart contract layer on top of the Hive blockchain, and, as many of you already know, it's a rewrite of the Steem engine. Here's how it looks in the wallet, with the tokens I have there:
---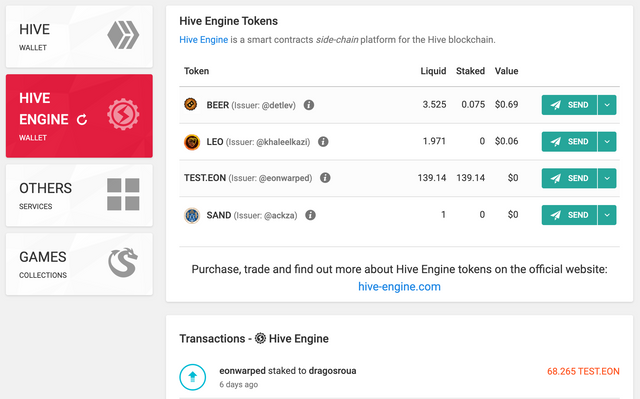 ---
Others
I was very happy to see in this section a project in which I am involved (as many of you know), the SNAX blockchain. Here you can find various rewards pools built on top or around the Hive blockchain.
---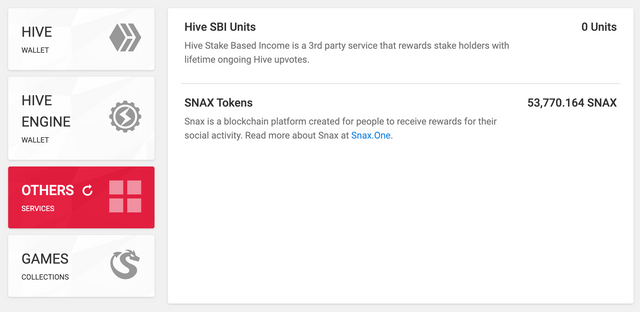 ---
Games
Another pleasant addition is the Games area, with two entries: Splinterlands and Exodus (never played any of them, but who knows what the future holds)
---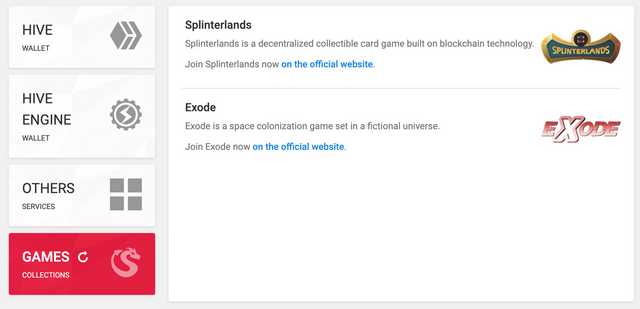 ---
There are two components of this update that I want to highlight: convenience and adoption. First of all, it's very convenient to have all (or the majority) of your Hive-centric tokens in a single place. And second, the fact that the Hive blockchain already powers so many rewards pools and rewards mechanisms is a very strong signal towards mainstream adoption.
---
There is an ongoing funding proposal for two of my Hive-related projects, which will allow me to support some of the costs involved. If you want to support this proposal, all you have to do is to vote it using any of the two links below:
Sign this proposal with Hivesigner
Peakd: https://peakd.com/me/proposals/92
Already supported by: @toofasteddie, @alina.romila, @amico, @bluerobo, @chrisaiki, @erikah, @ervin-lemark, @ew-and-patterns, @guruvaj, @mytechtrail, @pharesim, @ryivhnn, @sacrosanct, @captainklaus, @santigs, @inertia, @bro.poker, @distantsignal, @doze, @gadrian-sp, @shmoogleosukami, @valued-customer, @condeas, @justinashby, @likwid, @bucipuci
---
I'm a geek, blogger and ultrarunner. You can find me mainly on my blog at Dragos Roua where I write about productivity, business, relationships and running. Here on Hive you may stay updated by following me @dragosroua.


---
Wanna know when you're getting paid?
I know the feeling. That's why I created hive.supply, an easy to use and accurate tool for calculating your HIVE rewards
It's free to use, but if you think this is a useful addition, I'd appreciate your witness vote.
Thank you!