I recently saw a nice and very interesting interview from Nuggets News on Decentraland and got curious.
If you have never tried, then take a few minutes and go visit the place. It is browser-based (best viewed in Chrome or Brave) and preferably needs to have Metamask installed
Just try the game, have a walk around and get a feel for the place. It's free.
The whole experience is decentralised and governed by the community. The "in-game" coin is https://coinmarketcap.com/currencies/decentraland/ which allows you to buy land, clothing, items all as NFT's
More and more companies have a place there and use it to host virtual meetings so with the hive communities we have a new place for AMA sessions or Meetups. Imagine something like a @splinterlands meetup or Hivefest (former steemfest) in a virtual world.
If nothing else it would make for a nice marketing piece for our blockchain and a cooperation option with another large community.
The next step was a suggestion to @theycallmedan on Twitter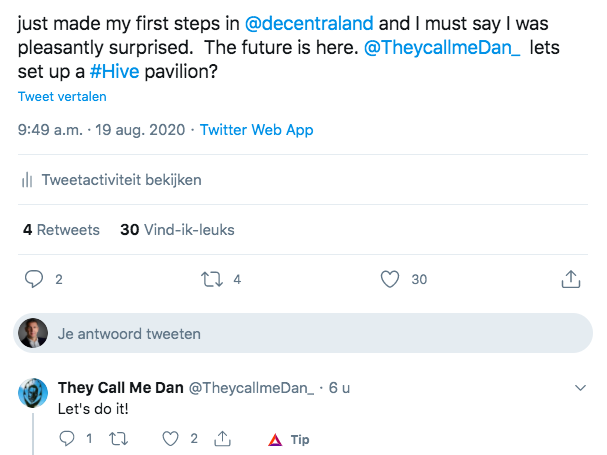 and a fast enquiry to @aggroed who was open to looking into this as well.
I dove into the topic, did some research and found out there is a place in Decentraland called the Crypto Valley
I got in touch with the people who manage that area and they have agreed in principle to provide us with a free space for our community to set up a HIVE pavilion. The lease would be a long term free one and they ask in return that we use the pavilion for different uses
AMA's
presentations
meetups
regular events
parties
...

Now there are 2 options to proceed.
use a design for pavilion created by someone from our community who has a lot of experience in modelling and can use the Decentraland SDK. In that case, the admins will have the final say of the aesthetics since it has to fit into the whole "theme"
use their designers to create a place for us taking the wishes of the HIVE community into account. They will create the concept art and will then ask us to sign off on it. The cost of this option would be roughly 2000 USD which we could put in as a proposal in the DECENTRALISED HIVE FUND.
I am writing this post to see if the community would find this like something they would agree to. If so I will create a proposal.
My ask of you in the comments:
If you are a graphic designer that has experience with creating buildings like this let me know.
If you think we should just create the proposal then let me know as well
your reaction to Hive having this kind of space in Decentraland in the first place. good or bad?
Please share this post so that we have as many opinions as possible.
Thanks