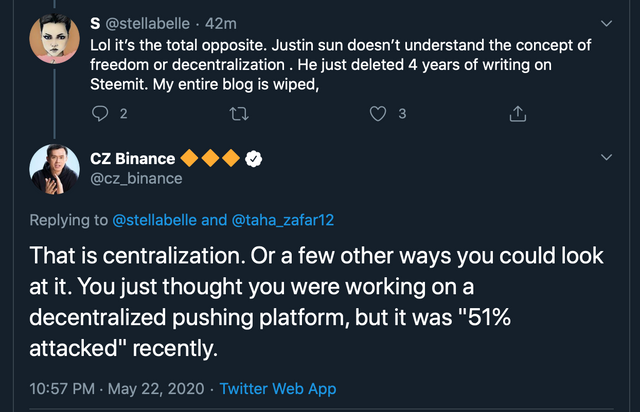 Today Binance announced its position regarding the theft of millions of Steem from 60+ Steem users/stakeholders. While CZ Binance clearly states they don't condone zeroing out accounts, they have no choice but to support the Steem hardfork-23 because they still have customers who use Steem.
Full Binance statement can be found here and you can also read the following Twitter feed of what CZ himself has to say here.
What caught my attention is his response to @stellabelle where he admits that Steem has been under 51% attack and is centralized. The interesting part is that he doesn't realize that he personally is responsible for these hostile attacks since the moment he authorized powering up @binance stake (customers' funds) to aid Justin Sun in #steemhostiletakeover. That was the 51% attack that let everything else happen afterward.
While currently stolen funds as a result of HF-23 at @bittrex's custody and are not lost yet, one can hope these so-called leaders in the crypto/blockchain space will do the right. It is within their powers to securely distribute stolen funds to the rightful owners, only if they had the courage to do so.
Steem is dead. Long live Hive.