Español:
¡Hola comunidad Hive!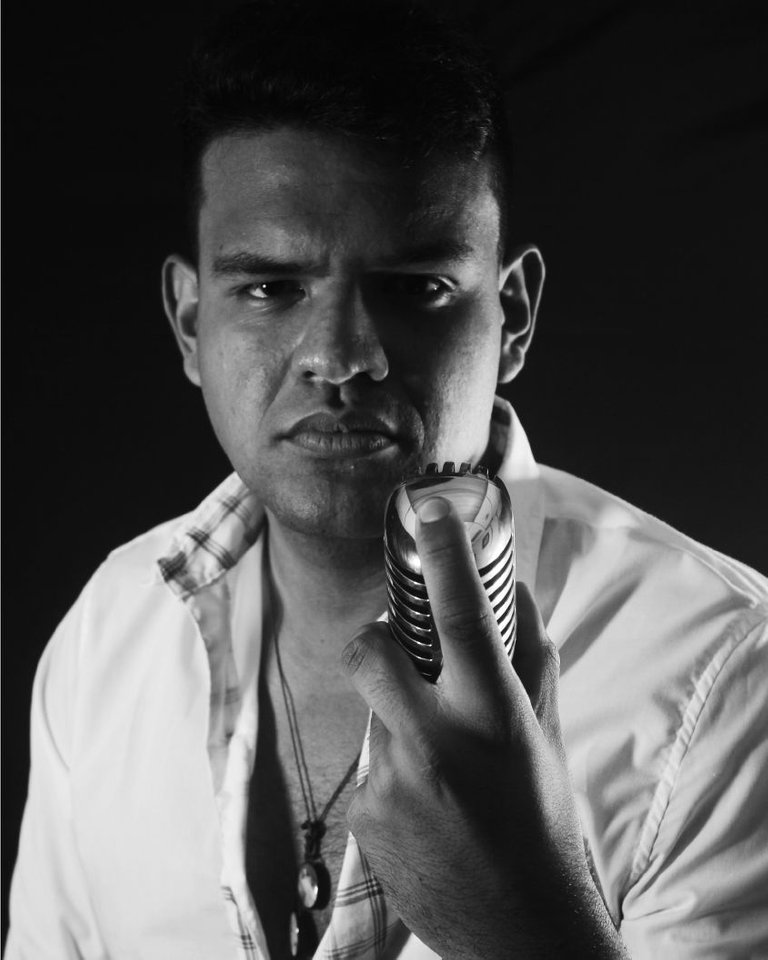 Como había comentado en mi primera publicación, quiero hablarles un poco de mí y mi proyecto musical. Soy un cantautor con más de 14 años de estudios musicales, que he sabido compaginar con mi carrera profesional.
Mis padres me cuentan que cuando era un niño de meses ya había demostrado mi interés por la música. En aquella época la canción "Cómo no voy a decir que me gustas" de Luis Silva, estaba de moda. Yo solía gritar a todo pulmón el coro de la canción cuando la ponían en la radio.
Posteriormente, comencé a imitar a Yordano Di Marzo, un cantante venezolano que fue muy famoso en las décadas de los 80/90´s. Con seis años, cantaba los éxitos del grupo puertorriqueño Son By Four y varias canciones de Marlene, otra cantante venezolana que debido a mi edad y que mi voz no se había desarrollado, se me hacía fácil cantar en su tono.
Con los años, me convertí en un fanático de la música de Ricardo Montaner, mientras que paralelamente escuchaba a grandes cantantes como José José, José Luis Rodríguez,Juan Gabriel, Barry White y muchos más.
Sin embargo, no fue hasta los catorce años que de verdad tomé con seriedad lo de la música: Comencé a estudiar Cuatro (Un instrumento similar al Ukulele) en un colegio cerca de donde vivo: El "Jesús Obrero". Allí estaban dando clases gratuitas de Cuatro a muchachos de la comunidad en la estudiantina.
Yo quería estudiar guitarra realmente, pero mis padres me pusieron a prueba con el cuatro, para ver si era cierto mi interés y no un simple capricho temporal. Así, acabé agarrándole demasiado amor a esto y me apoyaron llevándome a audicionar en la Escuela Superior de Música José Ángel Lamas, de la que todavía soy parte como estudiante y la que me ha formado en el ámbito musical.
Pero curiosamente, no fue hasta mucho después que decidí empezar mi carrera como artista, porque no sentía que fuese lo suficientemente bueno para esto y era bastante tímido. Yo había comenzado a escribir canciones a los 17 años, pero no eran tan buenas como lo que he ahora escribo... así fue como dejé que pasara el tiempo y cuando ya tenía 24, las circunstancias me empujaron a llevar a cabo mi proyecto sí o sí. Les cuento:
Yo, como ya mencioné, soy licenciado en Relaciones Públicas y cuando me gradué trabajé por 1 año y 364 días en una institución pública de mi país, pero no me sentía bien: Era muy complicado llevar a cabo mi proyecto atado a un horario fijo, donde tenía que pedir permisos y depender del humor de mi superior directo. En cuanto tuve la oportunidad de salirme, no dudé, pues encontré una fuente de ingresos alternativa redactando artículos para diversos clientes en internet gracias a mi madre, que vio la oferta de trabajo en las redes sociales y me dijo que lo intentara.
Así, con dudas, comencé a escribir y comenzó a irme bien, porque desde casa estaba generando los recursos suficientes para mantenerme.
Paralelamente a mis vivencias como trabajador con relación de dependencia, tuve la oportunidad de grabar un cover y una canción de mi autoría. Trabajar en ese lugar provocó en mí el impulso de querer luchar por lo que sueño, antes que relegarme a vivir de algo en lo que no me sentía cómodo.
El Cover que grabé es "Me Dediqué a Perderte" de Alejandro Fernández y Leonel García (uno de los integrantes de Sin Bandera). Aquí les comparto el video del cover:
Como este tema tuvo muy buena recepción, me animé a invertir en un proyecto nuevo: grabar algo de mi autoría. Gracias a la ayuda de un primo que tiene más tiempo en el medio y el apoyo económico de mis padres, conocí al maestro y productor Armando Lovera, que ha trabajado con grandes artistas como Chino y Nacho, Caramelos de Cianuro, Guaco y muchos más. Con él, grabé mi primera canción "Vale la Pena" en el año 2017.
Vale la Pena es una de mis "niñas mimadas", aunque tuve que retocarla un poquito, ya que la letra no era igual a la que escucharán en el video que subí a YouTube. En algún momento les contaré por qué los cambios. ¡Eso es historia para otro día!
"Vale la Pena" me permitió cantar dos veces en el poliedro, así como crear mi banda planta, asistir a la radio en diferentes programas radiales, conocer grandes artistas emergentes como yo y llegar a sonar en algunas radios pequeñas en Argentina, España, Chile, Ecuador, Perú, Estados Unidos y México.
Por aquí les comparto el enlace de mi videoclip:
English:
As I had mentioned in my first post, I want to tell you a little about myself and my musical project. I am a singer-songwriter with more than 14 years of musical studies, which I have managed to combine with my professional career.
My parents tell me that when I was a month-old child I had already shown my interest in music. At that time the song "How am I not going to say that I like you" by Luis Silva was fashionable. I used to yell the chorus of the song at the top of my lungs when they played it on the radio.
Later, I began to imitate Yordano Di Marzo, a Venezuelan singer who was very famous in the 80s / 90s. At the age of six, I sang the hits of the Puerto Rican group Son By Four and several songs by Marlene, another Venezuelan singer who, because of my age and that my voice had not developed, made it easy for me to sing in her tone.
Over the years, I became a fan of Ricardo Montaner's music, while simultaneously listening to great singers like José José, José Luis Rodríguez, Juan Gabriel, Barry White and many more.
However, it wasn't until I was fourteen that I really took music seriously: I started studying Cuatro (An instrument similar to the Ukulele) at a school near where I live: El "Jesús Obrero." There they were giving free classes of Cuatro to boys from the community in the student body.
I really wanted to study guitar, but my parents put me to the test with the cuatro, to see if my interest was true and not just a temporary whim. So, I ended up getting too much love for this and they supported me by taking me to audition at the José Ángel Lamas Higher School of Music, of which I am still a part as a student and the one that has trained me in the musical field.
But interestingly, it wasn't until long after that I decided to start my career as an artist, because I didn't feel like I was good enough for this and I was quite shy. I had started writing songs at 17, but they were not as good as what I have now written ... that's how I let time pass and when I was 24, circumstances pushed me to carry out my project yes or if. I tell you:
As I already mentioned, I have a degree in Public Relations and when I graduated I worked for 1 year and 364 days in a public institution in my country, but I did not feel well: It was very difficult to carry out my project tied to a fixed schedule, where I had to ask for leave and depend on the humor of my direct superior. As soon as I had the opportunity to leave, I did not hesitate, as I found an alternative source of income writing articles for various clients on the internet thanks to my mother, who saw the job offer on social networks and told me to try.
So, with doubts, I started to write and it started to go well, because from home I was generating enough resources to support myself.
Parallel to my experiences as a worker with a dependency relationship, I had the opportunity to record a cover and a song of my own. Working in that place provoked in me the impulse to want to fight for what I dream of, rather than relegating myself to living from something in which I did not feel comfortable.
The Cover I recorded is "Me Dediqué a Perderte" by Alejandro Fernández and Leonel García (one of the members of Sin Bandera). Here I share the video of the cover:
As this song was very well received, I decided to invest in a new project: to record something of my own. Thanks to the help of a cousin who has spent more time in the environment and the financial support of my parents, I met the teacher and producer Armando Lovera, who has worked with great artists such as Chino y Nacho, Caramelos de Cianuro, Guaco and many more. With him, I recorded my first song "Vale la Pena" in 2017.
Vale la Pena is one of my "spoiled girls", although I had to tweak her a bit, since the lyrics were not the same as what you will hear in the video I uploaded to YouTube. At some point I will tell you why the changes. That's history for another day!
"Vale la Pena" allowed me to sing twice in the polyhedron, as well as create my planta band, attend the radio in different radio programs, meet great emerging artists like me and get to play in some small radios in Argentina, Spain, Chile , Ecuador, Peru, United States and Mexico.
Here I share the link of my video clip: