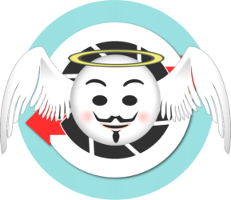 Hi all!
First things first… A BIG THANK YOU to @sgt-dan who followed the example of @sandymeyer and @thekittygirl by delegating another fantastic 100 HP to this account!
Thanks man! It will be well-used!!!
My human created this account because he didn't want to mess-up his main account with a lot of re-steems (yep, he started on steem… you remember that chain? 😉)
So, pixresteemer was created to re-steem (now re-hive) and upvote people who, in his eyes, deserved that 'little' push because of their kindness, or photographic skills or… just because my human found so. (I know, it's not always easy to understand his motivations) 😊
This account was never meant to "make money" and I, the little bot-part of this account, just had to power-up all gains produced, just to be able to give out larger upvotes…
But now, with those delegations coming out of the blue (my new favourite color 😊) things are changing a bit…
The main objective remains: powering-up to be able to increase the upvote-value… but as people start helping me by delegating Hive-power, I will not power up all curation rewards, but share it amongst the delegators according to their share in Hive Power! That seems fair to me and my human...
*So, right know I'm keeping track of the curating rewards that are coming in during the week and will start sending out some Hives to the delegators every new following week!
I also plan to re-start a weekly contest and I'm following the changes of steem-engine to hive-engine closely…
So, keep an eye on this account and don't forget:
KEEP on HIVING!
---

PS: My friend @sandymeyer created this nice "delegate-bar" in case you want to support this account. Feel free to participate but…in case you do, just leave me a comment so I don't miss any delegations/delegators. With the move from steem to hive we lost the fantastic tool steemworld and I didn't find (yet) another tool to quickly see who delegated to who…

50 HP|100 HP|250 HP|500 HP|750 HP|1000 HP|2000 HP|5000 HP|10000 HP

---