Hi guys, quick update - you can now exchange your hive-engine tokens directly to ETH and BTC. Let's see how it works.
---

---
We're gonna start at https://leodex.io/wallet - which is an awesome interface for the hive-engine platform. From here you can view all your hive-engine tokens:




Now click on the send icon to bring the transfer window. Send the tokens to @swap.app and use the right memo: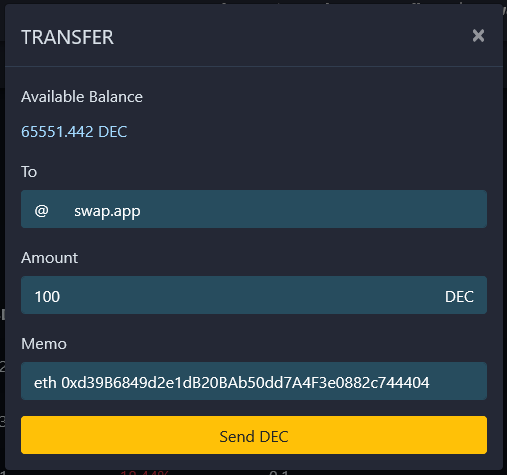 For ETH use memo: eth eth_wallet_address
For BTC use memo: btc btc_wallet_address
If you want to swap your tokens to Hive, please use empty memo.
In about a minute you should receive the ETH to your wallet and a confirmation transfer:



As you can see, the tokens are traded on hive-engine so this helps to bring liquidity and trading volume to the platform :)


One thing to remember is that the BTC and ETH transfers have their network fees - so it's better to send larger amounts of tokens ($10+) so that the fee will take less part of the total value. If you send too little amount, you will get an auto-refund - you can check it at your at https://peakd.com/wallet, which can be also used to send tokens.




I suggest swapping to ETH as the transfer fees are lower and it's faster. Just be sure to use wallet/exchange deposit address, not a smart contract (service) address as those require much higher fees and transfer will probably fail.
You can always get help from our support at our discord channel. See you next time!